India's economy expands 0.4% in Oct.-Dec., ending recession – The Tri-City News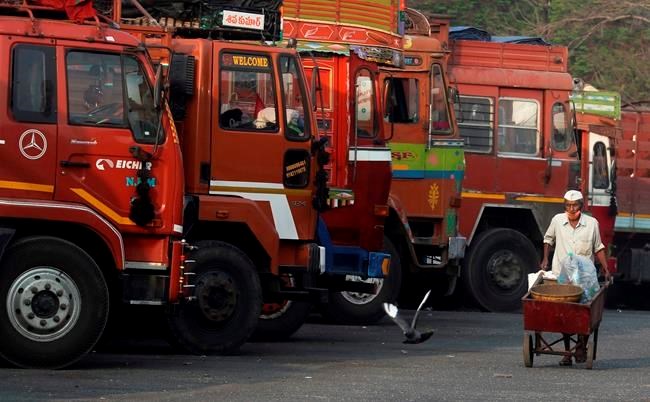 NEW DELHI — India's economy expanded by a weaker-than-expected 0.4% in the October-December quarter, which still allowed it to escape recession following large contractions in the two previous quarters during the coronavirus pandemic, the government said Friday.
The National Statistical Office projected an 8% contraction for the 2020-21 financial year, which ends in March. In January, it had projected a contraction of 7.7% for the fiscal year, following 4% growth in 2019-20.
It said fertilizer production rose by 2.7% in January, steel by 2.6% and electricity generation by 5.1%. Coal production declined by 1.8%, crude oil by 4.8% and natural gas by 2%, it said in a statement.
India's economy contracted by 7.5% in the July-September quarter following a record plunge of 23.9% in the previous three months. The government had imposed a strict two-month lockdown across the country in March after the outbreak of the pandemic.
A country enters a technical recession if its economy contracts in two successive quarters. India's recovery is expected to improve with a rise in consumer demand and investment.
India's central bank, the Reserve Bank of India, is projecting gross domestic product growth of 10.5% in financial year 2021-22. The International Monetary Fund has projected 11.5% growth in calendar 2021.
The IMF estimated that the Indian economy contracted 8% in 2020.
The Associated Press
Toronto stock exchange dips as losses in miners
Toronto stock exchange index edged lower on Monday, as losses in mining stocks and dismal domestic manufacturing data overshadowed gains in energy stocks.
* The materials sector, which includes precious and base metals miners and fertilizer companies, lost 0.7% as gold futures fell 1.6% to $1,848.2 an ounce. [GOL/]
* Canadian factory sales slipped by 2.1% in April from March on lower sales of transportation equipment, as well as subdued petroleum and coal products sector, Statistics Canada said.
* At 9:43 a.m. ET (13:43 GMT), the Toronto Stock Exchange's S&P/TSX composite index was down 14.52 points, or 0.07%, at 20,123.83.
* The energy sector climbed 1.4% as U.S. crude prices were up 1% a barrel, while Brent crude rose 0.9%. [O/R]
* Financials slipped 0.3%, while industrials fell 0.1%.
* On the TSX, 120 issues were higher, while 107 issues declined for a 1.12-to-1 ratio favouring gainers, with a trading volume of 22.35 million shares.
* TSX's top gainers were paper and packaging company Cascades Inc <CAS.TO> and IT firm Kinaxis Inc <KXS.TO>, jumping 4.1% and 4.0%, respectively.
* Biggest decliners were uranium producers Nexgen Energy Ltd <NXE.TO>, down 5.9%, followed by Cameco Corp falling 5.5%.
* The most heavily traded shares by volume were Canadian Natural Resources Limited <CNQ.TO>, BCE Inc <BCE.TO>, and Hut 8 Mining Corp <HUT.TO>
* Twenty-two stocks hit fresh 52-week highs on the TSX, while there were no new lows.
* Across all Canadian issues, there were 95 new 52-week highs and four new lows, with total volume of 43.57 million shares.
(Reporting by Amal S in Bengaluru; Editing by Rashmi Aich)
Canada selects HSBC, TD Securities as advisors for inaugural green bond issue
The Government of Canada has selected HSBC and TD Securities as structuring advisors for its first ever issue of green bonds, expected in the current fiscal year that began in April, HSBC said in a statement on Monday.
HSBC and TD Securities were hired to advise on the design of Canada's green bond framework, assist in the development of the on-going program and support a successful inaugural issuance, the statement added.
(Reporting by Fergal Smith; Editing by Chizu Nomiyama)
Canadian first quarter industry capacity use rises to 81.7%
Canadian industries ran at 81.7% of capacity in the first quarter of 2021, up from a upwardly revised 79.7% in the fourth quarter of 2020, Statistic Canada said on Friday.
The increase in the first quarter was driven by gains in construction and in mining, quarrying, and oil and gas extraction.
Following are the rates in percent:
Q1 2021 Q4 2020 (rev) Q4 2020 (prev)
Cap. utilization 81.7 79.7 79.2
Manufacturing 76.5 76.7 76.2
NOTE: Economists surveyed by Reuters had forecast a first quarter rate of 80.6% capacity utilization.
(Reporting by Steve Scherer, editing by Dale Smith (steve.scherer@tr.com))