Insider Trading: Flames, Oilers looking for a top 6 forward; Eyeing Leafs? – TSN
TSN Hockey Insiders Darren Dreger, Pierre LeBrun and Bob McKenzie joined host James Duthie to discuss why Jake Virtanen wasn't suspended for his elbow on Mathieu Perreault, the Oilers' and Flames' search for a top-six forward and the goaltending situation in Chicago.
---
What's the NHL's reasoning for not suspending Virtanen?
Mathieu Perreault was frustrated with the NHL's Department of Player Safety for not imposing discipline following Jake Virtanen's elbow. What went into the league's ruling?
Dreger: Well part of it was that it's believed the elbow wasn't forceful enough to rise to the level of supplemental discipline and some believe that Virtanen's elbow actually grazes Mathieu Perreault's chin/beard but the full impact is absorbed by the shoulder. Now at the very least I think we can all appreciate and agree it's a minor penalty but it wasn't called. But obviously that would not suffice with Mathieu Perreault who was very upset, mostly because of his concussion history.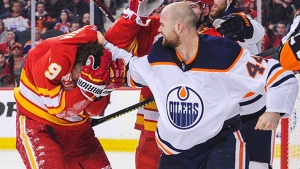 LeBrun: And a busy week for the National Hockey League in a couple of their offices because George Parros and Colin Campbell were on the phone on Wednesday in separate calls with the general managers from the Battle of Alberta trying to calm those waters down ahead of the Jan. 29 rematch between these two rivals and specifically I think the NHL certainly took issue with some of the comments that came out this week as this battle continues off the ice, in particular of course Zack Kassian talking about some form of retribution. So know this – George Parros is expected to be in the building for the Jan. 29 game. Both GMs have been warned about calming this down.
Phaneuf's next steps?
Dion Phaneuf has been seen around the Maple Leafs the past few days, but it might not be for what you'd think. So, what's he doing?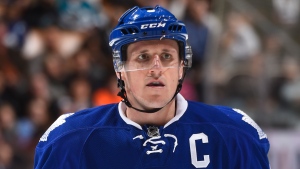 McKenzie: The last couple of days and for the next couple of days Dion Phaneuf is going to be shadowing Brendan Shanahan, the president of the Toronto Maple Leafs, and it has nothing to do with signing him as an emergency fill-in on the blueline or coming back to the National Hockey League. Now, I should point out. Dion has not officially retired from hockey, he would like another opportunity somewhere but the reason he is in Toronto is simply to get a look at the business of hockey and he reached out to Brendan Shanahan, asked if he could come in, get a feel for what the whole Maple Leaf Sports and Entertainment operation off the ice is all about. That's what he's been doing. He'll also be at NHL hockey ops on the weekend checking things out from their perspective.
What are the Flames looking for?
As the trade deadline gets closer and closer, what are Brad Treliving's plans for the Calgary Flames?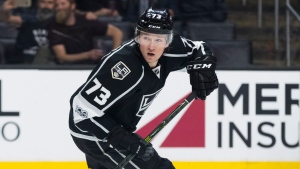 LeBrun: Well they had their amateur scouting meetings this week in Niagara Falls. Now, you may remember they traded Michael Frolik to the Buffalo Sabres a few weeks back. That created some valuable cap space and they intend to use it. They hope to add a top-six forward, a right-hand shot. That's a key criteria for the Calgary Flames and it makes me think there's certainly some interest in Tyler Toffoli from the LA Kings, among other targets.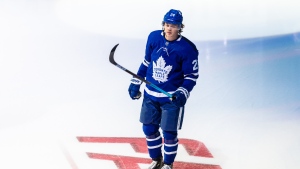 Dreger: And the Battle of Alberta may drift off the ice as well because the Edmonton Oilers are also looking for a top-six forward. Not sure about the Flames but I believe the Edmonton Oilers are going to pay close attention to what happens with the Toronto Maple Leafs. Again, speculation around the likes of Kasperi Kapanen, Andreas Johnsson, maybe Alex Kerfoot. And another team to watch? The Minnesota Wild. I'm told that Bill Guerin is open for business and part of the trade bait list could include veteran defenceman Mathew Dumba.
Goalie controversy in Chicago?
Is there a decision coming between Corey Crawford and Robin Lehner in the crease for the Blackhawks?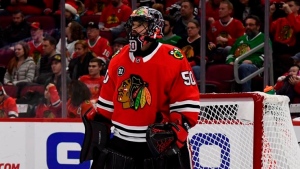 McKenzie: Yeah, for sure. The Chicago Blackhawks are surging, they want to make the playoffs but they've also got a bigger picture to decide. Are they rebuilding in terms of a soft rebuild? Or are they trying to go for it and makes the playoffs. As part of that, what are they going to do with their goaltenders? Both have played well but both are unrestricted free agents at the end of this year. Robin Lehner has made it known there won't be any hometown discounts, he needs a long-term deal for big money to play off of his success after last year and this year. And Corey Crawford publicly said recently 'I don't want to be anybody's backup' and he's also had a good year now that he's been healthy. Stan Bowman has a decision to make at some point. Does he trade one of these guys? Which one can he sign? And I would imagine in the days and weeks ahead they will get down to brass tacks in terms of talking contract to both guys to see what the expectations are and how that decision is going to go before the deadline.
LeBrun: If and when Robin Lehner becomes available by the way, keep an eye on Carolina. They tried to sign him last summer and I think they'd like to add more insurance in goal. That's a guy they have on their list.
China opposes 'politicization of sports' after WTA suspends tournaments over Peng Shuai – The Globe and Mail
China declared opposition to "politicization of sports" on Thursday, after the Women's Tennis Association (WTA) suspended tournaments in the country following star player Peng Shuai's accusations of sexual assault against a former vice premier.
Unconvinced by Peng's public appearances since the scandal first broke a month ago, the WTA said it wants assurances of Peng's well-being and has called for an investigation into the accusations levelled by the former world number one doubles player against former vice-premier Zhang Gaoli.
It also cited concerns over the safety of other players.
The stance taken by the WTA comes at a sensitive time for China, as Beijing is preparing to host the Winter Olympics next February, and global rights groups and others have called for a boycott in protest against China's human rights record.
When asked about the matter at a regular briefing, foreign ministry spokesman Wang Wenbin did not directly comment on the WTA's move but said China "opposes the politicisation of sports."
The International Olympic Committee said in a statement on Thursday that it had held a second video call with Peng, having held the first late last month.
"We share the same concern as many other people and organisations about the wellbeing and safety of Peng Shuai. This is why, just yesterday, an IOC team held another video call with her," the IOC said.
Beijing has remained largely silent over the scandal and authorities have blocked discussions of the topic on China's heavily-censored internet.
Instead, the Global Times newspaper, a nationalistic English-language tabloid, published by the ruling Communist Party's People's Daily, took aim at the WTA in an editorial on Thursday, accusing it of "bringing politics into women's tennis" and of being a "lever of Western public opinion".
The editorial, posted on the newspaper's account on Twitter account – which is not available in China – called the WTA "betrayers of the Olympic spirit" and said that "some forces in the West are instigating a boycott against the Beijing 2022 Winter Olympics."
The U.S.-headquartered tour's decision to walk away from one of its biggest markets was applauded by many leading figures in the tennis world but could cost the WTA hundreds of millions of dollars in broadcasting and sponsorship revenue.
Peng's whereabouts became a matter of international concern following a nearly three-week public absence after she publically accused Zhang in a social media message posted in early November.
Neither Zhang, who retired in 2018, nor the Chinese government have commented on Peng's allegation.
Peng did appear in mid-November at a dinner with friends and a children's tennis tournament in Beijing, photographs and videos published by Chinese state media and by the tournament's organisers showed.
On Nov. 21, IOC President Thomas Bach had a 30-minute video call with Peng, who competed at three Olympics, during which she told him she was safe.
But WTA chief executive Steve Simon, who said the decision to suspend tournaments in China had the full support of the WTA Board of Directors, said they were not convinced all was well with Peng.
The Global Times' editor-in-chief Hu Xijin used his personal Twitter account on Thursday to accuse the WTA of "coercing" Peng to "support the West's attack" on China.
Serving as de facto messengers to the outside world, Hu and other Global Times reporters were among the first to publish images and videos of Peng's appearances earlier this month.
The Global Times also cited a statement from the Chinese Tennis Association saying that it would defend its rights, and warning that the WTA should bear the legal consequences. The CTA did not immediately respond to Reuters' request for comment.
Calls to the organisers of the China Open tournament went unanswered.
Searches on the topic of the WTA's suspension yielded no results on China's Twitter-like Weibo on Thursday, and at least one post seen by Reuters that criticised the WTA's move was later deleted.
Our Morning Update and Evening Update newsletters are written by Globe editors, giving you a concise summary of the day's most important headlines. Sign up today.
Maple Leafs stay hot, thump Avalanche 8-3 for 15th victory in 17 games – TSN
TORONTO — The Maple Leafs knew there were plenty of built-in excuses.
Just back from a California road trip, the jet lag had yet to lift, bodies were tired, and it had been more than a week and a half since the luxury of a day off — all with one of the NHL's hottest teams waiting on deck.
None of it mattered.
Auston Matthews scored three times to register the fourth hat trick of his career as the scorching Leafs thumped the Colorado Avalanche 8-3 on Wednesday night.
John Tavares added a goal and two assists for Toronto (17-6-1), while William Nylander scored and set up another. Jack Campbell made 28 saves.
"Really good effort from everybody," Matthews said. "Playing a really good team with a lot of really dangerous players, you know that they're gonna get their push and they're gonna get their opportunities.
"All 20 guys out there did a really good job."
Jason Spezza, Travis Dermott and Pierre Engvall had the other goals for the Leafs, who have won five straight and are 15-2-0 over their last 17 to take over top spot in the NHL's overall standings. Michael Bunting added three assists, while Mitch Marner and Alexander Kerfoot chipped in with two each.
"Good preparation coming in, good mindset," Tavares said. "Good energy, especially coming off the West Coast trip."
Nazem Kari, with two, and Samuel Girard replied for Colorado (11-7-1). Jonas Johansson stopped 33 shots as the Avalanche lost for the second time in their last three contests after winning six in a row.
"The energy in the room was that it'd be easy to make an excuse right now," Dermott said. "But tonight was a game that I think we could really show our character."
Colorado star Nathan MacKinnon, who had two assists, returned after missing eight games with a lower-body injury, while Kadri suited up at Scotiabank Arena as a visitor for the second time since being traded to the Mile High City in July 2019.
The Avalanche announced shortly before the game No. 1 goalie Darcy Kuemper (upper-body injury) — named as Wednesday's starter by head coach Jared Bednar following the morning skate — was unavailable.
"That was not the issue," Colorado captain Gabriel Landeskog said. "The issue was we just didn't play good enough."
That did mean, however, University of Toronto netminder Jett Alexander dressed as Johansson's emergency backup for warmups. But the 22-year-old from Bloomfield, Ont., remained in the locker-room area until third-stringer Justus Annunen arrived to witness the carnage up close in the second period.
"I don't think it was an 8-3 game if we're being honest," said Leafs head coach Sheldon Keefe, whose team built a 3-0 lead in the first. "We played against a really good team that had some adversity.
"That makes the game feel a lot different than it really was."
Coming off a trip that saw them sweep the New York Islanders and all three California teams, the Leafs went up 1-0 at 4:31 of the opening period when Tavares delicately fed a pass ahead to Nylander, who ripped his 10th goal of the season.
Toronto went up 2-0 at 7:57 when Spezza tapped home his fifth after the Colorado netminder could only get a piece of Nick Ritchie's shot.
The Leafs went up by three at 14:24 when Matthews — minus his trademark moustache following a shave for charity — took a feed from Marner and went between the legs and back against the grain to roof his team-leading 11th goal, and fourth in as many games.
"He's such a special player," Dermott said. "When he's hot like this, you just want to put the puck … not even on his tape.
"You put it on his backhand — he'll make magic out of that."
Colorado got on the board with 1.2 seconds left in the period when Girard blasted a one-timer past Campbell for his second.
The NHL's second star in November after going 9-2-0 with a league-leading .959 save percentage, the Leafs goaltender made a number of big stops early in the second period.
But the Avalanche finally broke through to make it 3-2 at 11:57 when Kadri — the league's third star last month thanks to 21 points in 10 games — swept his eighth past Campbell.
The Leafs got that one back just 47 seconds later when Dermott's fluttering one-timer beat Johansson upstairs for his first.
Campbell then made terrific saves on Logan O'Connor and Alex Newhook in quick succession before Tavares slipped his own rebound through Johansson for his 11th to match Matthews and push Toronto's lead back to three at 5-2.
But Matthews retook top spot on the Leafs' stats page when he collected a pass from Marner in tight and outwaited Johansson for his 12th just 46 seconds into third.
The reigning Maurice (Rocket) Richard Trophy winner then fired his third of the night at 8:41 on a shot that beat the Colorado netminder shortside to continue the onslaught before Engvall and Kadri rounded out the scoring.
"Those first two goals, really good sequences by that line," Keefe said of the Bunting-Matthews-Marner trio. "Just unbelievable passes by Mitch Marner in both cases.
"On the third one, (Matthews) gets it alone. That's a pretty good shot … kisses the post."
Added Campbell: "Auston being Auston. Just spectacular."
Fans around Scotiabank Arena chanted Matthews' name after hats rained down on the ice following his hat-trick snipe.
"It definitely gives you chills down your spine," he said. "It's just a really special place to play.
"It's fun when the crowd gets going like that and you play as well we did tonight."
Notes: The 21 goals the Leafs have scored over their last four games equals the team's October total. … Kadri's second goal was the 200th of his career. … Bunting stretched his point streak to five games (two goals, seven assists) to tie Detroit's Moritz Seider for a longest by a rookie this season. … The Avalanche visit Montreal on Thursday before heading to Ottawa on Saturday. … The Leafs play in Minnesota on Saturday and Winnipeg on Sunday.
This report by The Canadian Press was first published Dec. 1, 2021.
___
Follow @JClipperton_CP on Twitter
MLB locks out players as collective bargaining agreement expires – Sportsnet.ca
IRVING, Texas — Major League Baseball plunged into its first work stoppage in a quarter-century when the sport's collective bargaining agreement expired Wednesday night and owners immediately locked out players in a move that threatens spring training and opening day.
The strategy, management's equivalent of a strike under federal labour law, ended the sport's labour peace after 9,740 days over 26 1/2 years.
Teams decided to force the long-anticipated confrontation during an offseason rather than risk players walking out during the summer, as they did in 1994. Players and owners had successfully reached four consecutive agreements without a work stoppage, but they have been accelerating toward a clash for more than two years.
Talks ended when management negotiators left the union's hotel about nine hours before the deal lapsed at 11:59 p.m. EST. Players said MLB did not make any new central economic proposals this week.
Commissioner Rob Manfred confirmed that the league had locked out the players in a letter to fans published shortly after the CBA had expired.
"As we began to emerge from one of the darkest periods in our history, our ballparks were filled with fans; the games were filled with excitement; and millions of families felt the joy of watching baseball together. That is why I am so disappointed about the situation in which our game finds itself today," the commissioner wrote. "Despite the league's best efforts to make a deal with the Players Association, we were unable to extend our 26 year-long history of labour peace and come to an agreement with the MLBPA before the current CBA expired. Therefore, we have been forced to commence a lockout of Major League players, effective at 12:01am ET on December 2."
The MLB Players Association responded to Manfred's letter with a statement of their own, calling the lockout "dramatic" and unnecessary.
"(The lockout) was the owners' choice, plain and simple, specifically calculated to pressure players into relinquishing rights and benefits, and abandoning good faith bargaining proposals that will benefit not just players but the game and industry as a whole," the union's statement reads in part. "These tactics are not new. We have been here before, and players have risen to the occasion time and again — guided by a solidarity that has been forged over generations. We will do so again."
The union demanded change following anger over a declining average salary, middle-class players forced out by teams concentrating payroll on the wealthy and veterans jettisoned in favor of lower-paid youth, especially among clubs tearing down their rosters to rebuild.
"As players we see major problems with it," New York Mets pitcher Max Scherzer said of the 2016 agreement. "First and foremost, we see a competition problem and how teams are behaving because of certain rules that are within that, and adjustments have to be made because of that in order to bring out the competition."
Eleven weeks remain until pitchers and catchers are to report for spring training on Feb. 16, leaving about 70 days to reach a deal allowing for an on-time start. Opening day is set for March 31, and a minimum of three weeks of organized workouts have been required in the past.
Management, intent on preserving salary restraints gained in recent decades, rejected the union's requests for what teams regarded as significant alterations to the sport's economic structure, including lowering service time needed for free agency and salary arbitration.
Many clubs scrambled to add players ahead of a lockout and an expected signing freeze, committing to more than $1.9 billion in new contracts — including a one-day record of more than $1.4 billion Wednesday.
"It did feel like at least certain groups of free agents were moving more quickly the last few days," Pittsburgh general manager Ben Cherington said.
Two of the eight members of the union's executive subcommittee signed big deals: Texas infielder Marcus Semien ($175 million) and Scherzer ($130 million).
"This is actually kind of fun," Scherzer said. "I'm a fan of the game, and to watch everybody sign right now, to actually see teams competing in this kind of timely fashion, it's been refreshing because we've seen freezes for the past several offseasons."
Much has changed since the 232-day strike that cut short the 1994 season, led to the first cancellation of the World Series in 90 years and caused the 1995 season to start late. That stoppage ended only when a federal judge — future Supreme Court Justice Sonia Sotomayor — issued an injunction forcing owners to restore the work rules of the expired labor contract.
The average salary dropped from $1.17 million before the strike to $1.11 million but then resumed its seemingly inexorable rise. It peaked at just under $4.1 million in 2017, the first season of the latest CBA, but likely will fall to about $3.7 million when this year's final figures are calculated.
That money is concentrated heavily at the top of the salary structure. Among approximately 1,955 players who signed major league contracts at any point going into the regular season's final month, 112 had earned $10 million or more this year as of Aug. 31, of which 40 made at least $20 million, including prorated shares of signing bonuses.
There were 1,397 earning under $1 million, of which 1,271 were at $600,000 or less and 332 under $100,000, a group of younger players who shuttle back and forth to the minors.
"Simply put, we believe that an offseason lockout is the best mechanism to protect the 2022 season. We hope that the lockout will jumpstart the negotiations and get us to an agreement that will allow the season to start on time," Manfred wrote. "This defensive lockout was necessary because the Players Association's vision for Major League Baseball would threaten the ability of most teams to be competitive. It's simply not a viable option. From the beginning, the MLBPA has been unwilling to move from their starting position, compromise, or collaborate on solutions."
Union head Tony Clark, a former All-Star first baseman who became executive director following Michael Weiner's death in 2013, said players are united and understand the need to stick together to achieve common goals. The sides are still litigating over the pandemic-shortened 2020 season, sniping over how to long the season could have been and taking their positions before a neutral arbitrator.
The union has withheld licensing money, as it usually does going into bargaining; cash, U.S. Treasury securities and investments totaled $178.5 million last Dec. 31, according to a financial disclosure form filed with the U.S. Department of Labor.
"We have a pretty big war chest behind us of money that we can allocate to players," Scherzer said.
Some player agents have speculated that management's credit lines already may be pressured following income deprivation caused by the coronavirus pandemic, but the clubs' finances are more opaque publicly than that of the union, making it difficult to ascertain comparative financial strength to withstand a lengthy work stoppage.
Rob Manfred, who succeeded Bud Selig as commissioner in 2015 following a quarter-century as an MLB labor negotiator, made clear last month that management preferred an offseason lockout to a midseason strike.
"We've been down this path. We locked out in '89-'90," he said. "I don't think '94 worked out too great for anybody. I think when you look at other sports, the pattern has become to control the timing of the labor dispute and try to minimize the prospect of actual disruption of the season. That's what it's about. It's avoiding doing damage to the season."
Scott Boras, who negotiated Scherzer's deal and shortstop Corey Seager's $325 million contract with Texas, has pushed for the union to insist on change to decrease the incentive for lowering payrolls during rebuilding.
"Sometimes the rules of the game require them to do things that are not in the best interest of the game," Boras said, "for them to be a better competitor for next year, they have to do things that the rules direct them to do."