Insider Trading: What options do Leafs have with potential Muzzin absence? – TSN
Depending on how long Jake Muzzin could be out after his scary collision with Chris Wideman, what options do the Maple Leafs have ahead of the trade deadline? The TSN Hockey Insiders weigh in on that front, discuss the Ducks beginning extension talks with Hampus Lindholm, whether or not there are suitors for Zdeno Chara and more.
---
What are the options the Maple Leafs are looking into following the injury to defenceman Jake Muzzin?
Darren Dreger: Well, adding a defenceman, perhaps a forward as well, Gino. But you're right, if Jake Muzzin is out long-term and the Toronto Maple Leafs are able to place him in LTIR, that frees up over $5.6 million in cap space. Now Muzzin is back in Toronto. He's said to be feeling OK, but anything head related, you're going to need a bit more time to fully assess. So, when you look at defencemen that the Toronto Maple Leafs are targeting, you look at Hampus Lindholm in Anaheim, looking at John Klingberg with the Dallas Stars. We talked about Ben Chiarot. And what about Mark Giordano from the Seattle Kraken? Again, those are all just pie in the sky options at this point. And then you look at adding a forward up front. Toronto would love to add a top-six winger, something to complement that second line. But, they're going to take their time with Jake Muzzin first to decide whether or not he has to be placed on LTIR and then look closely at the trade market.
Pierre LeBrun: And Dregs with all due respect to the other defencemen that you mentioned after Hampus Lindholm, when you talk to other teams around the league, they view Hampus Lindholm as the No. 1 rental defenceman on the market – if he is indeed on the market. Now, he a pending UFA and one of the first things Pat Verbeek, the new GM in Anaheim, has done according to our sources, is reach out to Lindholm's camp led by agent Claude Lemieux and start the process of seeing if there's enough common ground to sign an extension before the trade deadline to remove Hampus Lindholm from the trade market. That would be a heartbreaker for a lot of teams that would love to throw some assets at Anaheim for a guy who plays 23 minutes a night on that top pairing. We'll see if that deal gets done or not.
If all goes according to plan, Zdeno Chara will set the NHL record for most games played by a defenceman this Thursday, but Pierre that's not the only reason why people are keeping an eye on Big Z right now?
LeBrun: No, and that is quite the accomplishment by the way. Teams have started to call Lou Lamoriello and the Islanders who are fading out of the playoff race, they were never really in the race all year, one the league's true disappointments, and they're saying to Lou Lamoriello, 'Hey keep us in mind if you decide to do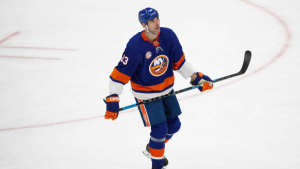 something with Zdeno Chara.' Now this is an interesting situation. Chara does not have a no-trade clause, but he's a future Hall of Famer and the sense around the league is that Lou Lamoriello is going to go to Chara at some point and see if in fact he actually wants to move. And if he does, then there's interest already in Zdeno Chara despite his age, 44, the fact he's slowed down a bit, but he's still a major leader and a very physical presence that could help a contender on that third pairing for sure.
Brad Marchand's six-game suspension is done, but the matter still may be open?
Chris Johnston: It might. It might still be in courts, Gino. We'll see what Brad Marchand decides, but as of today, he hasn't decided whether or not he wants to move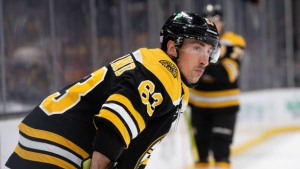 forward and have an appeal heard by a neutral arbitrator. Gary Bettman has already upheld the six-game suspension for this brush with Tristan Jarry a few weeks ago. Brad Marchand has sat out those games as you've said, but he feels that he was targeted here, that there's kind of a principled aspect to why he might move forward, also if any games were reduced it would be worth $75,000 per game back in his pocket. He has until Friday to make a decision.
We spoken about making deals at the NHL-level, the minor league level and, Dregs, some teams like the Canucks are expanding their search in the European free-agent market as well?
Dreger: The Vancouver Canucks really don't have much of a choice. They don't have a whole lot coming from within their feeder systems, organizationally speaking. So, Patrik Allvin, Swedish born general manager for the Vancouver Canucks, has vowed that he will continue to scour the European market and the college free-agent market as well. Allvin is looking closely at Russian forward Andrei Kuzmenko, the 26-year-old is at the top of the charts when you look at the pending unrestricted free-agent Russians and Europeans for that matter, so I will say this, we are going to continue to talk about Kuzmenko. The Vancouver Canucks would definitely like to be in the mix, but there's probably about 30 other teams that want a crack at this guy as well.
Leafs-Lightning Was Always Going To Leave Someone Haunted – Defector
Following their Game 6 loss to the Tampa Bay Lightning, Toronto Maple Leafs star Auston Matthews said the plan for the series deciding matchup was simple. "We've just got to put our balls on the line and go for it," he told reporters.
He wasn't wrong about that, it just turns out the Lightning were also willing to risk life, limb and every other necessary appendage to get back to the Stanley Cup Final. And for the fifth-straight year in a row Toronto is being sent home after another first round knockout, losing 2-1 in fight that went down to the last minute.
This game was bound to be a punch in gut for one of these two teams with history on the mind entering Game 7: Tampa looking to win the cup for the third-straight year (the first team since the New York Islanders during their stretch from 1979 – 1983), and Toronto, well, just trying to just reach the second round for the first time since 2004. But if we want to be clerical about it, the Leafs were also searching for their first cup win since the Canadian Centennial and Lester B. Pearson was prime minister.
While the sting of this year's exit may not be as bad as previous years for Toronto, it will linger all the same given the two chances at sending Tampa home after leading the series 3-2 after Game 5, which makes for the second season in a row they've blown that kind of lead.
Tampa is moving on thanks to third liner Nick Paul, who scored both goals on the evening and seemed to be everywhere he was needed on the ice Saturday night. Paul picked up his first career playoff goals in the win, which makes since he wound up on the Bolts roster after a March trade from Ottawa. Prior to Saturday he racked up just five goals and 14 points since saying goodbye to the Senators.
But his timing was much needed in a tight game where Tampa's stars were running on an empty tank and the Leafs scorers were threatening most of the game. With two minutes left in the first period, Paul and Ross Colton took an odd man rush into the Leafs' end, with Colton firing on goalie Jack Campbell and Paul turning the rebound for a score.
Whatever high Tampa had coming off that score was quickly deflated when Brayden Point, who scored the winning goal in overtime against the Leafs in Game 6, was injured after colliding with the boards near the end of the first period. Point had to be helped off the ice and tried to return at the beginning of the second period, barely making it one shift before heading to the bench.
The Leafs dialed it up from there, with Captain John Tavares scoring from the slot and putting the score even at 1-1. But the goal was called off on an interference call on Leafs defenseman Justin Holl, who caught Tampa's Anthony Cirelli in a pick. But they got one that counts with just under 7 minutes left in the period, when Matthews charged across the blue line, dragging Tampa defenders with him before dishing to Morgan Rielly for the score.
But before the game could settle into a reset, just three minutes later Paul came back with a skate-to-stick combo that I can only describe in the most technical terms as "un-fucking-believable." See for yourself:
It was fitting that Paul emerged as the latest legend of the moment for a Tampa team that has relied on group contributions during their latest run. Tampa Bay managed to keep a chunk of its players around over its title-winning seasons, and even if the regular cast aren't taking lead, there always seems to be someone ready to step up when the moment comes.
That includes goalie Andrei Vasilevskiy, who played like a fortress on skates last night, stopping 30 out of 31 shots on goal, and locking in the game for the Lightning. A crucial third period power play from the Leafs seemed like it could tip the balance of the game, instead Vasilevskiy fended off six shots and had a little bit of luck with one puck that chased directly behind him, passing through the crease in the blink of an eye.
The disappointment in Toronto will be palpable, and if it wasn't for the skeletal-hand of fate on the shoulder of this franchise always whispering dread nightmares into their ear whenever the spring comes around, Leafs fans could look at the upside. They played like the better team most of the series, and in the deciding game they outshot the defending champions 31 to 25. Maybe this was just the shit luck of the draw. Maybe this season could have been a tipping point for Toronto based off records alone: they set a team record for points (115), Mitch Marner hit a career high 97 points on the season and Matthews netted a record-setting 60 goals. Maybe they could just get the gang back together for one last heist next season. That may not be entirely likely as they have $77.451 million already on the books, with more than a few guys facing the rough questions of life after 30 on an NHL roster and Campbell entering free agency looking for a well-deserved payday. But hey, Matthews and Marner likely aren't going anywhere, which is nice.
Tampa moves on to play the Presidents' Trophy-winning Panthers, the second time they face off in the last two years. The Lightning bounced them last year, so it should be another exciting series of Florida-based hockey, which is a sentence that never stops being weird to this Minnesota-born writer, no matter how good these squads are.
Doncic helps Mavericks stun Suns with dominant performance in Game 7 – Sportsnet.ca
PHOENIX (AP) — It was no surprise when Luka Doncic looked ready for Game 7, calmly draining his first three shots to give the Dallas Mavericks an early lead.
The stunner came over the next two hours: The top-seeded Phoenix Suns had no response.
Doncic scored 35 points, Spencer Dinwiddie added 30 and the Mavericks blitzed the Suns with a 123-90 knockout Sunday night, advancing to the Western Conference finals for the first time since 2011.
"A lot of people said it would be a blowout," Mavs coach Jason Kidd said with a grin. "They were right."
Of course, it wasn't Dallas that was supposed to win on Sunday. The home team won the first six games of the series, but the Mavs broke through, dominating in a hostile environment from start to finish. Conversely, it was an embarrassing no-show for the playoff-tested Suns — who advanced to the NBA Finals last season with a very similar roster.
"We played all season to be in this situation," Suns guard Chris Paul said. "It didn't work out for us."
The fourth-seeded Mavericks travel to face Golden State in Game 1 on Wednesday.
"I can't get this smile off my face," Doncic said. "I'm just really happy. Honestly, I think we deserved this."
Doncic earned the Mavs an early lead, making his first three shots, including two 3-pointers. That helped Dallas push to a 27-17 advantage in the first quarter and a whopping 57-27 cushion at the halftime break.
Doncic and Dinwiddie, who came off the bench, combined to pour in 48 of the Mavericks' 57 points. Doncic's 27 points in the first half matched the Suns' team total.
Game 7 drama? Not in the desert.
"It's still kind of shocking," Dinwiddie said.
Simply put, the Suns looked overwhelmed by the pressure of a Game 7. They missed shots they usually make, made bad passes they usually don't make and looked nothing like the team that won an NBA-best 64 games during the regular season.
"That group has a lot of character and integrity and I know how bad they wanted it," Suns coach Monty Williams said. "We just could not execute tonight. Couldn't make a shot early, that messed with us a little bit and Dallas played their tails of from start to finish."
By halftime, many Suns fans were booing at the unsightly display.
The series might have been close but the individual games usually were not. Three of the first six games were decided by at least 20 points and none of the games came down to the final possession.
Game 7 followed a similar pattern, except the team doing all the damage was the road team. The Mavs led this one by 46 points.
Doncic was fantastic, making shots from all over the floor and finishing 12 of 19 from the field, including 6 of 11 on 3s. He also got some help: Dinwiddie was stellar in the first half with 21 points on 7-of-10 shooting, including 4 of 5 from 3-point range.
They became the eighth pair of teammates to score 30 points in a Game 7, the first since Shaquille O'Neal and Kobe Bryant in 2002.
Meanwhile, Phoenix's All-Star backcourt of Paul and Devin Booker was never a factor. The 37-year-old Paul is a 12-time All-Star that has done just about everything possible in the game except win a championship.
After this setback, it's fair to wonder if there will be many more opportunities. Booker finished with 11 points and shot 3 of 14. Paul had 10 points and four assists. The Suns shot just 37.9% from the field.
"You could see some of the pressure was on them early," Kidd said. "They missed some shots they normally make."
Dallas beat the odds with the win: After the Celtics defeated the Bucks earlier Sunday, the home team was 110-33 (77 per cent) in NBA Game 7s.
It's the second straight year the Suns have lost a playoff series after having a 2-0 lead. They won the first two games against the Bucks in the NBA Finals last season before losing four straight games.
TIP-INS
Mavericks: Doncic and Dinwiddie were the first teammates to have at least 20 points in a half in Game 7 since Patrick Ewing and Allan Houston did it for the Knicks in 1997, according to ESPN Stats & Info.
Suns: Phoenix shot just 6 of 23 (26.1 per cent) from the field in the first quarter. … The Suns hosted another sellout crowd at Footprint Center. Celebrities in attendance included baseball great Alex Rodriguez and rapper Lil' Wayne. … The Suns are the second team in NBA history to win at least 64 games in the regular season and not make the conference finals. The other was the Mavericks in 2007. … Phoenix has still never won a title since coming into the league in 1968. … Deandre Ayton played just 18 minutes and finished with five points and four rebounds. When asked about Ayton's lack of playing time, Williams responded "It's internal." Ayton did not speak to the media postgame.
2022 Stanley Cup Playoffs Game 7: Rangers host Penguins and Flames take on Stars on Sunday – CBS Sports
After three Game 7s on Saturday, the thrilling 2022 Stanley Cup Playoffs continue Sunday with another pair of win-or-go-home matchups. Those final two games will finalize the second round, making them must-see TV for hockey fans.
To close the first round, the Dallas Stars and Calgary Flames will battle at the Scotiabank Saddledome at 9:30 p.m. on ESPN2 and on fuboTV (try for free). The series has been a goalie showcase thus far, as Dallas' Jake Oettinger is No. 2 in save percentage in these playoffs while Calgary's Jacob Markstrom is second in goals against average. A Stars win would send them to the second round for the first time since their Stanley Cup final run in 2020, and Calgary is seeking its first playoff series win since 2015.
In an absolutely thrilling game, Artemi Panarin sent a shot to the right side of Tristan Jarry's net to put the Rangers into the second round of the Stanley Cup playoffs. Panarin was assisted by Adam Fox and Mika Zibanejad on the overtime game winner. Zibanejad was key for the Rangers' success late in the game as his goal at the 14:15 mark in the third period was what sent it to overtime. Penguins head coach Mike Sullivan was 3-0 in Game 7s coming into this game. His team finished the night with a 45-30 shot on goal advantage. Sidney Crosby did play in the game, after missing Game 6, and recorded an assist in the loss.
Follow here for all the live updates of what should be an extremely fun NHL Sunday night.