Islanders Trade Talk: Chara Could be Moved to Contender after Record Breaking Game – New York Islanders Hockey Now – New York Hockey Now
New York Islanders defenseman Zdeno Chara is on the brink of making history. The 44-year old wonder in his 24th NHL season will tie Chris Chelios for the most games played by a defenseman in NHL history on Tuesday when the Islanders face the Seattle Kraken. On Thursday against the Los Angeles Kings, Chara will break the record.
And then the door to the NHL trade market will open.
Over his lengthy career, "Big Z" has played for four teams and is currently in his second stint with the New York Islanders, the team who drafted him way back in the third round (56th overall) in the 1996 NHL Draft. With whispers of this being Chara's last season in the NHL, there will likely be a fifth and final team.
A league source told NYI Hockey Now that following Zdeno Chara's record-breaking night on Thursday against the Los Angeles Kings, the New York Islanders will explore the NHL trade market to move Chara to a Stanley Cup contender.
But the source indicated the Islanders and GM Lou Lamoriello are waiting for Chara to break the record before moving him.
Could Chara end up back in Boston? What about with the Pittsburgh Penguins? Would Toronto take a flyer?
At his age and declining play, Chara is not a hot commodity. A playoff-destined franchise would be acquiring the ageless wonder for his leadership and playoff experience rather than production. But that still matters, and perhaps a playoff race could rejuvenate the big defenseman one more time.
A physical, net-clearing defenseman can make a goalie's job a lot easier. There are a few playoff teams who could use Chara's locker room gravitas and physical presence, even at this advanced stage of his career.
The History
Zdeno Chara has played in 200 career playoff games and has made the Stanley Cup Finals three times. He's also played in the most Game 7's in NHL history (14). He raised the Stanley Cup once over his illustrious career. In 2011 Chara captained the Boston Bruins to the Cup victory.
After one season with the Washington Capitals in 2020-21, Chara signed a one-year deal with the New York Islanders with a cap hit of $750,000. The Islanders had been to back-to-back semi-finals, had an opening on the backend, and this was the team that gave Zdeno Chara his NHL start 24 years ago. It seemed like the perfect situation for both sides.
But not everything has worked out in his island reunion.
The Islanders have struggled mightily, and a chance at making the playoffs is now slim to none. Although Chara is not to blame for the Islanders' inability to play a consistent brand of hockey in 2021-22, he has looked his age on the ice.
After struggling mightily alongside 22-year old Noah Dobson when the season began, the defensive pairing settled. In mid-December, Dobson's game reached another level. Chara played a part in Noah Dobson's exponential development, even if the big man appears to have lost a step.
Since training camp, Chara had served as a mentor, the same role he played for Boston's Charlie McAvoy during their three seasons together.
In 42 games played this season, Zdeno Chara has seven assists, 54 blocks, 84 hits, and 31 giveaways in 18:29 ATOI.
Welcome to your new home for New York Islanders breaking news, analysis and opinion. Like us on
Facebook
, follow us on
Twitter
and don't forget to
subscribe to NYHN+
for all of our members-only content from Christian Arnold and the National Hockey Now network.
How soon until CFL preseason games get cancelled? – TSN
Dave Naylor has the latest on a quiet day that didn't consist of any talks between the CBA and the CFL Players Association. With preseason games scheduled to begin next week, Naylor believes they could start getting cancelled in the next few days if no progress is made.
---
DAVE NAYLOR: Monday was another quiet day across the Canadian Football League. The second day of the CFL strike, everywhere expect Alberta where the Edmonton Elks and Calgary Stampeders were able to practice again. Those teams are eligible to join the strike on Wednesday. Meanwhile, players were at their training camp sites, not able to use the weight room, not able to use the facilities, just waiting to be able to practice. Meanwhile, there were no talks on Monday between representatives of the league and the Players' Association and at this time there are no talks scheduled for the rest of the week. Although it's possible that a mediator could try and get the sides together. The question now we're wondering is: how long until the league has to cancel or reschedule the first preseason game of the year? That's next Monday, May 23 – Winnipeg at Saskatchewan. It is believed that if there is not a CBA agreed to between the two sides by Wednesday of this week, that game will have to be cancelled or postponed."
Flames' Gaudreau steps up on biggest stage with OT winner to set up Battle of Alberta – Sportsnet.ca
CALGARY – There were plenty of questions surrounding Johnny Gaudreau as he entered the playoffs.
It's the one that was asked after his Game 7 overtime winner Sunday night that was perhaps the easiest to answer.
Where did his short-side, roof job over Jake Oettinger 15 minutes into the extra frame rank amongst all his goals?
"Is that a question, really?" he smiled, still buzzing after being mobbed by teammates and shaking hands with the Dallas Stars.
"C'mon. There's no bigger stage than what we just had there. It was really special for me. I was really excited. You dream about stuff like that, scoring in Game 7 in overtime."
So much for talk of this being Gaudreau's last game as a Flame.
Instead, it was perhaps his most memorable, scoring his second game-winner in the tightest of series to set up the first Battle of Alberta in 31 years.
He didn't hoist the team on his shoulders like Connor McDavid, but when his team needed him most he was there, ending a torturous evening for a C of Red that stood on its feet for the bulk of an overtime frame that ended with the Flames 67th shot of the night finally beating Oettinger.
The roar or the crowd was as loud as anything the building has ever endured, which is fitting given the moment will go down in club history as one of its finest.
After all, the last time the Flames won a Game 7 at home it kickstarted the club's lone Stanley Cup run 33 years earlier. It's also the first time in seven years the Flames have won a round and just the third time in 33 years they've made it to the second round.
The fact that Gaudreau scored it was poetic justice, as Oettinger had No. 13's number throughout the series, prompting Gaudreau to look skyward following one of his previous six shots.
The winner was a beauty, which it had to be to beat a goalie who challenged league history with his brilliance.
"I was just trying to put it on net," said Gaudreau, of the rebound he converted from the side of the net.
"I mean, throughout the whole series most of the time you put it on net it's not going in against this kid. I got a good look and it went over his shoulder there. That kid played pretty well the whole series."
So did Gaudreau, who scraped and clawed his way through a tenacious Dallas defence to score two game-winners, add six assists and be the hero when it mattered most. He also assisted on Tkachuk's goal.
That's how legends are made.
Darryl Sutter said two days earlier Gaudreau had officially taken the next step, and on Sunday the 28-year-old winger proved it.
How poetic that in the absence of Chris Tanev he showed up for the game wearing an A on his jersey for the very first time as a Flame.
He became more than just a superstar this year, he became a leader.
And finishing off an epic game like Sunday's is exactly the type of stuff leaders do.
"The C's and A's are decorations," said Sutter.
"It's what you do in the room and on the ice that's important."
What his team did all night long was dominate a Stars club that opened the scoring 40 seconds in, and took just 31 seconds to regain the lead after Tyler Toffoli tied it early in the second.
The Flames chased on the scoreboard but led in every other way, outshooting the Stars 26-4 in a second period in which Matthew Tkachuk's first of the playoffs tied it 2-2 midway through the frame.
From there the tension was unbearable in a building that watched both teams hit the iron three times.
By night's end the Flames had outshot the Stars 67-28, the largest shot differential in NHL Game 7 history and the second largest in the league's playoff lore.
Yet, there was Joe Pavelski breaking in alone following a Flames power play, forcing Jacob Markstrom to make one of the many pivotal saves to prolong the extra session.
The Flames netminder won't get nearly the credit he deserves for the role he played in the game or the series. But none of it is possible without him, especially considering how hard it is to make huge saves after going long stretches watching Oettinger stand on his head.
"(Oettinger) frustrated us because we couldn't score, but we didn't lose belief after all," said Tkachuk, who was asked if it felt inevitable his team would eventually win a game it dominated.
"Or you could look at it like the other way, where it's just not meant to be. It was tonight. We peppered him so much. One had to have gone in for us. Guys worked so hard. I said it this morning, I think that our team, the way we're conditioned, work and wear teams down, we're built for a Game 7 type of game. It took us until minute, almost, 80. It's an important one for us."
For the province.
"It'll be exciting – it's great for all of Alberta," said Tkachuk, whose club was serenaded by a raucous crowd signing to Alberta Bound during handshakes.
"Honestly really haven't allowed myself to think about it yet. It's too fresh from this. I'm probably just going to enjoy this one tonight and turn the page tomorrow."
After directing an incredible 129 shot attempts towards Oettinger, justice was served with Gaudreau's winner.
"We deserved to win," said Sutter, of a series somehow decided by one goal.
"Pretty simple."
Well, actually, it wasn't, making the accomplishment and the next opponent all the sweeter.
"I've been here for nine years and never had even a sniff of a chance to play them in the playoffs," said Gaudreau, when asked about the Battle of Alberta.
"It's pretty special. It's going to be fun. It's going to be good for the province, fun for them and us."
McDavid carries Oilers into second round – TSN
Once in a blue moon, there are otherworldly performances in the National Hockey League. We expect players the calibre of Edmonton's Connor McDavid to perpetually raise that bar. They are simply that talented.
McDavid raised that bar once more in the first round.
In a surprisingly competitive seven-game series against the Los Angeles Kings, McDavid put together one of the best individual performances I can recall. At times it looked like his body had been taken over by a force in the universe – distinctly faster and stronger than everyone else on the ice, with lethal execution to boot.
And this is in the playoffs against a Kings team who exhibited an ability to slow teams down this season, armed with perhaps the NHL's best shutdown player in Phillip Danault. (As an aside, it's hard to say enough about how great Danault was both during the regular season and playoffs; Los Angeles finding an elite shutdown defensive forward who suddenly can score 30 goals in a season is remarkable. Colour me impressed!)
Edmonton was the more talented team in this series, but McDavid was the difference. That's no slight to goaltender Mike Smith, who was – save for a few puck-handling gaffes – strong in net. And players like Evander Kane and Leon Draisaitl (a combined 12 goals) were invaluable.
But McDavid was on another level. He had four goals and 10 assists, played defencemen-level minutes (37 per cent of available ice time), and prevented the Kings from winning any of the minutes when he was on the ice.
Look at the game flow of the series, differentiating between the minutes played by McDavid versus the minutes played by any other Oilers line. This was a very game and lively series until McDavid stepped on the ice, when it always looked like a man against small children.
Territorially, this was a bloodbath: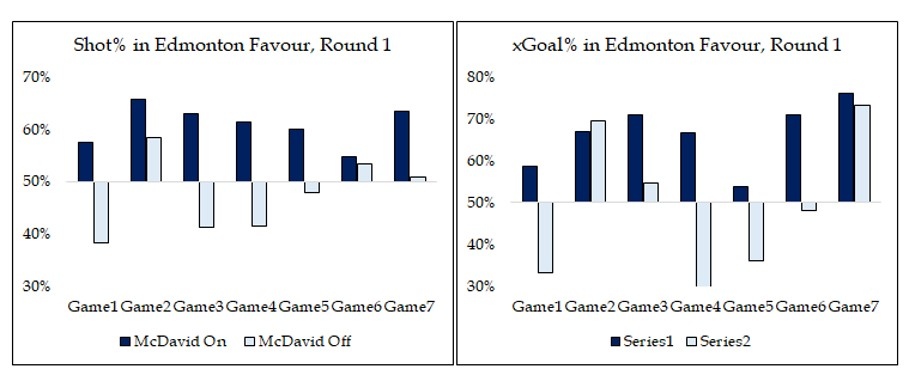 Over the course of the series, the Oilers won about 47 per cent of the shots and 46 per cent of expected goals with McDavid off the ice, with notable out-performance in Game 2 and Game 7. McDavid's line, on the other hand, went supernova: the Oilers owned 61 per cent of the shots and a staggering 68 per cent of expected goals. Layer that into his 37 per cent usage rate, and that's a tidal wave.
How did this territorial domination effect the series? I would say that without McDavid, Edmonton is at real risk of losing a series to perhaps the weakest team of the 16 that qualified for the postseason. But having the best player in the universe tends to help balance things out: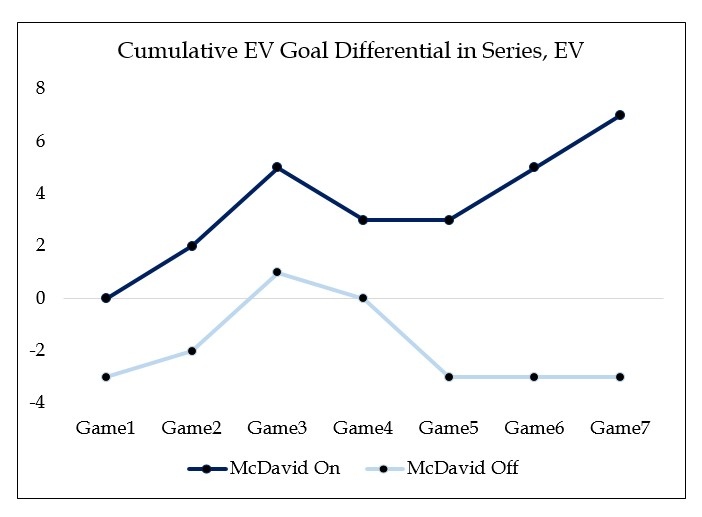 Simply put: Los Angeles was the better team if you measured bottom-nine forwards versus bottom-nine forwards. That's true in possession time, true in scoring chances and true in goals. But Edmonton's first line's obliteration of the Kings was so exceptional, it balanced the ledger and then some.
After Saturday night's showing, I was curious how McDavid's dominance of Los Angeles would hold up against some of the better playoff performances we have seen over the years. If we look at net expected goals (blind to goaltending, important in this context) over the past 15 years, we've seen plenty of dominant skaters – from Pavel Datsyuk's Detroit Red Wings, the two-time defending Stanley Cup champion Tampa Bay Lightning, and the decade-of-dominance team in Washington D.C.
And yet, none of those skaters can hold a candle to what McDavid did in this opening round: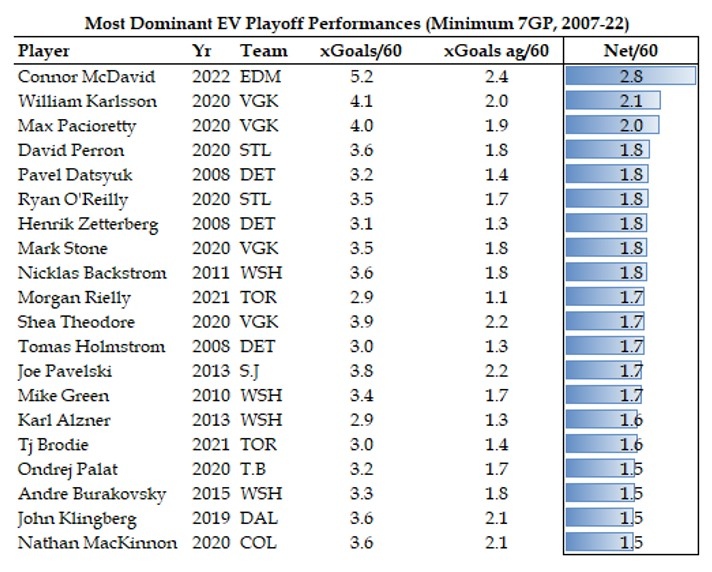 Whether it was Datsyuk's wizardry in 2008 or what Nathan MacKinnon individually accomplished in the bubble over the course of two rounds in 2020, we have a clear baseline for what we consider exceptional, one-sided hockey.
The best performances over the years have seen players create 1.5 to 2.0 of an expected goal advantage for every 60 minutes played, which is the type of stuff you see from Stanley Cup-calibre teams. McDavid just posted a +2.8. (If points are your thing, don't worry, it's the same conclusion. McDavid is averaging 5.6 points per 60 minutes, which again, is the best number we have seen in 15 years.)
Perhaps teams will be incrementally more effective at slowing McDavid down over the rest of the postseason. Certainly, the Colorado Avalanche (to name but one team), who remain in Edmonton's way for the time being, are armed with the weaponry to do just that.
But, after what we just witnessed over the past two weeks, who is foolish enough to bet against McDavid?
Data via Natural Stat Trick, Evolving Hockey, NHL.com