Leafs' Dermott will not play vs. Canucks – TSN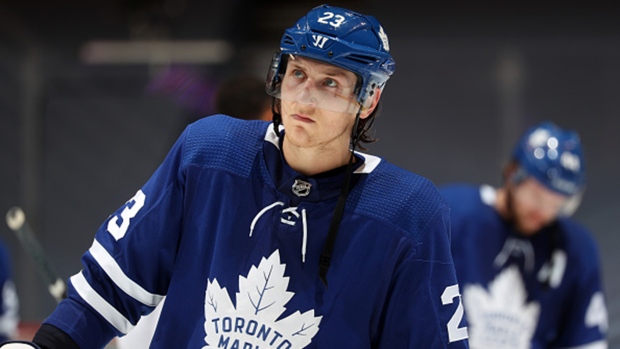 Toronto Maple Leafs head coach Sheldon Keefe says that defenceman Travis Dermott will not play Saturday against the Vancouver Canucks.
Sheldon Keefe said Travis Dermott will not play tomorrow. Mikko Lehtonen will go in against Vancouver.

Keefe's message to Rasmus Sandin: "Right now, it's Mikko's time."

— Kristen Shilton (@kristen_shilton) February 5, 2021
Mikko Lehtonen will draw into the lineup in place of Dermott.
The 24-year-old left Thursday's game in the first period with what Keefe described as a charley horse. He was absent from Friday's practice.
In eight games this season, Dermott has zero points.
Maple Leafs' Matthews, Senators' Stützle among NHL's best in February – Sportsnet.ca
NEW YORK — Toronto Maple Leafs centre Auston Matthews has been named the North Division's player of the month for February.
Matthews led the NHL with 12 goals and placed second with 21 points in 11 games to propel the Maple Leafs to a 9-2-1 February and the top of the league standings.
The 23-year-old Scottsdale, Ariz., native leads the NHL with 18 goals through 20 games this season.
He has 176 career goals in 302 contests since making his NHL debut in 2016-17.
Matthews has missed Toronto's last two games with a wrist injury. He is listed as day-to-day.
Chicago Blackhawks right-wing Patrick Kane (Central Division) , San Jose Sharks centre Logan Couture (West) and Boston Bruins right-wing David Pastrnak (East) are the NHL's other stars of the month.
Meanwhile, Ottawa Senators winger Tim Stützle was named the NHL's rookie of the month for February.
Stutzle led rookies with seven assists and 10 points in 14 February games.
Oilers Alex Chiasson to have hearing over cross check on Maple Leafs Jimmy Vesey – Pension Plan Puppets
Edmonton's Alex Chiasson will have a hearing today for Cross-checking Toronto's Jimmy Vesey.

— NHL Player Safety (@NHLPlayerSafety) March 2, 2021
At the 20:00 mark of the Monday, March 1 game between the Oilers and the Leafs, Alex Chiasson was assessed a 5-minute major for cross checking on Jimmy Vesey and a 10-minute game misconduct.
The start of the fracas began late in the third period, when each team bumped the goalie late after a whistle. There was a moment of irate Mike Smith, and then a retaliation bump on Hutchinson.
Which led to this:
And also Zach Bogosian thwarted from a fight with Darnell Nurse. And then there was another scrum at the end of the game. However the television broadcast did not show the incident with Chiasson and Vesey, only this:
We'll update you with any more news.
That angle we didn't have:
NHL's four most surprising teams of 2021 and what makes them tick – Sportsnet.ca
In a 56-game season, everything is moving fast.
Like, can you believe by the time this week is out, the Vancouver Canucks will hit the halfway point of their season? They'll get there first, but most other teams will follow in the week to come.
This season, 28 games marks the halfway point, which really drives home how important it is to avoid long stretches of losing hockey because just one of those could bury you.
For teams that had lukewarm aspirations this season, a good long run or two could change everything we think about them and put them in a position to surprise. With so many games still to come, there is lots of time to see which of these teams are real and which are a mirage behind a hot start.
Here are four teams who have surprised us this year, and how they've accomplished it so far.
Florida Panthers
The Panthers had some interesting things about them dating back to last season when they brought Sergei Bobrovsky and Joel Quenneville aboard. Florida finished with the sixth-best offence in the NHL last season, but were undone by a porous defence and really disappointing goaltending.
This year they still have a top-10 offence and control a considerable amount more of the shots being taken than they did last year.
But Florida hasn't accomplished this by pouring more offence on the ice. The defence has been tougher in close to the net and at least one goalie has been steady from the start.

(All stats 5-on-5 from Natural Stat Trick)
Chris Driedger has been among the more unexpected stories of this season so far, with a .928 save percentage that ranks among the best in the league. While Bobrovsky has had some blowup starts along the way, Driedger has been pretty stable and allowed the Panthers to accumulate wins and start with a strong record.
The team is taking a hot hand approach to the position right now and between the two of them and this improved defence, the Panthers have the fifth-best 5-on-5 save percentage after ranking 29th there last season.
There is measurable change to what's going on in front of Florida's goalies this season and it tightens up what was their biggest weakness last season without having the offence suffer.
They're fighting atop this year's Central Division, and not only by taking advantage of soft points on their schedule either — the Panthers are 7-2-2 against Dallas, Tampa, Carolina and Chicago (who, I suppose, we can no longer count among the weaker matchups on the schedule).
Winnipeg Jets
The Jets' inclusion here may be a head-scratcher now, but don't forget what the outlook was in the Canadian division before the puck dropped in January.
Toronto was one of the favourites. An improved Montreal was a dark horse pick by some, Calgary for others. Even those who had Vancouver taking a step back put them in the running for a playoff spot. And Edmonton, with Connor McDavid and Leon Draisaitl, was tough to push down anyone's board. So it was hard to find a spot for Winnipeg, the fifth-best Canadian team last season, and they tended to slide down projections.
Today, they have the second-best points percentage in the group.
While the Panthers' improvement can at least in part be directed at the better defence and goaltending, the same can't be said for the Jets. The sixth-worst team in 5-on-5 shots against per 60 minutes, and the worst team in high danger chances against last season, Winnipeg is ranked exactly the same in both categories so far in 2021.
This team just does not let a bad start get to it, with a league-leading six wins when trailing after the first period.
My latest column on #NHLJets digs into the topic of resilience:https://t.co/axjKc4MvfD

— Ken Wiebe (@WiebesWorld) February 28, 2021
In fact, the change between their offence and defence splits aren't all that much between this year and last. They shoot about as often and allow about as much against, both inside and outside of the most desirable areas. They were even one of the better teams when trailing after one period a year ago.
Interestingly, the Jets may just have found a better fit for their style within the North Division. Five teams from this division rank in the bottom nine in shots against at 5-on-5, so they're not giving a great advantage to any of their competitors by giving up lots there. On offence five North Division teams, including Winnipeg, rank in the top 11 for 5-on-5 goals per game.
But what really makes them stand out is Hellebuyck, who washes away any defensive issues anyway. He can be relied upon for a really heavy workload and, at 27, isn't at an age where injury or fatigue becomes any more of a concern.
The Jets' offence is dangerous and can hang with the best the North Division has to offer and, unlike the other top offences in this group, they also have an elite goalie who's going to steal some games.
Chicago Blackhawks
The only team in this list that has been outscored at 5-on-5, the Blackhawks might be the surprise team of the season so far.
Finishing 23rd last year and only getting games beyond the regular season because of a unique playoff set up, Chicago was still charting towards a top draft pick and becoming a trade deadline seller this year. Jonathan Toews missed the start of the season and is still out with an unknown illness. After letting Corey Crawford walk, the goaltending appeared to be a mess.
And then Kevin Lankinen appeared and all was well.
Just like last year the Blackhawks allow a ton of shots, though they have somewhat cut down on the most dangerous ones. Lankinen, the undrafted 25-year-old rookie out of Finland, is in the running for the Calder Trophy this season — and we have to wonder if he might end in the Vezina discussion if he keeps this up.
Measuring goals saved above average in all situations from Natural Stat Trick, Lankinen ranks third in the league behind a couple notable names.
On top of this totally unexpected performance, the Hawks are getting others we knew were possible. Alex DeBrincat is back on a full season 40-goal pace after tallying just 19 a year ago, and Patrick Kane is second in league scoring, nine points clear of the next highest-scoring non-North Division player.
They make up for being outscored at 5-on-5 with the league's best power play, which was 28th and converted just over 15 per cent of the time in 2019-20.
Minnesota Wild
It's mostly about Kirill Kaprizov, a superstar rookie who, unlike Lankinen, arrived with plenty of fanfare and expectation. He has breathed new life into the Wild and, when he's on the ice, they play at a pace and with a style we're not used to in this uniform.
But it's not just Kaprizov who is changing the face and outlook in Minnesota. For a team that looked to have gone stale in all aspects for some time, it's refreshing to see a rookie leading them in scoring, and three other players under 25 slotting into the team's top five scorers.
And now here comes Kaapo Kahkonen, a hyped fourth-round prospect who had a few NHL starts a year ago but spent most of it in the minors, where he won the AHL's best goalie award. He's taking over in Minnesota's net, has strung five wins in a row and had a .923 save percentage in February.
The Wild are a fun story this season and lots is changing there, but it is still being turned over to a young group. We should anticipate some hiccups along the way. While they sit 12-6-1 and third in the West Division (second by points percentage), the Wild haven't played St. Louis yet, and only saw Vegas for the first time on Tuesday, losing in extra time. So, bigger tests on Minnesota's staying power are to come.
But the best news from Minnesota this year is a new core is starting to blow in and the early returns are encouraging.