Leaked Docs Reveal Amazon's Astro Robot Is an Invasive Spy and Incredibly Stupid – Gizmodo
Amazon has a new robot—a sly little cyber-pet called "Astro" who is supposed to be a goofy domestic helper reminiscent of R2D2 but is, in reality, both a privacy nightmare and a dysfunctional mess.
The $1,000 bot that Amazon announced today is supposed to be a "domestic assistant"—basically an Alexa on wheels, with a security component—and is, on the outside, what some consider to be adorable. On the inside, however, Astro's a cold, hard bundle of wires and gears devoted mostly to scooping up and analyzing as much of your personal information as possible, according to Motherboard, which recently talked to sources and viewed documents connected to the project.
How it works: When the robot first enters the home, users must "enroll" the faces and voices of any person who is likely to be inside the residence, so that the metal critter knows who is supposed to be there and who isn't, the outlet reports. Kristy Schmidt, senior PR manager for devices and services at Amazon, told Motherboard that the device collects an immense amount of data on a home and its inhabitants in order to understand how to interact within it. Astro was designed to "handle a lot of the data processing on the device, including the images and raw sensor data it processes as it moves around your home," Schmidt said. "This helps Astro respond quickly to its environment. In addition, your visual ID is stored on the device, and Astro uses on-device processing to recognize you."
Leaked documents show that much of that data is collected to help serve the robot's "security" function. Referred to internally within Amazon as "Vesta" (the ancient Roman goddess of the hearth), the robot can apparently be put into "Sentry" mode, which enables it to patrol the home for people or events that it doesn't recognize. When it meets someone whose face it hasn't yet stored in its database, it proceeds to stalk them around the house, collecting and storing data on them, until told to stop. Fun!
"Sentry is required to investigate any unrecognized person detected by it or Audio Event in certain set of conditions are met," a document states. "Sentry should first try to identify the person if they are not still unrecognized for as long as 30s [seconds]. When the person is identified as unknown or 30 seconds passed, Sentry should start following the person until Sentry Mode is turned off."
The robot can also be paired with an app that allows the homeowner to livestream video from within the residence while they aren't there, Motherboard reports.
"Vesta slowly and intelligently patrols the home when unfamiliar person are around, moving from scan point to scan point (the best location and pose in any given space to look around) looking and listening for unusual activity," another leaked document states. "Vesta moves to a predetermined scan point and pose to scan any given room, looking past and over obstacles in its way. Vesta completes one complete patrol when it completes scanning all the scan point on the floorplan."
The robot is also built to be paired with Amazon Ring, the company's odious home security apparatus that doubles as an informal surveillance network for police departments across the country. After pairing, Astro would ostensibly respond to events connected to Ring, patrolling the house if an alarm went off.
But, on top of all the invasive potential of the product, Astro may just not work very well yet. Multiple sources who worked on previous iterations of the robot have said that its functionality was very limited.
"Astro is terrible and will almost certainly throw itself down a flight of stairs if presented the opportunity. The person detection is unreliable at best, making the in-home security proposition laughable," one anonymous developer told Motherboard. "The device feels fragile for something with an absurd cost. The mast has broken on several devices, locking itself in the extended or retracted position, and there's no way to ship it to Amazon when that happens."
All of this makes buying the bot sound like both a creepy and useless exercise, a little like strapping motorized wheels to a bulky camcorder and letting it awkwardly roll around your home. The thing can't even vacuum.
5 things to try out on Apple's new AirPods (3rd generation) | Venture – Daily Hive
Earlier this month, Apple announced its latest AirPods (3rd generation) with a major redesign from its earlier models.
The new design is lightweight and has a stem that is 33% shorter than the 2nd generation model. Its new design aligns closer to the AirPods Pro but comes in at a lower cost.
For those looking at the new AirPods (3rd generation), here are five things to try out with these smaller headphones:
Go for a sweaty workout or head out in the rain
You can go for a vigorous walk, run, or workout, or head out in the rain, as the new AirPods are sweat and water-resistant. Not only are the headphones themselves resistant to sweat and water, but the case has an IPX4 rating for sweat and water resistance.
While you're at it, let Siri read your messages
You don't have to look at your phone when you can have your text messages announced, and read to you. Siri can read alerts and reply to messages for you using just your voice.
Make a FaceTime call or listen to tunes
While it isn't noise cancelling like the AirPods Pro, the new AirPods include a custom high dynamic range amplifier, taking its sound quality to the next level with computational audio features, like Adaptive EQ and spatial audio with dynamic head tracking. The head tracking also allows Group FaceTime calls to feel more immersive than ever before. A new acoustic mesh covers the microphone to reduce wind noise, so your voice is crisp and clear on calls.
Check out the new skin-detect sensor
The new AirPods has an innovative way to detect when they are in your ear. According to Apple, a "new skin detect optical sensor, when combined with the accelerometer, helps the new AirPods to better determine whether they are in your ears or in your pockets." So there is better detection on when AirPods can turn on and turn off playback.
You can also press to play, pause, and skip through songs, or answer and end calls through the force sensor located on the stem.
Let the music play for hours
There is now up to 6 hours of battery life on a single charge, which is an hour more compared to the 2nd generation AirPods. And speaking of battery, the new AirPods are also now part of the MagSafe ecosystem, so they can magnetically align your AirPods on the charger.
The new AirPods (3rd generation) will be available for $239 beginning Tuesday, October 26.
For those looking for AirPods but less expensive, the 2nd generation is also available at $179. And the AirPods Pro now comes with MagSafe Charging Case and goes for $329.
Apple also says that all new AirPods come with six months of free Apple Music.
First MacBook Pro Orders Arriving to Customers in New Zealand, Australia and Asia – MacRumors
It's already Tuesday, October 26 in New Zealand, Australia, and multiple countries in Asia which means it's MacBook Pro launch day. Customers in New Zealand and Australia are always the first to get their hands on new devices due to time zone differences, and the new MacBook Pro models are no exception.
14 and 16-inch MacBook Pro models are beginning to arrive to customers who pre-ordered last Monday, and new MacBook Pro owners have been sharing photos on the MacRumors forums.
There are no Apple Stores in New Zealand, so customers in Australia and countries across Asia are the first to be able to pick up a MacBook Pro at an Apple retail location. Stock in Australia and other countries will give us an idea of what we can expect from other stores worldwide.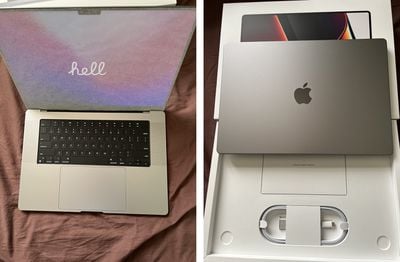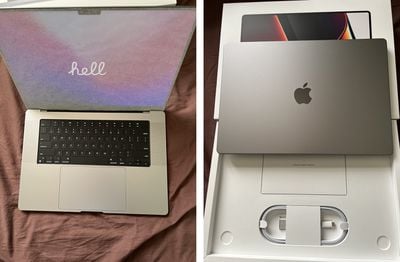 Apple is selling stock configurations of the new machines in its retail stores, and there are also some higher-end BTO configurations that may be available depending on the store. Most people who want a custom configured machine will need to order online and wait, however.
Supplies of stock MacBook Pro models are constrained and new orders won't arrive until mid-to-late November or early December in some cases, so getting a stock configuration in a store is now the only way to get one of the new machines on launch day.
Following New Zealand, Australia, and Asia, sales of the MacBook Pro will begin in the Middle East, Europe, and then North America. Apple Stores‌ globally are opening up right around 8:00 a.m. local time to allow customers to pick up reserved devices and make walk-in purchases.
Stay tuned to MacRumors tomorrow because we'll have a hands-on look at the MacBook Pro along with first impressions and plenty more coverage coming throughout the week.
Nigeria launches eNaira amid hope, scepticism – and plenty of uncertainty
Nigeria on Monday became the first African nation to launch a digital currency – the eNaira – a move its leaders said will expand access to banking, enable more remittances and even grow the economy by billions of dollars.
Africa's most populous nation joins the Bahamas, the first to launch a general purpose central bank digital currency, known as the Sand Dollar, in October. China has ongoing trials and Switzerland and the Bank of France have announced Europe's first cross-border experiment.
But experts and cryptocurrency users in the continent's biggest economy say the fact that there are more questions than answers regarding the eNaira – and a large amount of worry over the consistency of Central Bank (CBN) rules – means the government faces a tough path to make the eNaira a success.
Central Bank Governor Godwin Emefiele said during Monday's launch that there had been "overwhelming interest and encouraging response", adding that 33 banks, 2,000 customers and 120 merchants had already registered successfully with the platform, which is available via an app on Apple and Android.
Some 200 million nairas' worth of eNaira, which will maintain parity with the traditional currency, has been issued to financial institutions, he said. President Muhammadu Buhari said use of the currency could grow the economy by $29 billion over ten years, enable direct government welfare payments and even increase the tax base.
Nigeria's young, tech-savvy population has eagerly adopted digital currencies. Cryptocurrency use has grown quickly despite a Central Bank ban in February on banks and financial institutions dealing in or facilitating transactions in them.
Nigeria ranked seventh in the 2021 Global Crypto Adoption Index compiled by research firm Chainalysis. Official digital currencies, unlike crytocurrencies such as bitcoin, are backed and controlled by the central bank.
But some of what drove Nigeria's enthusiastic adoption of cryptocurrencies was the Central Bank's own shifting rules regarding accessing foreign currency – and the naira's plunging value on parallel markets that saw savings shrink.
"It's not clear looking at the CBN's body of work that Nigerians would be comfortable using this," said Ikemesit Effiong, head of research with Lagos-based consultancy SBM Intelligence.
He added that the CBN had not yet made clear whether users could transfer eNaira back into traditional naira, whether they could use cryptocurrency to buy or sell the eNaira or even whether there would be physical locations to use and transfer eNaira, or whether it would be entirely digital.
"There are more questions than answers, even though we are looking at the launch of this digital currency. The fact that this is the case so late in the game is concerning," he told Reuters.
The CBN issued a nine-page FAQ, which said eNaira users would access it via the phone app, internet banking or a code dialled from mobile phones, but it did not address transferability or other questions raised by Effiong.
Only three local television channels were allowed to attend the launch, and officials took no questions.
For 28-year-old Ebuka Joseph, an art dealer and enthusiastic cryptocurrency user in the commercial capital, Lagos, the uncertainty means he will stay on the sidelines, for now.
His concerns centre on whether he would easily be able to change eNaira back into normal currency.
"I have had issues trusting the central bank … because they have already banned crypto," he told Reuters. "I want to hear from people, see people use it, before I venture into it."
(Reporting by Libby George; Editing by Nick Macfie)