Lebanon Economy Minister Confident of International Bailout: Sky – Yahoo Canada Finance
(Bloomberg) — Lebanon's economy minister said the country's economic crisis has turned it into a "failed state" but is confident an international bailout would be agreed upon soon, Sky News reported.
The government is doing "everything that is needed to get out of this crisis," Raoul Nehme was cited as saying in an interview with Sky News. The country is a failed state in the context that "everything has collapsed basically," he said.
Lebanon's economic unraveling is beginning to slip out of control as its currency declined, threatening to drag the nation into a hyperinflation spiral. Food prices are rising so fast the army recently took meat off its menu, and blackouts are spreading as fuel runs out.
Nehme said the chances of an International Monetary Fund bailout were certain, and that no one would invest in the country without a framework in place through the IMF. Lebanon has been in talks with the IMF for months without an agreement, and there is a lack of consensus within the government on the bailout mechanism or size of the deficit, according to Sky.
<p class="canvas-atom canvas-text Mb(1.0em) Mb(0)–sm Mt(0.8em)–sm" type="text" content="For more articles like this, please visit us at bloomberg.com" data-reactid="23″>For more articles like this, please visit us at bloomberg.com
<p class="canvas-atom canvas-text Mb(1.0em) Mb(0)–sm Mt(0.8em)–sm" type="text" content="Subscribe now to stay ahead with the most trusted business news source." data-reactid="24″>Subscribe now to stay ahead with the most trusted business news source.
©2020 Bloomberg L.P.
Canadian economy added 62,000 jobs in November, Statistics Canada says – KitchenerToday.com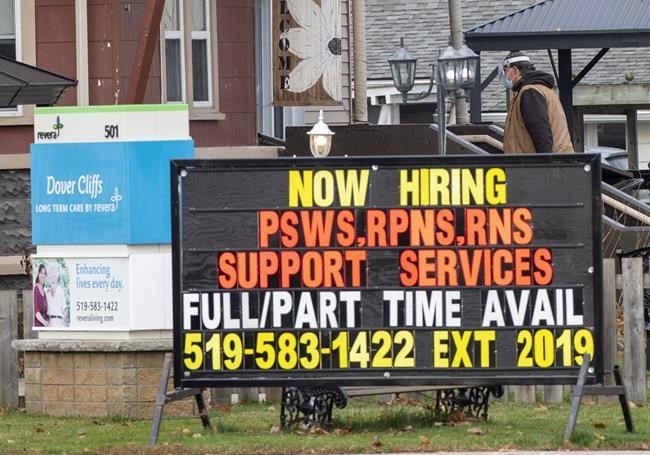 Statistics Canada says the economy added 62,000 jobs in November compared with an addition of 84,000 in October.
The gains were mostly focused in full-time work with a gain of 99,000 jobs, offset somewhat by a decline in part-time work of 37,000 positions.
The average economist estimate had been for a gain of 20,000 jobs and the unemployment rate to remain unchanged, according to financial data firm Refinitiv.
The gains in November left the country 574,000 jobs short of recouping the approximately three million jobs lost from lockdowns in March and April that sent the unemployment rate skyrocketing to 13.7 per cent in May.
Last month, the unemployment rate fell to 8.5 per cent compared with 8.9 per cent in October.
But the pace of gains has slowed, with employment rising by 0.3 per cent in November compared to an average of 2.7 per cent per month between May and September.
In Waterloo Region, the unemployment rate dropped from 10.8 per cent in October to 9.1 per cent in November.
Local entrepreneurs pitch their ideas for circular food economy – GuelphToday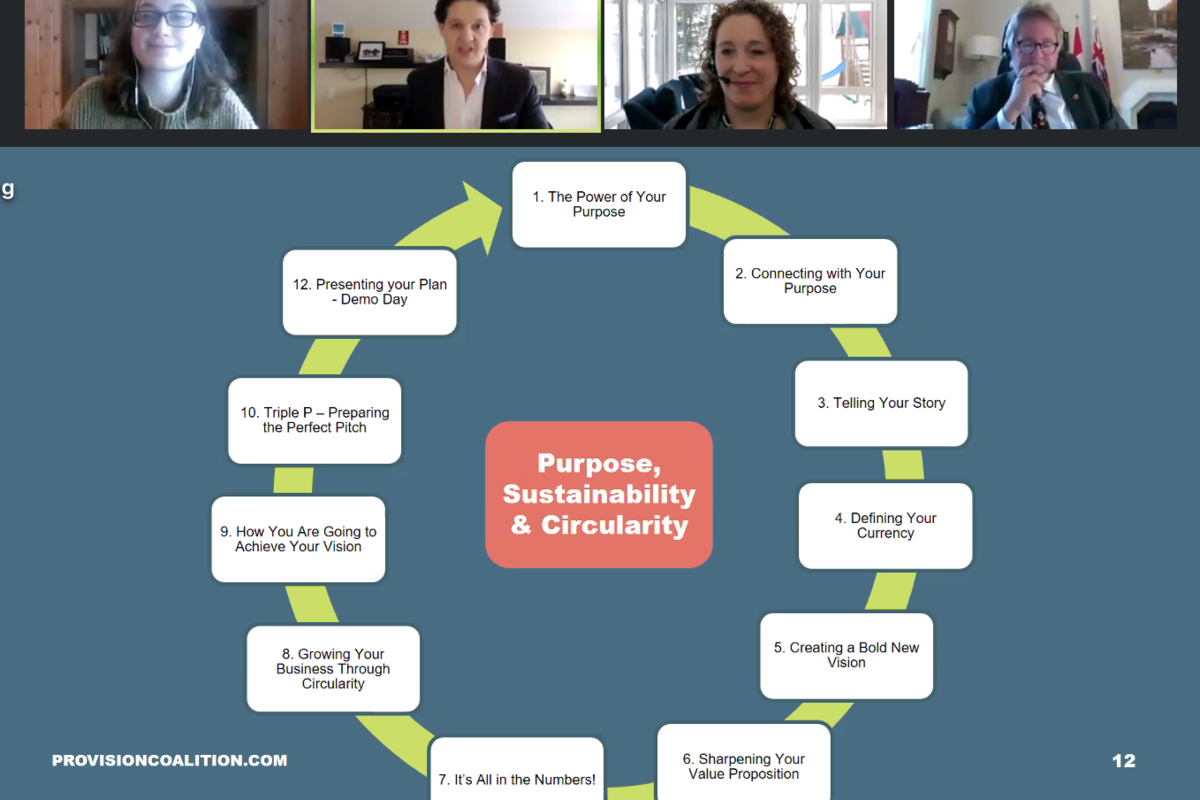 Local entrepreneurs got the chance to pitch their ideas to create a circular food economy earlier this week
The second cohort of graduates from the R-Purpose MICRO program presented their ideas for a more circular economy to a panel of judges for constructive criticism.
The virtual Demo Day event allowed companies to present business pitches and make connections with leaders from various industries.
The program is aimed at micro-companies who have fewer than five employees and is part of Guelph-Wellington's Our Food Future initiative.
"This initiative is to create Canada's first circular food economy by 2025," said Cher Mereweather, president and CEO of the Provision Coalition. "The circular food economy is inspired by the planets natural cycle, it re-imagines and regenerates the systems that feed us, it eliminates waste, it shares in economic prosperity and it nourishes our community.
Each company has an individual idea to create a more circular food economy, from home hydroponic kits to soy-based cream liqueur.
The judges came from various backgrounds:
– Barb Swartzentruber, Executive Director for the City of Guelph Smart Cities office
– Sheri Evans, local development manager for Sobeys
– Marcia Woods, CEO and co-founder for Freshspoke
– Evan Clark, vice-chair of the Golden Triangle Angel Network
"What's amazing is the one thing we all share," said Clark. "We're all optimistic about a world that can be a little bit better and a little bit more environmentally friendly. We're all here to combat a variety of things related to climate change and how we connect with each other. "
Out of 13 presentations, the judges picked 5th bean, a soy-based cream liqueur company, and A Friendlier Company, a company that is creating reusable takeout packaging, as the runners up.
However, a unanimous vote crowned Well Baked Box as the winner. The company works on creating sustainably-sourced boxed baking and snack kits that are delivered. The kits are all free of gluten, dairy and refined sugar.
"I think being very niche in baking is a very smart play," said Woods. "Being able to provide that for folks who have specific dietary requirements is very cool."
Husband and wife duo Stewart Russell and Courtney Clayson-Russell were inspired by their passions for helping others make healthier choices. Russel said when they created the company, they wanted to make a commitment to running a sustainable and environmentally conscious business.
Russell said the taking the R-Purpose MICRO course shaped the direction Well Baked Box is going to be taking.
"This has been crazy, what we thought we were doing at the being of R-Purpose MICRO and what we're doing now and planning to do is completely different," said Russell. "It was very special for us to be part of the course."
U.S. economy gains just 245,000 jobs in final report of 2020 as recovery stalls with Covid surging – NBC News
The U.S. economy added 245,000 jobs in November, as the unemployment rate fell to 6.7 percent, according to data released Friday by the Bureau of Labor Statistics. Economists had predicted the economy would gain around 440,000 jobs.
Amid a fresh surge in coronavirus cases and a new round of shutdowns, Friday's figure represents the fifth straight month of decelerating job gains. It is by far the lowest monthly total since the economy started its halting recovery.
"Today's report is both a wakeup call and a warning," said Nick Bunker, Indeed economic research director. "Coronavirus cases are surging throughout the country and several federal relief programs are set to expire this month. Progress in the labor market has slowed at the worst possible time. We might be optimistic about the spring, but the winter could bring another round of economic pain."
BLS unemployment data is collected on or around the 12th of the month, but more recent metrics underscore how vulnerable the economy is to a "super-surge" of coronavirus infections around the holidays that could send people back into their homes and shutter businesses.
"This surge in cases has the potential to significantly slow down overall economic activity and therefore employers' desire to hire," said Nick Bunker, director of economic research at Indeed.com. "The pullback from those households could slow consumption and therefore overall economic growth," he said — a major risk given that consumer spending fuels some two-thirds of economic activity.
The BLS data came two days after a lackluster report on jobs growth by payroll processor ADP in conjunction with Moody's Analytics, which found that employers added 307,000 private sector jobs last month, in contrast to the 475,000 expected among economists surveyed by Dow Jones.
"ADP's employment report was somewhat disappointing," said Julia Pollak, labor economist at ZipRecruiter.com. "Ideally, we'd be adding 2 million a month and really climbing out of this recession."
Two of the past three weekly jobless claims reports showed increases, reversing a months-long trend of improvements — but seeing how many people are losing jobs is only part of the equation, said Dan North, chief economist, North America at Euler Hermes.
"It does not tell the other half, which is the number of people becoming employed. You would expect with the increase in lockdowns, you would see fewer people becoming employed as well."
Data bears this out: According to Glassdoor.com, job openings fell by 2.5 percent on a month-to-month basis and are still down by more than 10 percent from pre-pandemic levels.
"It is instructive that this decline has been very broad, which points to a repeat of what we saw in the spring, but on a smaller scale," said Daniel Zhao, senior economist at Glassdoor. "Basically, every major group except for health care has seen job openings fall," he said.
Since job openings are a forward-looking metric, economists are looking ahead with some trepidation to the December jobs report, which will be released just after the new year.
"Ultimately, the virus is in the driver's seat. The virus is what determines the trajectory of the recovery," Zhao said.
The profound distortion in usual hiring patterns that typically take place around the holidays will make forecasting difficult, North said. "There has been much less holiday hiring than the seasonal adjustments would normally account for, so that would hold the December… jobs numbers down as well," he said.
Although the promise of a vaccine has raised the hopes of investors, public health officials warn that a large-scale rollout sufficient to protect much of the population could still be months away.
"It's hard to see exactly when the recovery can really start," Pollak said. "The start of vaccination is not enough. We need people to feel totally safe gathering in large numbers."