Major retailers close doors in U.S. in response to coronavirus outbreak – Axios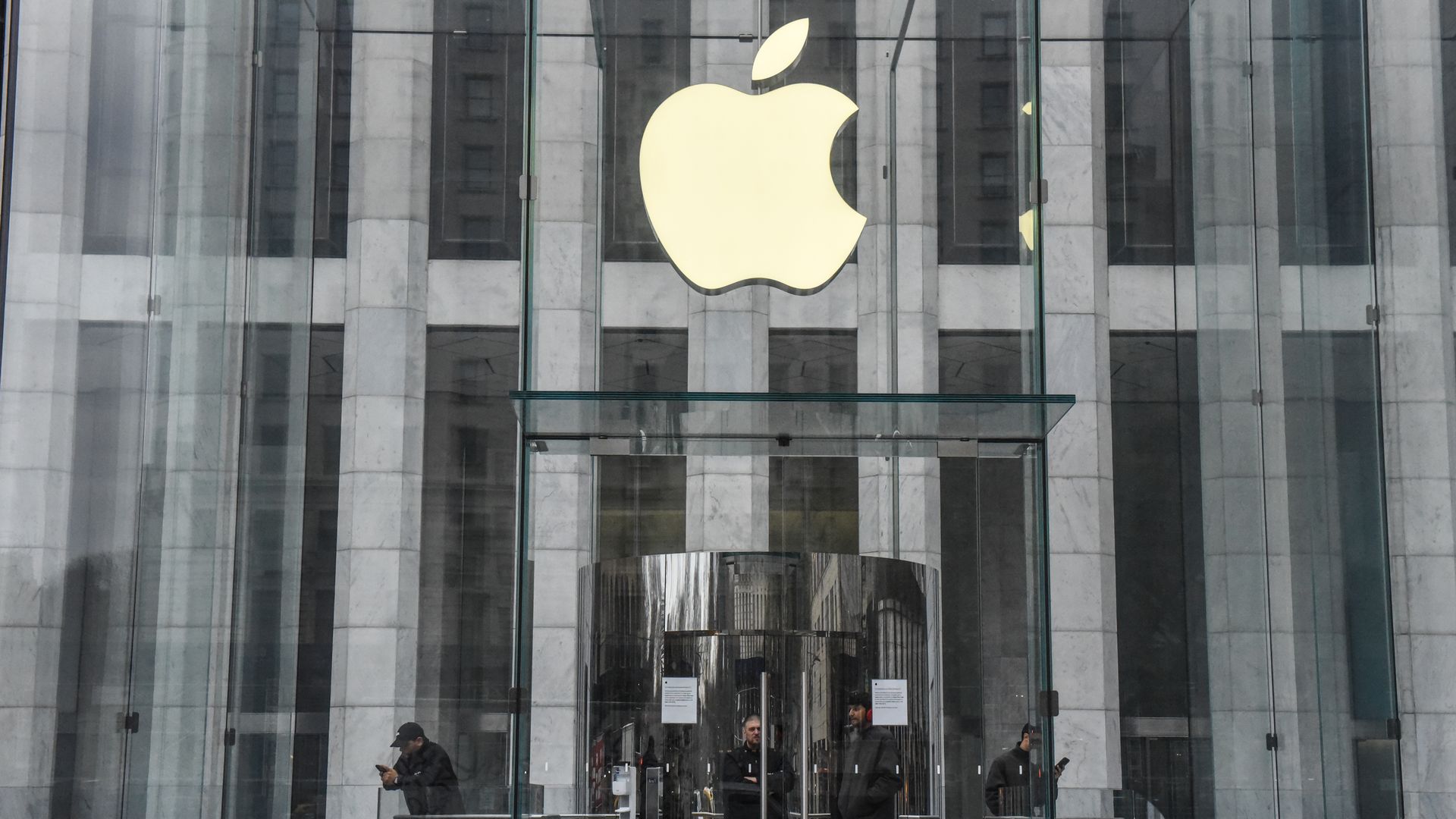 Apple's flagship store in New York City. Photo: Stephanie Keith/Getty Images
Major retailers are closing their doors or reducing their open hours across the United States in an effort to blunt the spread of the coronavirus.
Why it matters: While the closures may help stop the spread of the virus, they will also hamper the already-stressed retail industry, according to CNBC.
Driving the news:
Nike said Sunday that all of its stores in the U.S., Canada, Western Europe, Australia and New Zealand will close from Monday through March 27, CNBC reports. A spokesperson said all workers will still be paid while the stores are closed.
Abercrombie & Fitch will close all of its stores outside of the Asia-Pacific region between March 15 and March 28. It has about 880 stores worldwide, per CNBC.
Apple on Saturday announced it will close all of its retail stores worldwide except for greater China until March 27. CEO Tim Cook said hourly workers will continue to receive pay while stores are closed.
Urban Outfitters, which operates 600 stores under various brands, will close temporarily until at least March 28 but continue to pay workers.
Patagonia closed all of its stores, offices and other operations on March 13. Rose Marcario, the company's CEO and president, said employees will receive their regular pay during the closure.
Walmart is closing its 24-hour locations overnight to restock products and clean the stores. Stores that were open 24 hours will now operate from 6am to 11pm, according to USA Today.
By the numbers: The U.S. had 2,952 cases of the virus and 57 deaths as of noon Sunday, according to Johns Hopkins University.
Nintendo has big plans for Super Mario Bros.' 35th anniversary – Video Games Chronicle
Nintendo" href="https://www.videogameschronicle.com/platforms/nintendo/">Nintendo is planning to celebrate Super Mario Bros.' 35th anniversary this year with several major releases, new and old.
Multiple sources have told VGC that the platform holder is planning to hold an event to coincide with this year's anniversary, which marks 35 years since the start of the mainline Super Mario series in 1985.
As part of its anniversary celebrations, Nintendo will reveal plans to re-release most of Super Mario's 35-year back catalogue this year, remastered for Nintendo Switch" href="https://www.videogameschronicle.com/platforms/nintendo/switch/">Nintendo Switch, VGC was told.
As VGC's network partner Eurogamer reported in a follow-up to our story, these remasters will include 1997's Super Mario 64, 2002's Super Mario Sunshine and 2007's Super Mario Galaxy.
Nintendo will also release several other Mario titles in 2020, including a new instalment in the Paper Mario series and a Deluxe version of 2013's Super Mario 3D World.
Most of Mario's back catalogue will be remastered for Switch, VGC was told.
The plans are set to be revealed alongside new details of Nintendo's partnership with Universal, and the pair's Super Nintendo World theme park attractions and animated Super Mario movie.
Nintendo has already unveiled one flagship licensing deal planned to commemorate the anniversary: a special interactive Lego Mario set which sees players collecting coins and defeating enemies in real-life 'levels'.
The Super Mario 35th Anniversary reveal was originally due to take place as a physical event at E3 in June, VGC was told, but Nintendo is now reviewing its plans in light of the ongoing COVID-19 pandemic. E3 2020 has been cancelled due to the virus outbreak and Nintendo could instead opt for a digital showcase.
Approached for comment on this story, Nintendo said it "does not comment on rumour and speculation."
Nintendo last celebrated a milestone Mario anniversary with the series' 30th anniversary in 2015.
The company commemorated the occasion with various events and merchandise, including two special edition 8-bit Mario Amiibos. Super Mario was licensed for products from Hot Wheels, Moschino, Trump cards and more.
That year's celebrations culminated with the release of Super Mario Maker for Wii U" href="https://www.videogameschronicle.com/platforms/nintendo/wiiu/">Wii U in September 2015, exactly 30 years since Super Mario Bros.' original release for Famicom in Japan.
While its core business remains making and selling games, Nintendo has increasingly moved to leverage its popular IP in various ways in recent years.
The company's new Nintendo Tokyo store opened in November 2019, while the Super Nintendo World theme park land at Universal Studios Japan was scheduled to launch this summer.
The company has also recently partnered with fashion brands such as Uniqlo and Levis for Nintendo-themed clothing lines.
Nintendo president Shuntaro Furukawa recently said the company's efforts to broaden its audience by leveraging its IP outside of video games was bearing fruit, and Nintendo director Shigeru Miyamoto" href="https://www.videogameschronicle.com/people/shigeru-miyamoto/">Shigeru Miyamoto also touched on this topic in a Famitsu interview.
"We want to expand our video game characters to a variety of settings – not just in games, all while keeping their value," Miyamoto said. "In other words, we'll be collaborating with various other companies. If we're able to accomplish that, we can create more opportunities for people to make contact with our characters on a much larger scale than usual."
.cls-1fill:url(#linear-gradient).cls-2fill:#fff
Microsoft wants Teams to be your communication tool for work and family – MobileSyrup
Microsoft wants Teams to be your communication hub. For everything.
The Redmond, Washington-based company announced a slew of new features, tools and apps coming as part of its new Microsoft 365 subscription. However, one of the standout announcements was that Teams would now work for families as well as businesses.
Teams, for those unfamiliar with the platform, is Microsoft's business communication hub. It has a lot in common with Slack, another communication tool for businesses. Even Google is trying to get into this space, with reports suggesting it's working on a chat platform that ties into G Suite services.
Whether you use Teams or Slack, these chat platforms have become invaluable to many businesses. And Microsoft now thinks that value can be expanded to families.
It's an interesting proposition. On the one hand, offering users the ability to switch between work and personal profiles is something Slack doesn't offer. Sure, you can sign into multiple Slack workspaces, swap between them and effectively use them for whatever you want. But Microsoft, at least from this announcement, appears to be doing more.
On the other hand, Teams for families puts Microsoft's business chat platform in direct competition with the countless other messaging platforms out there. Can Teams do enough to pull WhatsApp, Facebook Messenger, Signal and Telegram users away from their respective platforms? It might.
A feature suite you actually want
To grasp the potential allure of Teams, you need to understand two things. The first is the benefit of having one app for all your communication, and the other is the wealth of features Teams offers — features I think people will really want.
First up, having one app for all communication would be a huge boon, especially for people who aren't as tech-savvy. It would mean they wouldn't have to learn multiple apps just to send a message, and people can get stuff done faster if everything they need is in one familiar place. Considering some 44 million people use Teams every day, that's a lot of people that could benefit from consolidating communication to one platform.
As for the features, Microsoft announced a few things. However, with Teams' new features not going into preview until the summer, there are some specifics missing. Plus, it's hard to say how much of an impact these new features will have since we can't test them out yet.
That said, there's some promise here. For one, Teams will offer family users access to group chats and video or audio calls. While those are expected functions, the other features are more interesting.
According to Microsoft, users will be able to work on shared to-do lists with friends and family through Teams, assign other people tasks, coordinate schedules and share photos and videos. In a family setting, these features could help parents plan family outings, make chore lists and assign duties to kids, plan around activities, events and appointments, and more.
Further, Microsoft Teams will let users store important information like account details or Wi-Fi passwords. Judging by a product screenshots the company shared, those items will go into the 'Safe' on the Teams family dashboard. This could be a great tool for securely sharing the house Wi-Fi, or giving family members access to the Netflix password.
Finally, Teams will also offer a location sharing tool that will let users share location updates with their family.
Most of these features, but particularly the Safe, are things I'd love to have on messaging apps I already use. They could prove enticing enough to get users to switch, but it remains to be seen just how effective Teams will be at communication for everything.
Microsoft is launching a Family Safety app and Microsoft Teams for consumers – XDA Developers
Microsoft had a number of announcements to make today, some of which will make their way over to Android. The biggest news is the rebranding of Microsoft Office 365 to simply "Microsoft 365." With that name change comes a number of new features that will be available when the new plans launch next month.
Microsoft 365 will be available in two subscription plans: Personal and Family. These new plans will replace the existing Office 365 plans for consumers. Along with the name change comes a couple of additions. First, Microsoft Family Safety is an app to allow families to share their location, manage screen time, and more.
Microsoft Family Safety is similar to many popular apps used by families. It combines several features that parents can use to keep tabs on their kids' various activities. Parents can get information about screen time and even see how that time is broken down by device, including Windows, Android, and Xbox. Limits can be created for viewing times and for content based on age restrictions.
Location sharing is another feature of Microsoft Family Safety. Everyone in the family can see when people arrive at locations such as home, school, and work. You can set up notifications to know when someone arrives or leaves a location. The app can even give out driving reports, which could be useful for new drivers in the family.
Next up is Microsoft Teams for consumers. Teams has primarily been for businesses while Skype is the consumer-focused option, but that's changing in Microsoft 365. Microsoft Teams for consumers has many of the features you'd expect from a group chat app, including video calls, but also handy things like to-do list sharing and more. The company is positioning Teams to be a tool for people planning things together.
Microsoft 365 will also bring more features to Office users. The company's powerful AI-powered Editor will be available to anyone who subscribes to Microsoft 365. This feature is basically a more advanced version of Grammarly. Subscribers will get access to a rewrite feature than can rephrase an entire sentence. The tool also includes a plagiarism checker to help students to cite sources in research papers.
Microsoft 365 Personal and Family subscriptions will be available starting on April 21st. The Personal plan costs $6.99 per month, while the Family plan (up to six people) costs $9.99 per month. Some of these new features will be available first in preview and others will roll out over the coming months.
---
Source: Microsoft
Want more posts like this delivered to your inbox? Enter your email to be subscribed to our newsletter.