Media Release – June 1, 2022 – Guelph Police – Guelph Police Service
Female arrested in sword robbery
A Guelph female faces charges after another female was robbed at sword-point.
On May 25, the victim attended the Guelph Police station to report the incident. She said earlier that day a female known to her came to the victim's residence in the downtown area armed with a Samurai-style sword. She held the sword to the victim's throat while demanding cash, causing several small cuts to her throat. The female fled with a small amount of cash.
Approximately 12:35 a.m. Wednesday a female was located at an address on Woolwich Street and arrested. A 26-year-old Guelph female is charged with robbery and breach of probation. She will appear in a Guelph court July 15, 2022.
False fire alarm draws charges
A Guelph female who triggered the evacuation of a downtown apartment building on Monday has been arrested.
Just after 4 a.m., a female used a lighter and aerosol spray to cause a large fireball in the hallway of an apartment building in the downtown area. The fireball activated the building's fire alarms. The Guelph Fire Department attended and evacuated the building.
The responsible female was identified via video surveillance and was arrested Tuesday afternoon. A 27-year-old Guelph female is charged with possessing a weapon for a dangerous purpose, causing a false fire alarm and mischief. She will appear in a Guelph court July 12, 2022.
$58k lost in Bitcoin scam
The Guelph Police Service is investigating after a female lost approximately $58,000 – including $20,000 from a line of credit – through an elaborate Bitcoin scam.
The scam came to light when the female ran out of money and asked relatives for help paying the scammer.
Officers met with relatives of the victim Tuesday and learned she was contacted approximately six weeks ago by someone claiming to be an officer with the Department of Justice. The caller advised there was a warrant for the female's arrest which could be quashed if she paid a sum of money.
She was directed to withdraw as much as she could and deposit it into Bitcoin ATMs in Guelph and Brampton. When she asked relatives for help getting more money together they contacted police.
The Guelph Police Service would like to remind the public that no police officer or government official will ever instruct you to purchase and send gift cards or submit payment via Bitcoin. Please be very vigilant and cautious whenever you are speaking with someone you don't know, especially online or over the phone. Please also seek advice from a family member, coworker, trusted friend or the Guelph Police Service at 519-824-1212 before following through on instructions received from a person that you don't know.
Total calls for service in the last 24 hours – 238
Watergate's 50th Anniversary: A Multi-Media Guide For Today – Forbes
The January 6th hearings from the House of Representatives Select Committee are unfolding just as we are marking the 50th anniversary of the Watergate break-in and the beginning of the end of the presidency of Richard Nixon. With this remarkable confluence of history, it's an important time to revisit the deep well of Watergate-related media content not only to enhance our understanding of the stunning events of the 1970s but to contextualize the horrors of what we are watching in real time today.
In sharing these suggestions, I'll confess I have been a Watergate junkie – ok, nerd – from early on in my life. I don't know how many young kids were mesmerized by figures such as Senator Sam Ervin and star witness (and current CNN commentator) John Dean, but I couldn't get enough. Still, you don't have to be a Watergate addict to find not only lessons of history but entertainment and even humor from a series of extraordinary storytellers about this era. And as we say in the digital age, and for the benefit of my students among many others, they are available in multiple formats.
All The President's Men (1974 book; 1976 film). Of course, all Watergate roads trace back to Bob Woodward and Carl Bernstein, the young reporters who doggedly broke the link between the supposed "third-rate burglary" and the Oval Office. Their book doesn't read like one of today's quick retracing of recent events but is more akin to a John le Carre novel with an intricate plot of espionage and corruption. Both the book and the movie also rightfully helped inspire a generation of young journalists and helped bring to life the vital need to expose government wrongdoing.
As for the film, it's hard to know where to start. How about two of the biggest movie stars of the 20th Century, Robert Redford as Woodward and Dustin Hoffman as Bernstein? How about Academy Award-winning screenwriter William Goldman? And as Washington Post editor Ben Bradlee, Jason Robards closed the film with the legendary entreaty: "Nothing is riding on this except the, uh, first amendment to the Constitution, freedom of the press, and maybe the future of the country." Well said.
Blind Ambition (1976 book). John Dean, Nixon's White House Counsel, wrote one of many Watergate memoirs, but this book is distinguished for several reasons. Dean was integral to the attempted Watergate cover-up but ultimately told the truth to Congress and the American public and his story resonates as the tale of a young, initially idealistic, brilliant lawyer – part of Washington, D.C. mythology – seeking to make an impact on history. When you see the courage of Cassidy Hutchinson and a group of other young Trump White House aides that have cooperated with the January 6th Committee, this book will give you feel for the alluring power of the White House and the strength it takes to stand up to it.
Slow Burn (2017 podcast). This is one of a series of in-depth "true history" podcasts, and provides a serious, methodical, digestible unfurling of Watergate and the investigation to uncover the truth. I'll admit to a personal bias with this one as it features in-depth interviews with an old Washington friend Marc Lackritz, who (along with his wife) served as counsels for the Senate Watergate Committee. If you're looking for an inside understanding of what it is like to serve on a congressional committee in the eye of a hurricane, you can't do much better.
Frost/Nixon (2008 film; 2006 play). In need of cash after exile from the presidency, Richard Nixon sat for a historical series of interviews with David Frost which became controversial in part for the huge payout Nixon received to do them. Frost, mostly known in the U.S. as the host of an afternoon talk show, ended up drawing out rare candor from Nixon and the film captures the pressures of big-ticket TV journalism and the torturous soul of the ex-President. Michael Sheen as Frost and Frank Langella as Nixon brilliantly don't go for impersonations of these historical figures but delve deep into the psyches at play here.
Richard Nixon: A Fantasy (1972 comedy album). I'm heading out to left field on this one, but it's worth it. David Frye was a comedic impressionist whose career was inextricably linked to his uncanny impersonation of the often-imitated Nixon. Think of Alec Baldwin's Trump during an era when comedy albums from George Carlin and Richard Pryor were major cultural forces. This album treated Watergate as precisely what it was – a massive criminal enterprise with overtones of a Mafioso playbook. When you've got Trump and his acolytes allegedly engaging in witness tampering and myopic paybacks, it's not hard to see the linkage to the 2020 post-election conspiracy.
Watergate: Blueprint for a Scandal (2022 TV series). You'd think that in the last 50 years there would have been a definitive HBO drama series providing the 1970s equivalent of Game of Thrones, but it doesn't exist. The current Starz series Gaslit covers this ground but I found it mostly slight and unworthy of its topic, despite the presence of Julia Roberts and Sean Penn. So better to head to CNN's serious documentary treatment featuring the retrospective voices of key players such as Dean, Watergate prosecutor Richard Ben-Veniste and former Congresswoman Elizabeth Holzman.
Pro-Chinese agents pose as activists on social media to protest Canadian rare earth mine – Financial Post
Cybersecurity experts say fake accounts created to give China miners competitive advantage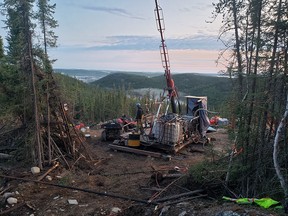 Article content
Pro-Chinese agents posed as concerned local residents on social media to try to spark protests over the opening of rare earth mines in the U.S. and Canada, cybersecurity researchers said in a new report.
Article content
The fake Twitter and Facebook accounts were created to give China, the largest producer of rare earth minerals, a competitive advantage, cybersecurity research company Mandiant disclosed on Tuesday.
Mandiant has reported on a network of thousands of fake accounts across numerous social media platforms, websites and forums since 2019 that support China's political interests. In one recent campaign Mandiant coined "Dragonbridge", fake accounts purported to be concerned local residents and environmentalists on Facebook to orchestrate protests at the Texas facility of the Australian mining company Lynas Rare Earths Ltd., according to Mandiant. It was unclear who was behind the campaign, the firm said.
Article content
The fake accounts claimed that the processing facility would spur irreversible environmental damage and radioactive contamination that could cause cancer and deformities in newborns, Mandiant researchers said. The accounts also criticized President Joe Biden's plan to expedite mining of these rare minerals.
China has used its dominance in the rare earth minerals market, critical for manufacturing mobile phones and other electronics, to threaten the U.S. with export bans.
As a result, the Pentagon has promised to beef up domestic production. It inked a US$30 million deal with Lynas in 2021 to build a facility in Texas, which the Australian company said could help it produce a quarter of the world's demand.
Article content
Dragonbridge was also behind fake accounts criticizing a new mine in Saskatchewan from Canada's Appia Rare Earths & Uranium Corp., which was announced this month, according to the report. In addition, the campaign's accounts stoked anger over USA Rare Earth LLC's plans to open a mine in Oklahoma, Mandiant said.
The Department of Defense said it will review the report, adding it would look into "ongoing concerns regarding a lack of transparency and over-reliance on concentrated foreign sources of critical minerals in key U.S. supply chains for essential global civilian and national security applications."
Dragonbridge has been behind 10 disinformation campaigns targeting Ukraine, according to Mandiant, including claims that the U.S. was storing bio-weapons in labs in the country, according to Mandiant.
"The private sector is now the victim of attacks by Chinese information operations, which are growing increasingly aggressive," said John Hultquist, vice president for Mandiant Intelligence.
"Information operations are typically a problem for civil society, governments, and platforms," he said. "They rarely target the private sector so directly and aggressively."
Hollywood Enlists Asian Media in US-Led $71 Billion Piracy Fight – BNN
(Bloomberg) — Hollywood studios battling online piracy have enlisted the first Asian members of an industry coalition set up to seek out and shut down illegal streaming sites.
The Hong Kong-based streaming service Viu and True Visions, a leading Thai pay-TV provider, will be the first Asian companies to join the Alliance for Creativity and Entertainment, whose members include Netflix Inc., Walt Disney Co. and other major media companies.
The alliance is part of the US Motion Picture Association and has 39 members, with plans to enlist other players in Latin America and elsewhere. Dues from the media organizations are used to finance legal fights against the theft of content.
Piracy has been on the rise during the pandemic, costing US entertainment companies an estimated $29 billion to $71 billion in lost revenue annually, according to executives at the organization. And media companies typically notice, and act on, copyright and intellectual property theft before police.
"We now have local partners fighting this local fight, who can connect to local law enforcement," Charles Rivkin, chairman of the alliance and the Motion Picture Association, said in an interview. "It's a whole lot more effective when you have a local player come in with the MPA than the MPA just parachuting in on our own and trying to make headway."
Expanding Ranks
While the organization is mostly made of US companies, including all of the major Hollywood studios and streaming services that form the MPA trade group, it also has international partners. BBC Worldwide and Vivendi SE's Canal+ are two of its biggest European members. Rivkin said he has long sought to expand the group's footprint in Asia-Pacific, where some of the largest illegal streaming sites are run.
Viu is one of the biggest streaming platforms in Asia, with 58.6 million monthly active users, according to the company. True Visions is a cable and satellite TV operator based in Thailand, and last month helped the alliance and local police arrest an alleged content pirate and shut down his website.
"We recognize the need to address the piracy that is widespread in our markets," Marianne Lee, chief of content acquisition and development at Viu, said in a statement. "We are committed to ensuring consumers move from illegal piracy sites to legal options."
While Hollywood has battled film and TV piracy for years, it became particularly problematic after major studios made their content more readily accessible online during pandemic lockdowns. John Fithian, the head of the National Association of Theatre Owners, said in April piracy was so widespread in 2021 that studios scrapped plans to debut their big, new films online rather than in theaters.
The alliance says it's also looking to partner with major sports leagues across the world, since they are also the target of digital content thieves. In April, ACE added beIN Media Group, one of the biggest international sports broadcasters, to its ranks.
©2022 Bloomberg L.P.