Medicare limits coverage of controversial Alzheimer's drug to those in clinical trials – CNN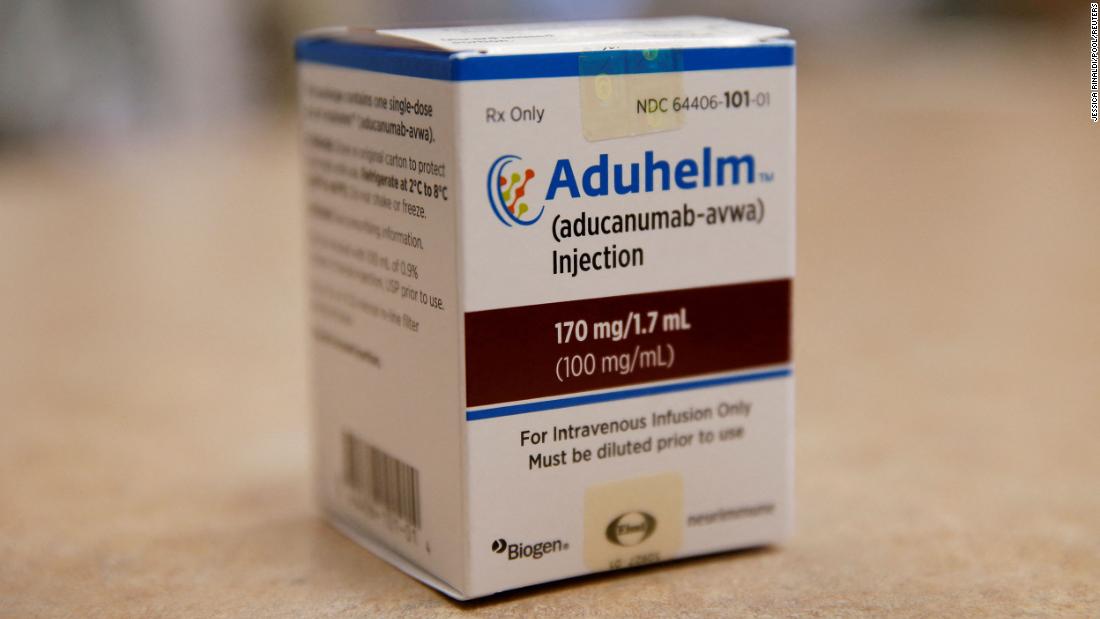 It is expected to restrict the number of people who can receive the medication. The coverage policy would also apply to other drugs in this class — monoclonal antibodies that target amyloid, or plaque, for the treatment of Alzheimer's disease — that the Food and Drug Administration may approve in the future.
The agency's proposed policy to restrict coverage of Aduhelm was met with intense opposition from some patient groups and drug-makers. Congressional lawmakers from both parties also questioned CMS' proposal to limit coverage of Aduhelm and similar drugs in the future.
The final policy allows a broader swath of patients participating in studies to receive Medicare coverage of future treatments that, unlike Aduhelm, receive traditional approval from the FDA. More than 6 million older Americans are believed to have Alzheimer's disease, though Aduhelm has been approved to treat only those with milder stages of the disease.
Biogen, the maker of Aduhelm, called CMS' decision unprecedented and said it effectively denies all Medicare enrollees access to the drug and may limit coverage for treatments approved in the future.
"When additional data from this new class of treatments become available, Biogen urges CMS to reconsider today's decision for all FDA-approved amyloid-beta targeting therapies," the company said in a statement, noting it is considering its options.
The decision sets a dangerous precedent, said Nicole Longo, a spokeswoman for PhRMA, a leading pharmaceutical industry group.
"CMS has further complicated matters by taking the unprecedented step of applying different standards for coverage of medicines depending on the FDA approval pathway taken, undermining the scientific assessment by experts at FDA," she said.
More than 10,000 comments
The agency made this decision based on evidence and a thorough analysis of public feedback, CMS Administrator Chiquita Brooks-LaSure said in a statement. More than 10,000 comments on the proposed policy were submitted.
"CMS has a responsibility to ensure that people with Medicare have equitable and appropriate access to therapies that are reasonable and necessary for use in the Medicare population," she said. "Through this decision, we are creating a pathway for people with Medicare to quickly access drugs the FDA determines have shown a clinical benefit and encourages manufacturers and trial administrators to ensure that the clinical trials recruit racially diverse participants."
The agency weighed the potential for patient benefits against the significance of serious unknown factors that could result in harm, Dr. Lee Fleisher, CMS chief medical officer, said in a statement.
"There is the potential for promise with this treatment; however, there is not currently enough evidence of demonstrating improved health outcomes to say that it is reasonable and necessary for people with Medicare, which is a key consideration for CMS when making national coverage determinations," Fleisher said.
Medicare has never before required enrollees to participate in a clinical trial for a drug already approved by the FDA that's being used for its intended purpose.
Patient advocates were quick to decry Medicare's final policy.
"It's unconscionable and reprehensible that CMS would force Alzheimer's patients to play by a different set of rules than patients with other diseases like cancer and HIV," UsAgainstAlzheimer's co-founder George Vradenburg said in a statement.
Global Alzheimer's Platform Foundation President John Dwyer likened the final decision to a "flat-out denial of coverage," saying it will restrict access.
"This decision will affect the future of Alzheimer's treatments for at least the next 10 years, representing a crushing blow for the more than 6 million Americans with Alzheimer's who were depending on CMS to approve coverage to label for these treatment options," he said in a statement.
Controversial from the start
The FDA's approval of Aduhelm last June raised many questions and concerns about the process, the drug's efficacy and its annual cost. Biogen initially priced it at about $56,000 a year.
The approval was also a driving force behind a massive increase in Medicare Part B premiums for 2022. The
standard monthly payment soared
to $170.10, up from $148.50 last year, for the more than 63 million enrollees.
About $10 of the premium spike is due to Aduhelm, a CMS official told CNN in November. The rest stems from a general increase in health care prices and usage, as well as from congressional action that limited the rise in Part B premiums for 2021 amid the coronavirus pandemic.
Even though Medicare had not yet decided at the time whether it would cover the medication, its actuaries had to make sure the program has sufficient funding in case it did.
Biogen later cut the price of the medication roughly in half to $28,200 a year. That prompted Health and Human Services Secretary Xavier Becerra to take the unusual step of instructing the agency to reassess a
major increase in Medicare Part B premiums
, which it is continuing to do.
It's unclear how many patients will ultimately receive the medication. About a month after it initially approved Aduhelm, the FDA narrowed the group of patients who could receive it to those with mild cognitive impairment or milder states of the disease. Also, it's unknown how many doctors will prescribe it because of questions surrounding its results.
Canadian banks benefit from consumer spending rebound – The Globe and Mail
Rebounding consumer spending and business investment are boosting profits for three of Canada's largest banks as customers travel and dine out more often, and bankers expect that growth to continue – perhaps at a more moderate pace – even amid mounting fears of an economic downturn.
Royal Bank of Canada and Toronto-Dominion Bank both reported profits for the fiscal second quarter ended April 30 that beat estimates, while Canadian Imperial Bank of Commerce's earnings fell short of expectations as its costs swelled. All three banks saw revenue and loan balances in their core Canadian retail and business banking operations post strong gains compared with a year earlier.
As consumers open their wallets, the surge is pushing businesses to borrow and invest to meet that demand, which has helped drive up fees and interest income collected by banks.
Canada's Big Six banks report their Q2 results this week. What we know about earnings, dividends and economic slowdown concerns
But a key question confronting banks Thursday was whether the trend will continue in the face of high inflation, rapidly rising interest rates and growing gloom about the prospects for an economic downturn. Investors and analysts are on edge about whether demand for loans could wane and defaults on existing loans might rise if economies swing toward a recession.
The banks say their clients are still upbeat and the fundamentals that underpin retail banking look strong enough to withstand some economic headwinds.
"It feels like there's certainly some more caution out there," said Hratch Panossian, CIBC's chief financial officer, in an interview. "But at this point in time, on the ground with our clients, there's still a relatively high level of confidence and relatively high level of activity as the economy has opened up, the services sectors are coming back."
On Wednesday, Bank of Nova Scotia and Bank of Montreal both reported higher second-quarter profits and rising loan balances, and executives from both banks offered optimistic outlooks for the financial sector.
There are two key factors bolstering banks' confidence: a tight labour market that has Canada's unemployment rate at its lowest level in decades, and the financial buffer many customers built during the COVID-19 pandemic in the form of higher savings and lower debt.
As public health restrictions lifted, spending came roaring back. Credit and debit transactions by RBC customers were 30-per-cent higher in April than before the pandemic, and that momentum carried into May, said chief executive officer Dave McKay. TD's credit card retail sales were up 22 per cent year over year, according to Mr. Tran. And at CIBC, purchase volumes on cards were up 30 per cent from a year earlier, excluding the bank's newly acquired portfolio of Costco-branded credit cards.
"We have seen, I'm going to say, full recovery in the categories that are travel, hotel, entertainment," said Laura Dottori-Attanasio, CIBC's head of personal and small business banking, on a Thursday conference call.
That spending could come under pressure as inflation and rising interest rates push up prices and borrowing costs for customers. "It's definitely going to eat into their discretionary income … and consumers then need to make choices," said Kelvin Tran, TD's chief financial officer, in an interview.
"But I think for the consumer, what is a very important factor is the unemployment rate," Mr. Tran said. "If people are gainfully employed and we continue to see the [labour] market continues to be very tight, that increases confidence."
Many customers also have more financial breathing room in the form of lower debts from personal loans, as well as higher savings. At CIBC, use rates on lines of credit are about 20-per-cent lower than in 2019, and the rate of revolving credit card balances is down between 7 and 10 per cent.
"We're feeling really good about the health of the consumer," Ms. Dottori-Attanasio said. "We're seeing very prudent behaviour when it comes to how people are managing their debt and how they're making payments on their credit cards."
Though bankers are confident their customers are resilient, they are still struggling to predict how the economy will react to rapidly rising interest rates. Central bankers "have to hit demand really hard" to tamp down inflation, Mr. McKay said. "Do we land it with a slight recession? I think our message today is it could go either way, it's 50-50. Having said that, … there are good shock absorbers to absorb that uncertainty."
In the fiscal second quarter, RBC earned $4.25-billion, or $2.96 a share, compared with $4-billion, or $2.76 a share, a year earlier. On an adjusted basis, RBC said it earned $2.99 a share, beating an estimate of $2.71, according to Refinitiv.
TD reported net income of $3.8-billion, or $2.07 a share, helped by a one-time boost of $224-million stemming from a lawsuit settlement. TD's adjusted earnings amounted to $2.02 a share, down slightly from the year prior but ahead of the consensus analysts' prediction of $1.93 a share.
And CIBC earned $1.52-billion, or $1.62 a share, compared with $1.65-billion, or $3.55 a share, in the same quarter last year – before the bank completed a 2-for-1 share split. CIBC said it earned $1.77 a share on an adjusted basis, just below analyst estimates of $1.80 a share.
RBC raised its quarterly dividend by 8 cents a share to $1.28, and CIBC increased its dividend by 2.5 cents a share to 83 cents.
RBC and TD continued to unwind large loan loss reserves they stockpiled to guard against the possibility COVID-19 could cause losses to swell. RBC recovered $342-million in provisions for credit losses in the quarter. TD earmarked just $27-million in total new provisions, while releasing some other reserves as loans are being paid back.
Executives at both banks said their expectations for credit are more optimistic now that pandemic-related risks have receded. But each bank also plugged more pessimistic assumptions into models they use to predict future losses, acknowledging the odds of some sort of economic downturn are rising.
"Omicron didn't have a big impact on [provisions] so that was a favourable factor in this quarter," Mr. Tran said. "And then you added something that is less favourable, which is this uncertainty, this outlook."
With a report from Tim Kiladze
Editor's note: Hratch Panossian's title has been corrected in the online version of this story.
Your time is valuable. Have the Top Business Headlines newsletter conveniently delivered to your inbox in the morning or evening. Sign up today.
Twitter shareholders sue Musk, say he 'deflated' stock price – CP24 Toronto's Breaking News
Barbara Ortutay, The Associated Press

Published Thursday, May 26, 2022 7:40PM EDT

Twitter shareholders have filed a lawsuit accusing Elon Musk of engaged in "unlawful conduct" aimed at sowing doubt about his bid to buy the social media company.
The lawsuit filed late Wednesday in the U.S. District Court for the Northern District of California claims the billionaire Tesla CEO has sought to drive down Twitter's stock price because he wants to walk away from the deal or negotiate a substantially lower purchase price.
San Francisco-based Twitter is also named as a defendant in the lawsuit, which seeks class action status as well as compensation for damages.
A representative for Musk did not immediately respond to a message for comment on Thursday. Twitter declined to comment.
Musk last month offered to buy Twitter for $44 billion, but later said the deal can't go forward until the company provides information about how many accounts on the platform are spam or bots.
The lawsuit notes, however, that Musk waived due diligence for his "take it or leave it" offer to buy Twitter. That means he waived his right to look at the company's non-public finances.
In addition, the problem of bots and fake accounts on Twitter is nothing new. The company paid $809.5 million last year to settle claims it was overstating its growth rate and monthly user figures. Twitter has also disclosed its bot estimates to the Securities and Exchange Commission for years, while also cautioning that its estimate might be too low.
To fund some of the acquisition, Musk has been selling Tesla stock and shares in the electric carmaker have lost nearly a third of their value since the deal was announced on April 25.
In response to the plunging value of Tesla's shares, the Twitter shareholders' lawsuit claims Musk has been denigrating Twitter, violating both the non-disparagement and non-disclosure clauses of his contract with the company.
"In doing so, Musk hoped to drive down Twitter's stock price and then use that as a pretext to attempt to re-negotiate the buyout," according to the lawsuit.
Twitter's shares closed Thursday at $39.54, 27% below Musk's $54.20 offer price.
Before announcing his bid to buy Twitter, Musk disclosed in early April that he had bought a 9% stake in the company. But the lawsuit says Musk did not disclose the stake within the timeframe required by the Securities and Exchange Commission.
And the lawsuit says his eventual disclosure of the stake to the SEC was "false and misleading" because he used a form meant for "passive investors" – which Musk at the time was not, because he had been offered a position on Twitter's board and was interested in buying the company.
Musk benefited by more than $156 million from his failure to disclose his increased stake on time, since Twitter's stock price could have been higher had investors known Musk was increasing his holdings, the lawsuit claims.
"By delaying his disclosure of his stake in Twitter, Musk engaged in market manipulation and bought Twitter stock at an artificially low price," the lawsuit says.
​TD holds off on dividend hike; Beats Q2 profit estimates – BNN
The Toronto-Dominion Bank beat profit expectations in its latest quarter despite muted performances across its major divisions. It also became the only major bank thus far this earnings season to not raise its quarterly dividend.
TD said its net income in the fiscal second quarter, which ended April 30, rose three per cent year-over-year to $3.81 billion. On an adjusted basis, its profit fell to $2.02 per share from $2.04 a year earlier. Analysts, on average, expected $1.93 in adjusted earnings per share. Overall credit quality improved sequentially, as TD set aside $27 million for loans that could go bad, compared to $72 million in the prior quarter.
Revenue and expenses in TD's Canadian retail banking unit both rose nine per cent year-over-year, while profit inched up two per cent to $2.24 billion. Lending activity ramped up in the quarter, with the total personal loan book hitting an average of $402.7 billion, compared to $373.3 billion a year earlier, while business loans jumped 16 per cent to almost $101 billion.
A number of one-time items affected profit in TD's U.S. retail banking unit. On an adjusted basis, net income in that business fell 10 per cent year-over-year to $769 million. TD said the downturn was caused in part by a much more moderate release of funds from loan loss provisions (US$15 million, compared to US$173 million a year earlier).
TD is awaiting final regulatory approvals to proceed with its US$13.4-billion takeover of Memphis, Tenn.-based First Horizon Corp. That transaction was announced in February; at the time, TD said the deal would make it a top-six bank in the United States thanks to the addition of First Horizon's 412 branches and more than 1 million customers. It also said it hoped to close the deal in the first quarter of fiscal 2023, which is a period that ends Jan. 31, 2023.
Meanwhile, similar to many of its peers that reported earlier this week, TD's wholesale banking unit (which includes capital markets activity) suffered profit erosion as net income fell six per cent year-over-year to $359 million.
"As we continue to emerge from the COVID-19 pandemic we face new economic uncertainties and growing geopolitical tensions. TD has proven its ability to adapt to changing circumstances and deliver performance and progress," said Bharat Masrani, TD's president and chief executive officer, in a release.
TD most recently announced a dividend hike (to $0.89 per share) in December; before that, the last hike was announced in February 2020. Shortly thereafter, Canada's banks were told by their regulator (the Office of the Superintendent of Financial Institutions) to hold off on dividend hikes and share buybacks due to the pandemic. That guidance was lifted in November.
Prior to OSFI's intervention, TD regularly raised its dividend on an annual basis. However, Masrani has indicated dividend hikes aren't on a pre-set schedule.
"It's not a bad assumption that we like to look at this on an annual basis, and then hopefully we get into that cycle. But it doesn't mean that we will not periodically look at it on a different cycle based on circumstance and the environment we might be in," he said during a conference call with analysts on Dec. 2.
"Generally, our cycle has been annual and that has worked out reasonably well for us, but it will depend on the environment going forward."