Minecraft's next Mob will either be Glow Squid, Iceologer, Moobloom
[embedded content]
When Minecraft Live rolls around on Oct. 3rd, fans will be able to vote on the next Mob that will join the game. There will be three different Mobs to choose from; Glow Squid, Iceologer, and Moobloom. Read details on each Mob below.
ICEOLOGER

This cold-hearted illager from Minecraft Dungeons thrives in snowy, icy, and rocky areas. If you vote for this hostile mob, they will move into the new mountain tops that tower over the Overworld. Do you really want that? These mountains are so tall that vegetation doesn't grow on them – just spiky ice formations, rocks, and snow as far as the eye can see. The Iceologer would make these mountains even more challenging, since they don't just want to hang out up there. Oh no, when you meet one of them they will hurl flying ice clouds at you. Vote for the Iceologer if you want to experience hardcore snowball fights with a stunning view!

MOOBLOOM

This four-legged flower is a fan favorite from Minecraft Earth, and pretty much the opposite of hostile. Rumor has it that Mooblooms and bees will be able to interact with each other but nobody has told me exactly how. It's almost like they want it to be a surprise and they don't trust me. That is just rude as I am a consummate professional. Do you know how much restraint it took for me to write move instead of moo-ve just now? Anyway, vote for the Moobloom if you want the Flower Forest biome to be more floral than ever!

GLOW SQUID

This shimmering sea creature also made its debut in Minecraft Earth, giving me the perfect opportunity to make a surf & turf joke but I won't since I have already committed to writing a very serious article™. Let's look at some factual facts instead of spending more time on puns, no matter how cleverly penned. The glow in Glow Squid doesn't come from a bomb skin care routine but actually refers to the way it literally glows, in the same way that the Enderman's eyes do. While we're comparing this candidate to existing mobs, I can tell you that they are pretty similar to the squid that are already swimming around in Minecraft. They won't attack players or other entities, but their glow is pretty atmospheric. That's probably why they prefer dark bodies of water – the effect just isn't the same in an already sun-drenched ocean. If you want to add more marine life to Minecraft and hasten the alleged squid uprising, vote for the Glow Squid!
Source:- GoNintendo
Hands on with Apple's MagSafe charger and silicone cases – AppleInsider
Apple's MagSafe accessories have started to show up at customers' doorsteps. We take a look at a few first-party cases, as well as Apple's MagSafe charger, to see how they work.
A few readers had questions after AppleInsider posted its in-depth look on MagSafe last week. Here, we have an opportunity to answer those queries with a hands-on of Apple's own accessories.
As Apple just introduced the standard, the iPhone maker is one of the only manufacturers to currently have MagSafe products on the market. OtterBox has released a few cases, but it won't be long before countless others flood the market.
Ahead of the full launch of iPhone 12 — including November's iPhone 12 mini and iPhone 12 Pro Max debuts — we got our hands on Apple's MagSafe charger and several MagSafe-compatible silicone cases. Apple is still readying a leather sleeve, leather cases, and wallets. The wallets, big enough to house credit cards, are on sale now though they don't ship until November or December.
MagSafe charger
MagSafe for iPhone is what one would expect from a magnetic wireless charger. At first blush it looks like a scaled up version of the Apple Watch charging puck, at least the stainless steel version that comes with the higher-end models. The back of the charger sports a nice matte finish that resists fingerprints. Instead of hard plastic, the white center portion — the part that touches your phone — is soft and feels very similar to Apple's silicone cases.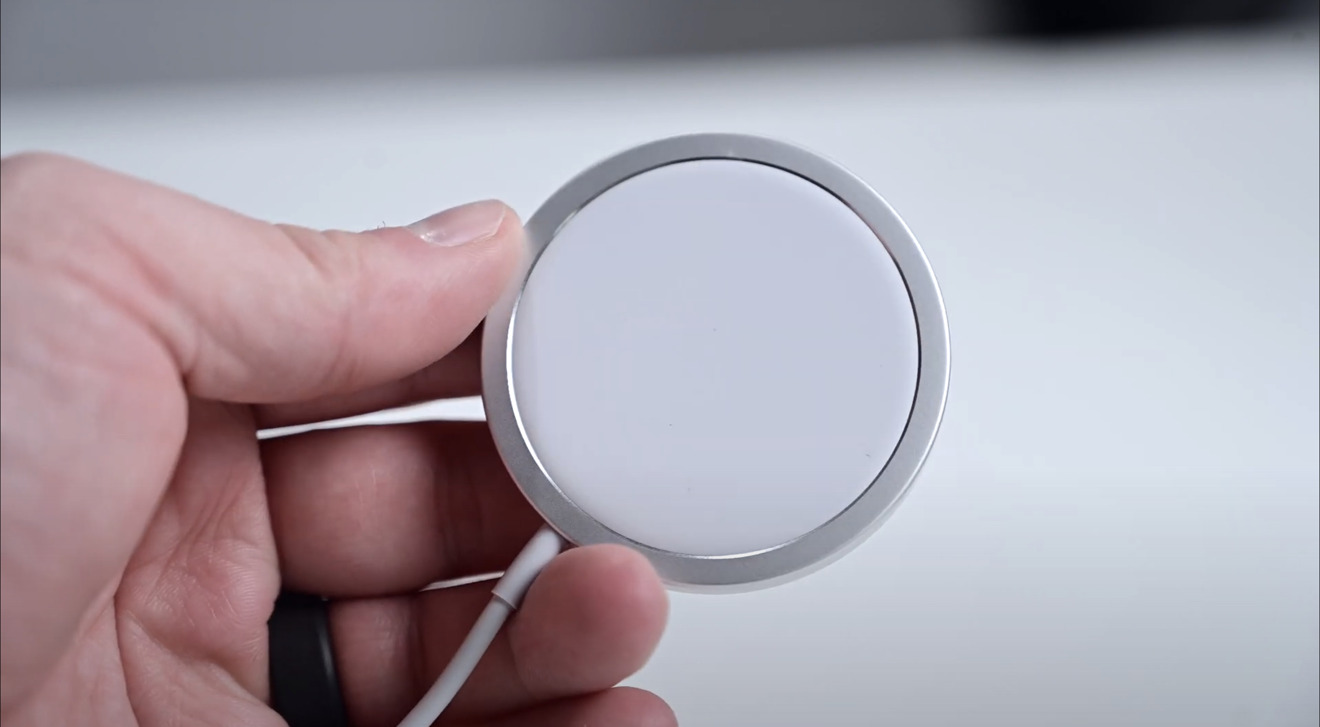 Apple MagSafe charger
A roughly three-foot USB-C cable is permanently affixed to the charging puck and should anything go bad with the cable the whole thing is bound for a landfill. If you didn't assume by the slim packaging, no power adapter is included.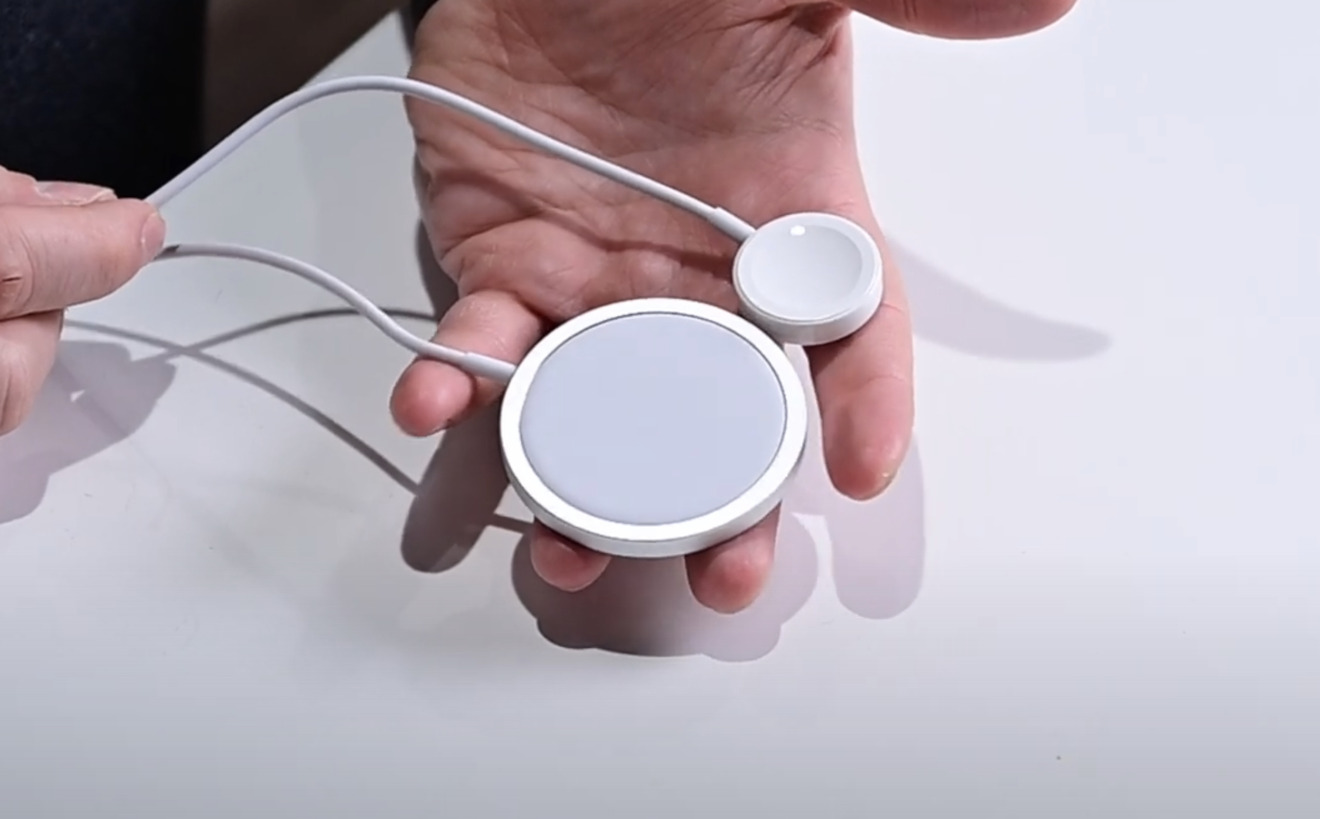 Apple MagSafe Charger versus Apple Watch charging puck
Apple says you need at least a 20W USB-C power brick for its MagSafe charger if you want the maximum 15W of wireless power. Apple does offer its own, but we prefer a few third-party choices like the Anker PowerPort Nano III.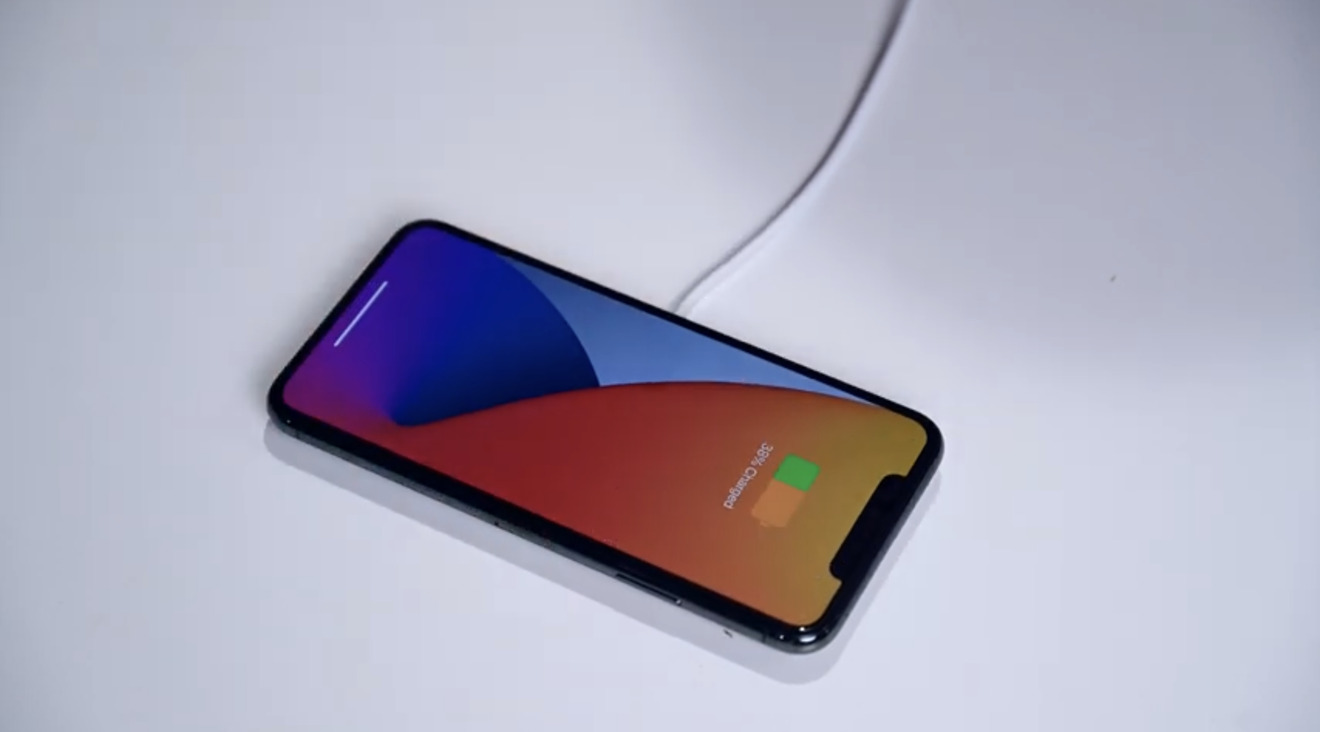 Charging iPhone 11 Pro with MagSafe charger
MagSafe is compatible with the Qi standard, which means that the iPhone 12 be juiced up by Qi chargers, while the MagSafe puck can charge Qi-enabled devices. We tested this ourselves with our AirPods Pro and our iPhone 11 Pro Max — both of which worked without issue. It even charged our Samsung devices we had in the studio.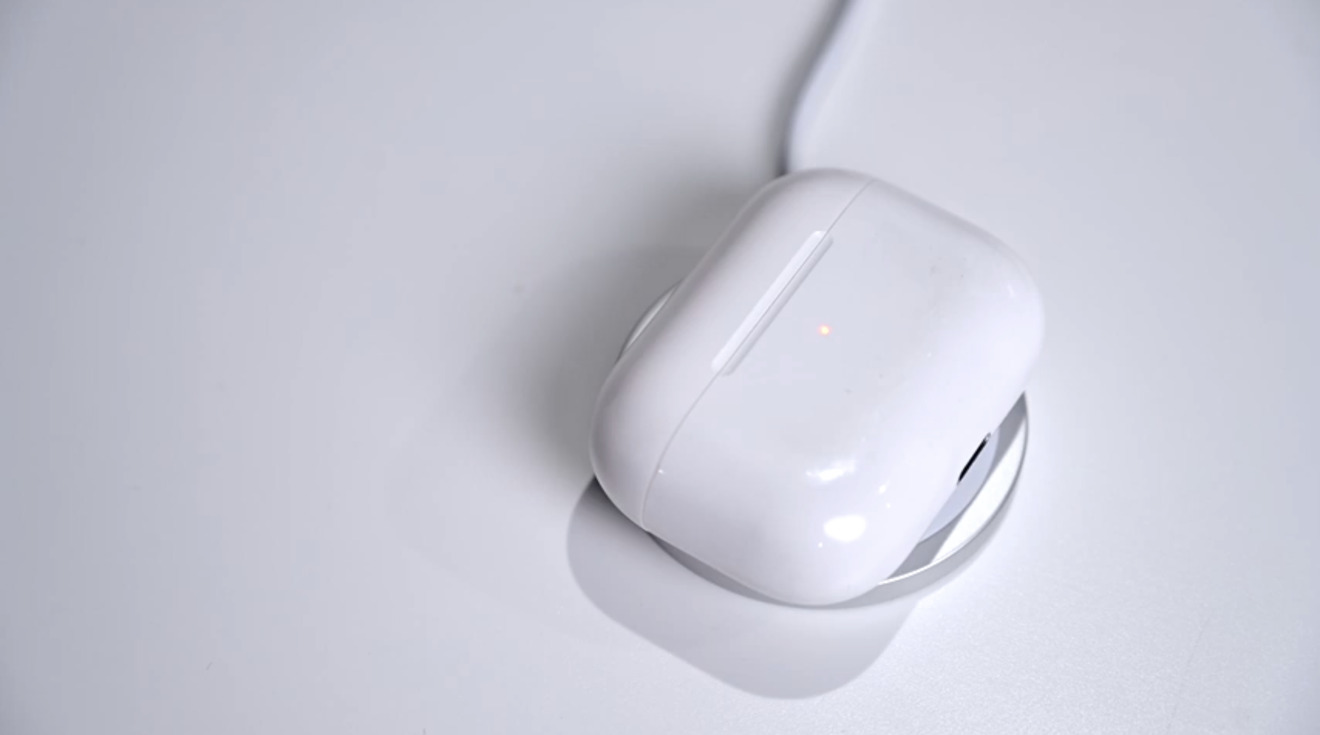 Charging AirPods Pro with MagSafe charger
When connected to a Qi phone like our iPhone 11 Pro Max, there is a slight magnetic attraction which does a decent job of keeping the puck in place. It helps align our phone better than normal Qi wireless chargers. We can even sit and use our iPhone while it charges and the puck doesn't come free. That said, it isn't a very strong attraction and easily falls off with quick motions. It wasn't designed to be useful for these phones, but rather the iPhone 12. This is just a nice benefit.
Unfortunately, it does not charge our Apple Watch. Apple Watch still uses a proprietary charging method that is based around Qi, but is not compatible.
Apple silicone MagSafe-enabled cases
The second MagSafe accessory Apple released is an upgraded version of its silicone cases. They have the same feel as before, and the same physical makeup, just a new shape. Unlike OtterBox, which simply glued a MagSafe-compatible insert into their cases and called it a day, Apple sandwiches the magnets in between the case's back panel and microfiber lining.
To designate the MagSafe location, the inside of the case has a plastic indicator that looks like a sticker. Do not try to peel it off…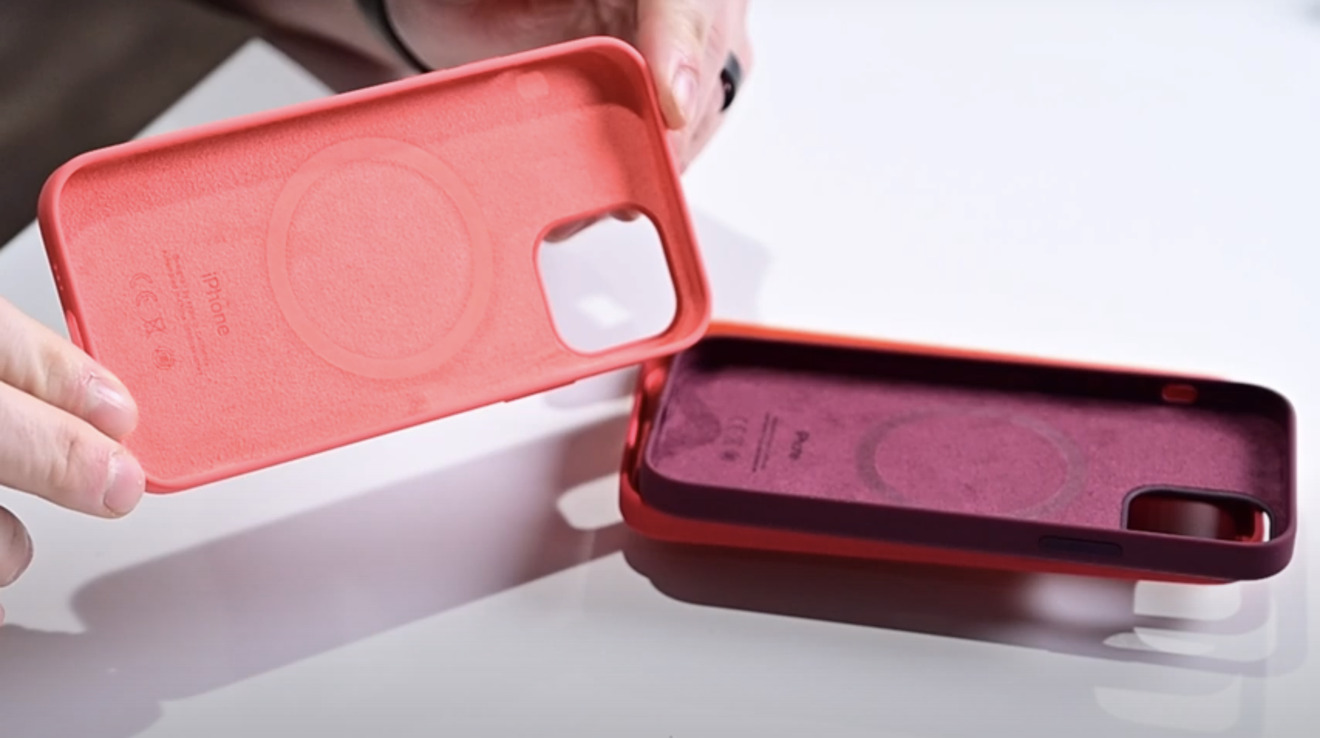 The inside of Apple's silicone cases
Aside from the ring in the center, there is an additional magnet array at in the six o'clock position which is used for alignment. The MagSafe charger doesn't utilize this piece, but it is necessary for accessories like wallets that need to be correctly orientated on the handset to function.
Since we don't have our iPhone 12 yet, we can't test charging the phone. We can, however, test connecting the MagSafe puck to our case. One of the most-asked questions was regarding the strength of MagSafe's magnets. At least to the case, the attraction is substantial but not overpowering.
When you lift your phone off the table, the charger will for sure be taken along. This can be good if you want to charge while holding your phone, but bad if you always want to disconnect as it requires two hands. Of course, there will soon be a slew of MagSafe chargers like stands, docks and other stationary designs.
We put a dummy iPhone 12 into the case and were able to let it dangle without either the phone or case coming free. A vigorous shake did break the bond. Based on early looks, it seems that there will be a slightly stronger connection when a real iPhone 12 is present.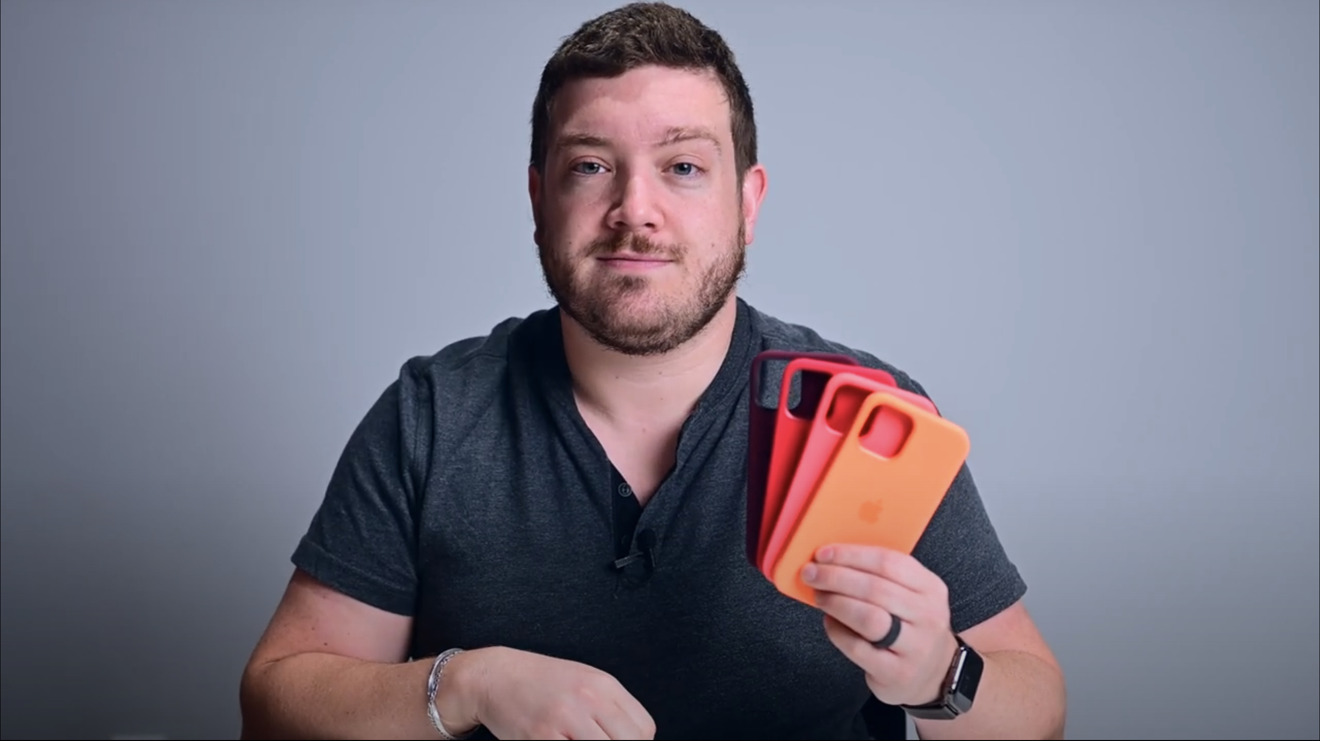 Apple's Plum, Pink Citrus, Kumquat, and Product(RED) silicone cases
Another question we heard was whether or not the puck had to be facing any certain way. The puck can, in fact, rotate but not too easily. It doesn't have a fixed orientation, but the silicone-on-silicone creates enough grip to prevent free rotation. This is great because you can have the cable positioned at any angle.
These accessories are a great first start and we will continue to test them and some other early third-party accessories in the coming days, especially when we get our hands on the new iPhone 12.
There's been some discussion as to whether or not MagSafe will be iPhone 12's killer feature, and regardless of where you stand on the matter, chances are you will eventually have some form of MagSafe accessory. From our first look, that's not a bad thing.
Apple Issues Expensive Shock For Millions Of iPhone Buyers – Forbes
Of all Apple's new iPhone models, it is the midrange iPhone 12 which is expected to be (by far) the biggest seller. But Apple just confirmed large, stealthy price hikes which may change that.
Spotted by The Verge, Apple has quietly updated its official Repair Page to reveal the iPhone 12 will cost up to 40% more to repair than the iPhone 11. This means it will now cost as much as the iPhone 12 Pro for some repairs, despite using inferior parts.
Let's put some numbers on this. The headline change is for screen repairs out of warranty. The charge for an iPhone 11 was $199, but the cost for an iPhone 12 has skyrocketed to $279. This is the same as the iPhone 12 Pro (and iPhone 11 Pro before it), despite the fact the iPhone 12 uses a cheaper OLED panel with lower brightness (800 vs 625 nits).
It is a similar story if you navigate to Apple's Other Damage repair page. Here Apple has increased iPhone 12 repair costs for anything it classes as 'other damage' (liquid ingress, cracked back, etc) to $449. This is a $50 increase over the iPhone 11. The iPhone 12 Pro costs even more at $549, but this remains the same price as the iPhone 11 Pro.
All of which (somewhat conveniently) makes Apple's AppleCarePlus insurance policy borderline essential. For the iPhone 12 this costs $7.99 per month ($149 upfront) or $11.49 per month ($219 upfront) with added Theft and Loss for two years of cover. You still have to pay an excess on top of these plans as well: screen damage $29, accidental damage $99 and (if you have the plan) theft or loss $149.
And there are further stealth costs to iPhone 12 ownership. If you plan to buy sim-free the phone will cost $30 more at each price point than Apple advertises, because the $799, $849 and $949 price points require you to sign a two year carrier contract. You will also need to pay an extra $40 if you want a wall charger ($20) and EarPods ($20) as they are no longer included in the box this year.
The end result is, compared to a 64GB iPhone 11 launch price ($699), you'll need to spend $870 on a 64GB iPhone 12 with the same accessories, while the 40% increase in screen repair charges means taking out an AppleCarePlus plan on top is virtually essential. This brings your total spend for a 64GB iPhone 12 to over $1,000.
Whether this is cynical exploitation or ingenious business acumen, is likely to divide opinion. But all those iPhone 13 leaked upgrades are suddenly looking better and better.
___
Follow Gordon on Facebook
More On Forbes
First Apple iPhone 13 Leaks Reveal Smaller Notch, ProMotion Display, Touch ID
New Apple Patents Suggest MagSafe AirPods Are In Development
Adobe brings its misinformation-fighting content attribution tool to the Photoshop beta – TechCrunch
Adobe's work on a chain of custody that could link online images back to their origins is inching closer to becoming a reality. The prototype, part of the Content Authenticity Initiative (CAI), will soon appear in the beta of Photoshop, Adobe's ubiquitous image editing software.
Adobe says the preview of the new tool will be available to users in the beta release of Photoshop and Behance over the next few weeks. The company calls the CAI implementation "an early version" of the open standard that it will continue to hone.
The project has a few different applications. It aims to make a more robust means of keeping creators' names attached to the content they create. But its most compelling use case for CAI would see the tool become a "tamper-proof" industry standard aimed at images used to spread misinformation.
Adobe describes the project's mission as an effort to "increase trust and transparency online with an industry-wide attribution framework that empowers creatives and consumers alike." The result is a technical solution that could (eventually) limit the spread of deepfakes and other kinds of misleading online content.
"… Eventually you might imagine a social feed or a news site that would allow you to filter out things that are likely to be inauthentic," Adobe's director of CAI, Andy Parsons said earlier this year. "But the CAI steers well clear of making judgment calls — we're just about providing that layer of transparency and verifiable data."
[embedded content]
The idea sounds like a spin on EXIF data, the embedded opt-in metadata that attaches to an image information like lens type and location. But Adobe says the new attribution standard will be less "brittle" and much more difficult to manipulate. The end result would have more in common with digital fingerprinting systems like the ones that identify child exploitation online than it would with EXIF.
"We believe attribution will create a virtuous cycle," Allen said. "The more creators distribute content with proper attribution, the more consumers will expect and use that information to make judgement calls, thus minimizing the influence of bad actors and deceptive content."