MLSE asked about Toronto being a hub city should NHL resume its season: Ford – CP24 Toronto's Breaking News
TORONTO – Ontario Premier Doug Ford says the Toronto Maple Leafs' parent company has been in contact with the province about the possibility of Canada's biggest city serving as a so-called "hockey pod" for teams should the NHL resume its season.
Speaking at his daily COVID-19 media briefing Tuesday, Ford said Maple Leaf Sports & Entertainment has reached out, but hasn't provided any details about a potential proposal.
"They've been in contact," Ford said. "They're coming up with a game plan, (the) NHL as a whole. They haven't really divulged anything else as of yet, but we have had a conversation.
"Once I get more information, I'll be able to pass it along."
The NHL, which was forced to pause its schedule March 12 amid the COVID-19 pandemic, has been looking at plans to centralize groups of teams in low-risk centres in hopes of resuming the 2019-20 campaign this summer.
Under one rumoured proposal, fans wouldn't be allowed in arenas and teams would be sequestered in hotels. There were 189 games left in the regular season when the NHL halted play.
Ontario's chief medical officer of health, Dr. David Williams, said he's interested to see what the NHL and other leagues eventually propose for a resumption of play.
"We'll see what they have in mind," he said. "We're open to hear some suggestions and ideas, but it's still early days. We'll wait to hear from them."
Toronto Mayor John Tory said he's also been involved in discussions about the NHL using Scotiabank Arena as one of its hubs.
"There have been some very preliminary, very high-level contacts with respect to the possibility of some hockey games being played here," he said. "But it's something that hasn't been finalized by the National Hockey League.
"Certainly, MLSE are very mindful of the fact there would have to be substantial public health considerations taken into account as to the possibility of those games being played here in Toronto."
An MLSE spokesman declined comment on the possible resumption of the season.
Alberta Premier Jason Kenney and NHL commissioner Gary Bettman spoke last month about Edmonton as one potential hub city.
Dr. Bonnie Henry, British Columbia's provincial health officer, was asked Monday about Vancouver possibly serving in the same capacity.
"We've been looking at how you can have this type of sporting event safely around the world," she said. "I absolutely think that these are the types of things that we need to think about.
"How we can do this safely during the summer?"
Apart from not allowing fans in arenas, Henry said players might look different on the ice.
"There's ways that players can take precautions to make sure that there's physical distancing," she said. "When we think of hockey, which I love, people are already wearing facemasks.
"So there's ways that players are protected when they're on the ice."
As of early April, eight NHLers were reported to have tested positive for COVID-19, including five members of the Ottawa Senators. All have since recovered.
The league and NHL Players' Association have formed a joint committee to determine a path forward that could get games back on the ice sometime in July.
The committee said last week in a statement they "have not made any decisions or set a timeline for possible return to play scenarios," but remained hopeful that players could return to their teams for "small group activities" later this month.
Bettman recently noted that government and medical officials will ultimately make the call on when sports can return.
-With files from Shawn Jeffords
This report by The Canadian Press was first published May 5, 2020.
Report: NBA owners expected to approve Orlando restart with 20-22 teams – theScore
Find out the latest on COVID-19's impact on the sports world and when sports are returning by subscribing to Breaking News push notifications in the Sports and COVID-19 section.
The NBA's board of governors is expected to approve commissioner Adam Silver's recommendation to resume the 2019-20 season in Orlando in a vote scheduled for June 4, sources told ESPN's Adrian Wojnarowski and Ramona Shelburne.
A 22-team format is gaining support among the board's members, who are also considering a 20-team proposal, Wojnarowski and Shelburne report.
The recommendation lines up one of the proposals Silver and the board reportedly discussed during a Friday conference call; under that proposed format, teams within six games of a playoff berth would continue to play regular-season games, with a play-in tournament determining the final postseason field.
Six teams outside the playoff picture were within six games of a berth when the league announced a hiatus on March 11 due to COVID-19: the Portland Trail Blazers (3.5 games behind), New Orleans Pelicans (3.5), Sacramento Kings (3.5), San Antonio Spurs (four), and Phoenix Suns (six) in the Western Conference, and the Washington Wizards (5.5) in the East.
Targeting July 31 as the date for the NBA's return to action was also reportedly discussed during Friday's call.
Dr. Bonnie Henry open to special arrangement for NHL teams visiting BC | Offside – Daily Hive
After firmly stating that British Columbia wouldn't "bend the rules" for NHL teams earlier in the week, in the event that Vancouver was chosen as a hub city, Dr. Bonnie Henry has clarified things.
The BC Provincial Health Officer noted that a different arrangement could be made for visiting NHL teams, allowing them to quarantine as a group, rather than in self-isolation. Her comments echo what Alberta's top doctor said one day prior.
"We certainly have been talking about how it could be done safely in British Columbia as well," said Dr. Henry. "The bottom line is I have not seen any proposal, certainly not any written proposal from the NHL about how this could propose to be worked. So it's hard to respond to what we think they might be thinking.
"But I do see how we could potentially have small numbers of people cohort together and in self isolation, for example in a hotel and management monitoring regularly. And I know if anybody could do that, then the NHL is probably set up to do it. So I can see how we could have something like that work in British Columbia as well."
Canada's mandatory 14-day self-isolation quarantine rule is a problem for the NHL, as the league doesn't want to stunt the fitness of some its players prior to restarting their season. If a different arrangement isn't made for the NHL, Deputy Commissioner Bill Daly indicated that the league would not select a hub city in Canada. Vancouver, Edmonton, and Toronto are currently on the NHL's shortlist, along with seven cities in the United States.
NHL teams are expected to operate in a figurative bubble, with an arena, practice facility, and hotel blocked off from the public. Commissioner Gary Bettman has said the league would need an "unbelievable amount of testing" for its players, but noted that it would not want to disrupt local medical needs.
NHL Rumors: Oilers, Rangers, Sabres, Phase 3, More – The Hockey Writers
In today's NHL rumor rundown, Edmonton's Connor McDavid spoke about the process of the players voting for the 24-team play-in and how it specifically affected the Oilers. Why did the team vote for the format despite it not being in their favor?
One of the teams out as a result of that vote was the Buffalo Sabres whose season ended. Rasmus Ristolainen of the Sabres told media that he assumes he'll be traded now. And, as a member of one of the seven teams that didn't make the play-ins or the playoffs, could his trade come sooner than later? Technically, these teams can make deals starting right away.
Finally, there is news from the NHL on Phase 3 of the league's return to play plan, even though Phase 2 hasn't technically began yet.
McDavid and Nurse Comment on Oilers Vote

Despite the fact that the approved format hurts the Oilers as much as hurts any of the teams now forced to compete in a play-in game, Connor McDavid noted this is what was best for the league as a whole.
McDavid said, "Lots of guys had to make sacrifices and the Oilers were part of that. We had a good season and put ourselves in a good spot but we still got to play in the Play-In Round and that's the way it goes." Now, if the season resumes, Edmonton has to get past the Chicago Blackhawks.
Ultimately, the Oilers didn't vote based on what was best for them. He said, "It's best for the League and guys understood that."
Darnell Nurse was the Oilers' team rep in meetings and he explained that the Oilers decided by democracy vote. "There's no perfect situation here. We want to play and I think we showed that," he said. He added:
"No matter what position you're in, you got to win every series to get that ultimate goal. We could sit here, complain and hope for a different format but at the end of the day, the Return To Play Committee put together a good format. They worked hard on it and if we have to play an extra series, we're OK with that."
Related: Best & Worst Oilers of the Decade
Rangers Unsure About Kakko's Status
Larry Brooks of the New York Post notes that New York Rangers president John Davidson isn't sure what Kaapo Kakko's status will be for any games the Rangers play during the pandemic. Like Max Domi of the Montreal Canadiens, Kakko has Type 1 diabetes and that means medical staff may determined it's not safe to play.
When it comes to playing in the playoffs, Davidson said, they "will listen to science and the medical people."
Ristolainen Thinks a Trade is a Given
Rasmus Ristolainen spoke with media after confirmation the regular season closed and made a few newsworthy comments. Among them, he told John Vogl of The Athletic, he believes he'll be "one of the first ones that's probably going to get traded".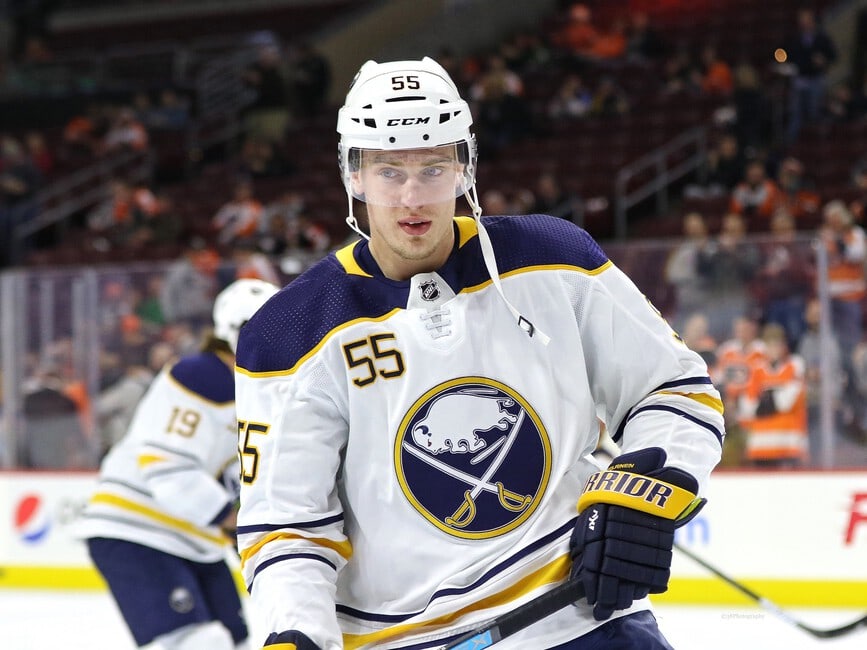 Ristolainen has been a part of trade rumors out of Buffalo for a couple of seasons but recently re-upped GM Jason Botterill referred to him as a "core player" for the organization. Obviously, there's a disconnect there.
If the Sabres do try to trade Ristolainen, some teams will be a bit leery of his advanced stats numbers but he's a strong defenseman that could do well on a team with some cap room. Risotalinen has two years remaining on his current contract which carries a $5.4 million per season.
Related: Sabres Goalie Rocky Farr Recalls Memories From Early Buffalo Teams
Phase 3 Set For July?
According to Elliotte Friedman of Sportsnet, the NHL has informed players that Phase 3 of the league's return to play plan, a three-week training camp, will not start before July 10. This estimate comes without Phase 2 actually having gotten underway yet. Phase 2 is small group workouts, but could being next week.
If mid-July is accurate for a training camp, James Mirtle of The Athletic suggests it could be October before a 2019-20 champion is crowned.
Catch up on all the latest NHL Rumors