Moose Jaw Art Guild taking over MJMAG lobby with annual exhibition – moosejawtoday.com
Despite an unusual year full of roadblocks, the Moose Jaw Art Guild is getting ready to once again debut a new collection of artwork for the annual fall exhibition.
Titled Moose Jaw Art Guild: Visions 2020, the show will feature 13 local artists and around 20 pieces of artwork displayed in the lobby of the Moose Jaw Museum & Art Gallery, for the 53rd year in a row since the MJMAG settled into its building.
"The art gallery building was built for the Centennial as a cultural centre and the city asked the guild for input on what they would like to see, and ever since [the MJMAG] has invited the Art Guild to celebrate an annual show," said Art Guild president Karen Walpole. "And it's just wonderful."
Each piece in this year's show represents a different interpretation of the theme, "visions," which Walpole said was chosen back in February but ended up fitting quite well with how this year has progressed.
"We chose it because it was the start of a new decade, and one person mentioned, 'What can we foresee in the year 2020?' Well, nobody foresaw this, but it is a good theme for this year, with what's happened," said Walpole. "Some of the [artwork] statements I've seen from the artists mention the world has changed so much from COVID-19, there's so much uncertainty, so many rules and regulations, and I think that is some of the things they were working to getting that idea across in their artwork."
Visions 2020 will open on Nov. 27 and remain on display until Jan. 10 for in-person visitors at the MJMAG. After the opening, the art gallery will be posting all of the artwork on its website to allow patrons to take a virtual tour of the exhibition as well.
The Moose Jaw Art Guild has been around for over 90 years, bringing together artists in the community to work on their pieces, learn new techniques and discuss art together.
Members made the tough decision to suspend their monthly meetings earlier this year due to the pandemic, so being able to host their annual exhibition is both exciting and a great relief.
"We weren't sure whether we'd be able to do it or not, so when we found out we could we were all excited to finally be back doing something that is normal for us," said Walpole. "I think it's just great, to just be able to still keep our name out there and to let people know we're still doing what we do."
The annual show in November is also a Guild tradition, said Walpole, one that members are happy to keep alive after over 50 years.
"I think it means a lot, to just keep that tradition happening here in Moose Jaw, and it would be sensational if we could make it to 100 years [as a Guild]," said Walpole.
For more information about Moose Jaw Art Guild: Visions 2020 visit the MJMAG website. To keep up with the Moose Jaw Art Guild or reach out to become a member, check their Facebook page or website.
New Art Lending Program launched in Summerside – SaltWire Network
SUMMERSIDE, P.E.I. —
A beautiful piece of art is known to stir the soul and give rise to an abundance of feelings and creativity, and for that reason it is hoped people will embrace the new art lending program in Summerside.
It is an initiative of Wyatt Heritage Properties Inc. (WHPI) in partnership with Culture Summerside and the Summerside Rotary Library.
For some time it has been an objective of WHPI and Culture Summerside, the city's arts, heritage, and culture division of the City of Summerside, to bring to the community increased accessibility to original works of art by local visual artists. Not everyone is comfortable visiting an art gallery or can afford to own original works. Now, with a swipe of a library card, people can borrow artwork to grace their living space.
"We are really excited to be a part of this important project, which makes art accessible to the public," said Rebecca Boulter, regional librarian with Summerside Rotary Library.
As part of the 2020 Summerside Arts Festival held in July, 20 local artists each created a framed five-by-seven inch original work for the new program. The artwork includes a number of mediums and subject matter. The variety will appeal to a wide spectrum of tastes. The plan is to grow the collection in the coming years.
Lori Ellis, of Wyatt Heritage Properties Inc. and Culture Summerside, is grateful for the funding support of the Department of Canadian Heritage and the City of Summerside in making the art lending program a reality.
"This is a wonderful venture that I hope the public will be inspired to embrace. As an artist myself, I know the joy that art brings to life. We are so excited to partner with the Summerside Rotary Library for it will enable the program to reach a large audience. Great partners build vibrant artistic communities."
Leading fine-art logistics specialist hasenkamp and 4ARTechnologies launch strategic cooperation to revolutionize global art handling – Canada NewsWire
The digital art market tools developed by the Swiss Art & Tech expert 4ARTechnologies are already being used by over 30,000 people in 65 countries. Now, renowned European logistics specialist hasenkamp, who handles works by Da Vinci or Gerhard Richter and serves clients like the MET in NY, is providing over a century of expertise and their own developments to define the next generation of fine-art handling services for the industry.
The immediate goal of the cooperation is to combine 4ARTechnologies' first-of-it's-kind art handling tools, including fully digital artwork passport, condition reports and process track & trace with hasenkamp's leading full-service approach and over 100 years of fine-art logistics experience.
Dr. Thomas Schneider, General Manager of hasenkamp, is enthusiastic about the partnership: "As a specialist for the logistics of high value and sensitive goods, the entire hasenkamp group always focuses on the customer. With our worldwide network, we guarantee the quality of our services and ensure the highest standards of fine-art logistics. We always serve our clients in the best possible way to meet their requirements. Through the cooperation with 4ARTechnologies, we create a further step towards transparency and security for our customers and their artworks."
"Partnerships with industry leaders like hasenkamp are key to 4ARTechnologies' success," notes Niko Kipouros, 4ARTechnologies AG Founder and CEO. "We are excited and proud to cooperate with hasenkamp, as their immense know-how and process experience are fundamental in building an integrated logistics solution that is a further step towards the standardization of a larger art market ecosystem."
4ARTechnologies AG
Dino Lewkowicz
[email protected]
Phone: +41 41 740 00 50
www.4art-technologies.com
Photo – https://mma.prnewswire.com/media/1346923/4ART_x_hasenkamp.jpg
SOURCE 4ARTechnologies AG
Irina Antonova, head of top Moscow art museum, dies at 98 – The Record (New Westminster)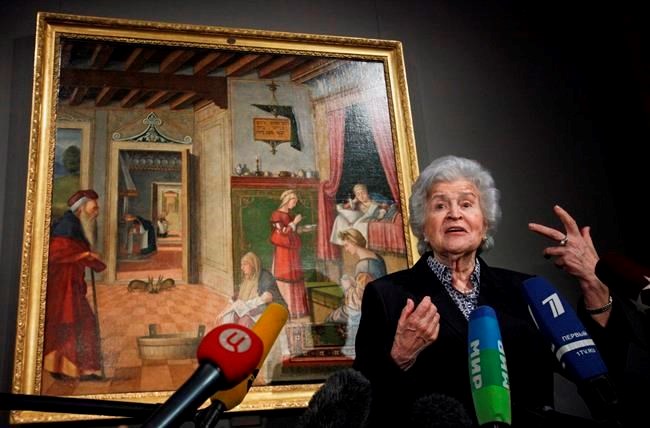 MOSCOW — Irina Antonova, a charismatic art historian who presided over one of Russia's top art museums for more than half a century, has died at 98.
The Pushkin State Museum of Fine Arts said Antonova, its president, died in Moscow on Monday. It said Tuesday that Antonova last week tested positive for coronavirus, which exacerbated her chronic heart ailments.
Antonova began working at the Pushkin museum after her graduation in 1945, and in 1961 she became its director. She held the job until 2013, when she shifted into the ceremonial post of its president. The 52-year tenure made her the world's longest-serving director of a major art museum.
As the Pushkin museum director, Antonova spearheaded major art exhibitions that saw the exchange of art treasures between the Pushkin Museum and top international art collections despite the Cold War-era tensions and constraints. Those exchanges, facilitated by her extensive personal contacts with colleagues in the museum world, brought Antonova wide acclaim worldwide.
She also was very active in promoting the museum's treasures to the public.
Antonova has received numerous Russian and foreign state awards.
Russian President Vladimir Putin sent his condolences. Kremlin spokesman Dmitry Peskov said that the president often met Antonova at the museum and "highly appraised her deep expert knowledge."
Antonova will be buried in Moscow's Novodevichy cemetery alongside her husband, who also was an art historian. Funeral ceremonies will be closed to the public amid coronavirus restrictions.
The Associated Press