N.S. economy showing signs of recovery, but growth 'uneven' for 2021-22 – pentictonherald.ca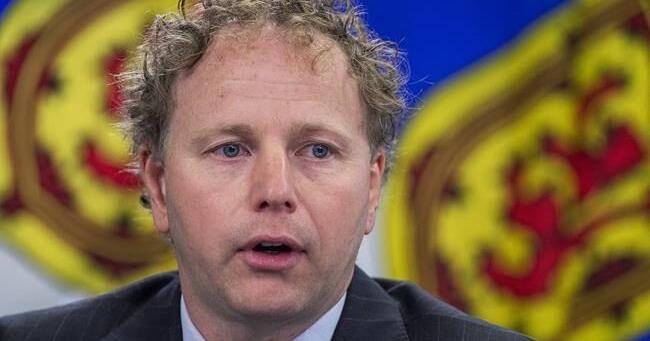 HALIFAX – Officials say Nova Scotia's economy is showing signs of recovery, but the province may continue to deal with uncertainty caused by the COVID-19 pandemic through the end of the fiscal year.
An update released Tuesday projects total revenue to be $12.8 billion, which is up $1 billion from the budget tabled in March, due, in part, to higher personal tax and HST revenues.
The province is also forecasting a surplus position of more than $108.2 million for 2021-22, a turnaround from the $585-million deficit projected in the March budget. According to the forecast, the change is attributed to "better-than-expected" economic performance.
Finance Minister Allan MacMaster told reporters on Tuesday that employment in the province was above pre-pandemic levels in November, hitting the highest level on record. Employment rose 0.7 per cent about levels in February 2020, according to the forecast.
"Nova Scotia's ability to avoid extended lockdowns has contributed significantly to the fact that our economy has kept moving and people have continued to purchase and consume and people have been able to continue to go to work," MacMaster said.
There is still much volatility and uncertainty to face, he added, saying that growth is uneven and several sectors remain affected by the pandemic, including industries with more face-to-face interaction such as tourism and recreation.
Though the tourism sector saw some recovery after the first wave of the pandemic, according to the update, renewed restrictions in April and May stalled progress.
And in the past week, the province has reported record-breaking daily case counts as the Omicron variant of the virus has rapidly spread throughout the province. Officials will be watching the new wave of COVID-19 closely, MacMaster said, and adjusting their economic modelling accordingly.
The update forecasts 1.5 per cent growth for the provincial economy in 2022 with economic activity less affected by COVID-19.
This report by The Canadian Press was first published Dec. 21, 2021.
—
This story was produced with the financial assistance of the Facebook and Canadian Press News Fellowship.
Firms see increasing labor shortages and wage pressures – Bank of Canada survey
Canadian firms see labor shortages intensifying and wage pressure increasing, with strong demand growth and supply chain constraints putting upward pressure on prices, a regular Bank of Canada survey said on Monday.
The central bank's Business Outlook Survey Indicator reached its highest level on record in the fourth quarter, which was conducted before the Omicron coronavirus variant began spreading widely.
The data will play into the Bank of Canada's calculations as it ponders when to raise rates. The bank, which has said it is paying close attention to wage inflation, is scheduled to make its next announcement on Jan 26.
Last October it said it could start raising rates as soon as April 2022, but some investors expect a hike this month. [BOCWATCH]
"The combination of strong demand and bottlenecks in supply is expected to put upward pressure on prices over the next year," said the survey.
"In response to capacity pressures, most businesses across sectors and regions are set to increase investment and plan to raise wages to compete for workers and retain staff."
Last month the central bank said slack in Canada's economy has been substantially diminished.
Inflation expectations for the next two years continued to increase, with two-thirds of firms now expecting inflation to be above the central bank's 1-3% control range over the next two years.
Most firms, in response to a special question, said they expected the currently elevated inflationary pressures to dissipate over time, with inflation returning to the 2% target over 1-3 years.
Canada's annual inflation rate was at an 18-year high of 4.7% in November. The December data will be released on Wednesday, with analysts surveyed by Reuters expecting it to hit 4.8%.
The Canadian dollar was trading 0.4% higher at 1.2504 to the greenback, or 79.97 U.S. cents.
(Additional reporting by Fergal Smith in Toronto; Editing by Chizu Nomiyama)
China's economy grows 8.1% in 2021, slows in second half – Yahoo Canada Finance
BEIJING (AP) — Chinese leaders are under pressure to boost slumping economic growth while they try to contain coronavirus outbreaks ahead of next month's Winter Olympics in Beijing.
The world's second-largest economy grew by 8.1% last year, but activity fell abruptly in the second half as the ruling Communist Party forced China's vast real estate industry to cut surging debt, official data showed Monday.
Growth sank to 4% over a year earlier in the final three months of the year, fueling expectations Beijing may need to cut interest rates or stimulate the economy with more spending on public works construction.
That slump is likely to worsen, leading to "more aggressive measures to boost growth," Ting Lu and Jing Wang of Nomura said in a report.
On Monday, the Chinese central bank cut its interest rate for medium-term lending to commercial banks to the lowest level since early 2020, at the start of the coronavirus pandemic.
Asian stock markets ended the day mixed following the dual announcements. China's benchmark Shanghai Composite Index gained 0.6% while the Hang Seng in Hong Kong lost 0.7%. The Nikkei 2225 in Tokyo rose 0.7%.
Lingering Chinese economic weakness has potential global repercussions, depressing demand for steel, consumer goods and other imports.
China rebounded quickly from the pandemic, but activity weakened last year as Beijing tightened controls on borrowing by real estate developers, triggering a slump in construction that supports millions of jobs. That made consumers nervous about spending and investors anxious about possible defaults by developers.
Consumer spending has suffered after authorities responded to virus outbreaks by blocking most access to cities including Tianjin, a port and manufacturing center near Beijing, and imposed travel controls in other areas.
Their "zero-COVID strategy" aims to keep the virus out of China by finding and isolating every infected person. That has helped to keep case numbers low but is depressing consumer activity and causing congestion in some ports.
The ruling party has stepped up enforcement ahead of the Feb. 4 start of the Winter Games, a prestige project. Athletes, reporters and officials at the Games are required to stay in sealed areas and avoid contact with outsiders.
Growth in consumer spending, the biggest driver of economic growth, fell to 1.7% over a year earlier in December from the previous month's 3.9%.
"The prospect this year for consumer spending to rebound back to pre-pandemic levels has certainly dimmed," David Chao of Invesco said in a report. "All eyes are on whether policymakers will evolve their zero-COVID pandemic policies."
Officials have urged the public to stay where they are during the Lunar New Year holiday instead of visiting their hometowns. That will cut spending on travel, gifts and banquets during the country's most important family holiday.
Forecasters have cut this year's growth outlook to as low as 5% due to the debt crackdown and coronavirus.
"Downward pressure on growth will persist in 2022," Tommy Wu of Oxford Economics said in a report.
Compared with the previous quarter, the way other major economies are measured, the Chinese economy grew 1.4% in the final three months of 2021. That was up from the previous quarter's 0.2%.
Chinese exports, reported Friday, surged 29.9% in 2021 over the previous year despite a global shortage of semiconductors needed to make smartphones and other goods and power rationing imposed in major manufacturing areas.
Exporters benefited from reviving global demand while their foreign competitors were hampered by anti-virus controls. But economists say this year's trade growth is likely to be weak and export volumes might shrink due to congestion at ports.
"With supply chains already stretched to capacity, last year's boost from surging exports can't be repeated," Julian Evans-Pritchard of Capital Economics said in a report.
Auto sales fell for a seventh month in November, declining 9.1% from a year earlier, reflecting consumer reluctance to commit to big purchases.
Chinese leaders are trying to steer the economy to more sustainable growth based on domestic consumption instead of exports and investment and to reduce financial risk.
In mid-September, factories in some provinces were ordered to shut down to meet official targets for reducing energy use and energy intensity, or the amount used per unit of output.
One of the country's biggest developers, Evergrande Group, is struggling to avoid defaulting on $310 billion owed to banks and bondholders. Smaller developers have collapsed or defaulted on debts after Beijing reduced the amount of borrowed money they can use.
Chinese officials have tried to reassure investors over the risks of wider problems, saying any impact on lending markets can be contained. Economists say a potential Evergrande default should have little effect on global markets.
___
National Bureau of Statistics (in Chinese): www.stats.gov.cn
Joe Mcdonald, The Associated Press
A Moment with the Mayor: The need for economic recovery – City of Lloydminster
I have received many questions on the state of our local economy from residents. At the root of most of the questions is a desire to know what the City is doing to help restart the economy.
Lloydminster's economy is large and diverse, with our two major industries being oil and gas and agriculture. Both industries are greatly affected by world prices, world political conditions and agriculture is also significantly affected by global weather.
Those who have spent many years here and worked within the oil and gas sector likely don't recall a price of oil as high as it was a few years ago. On the flip side, in the late 1990s, oil was selling for $10 a barrel, and things were tough for everyone. Today, we have seen a huge rebound for oil prices from less than $40US per barrel to today, the price hovering around $80US per barrel.
Want ads are present throughout our community's oil and gas service companies and throughout the Western Canadian Sedimentary Basin. This is driven by a price, something set at the world level on a daily basis by the market and traders. A similar story in agriculture is that commodities are trading at record prices, such as canola and wheat. This is excellent news for producers and the farm, but again the prices are not being set by producers but by the world market and traders. Many farmers have shared with me the great news of these higher commodity prices, followed by the downside of the increased cost of inputs. Fertilizer has doubled in price from last year and is still rising. Pesticide prices are increasing rapidly, and supply shortages are all the talk.
Our economy is based on a regional trade and service centre with people travelling considerable distances to access medical professional and retail services and goods. The City's Economic Development team continues to support local businesses by helping them deal with today's challenges. We strive to help them grow their businesses today and into the future and look ahead and foster new business opportunities, big and small, to add to our community and surrounding area. Our economy is building and growing each and every day.
The City will continue to help lead in welcoming new businesses in all sectors of the economy. We're well-positioned with great highway and railway access and a diverse labour pool to take advantage of the opportunities that lie ahead of us in 2022 and beyond.
Mayor Gerald S. Aalbers
City of Lloydminster