NASA Exploring Future Moon and Mars Homes Made of Fungi – Interesting Engineering
What do you imagine life on the Moon and Mars might be like? Do you imagine futuristic buildings made of metal? Well, NASA imagines some a lot more sustainable options.
RELATED: UNDERGROUND FUNGI NETWORK MAPPED FOR THE FIRST TIME
The agency is working on buildings made of fungi. Yes, you read that correctly… Fungi!
Called the myco-architecture project and run by NASA's Ames Research Center in California's Silicon Valley, this new initiative is seeking to "grow" habitats on the Moon, Mars, and even potentially Earth.
Like a turtle
"Right now, traditional habitat designs for Mars are like a turtle — carrying our homes with us on our backs – a reliable plan, but with huge energy costs," said in a statement Lynn Rothschild, the principal investigator on the project. "Instead, we can harness mycelia to grow these habitats ourselves when we get there."
What they envision is straight out of a science fiction film. Space explorers would carry with them compact habitat built out of lightweight material with dormant fungi.
Once in their final destination, the explorers would simply add water and the fungi would grow across that framework creating a living habitat. Of course, we are a long way off from this happening.
Still, early-stage research is seeking to prove that such structures could be viable options. How would these structures look like?
Three-layered domes
NASA describes them as three-layered domes:
"The outer-most layer is made up of frozen water ice, perhaps tapped from the resources on the Moon or Mars. That water serves as a protection from radiation and trickles down to the second layer – the cyanobacteria. This layer can take that water and photosynthesize using the outside light that shines through the icy layer to produce oxygen for astronauts and nutrients for the final layer of mycelia.
That last layer of mycelia is what organically grows into a sturdy home, first activated to grow in a contained environment and then baked to kill the life-forms – providing structural integrity and ensuring no life contaminates Mars and any microbial life that's already there."
NASA also believes that their project has applications right here on Earth. It could provide a more eco-friendly and sustainable method of living.
What do you think? Would you be interested in living in a fungi home?
[embedded content]
NASA satellite images reveal dramatic melting in Antarctica, Report – Tdnews
NASA satellite pictures reveal the scale of "widespread melting" observed earlier this month. On February 6, weather station thermometers peaked at 18.3C (65F) degrees – about the same temperature as Los Angles, US, that day.
"I haven't seen melt ponds develop this quickly in Antarctica. You see these kinds of melt events in Alaska and Greenland, but not usually in Antarctica," said Mauri Pelto, a glaciologist at Nichols College, in a statement. Widespread surface melting was also observed by Pelto on the nearby Boydell Glacier.
Images taken by the Operational Land Imager (OLI) on Landsat 8 on February 4 and again nine days later show Eagle Island's 1.5 square kilometers (nearly 1 square mile) of snowpack saturated with meltwater (blue circles below). Climate models suggest that the area saw a peak melt of 30 millimeters (1.2 inches) on February 6. In total, Eagle Island lost 106 millimeters (4.2 inches) of ice during the warm spell.
Rapid melting is caused by sustained high temperatures significantly above freezing, an anomaly that has become more common in recent years, according to NASA. A heat map taken using the Goddard Earth Observing System (GEOS) model also clocked record temperatures above 10°C (50°F) at 2 meters (about 6.5 feet) above the ground. High temperatures seen earlier this month are caused by a combination of meteorological events, including higher bouts of pressure centered over Cape Horn that allowed warmer temperatures to build while dry, warm foehn winds likely brought with them warmer air to the continent.
This month's heatwave marks the third melt event of the Antarctic 2019-20 summer, following warm spells in November 2019 and January of this year.
"If you think about this one event in February, it isn't that significant," said Pelto. "It's more significant that these events are coming more frequently."
46000-year-old Ice Age bird has been found in Siberian permafrost – The Weather Network
Researchers are remarking at the newly discovered remains of an Ice Age bird that has been identified as a horned lark and is estimated to be 46,000-years-old.
A recently published study says that the bird was buried and frozen within the permafrost in near the village of Belaya Gora that is located in northeastern Siberia. The bird still had many of its feathers and the researchers state that it is "exceptionally well-preserved."
Experts from the Swedish Museum of Natural History tested the bird's feathers and say that there is a chance it could be an ancestor to two subspecies of lark that are alive today.
"This finding implies that the climatic changes that took place at the end of the last Ice Age led to the formation of new subspecies," said Dr. Love Dalén during an interview with CNN.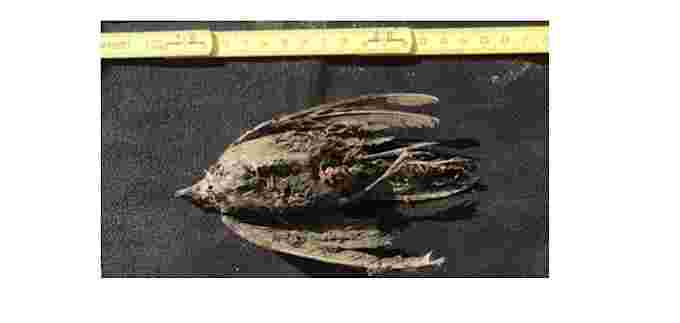 The bird carcass that was found in Siberian permafrost. Credit: Love Dalén
The study says that it is a significant finding for this body of research because it is a rare opportunity to learn more about past ecosystems and what the climatic conditions at that period of time were like. The researchers state that learning about this species habitat and their response to the changing climate will enable a better understanding of how species, populations, and communities could respond to present-day climate change.
Interestingly, the bird was found at the same site as an 18,000-year-old frozen puppy called "Dogor," which researchers are still trying to determine if the specimen is a wolf or dog. The dog was found in nearly perfect condition within the permafrost and some scientists think that this could be the oldest dog ever found.
New NASA Photos From Antarctica Reveal Shocking Levels of Ice Melt – ScienceAlert
Antarctica is supposed to be an extremely cold place. The annual mean temperature of the snow-laden continent's central area is -57 degrees Celsius (−70.6°F); even the coast averages around -10°C (14°F).
But on February 6, the weather station at Esperanza Base on the Antarctic Peninsula – the northernmost tip of the content – logged the hottest temperature ever recorded on the mainland, at 18.3°C (64.9°F).
It beat out the former record of 17.5°C, from 24 March 2015.
This latest heatwave lasted for about a week, and images of Eagle Island, taken by the Operational Land Imager on Landsat 8, have now captured a pretty depressing picture of its impact.
The tiny Eagle Island is located just off the coast of Graham Land in the Antarctic Peninsula. The record-high temperatures have resulted in a large amount of Eagle Island's ice cap melting into the sea, while areas towards the middle of the island saw melt ponds form astonishingly quickly.
"I haven't seen melt ponds develop this quickly in Antarctica," says Mauri Pelto, a glaciologist at Nichols College.
"You see these kinds of melt events in Alaska and Greenland, but not usually in Antarctica."
Pelto also notes that the source of this melt event – persistent high temperatures significantly above freezing – is not typical of Antarctic weather patterns. Nevertheless, these have become more common recently.
In total, snow pack on Eagle Island had over 10 centimetres (4 inches) of melt in the span of just a few days – between February 6 and February 11.
Air temperatures on February 9. (GEOS-5/NASA)
This isn't even the first heatwave this season, but represents the third major melt event of the 2019-2020 Southern Hemisphere summer, with both November and January also suffering from exceptionally warm weather.
"If you think about this one event in February, it isn't that significant," said Pelto.
"It's more significant that these events are coming more frequently."