NBA Finals 2020: Kentavious Caldwell-Pope steps up when the Los Angeles Lakers needed him most – NBA CA
Kentavious Caldwell-Pope has delivered his signature performance of the postseason in Game 4 of the NBA Finals.
MORE: Lakers hold off Heat, grab 3-1 series lead
As you'd expect, LeBron James and Anthony Davis made a number of big plays down the stretch of the Los Angeles Lakers close win over the Miami Heat but this series could very well be tied at two games apiece if it weren't for the contributions of Caldwell-Pope.
After finishing with just five points (on 1-for-5 shooting) and one assist in Game 3, Caldwell-Pope came out on a mission in Game 4. He assisted on the Lakers first bucket of the game and then scored the team's next eight points, surpassing his point total from Game 3 in the first five minutes of Game 4; he finished the opening frame with 10 points (on 4-for-6 shooting) and two assists in just 10 minutes of play. It was a night-and-day turn around from his effort in the prior game.
Despite not scoring in the second quarter, KCP entered the half with a team-high 10 points, which were crucial given the Lakers clung to a two-point lead at the break.
As LeBron and AD took over in the third, Caldwell-Pope didn't even attempt a shot in his 10 minutes on the floor. He did, however, dish out another two assists; one leading to a triple from Markieff Morris, the other resulting in a 3 from Anthony Davis.
But Caldwell-Pope's biggest moments came when it mattered most.
Let's set the scene:
Approaching the three-minute mark of the fourth quarter, Miami won't go away. The Lakers lead 90-88 but can't seem to create enough distance to feel comfortable against a gritty Heat squad. Nearly 33 minutes of game time had elapsed since KCP last scored a bucket and it appeared that his hot start was just that and nothing more.
Then he delivered his two biggest moments of the game:
KCP with back-to-back big buckets for the Lakers!@Lakers 95@MiamiHEAT 91

1:37 to play on ABC pic.twitter.com/E3QsEp077V

– NBA (@NBA) October 7, 2020
Just like that, Los Angeles was up seven with under two minutes remaining as Laker nation let out a collective sigh.
After LA held on for a six-point win, LeBron praised Caldwell-Pope for his big moments late in Game 4: "Whoever is out on the floor with me, I believe can make plays, and tonight was a case in point of KCP. Stays ready. He works on his craft.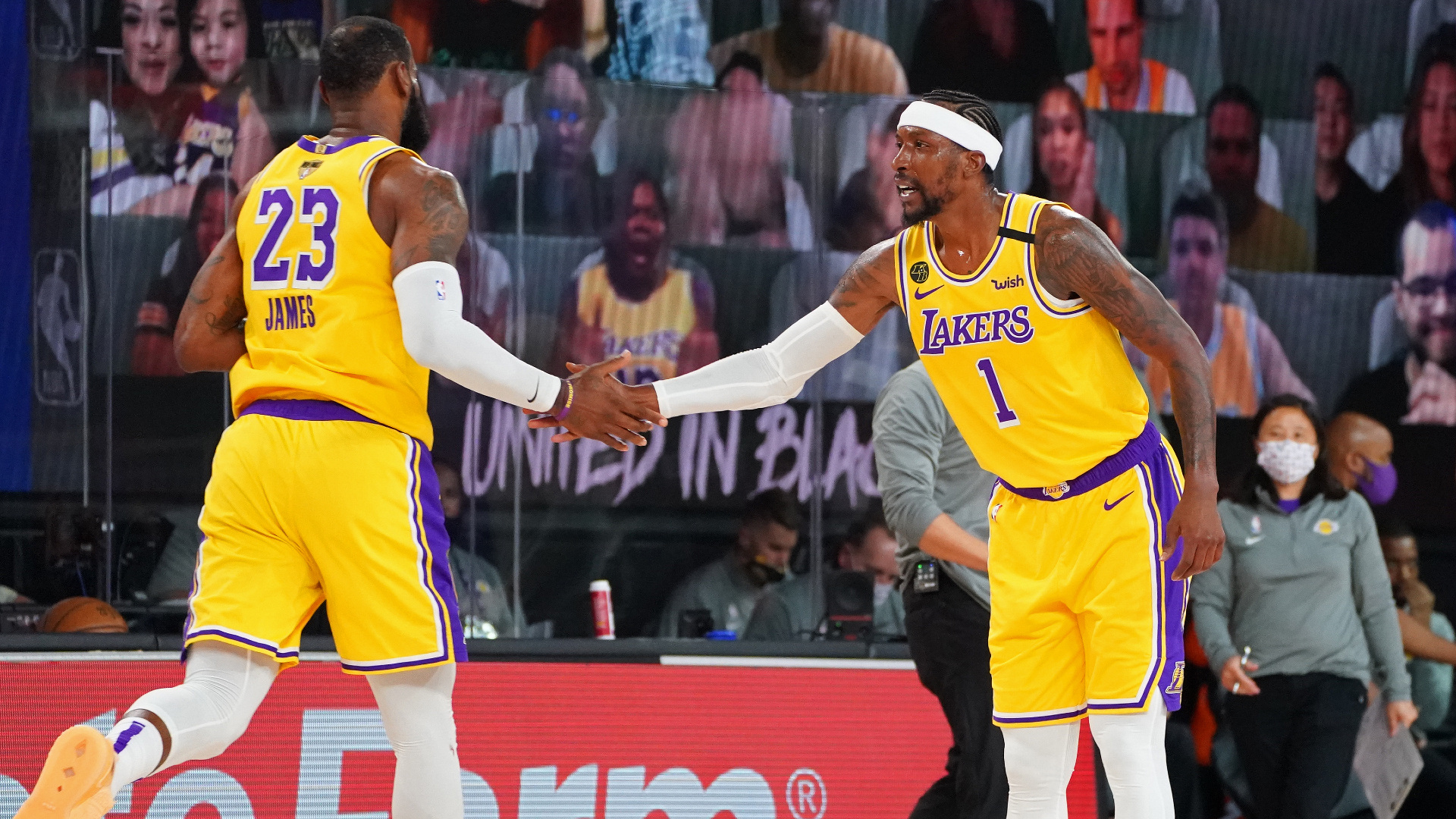 "Like you said, that 3 in front of their bench was a huge 3, and obviously the drive at the end of the shot clock was two big back-to-back plays in the fourth quarter, where we needed to continue to score versus this team."
Head coach Frank Vogel lauded Caldwell-Pope for having a big bounce-back performance and essentially echoed LeBron's sentiment, saying "KCP down the stretch – big guts to take the shots that he took – and it was a huge five points, obviously."
Caldwell-Pope, who is tied for the longest-tenured Laker alongside Alex Caruso and Kyle Kuzma, has been the subject of much scrutiny during his three years in Los Angeles. KCP, who is represented by the same agency as LeBron in Klutch Sports, signed a one-year deal worth $18 million with LA in 2017.
He would then sign a one-year deal worth $12 million in 2018 and just last offseason signed a two-year deal worth just under $17 million.
But was it all worth it?
Through the first 10 games in the 2019-20 season, KCP was shooting a meagre 23.8% from beyond the arc, causing many Laker faithful to write him off given LA's financial commitment to him over the past three years. He would bounce back to shoot a shade under 40% from deep for the remainder of the season but the narrative of his being overpaid had seemingly been decided already.
But KCP continued to perform. In fact, Caldwell-Pope's performance has often been a barometer for LA's success.
According to NBA.com Stats, Caldwell-Pope averaged 9.8 points while shooting 40.4% from 3 in the Lakers' 51 regular-season wins. In their 18 losses? His scoring average dipped to 7.9 points and his 3-point shooting percentage fell to 32.4%.
The playoffs have been no different – in fact, the contrast is even more stark: KCP is averaging 11.3 points on 41.9% 3-point shooting in LA's 15 wins and is averaging just 5.8 points on 22.2% 3-point shooting in the team's four losses. And while there have been a number of ups and downs for this postseason, KCP has etched his place in Lakers lore with his defence and shooting.
After going 3-for-8 from deep in Game 4, KCP has now hit 40 3-pointers this postseason, tied with Kobe Bryant for the second-most 3s made by a Laker in a single postseason. Bryant also holds the record with 49 triples during LA's title run in 2010.
Bryant's record may be out of reach but the Larry O'Brien Trophy is in sight, and the Lakers might not be in position to hoist it without Caldwell-Pope.
As for the scrutiny and the ups and downs during KCP's time in LA, him having such a big hand in title No. 17 would be poetic justice.
The views on this page do not necessarily reflect the views of the NBA or its clubs.
Canadiens add Toffoli, Anderson, Edmundson to take next step – NHL.com
After the NHL Draft, free agency and other offseason moves, NHL.com is examining where each team stands in preparation for the 2020-21 regular season, which is targeted to start Jan. 1. Today, the Montreal Canadiens:
The Montreal Canadiens weren't shy about revamping their roster following a surprise appearance in the Stanley Cup Playoffs.
They agreed to a four-year contract with free agent forward Tyler Toffoli, a four-time 20-goal scorer in the NHL; traded for forward Josh Anderson, defenseman Joel Edmundson and goalie Jake Allen; and agreed to a six-year extension with forward Brendan Gallagher on Oct. 14 that prevented him from becoming an unrestricted free agent after this season.
"We put a team on the ice that we believe is going to be competing better than it was last year," general manager Marc Bergevin said. "The backup goalie (behind Carey Price) was important for us. Overall, I think getting a big power forward was important (Anderson is 6-foot-3, 222 pounds). I think some goal scoring was also important, and bringing a defenseman with size and grit (Edmundson is 6-4, 215) that can eat some big minutes was also important."
[RELATED: Complete Team Reset coverage]
The Canadiens strengthened a roster led by emerging centers Nick Suzuki and Jesperi Kotkaniemi that helped them reach Game 6 of the Eastern Conference First Round against the Philadelphia Flyers after they finished the regular season with a .500 points percentage (31-31-9). Kotkaniemi scored four goals in 10 postseason games after the 20-year-old scored six in 36 regular-season games and finished the season with Laval of the American Hockey League. Suzuki scored three goals against the Flyers, including two in Game 6, and the 21-year-old tied forward Jonathan Drouin for the Montreal postseason lead with seven points (four goals, three assists).
"Honestly, it's unbelievable to see the additions we've been able to make," Gallagher said. "Every one of them is going to play a key role on our team, and to be able to have that many pieces is pretty exciting. So when I'm sitting there thinking about where you want to be, you add those pieces on top of what we had as a group and what we were building, you talk about the young talent coming up, it's pretty exciting right now for anyone around the Montreal Canadiens organization."
Here is what the Canadiens look like today:
Key arrivals
Tyler Toffoli, F: The 28-year-old, who agreed to join Montreal on Oct. 12, scored 44 points (24 goals, 20 assists) in 68 games for the Los Angeles Kings and Vancouver Canucks last season, including 10 (six goals, four assists) in 10 games after he was traded to Vancouver on Feb. 17. He scored four points (two goals, two assists) in seven postseason games. … Josh Anderson, F: The 26-year-old agreed to a seven-year contract Oct. 8, two days after he was acquired in a trade from the Columbus Blue Jackets. He was limited to 26 games last season because of a shoulder injury and did not play in the postseason. … Alexander Romanov, D: The 20-year-old agreed to a three-year, entry-level contract July 13. He had seven assists and was plus-21 in 43 games for CSKA Moscow of the Kontinental Hockey League last season. … Joel Edmundson, D: The 27-year-old agreed to a four-year contract Sept. 16, four days after he was acquired in a trade from the Carolina Hurricanes. He had an NHL career-high 20 points (seven goals, 13 assists) in 68 games last season and scored one goal in four postseason games. … Jake Allen, G: The 30-year-old signed a two-year contract extension Oct. 14 after being acquired in a trade from the St. Louis Blues on Sept. 2 to back up Price. He was 12-6-3 with NHL career-bests in goals-against average (2.15) and save percentage (.927) in 24 games (21 starts) last season. He went 2-1-1 with a 1.89 GAA and a .935 save percentage in five postseason games (four starts).
Video: Toffoli joins Montreal Canadiens
Key departure
Max Domi, F: Traded to the Blue Jackets with a third-round pick in the 2020 NHL Draft for Anderson on Oct. 6 and signed a two-year contract with Columbus the next day. He scored 44 points (17 goals, 27 assists) in 71 games last season and had three assists in 10 postseason games.
On the cusp
Jake Evans, F: The 24-year-old agreed to a two-year contract Sept. 23. He played 13 regular-season games and six postseason games for Montreal in 2019-20, when he led Laval with 38 points (14 goals, 24 assists) in 51 games. … Ryan Poehling, F: The 21-year-old could be the third-line center behind Suzuki and Kotkaniemi if he earns a full-time role in the NHL. He scored two points (one goal, one assist) in 27 NHL games and 13 points (five goals, eight assists) in 36 AHL games. … Cole Caufield, F: The 19-year-old scored 36 points (19 goals, 17 assists) in 36 games for the University of Wisconsin and will return there in 2020-21.
Video: MTL@FLA: Evans scores in 3rd period
What they still need
Their power play to improve. The Canadiens were 22nd in the NHL last season at 17.7 percent. They are counting on Suzuki and Kotkaniemi to take on more prominent roles, and for Drouin to build on his strong playoff showing.
Fantasy focus
Toffoli, Anderson and Allen each has sneaky fantasy appeal. Toffoli has scored at least 23 goals in four of the past six seasons and should have a spot in the top six and potentially on the first power-play unit. Anderson could finish among the top 100 players in the League with his rare category coverage after being one of two players (along with Washington Capitals forward Alex Ovechkin) with at least 25 goals (27) and 200 hits (214) in 2018-19. Allen could have strong peripherals in a backup role to Price. — Rob Reese
Projected lineup
Tomas Tatar — Phillip Danault — Brendan Gallagher
Tyler Toffoli — Nick Suzuki — Josh Anderson
Jonathan Drouin — Jesperi Kotkaniemi — Joel Armia
Paul Byron — Ryan Poehling — Artturi Lehkonen
Ben Chiarot — Shea Weber
Joel Edmundson — Jeff Petry
Victor Mete — Alexander Romanov
Carey Price
Jake Allen
Dodgers' Justin Turner lifted from Game 6 after testing positive for COVID-19 – Sportsnet.ca
Los Angeles Dodgers third baseman Justin Turner was lifted from Game 6 of the World Series after being informed he had tested positive for COVID-19.
Commissioner Rob Manfred confirmed the diagnosis that Fox first reported.
"It's a bittersweet night for us. We're glad to be done. I do think it's a great accomplishment for our players to get the season completed," Manfred said after presenting Corey Seager with the World Series MVP award. "But obviously we're concerned when any of our players test positive. We learned during the game that Justin was a positive. He was immediately isolated to prevent spread."
Turner was replaced by Edwin Rios defensively in the top of the eighth inning. No reason was immediately given for the change but Turner was spotted by cameras celebrating with teammates on the field after the game, sometimes wearing a mask and sometimes not.
After the game, Turner tweeted that he was feeling "great" and wasn't experiencing any symptoms.
"Thanks to everyone reaching out! I feel great, no symptoms at all," he wrote. "Just experienced every emotion you can possibly imagine. Can't believe I couldn't be out there to celebrate with my guys! So proud of this team & unbelievably happy for the City of LA #WorldSeriesChamps."
ESPN's Jeff Passan reports that MLB was notified during the second inning of Game 6 that Turner's COVID-19 test on Monday had come back inconclusive. According to Passan, Turner's test taken Tuesday morning then came back positive shortly after, at which time MLB notified the Dodgers that Turner needed to be lifted from the game.
MLB opted to use bubble sites for its playoffs after the success the NBA and NHL had with the format earlier this year. The World Series was played at Globe Life Park in Arlington, Texas in front of 11,000 fans. MLB last issued an update on its daily COVID-19 testing on Oct. 23, saying that it had been COVID-19-free among all teams for 53 consecutive days.
The Dodgers defeated the Tampa Bay Rays 3-1 Tuesday night to win the World Series for the first time since 1988.
2021 Draft: Power among Central Scouting's players to watch – NHL.com
Owen Power, a candidate to be chosen among the top 10 in the 2021 NHL Draft, was one of three players from the University of Michigan to earn an A rating on NHL Central Scouting's preliminary players to watch list released Tuesday.
The list is a compilation of top prospects from all the major development leagues throughout North America and Europe. It will be updated throughout the season as scouts evaluate the players.
"At this point in the evaluation process and considering the lack of a summer scouting season, it's much too early to identify a strength for the 2021 draft class other than to state that there are a number of good prospects at every position," director of NHL Central Scouting Dan Marr said. "There is no Alexis Lafreniere-type prospect with a clear lead as a consensus No. 1."
Lafreniere was selected by the New York Rangers with the No. 1 pick in the 2020 NHL Draft and signed his three-year, entry-level contract Oct. 12. The forward was the projected top choice from start to finish last season while playing for Rimouski of the Quebec Major Junior Hockey League.
[PDF: NHL Central Scouting 2020-21 Preliminary Players to Watch list]
"There are a number of prospects with a head start to compete for the top prospect based on past performance, but until we can get viewings to evaluate the entire draft class, the projection for No. 1 consideration is an open field," Marr said.
The 31 players on the preliminary list with A ratings are considered potential first-round picks. Players with B ratings are considered possible second- or third-round choices, and those with C ratings are potential fourth-, fifth- or sixth-round selections.
Power (6-foot-6, 214 pounds), a defenseman who turns 18 on Nov. 22, became the second player for Chicago to win United States Hockey League Defenseman of the Year last season. The Mississauga, Ontario, native led USHL defensemen with 40 points (12 goals, 28 assists) in 45 games and tied for first with five power-play goals.
"He can put up points, and is very mobile for how big he is," NHL Central Scouting senior manager David Gregory said. "He runs the power play, has elite hockey sense and is going to be a highly sought-after player."
Power entered the USHL as a 15-year-old in 2018-19 and set a league record by scoring 11 goals as a 16-year-old defenseman.
Forwards Matthew Beniers (6-1, 174) and Kent Johnson (6-0, 166), who each will join Power at Michigan in the Big Ten this season, also received an A rating. A 24-game conference schedule is tentatively set to begin Nov. 13.
Beniers scored 41 points (18 goals, 23 assists) in 44 games for the USA Hockey National Team Development Program under-18 team last season.
"He's a kid that's been on the radar for a couple of years now with the program," Marr said. "He has the skills and the smarts, but it's his intangibles with his compete and how he gets things done and makes things happen that make him so appealing."
Johnson, 18, scored 101 points (41 goals, 60 assists) in 52 games for Trail of the British Columbia Hockey League last season. He scored 147 points (61 goals, 86 assists) and averaged 1.31 points per game in 112 BCHL games.
"He's an elite point producer," Gregory said. "When you see a 17-year-old put up 100 points, that's something special. He plays with pace and skill, is crafty with the puck and can snipe it as well. He's going to score a lot of goals."
Among the A-rated skaters considered likely to be selected in the first round are forwards Xavier Bourgault (6-0, 172) of Shawinigan and Zachary Bolduc (6-1, 175) of Rimouski in the QMJHL, and Dylan Guenther (6-0, 166) of Edmonton in the Western Hockey League; and defensemen Luke Hughes (6-2, 176) of the NTDP under-18 team, Brandt Clarke (6-1, 180) of Barrie (OHL) and Daniil Chayka (6-3, 187) of Guelph (OHL).
Hughes, the youngest of the three Hughes siblings (Vancouver Canucks defenseman Quinn Hughes and New Jersey Devils center Jack Hughes) scored 28 points (seven goals, 21 assists) and three power-play goals in 48 games for the NTDP under-17 team last season. He has four assists in seven games for the under-18 team this season.
"Luke does things so quickly," Gregory said. "You wouldn't see him skate it up as much as Quinn, but he can do it and does. He can snap a pass, stretch a pass. He's got this veteran's poise as a young guy. It's very tough to compare [Luke and Quinn Hughes] but you see some similarities like you did with Jack and Quinn. They have that quickness, that escape ability, that all three of them have."
Bourgault has scored five points (three goals, two assists) in four games and Bolduc two goals in four games.
"He's one of these dynamic offensive players that just come at you every game; he just pops," Marr said of Bourgault. "Every time he's on the ice, he's a scoring threat when the puck is on his stick."
The A-rated players to watch on the International side include center Aatu Raty (6-1, 177) of Karpat in Liiga and goalie Jesper Wallstedt (6-2, 214) of Lulea in the Swedish Hockey League.
Raty has no points and two shots on goal in 9:34 of ice time this season. Wallstedt is 1-1-2 with a 1.92 goals-against average and .929 save percentage in four games.
"[Wallstedt] was always a difference-maker," Marr said. "He's got the skills and attributes with his athleticism, reflexes, and mental toughness. Just like Iaroslav Askarov (chosen No. 11 by the Nashville Predators in the 2020 draft) had his following prior to the 2020 draft, Wallstedt does as well this season."
Photos courtesy of Chicago Steel / USHL and Daryl Marshke / USA Hockey's NTDP