NBA to test players every night upon return
The National Basketball Players Association informed players on Friday they will work with the NBA to conduct COVID-19 testing every night during the resumed season according to The Athletic's Shams Charania.
The testing will likely involved mouth swabs or light nasal swabs and not full invasive nasal swabs. Should a player test positive, they will quarantine for a minimum of seven days.
Sources: The NBPA informed players today that NBA/NBPA will conduct coronavirus testing every night during resumed season — likely mouth swabs/light nasal swabs and not full invasive nasal swab. Minimum seven days quarantine for a player if positive.

— Shams Charania (@ShamsCharania) June 5, 2020
Charania also reports the league does not plan to shut down the season should a player test positive for the coronavirus. Players are expected to stay inside the league's bubble environment in Orlando, while families are allowed to enter after the first round of the playoffs.
Meanwhile, Charania also reports the NBPA has unanimously approved a 22-team return to play format beginning July 31 at Disney World. The news comes one day after the league's board of governors voted 29-1 to approve the NBA's summer restart plan.
The league and the union will continue to work though a number of details in the next week on the Orlando resumption.
As for the 2020-21 NBA season, reports from earlier in the week indicated the league was planning on beginning the regular season around the start of December but Charania writes the NBPA believes this to be "unlikely." Charania adds they plan to negotiate the date.
The league paused its season on March 11 after Utah Jazz centre Rudy Gobert was revealed to have tested positive for COVID-19.
Source:- TSN
NASCAR, Wallace respond to Presidents tweet – Yahoo Canada Shine On
President Trump on Monday asked on Twitter if an apology was forthcoming from NASCAR driver Bubba Wallace for his alleged role in what he termed a "hoax" two weeks ago at Talladega Superspeedway, adding that the sanctioning body's decision to ban the confederate flag has hurt television ratings for its events.
None of these claims are true.
Wallace, the lone Black driver in the NASCAR Cup Series, embraced a widespread show of support from the stock-car racing industry and his fellow drivers two weeks ago after the discovery of a noose at his team's assigned stall at Talladega Superspeedway. The rest of the Cup Series driver roster stood shoulder to shoulder in solidarity with Wallace on Talladega's pit road after a crew member for his Richard Petty Motorsports No. 43 team reported the noose's presence to NASCAR officials that weekend.
The Birmingham office of the FBI launched an investigation, later determining that no hate crime had been committed against Wallace and that the garage pull had been tied into a noose since last fall's events at the Alabama track. That prompted conspiracy theories and other allegations of wrongdoing on social media accusing NASCAR and/or Wallace of falsifying the timeline of events.
NASCAR President Steve Phelps addressed those charges at a press conference June 25, stating: "Bubba Wallace and the 43 team had nothing to do with this."
Wallace responded later Monday with his own statement, encouraging his followers to "keep your head held high" and saying in part that "always deal with the hate being thrown at you with LOVE! Love over hate every day. Love should come naturally as people are TAUGHT to hate. Even when it's HATE from the POTUS. Love wins."
Trump's mention of the "Flag decision" refers to NASCAR's June 10 decision to ban the confederate flag from its events and properties. That resolution came days after Wallace advocated for its removal and days after NASCAR drivers banded together for a video message speaking out for social justice in the wake of the killings of George Floyd, Ahmaud Arbery, Breonna Taylor and others in the Black community.
Trump's claim of "lowest ratings EVER" is false, unsupported by the facts of recent TV ratings data. NBC Sports on Monday said the NASCAR Cup Series' Sunday event averaged a total audience of 4.37 million viewers, a 46 percent increase from last year's Indianapolis Motor Speedway race and a 32 percent rise over the Daytona event held on the same weekend last year. Michael Mulvihill, FOX Sports executive vice president in charge of research and Nielsen ratings analysis, said his network's ratings were up 8 percent since NASCAR racing resumed in May after the coronavirus outbreak.
NASCAR released its own statement Monday afternoon, saying "We are proud to have Bubba Wallace in the NASCAR family and we commend his courage and leadership. NASCAR continues to stand tall with Bubba, our competitors and everyone who makes our sport welcoming and inclusive for all racing fans."
A spokesperson also reiterated the stance made by NASCAR President Steve Phelps on June 25: "Bubba has done nothing but represent this sport with courage, class and dignity and he stood tall for what he believes in."
Decade Deals: How other 10-year NFL contracts panned out – theScore
The Kansas City Chiefs are locking up Patrick Mahomes for the next decade, as the parties agreed Monday to a 10-year extension worth up to $503 million.
While such instances are rare, Mahomes isn't the first recipient of a contract spanning 10-plus years. Here's how the other decade-long deals panned out:
March 2001: Brett Favre gets 10 years, $100M from Packers
Favre didn't anticipate playing beyond 2006 but took a 10-year deal at 31 to help Green Bay massage the salary cap. Though his best days were behind him, Favre still led the NFL in passing touchdowns once and gave the Packers four Pro Bowl seasons after signing the deal. The club made the playoffs five times over the next seven years, and Favre broke the NFL career passing touchdowns record in a Packers uniform.
Favre didn't finish the contract in Green Bay, though, as he was traded to the New York Jets in 2008 after ending a brief retirement. The Jets released him in 2009 after he retired again, and he signed a fresh contract when he made a second comeback as a member of the Minnesota Vikings.
March 2001: Drew Bledsoe gets 10 years, $103M from Patriots
Bledsoe was already regarded as the greatest quarterback in Patriots history by the time he signed his deal. And at 29, it appeared he was signing up to spend the rest of his career in New England. But Bledsoe played only two more games for the Patriots, as an injury in Week 2 of the 2001 season spelled the beginning of the Tom Brady era.
Bledsoe helped the Patriots reach the Super Bowl that year after relieving an injured Brady in the AFC Championship Game and collected a ring as Brady's backup. Bill Belichick and Co. traded him to the Buffalo Bills that offseason with nine years left on his contract. While Bledsoe got off to a hot start with his new team, he fizzled the following season and was released after the 2004 campaign.
September 2002: Donovan McNabb gets 12 years, $115M from Eagles
McNabb owns the record for the longest contract in NFL history. At 26, he agreed to a 12-year pact with Philadelphia. The deal quickly paid dividends, as McNabb led the Eagles to a Super Bowl berth two years after signing. The Eagles were perennial contenders with McNabb, though they never hoisted the Lombardi Trophy or returned to the Big Game after the 2004 season.
Shockingly, the Eagles traded him to the Washington Redskins in 2010 with four years remaining on his contract. Though only 34, McNabb's game fell off quickly in Washington, which made the five-year extension he received midway through the 2010 campaign a head-scratcher. He was relegated to third-string duties late in the season and was traded to the Vikings in July 2011. McNabb spent less than one miserable season in Minnesota before he was released, and he retired soon after.
May 2003: Daunte Culpepper gets 10 years, $102M from Vikings
One of the most exciting young quarterbacks in football at the time, Culpepper was 26 when he inked his extension. He immediately rewarded the Vikings with two of his best seasons. In 2004, Culpepper established a new NFL record for total yards by a quarterback, racking up 5,123. He led the league in passing that year with over 4,700 yards.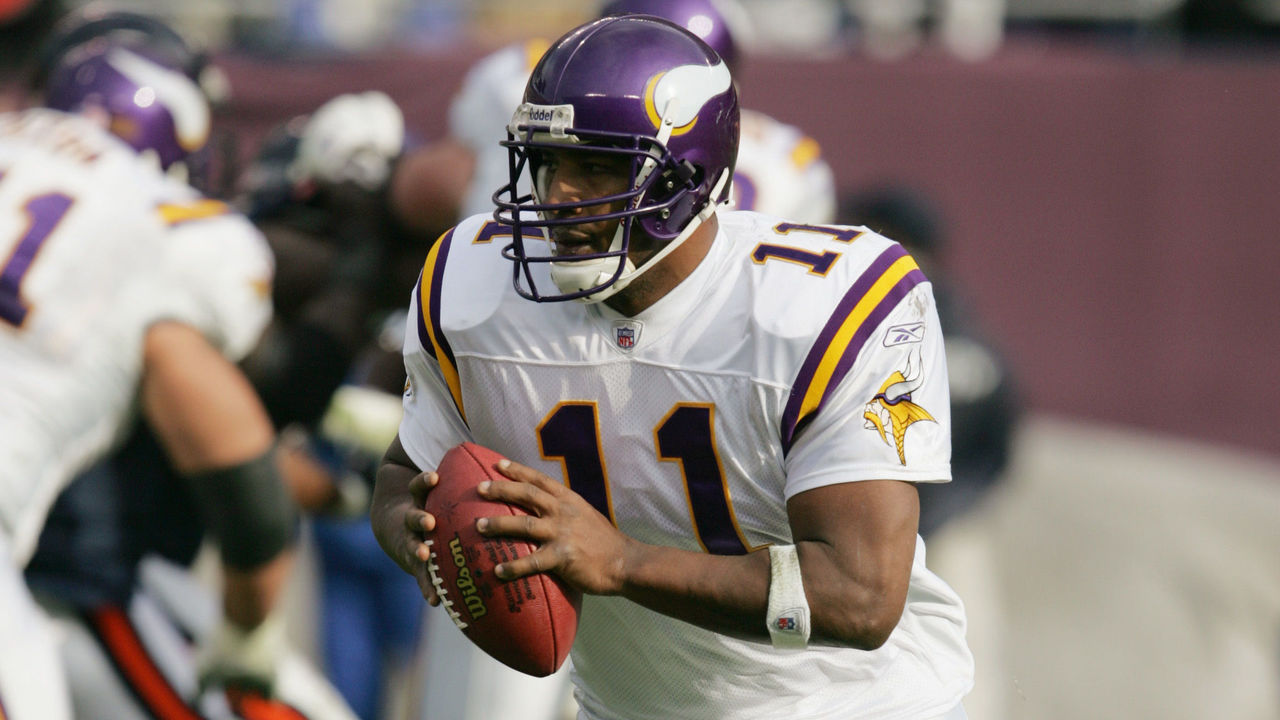 But he got off to a horrid start in 2005, and in late October, he tore his ACL, MCL, and PCL. The Vikings shipped him to the Miami Dolphins, who were more encouraged by his injury outlook than that of Drew Brees. Culpepper struggled with the Dolphins and was released after one year, with six seasons remaining on his contract. The three-time Pro Bowler had forgettable stints with the Oakland Raiders and Detroit Lions before exiting the NFL for good.
December 2004: Michael Vick gets 10 years, $130M from Falcons
Atlanta gave a 24-year-old Vick, perhaps the most electrifying quarterback the NFL had ever seen, the richest contract in league history. Vick steered the Falcons to the NFC divisional round that year and appeared to be ascending, but he plateaued. While he became the first quarterback to rush for 1,000 yards in a season in 2006, his lack of progress as a passer kept him from joining the top echelon of quarterbacks and the Falcons from becoming a Super Bowl threat.
Everything came crashing down in the summer of 2007, as Vick was arrested for his role in a dogfighting ring and spent most of the next two years in prison. The Falcons recovered nearly $20 million in arbitration, and the signal-caller signed with the Eagles upon returning to professional football.
Blue Jays' 60-game schedule for the abbreviated 2020 MLB regular season – Bluebird Banter
Major League Baseball chose to unveil their 2020 schedule on MLB Network with MLB Tonight: Schedule Release by Camping World®. For some reason, that show conveniently skipped over the Blue Jays' schedules (along with others) even though they had a lot of talking. That left us to try to piece together the schedule from other teams' releases until the Blue Jays finally made their own announcement.
Blue Jays baseball is scheduled to return at 6:40 pm on July 24 against the Rays at Tropicana Field.
It is still unclear where these games will be held, but the Blue Jays will open their home schedule on July 29 against the Washington Nationals as a second half of a home-and-home. The Jays then host the Phillies then the Marlins—meaning the first American League team to visit will be the Rays on the weekend of August 14.
If they do get to play in Toronto, the only place to see live baseball games will likely be in one of the field-view suites at the Toronto Marriott City Centre Hotel, which is attached to the Rogers Centre. While rooms are available to be booked, it is not clear whether fans will actually be permitted to occupy them as both Blue Jays and visiting personnel are to be set up in there.
The Blue Jays will not be playing on the August 3 Civic Holiday but will be at home hosting the Yankees on Labour Day. The 2020 regular season will end with a seven-game homestand against the Yankees and Orioles. Actually, the Blue Jays will play their entire 10-game schedule against the Yankees in September.
September 27 is the final day of the regular season, and all games, including the Baltimore-Toronto tilt is scheduled to begin at around 3 pm ET.
All home games Monday through Saturday are scheduled to start at 6:37 pm, with Sunday games starting at 3:07 pm.he only exception is the game on Monday, August 31 against Baltimore, when first pitch will be at 2:07 pm. Toronto will not have an off day between August 21 and September 9, playing 20 games in 20 days.
You can explore the schedule in detail at BlueJays.com.