No New Cases of COVID-19, 14 Recoveries – Government of Nova Scotia
Today, July 16, Nova Scotia is reporting no new cases of COVID-19 and 14 recoveries.
All four health zones continue to be closely monitored for community spread.
"Another day with no new cases is wonderful news," said Premier Iain Rankin. "While we can be proud of our efforts, please do not become complacent. We've worked so hard to crush the third wave and get to a point where we are reporting no new cases, let's keep up the good work. Follow the public health measures and stay safe."
There have been 4,185 cases from March 15 to July 13, 2021. Of those:
27 (0.6 per cent) were fully vaccinated
229 (5.5 per cent) were partially vaccinated
3,929 (93.9 per cent) were unvaccinated
There were 254 people hospitalized. Of those:
2 (0.8 per cent) were fully vaccinated
28 (11 per cent) were partially vaccinated
224 (88.2 per cent) were unvaccinated
Twenty-six people died. Of those:
1 (3.8 per cent) was fully vaccinated
3 (11.5 per cent) were partially vaccinated
22 (84.6 per cent) were unvaccinated
As of today, Nova Scotia has eight active cases of COVID-19. Of those, two people are in hospital COVID-19 units, including one in ICU.
On July 15, Nova Scotia Health Authority's labs completed 2,626 tests.
There were 4,096 tests administered between July 9 and 15 at the rapid-testing pop-up sites in Halifax, Cole Harbour, Mount Uniacke, Dartmouth, Prospect, Bedford and Sydney.
As of July 15, 1,193,508 doses of COVID-19 vaccine have been administered. Of those, 470,591 Nova Scotians have received their second dose.
"Today we have active cases in the single digits for the first time in a while," said Dr. Robert Strang, Nova Scotia's chief medical officer of health. "Our case numbers have steadily decreased the past few weeks and today we are reporting three days in a row with no new cases. If we'd like to continue this trend, we need to get vaccinated as soon as possible and follow all the public health measures."
Since April 1, there have been 4,128 positive COVID-19 cases and 26 deaths. Cases range in age from under 10 to over 90. There are 4,094 resolved cases. Cumulative cases may change as data is updated in Panorama.
Testing advice:
Nova Scotians with or without symptoms can book a test at https://covid-self-assessment.novascotia.ca/en for primary assessment centres across the province. Those with no symptoms are encouraged to use one of the primary assessment centres with drop-in testing, pop-up sites, or public health mobile units if they want to be tested.
More information on testing can be found at https://www.nshealth.ca/coronavirustesting
Anyone with COVID-19 symptoms is advised to self-isolate and book a COVID-19 test.
Anyone advised by public health that they were a close contact needs to complete a full 14-day quarantine, regardless of test results, unless they are fully vaccinated. If they are fully vaccinated at least 14 days before the exposure date, they do not need to self-isolate as long as they are not experiencing any COVID-19 symptoms. They should still get tested and should monitor for symptoms up to 14 days after the exposure date. If symptoms develop, they should get tested and self-isolate until they receive a negative test result.
Symptoms and self-assessment:
Nova Scotians should visit https://covid-self-assessment.novascotia.ca/ to do a self-assessment if in the past 48 hours they have had or are currently experiencing mild symptoms, including:
fever (i.e. chills/sweats) or cough (new or worsening)
sore throat
runny nose/nasal congestion
headache
shortness of breath/difficulty breathing
People should call 811 if they cannot access the online self-assessment or wish to speak with a nurse about their symptoms.
Anyone with symptoms should immediately self-isolate and book a test.
Quick Facts:
a state of emergency was declared under the Emergency Management Act on March 22, 2020, and extended to July 25, 2021
Additional Resources:
More information on COVID-19 case data, testing and vaccines is available at: https://novascotia.ca/coronavirus/data/
Nova Scotians can find accurate, up-to-date information, handwashing posters and fact sheets at: https://novascotia.ca/coronavirus
Nova's Scotia's five-phase reopening plan, announced May 28, 2021: https://novascotia.ca/reopening-plan/
Businesses and other organizations can find information to help them safely reopen and operate at: https://novascotia.ca/reopening-nova-scotia
A list of primary assessment locations, including locations with drop-in testing, is available online at: https://www.nshealth.ca/coronavirustesting#assessment-centre-locations
More information about public health text notifications of positive COVID-19 cases and close contacts is available here: https://www.nshealth.ca/news/public-health-begins-contacting-positive-covid-19-cases-close-contacts-text-message
More information on what is considered essential travel is available here: https://novascotia.ca/coronavirus/travel/#from-outside-atlantic-canada
Government of Canada: https://canada.ca/coronavirus or 1-833-784-4397 (toll-free)
The Mental Health Provincial Crisis Line is available 24/7 to anyone experiencing a mental health or addictions crisis, or someone concerned about them, by calling 1-888-429-8167 (toll-free)
Anyone needing help with a non-crisis mental health or addiction concern can call Community Mental Health and Addictions at 1-855-922-1122 (toll-free) weekdays 8:30 a.m. to 4:30 p.m.
Kids Help Phone is available 24/7 by calling 1-800-668-6868 (toll-free)
For help or information about domestic violence 24/7, call 1-855-225-0220 (toll-free)
-30-
Ottawa's new COVID-19 cases back in double digits – CTV Edmonton
OTTAWA —
The number of active COVID-19 cases in Ottawa is back above 40 for the first time in two weeks, as the city's vaccine administration pace slows down.
Ottawa Public Health reported seven new cases of the virus in Ottawa on Friday. There were no new resolved cases for the second straight day, so the number of active cases has climbed to 41.
It's the most since July 9, when there were 43 active cases in the city.
There are still no COVID-19 patients in hospital in the city, which has been the case for nine days now.
Earlier provincial officials had reported 10 new cases in Ottawa on Friday. Their numbers sometimes differ from Ottawa Public Health's data due to different reporting times.
Provincewide, officials reported 192 new cases as the seven-day average crept up slightly.
The city administered an average of about 5,500 second shots on Wednesday and Thursday, down from more than 13,000 second doses per day last week.
Eighty-three per cent of eligible residents have received at least one shot. Sixty-nine per cent are now fully vaccinated.
Earlier this week, the city closed several vaccination clinics due to decreasing demand.
OTTAWA'S KEY COVID-19 STATISTICS
Ottawa is now in Step 3 of Ontario's Roadmap to Reopen plan.
Ottawa Public Health data:
COVID-19 cases per 100,000 (July 15 to July 21): 3.9 (up from 2.7)
Positivity rate in Ottawa (July 16 to July 22): 0.5 per cent (up from 0.2 per cent July 14-20)
Reproduction number (seven day average): 1.28 (up from 1.18)
Reproduction values greater than 1 indicate the virus is spreading and each case infects more than one contact. If it is less than 1, it means spread is slowing.
ACTIVE CASES OF COVID-19 IN OTTAWA
There are 41 active cases of COVID-19 in Ottawa on Friday, up from 24 on Wednesday. It's the most active cases in the city in nearly two weeks.
For the second straight day, no more people have recovered after testing positive for COVID-19. The total number of resolved cases of coronavirus in Ottawa is 27,134.
The number of active cases is the number of total laboratory-confirmed cases of COVID-19 minus the numbers of resolved cases and deaths. A case is considered resolved 14 days after known symptom onset or positive test result.
HOSPITALIZATIONS IN OTTAWA
Ottawa Public Health is reporting zero people in Ottawa hospitals with COVID-19 related illnesses for a ninth straight day.
There are no patients in the intensive care unit.
These data are based on figures from Ottawa Public Health's COVID-19 dashboard, which refer to residents of Ottawa and do not include patient transfers from other regions.
COVID-19 VACCINES IN OTTAWA
Ottawa Public Health updates vaccine numbers on Mondays, Wednesdays and Fridays. As of Friday:
Ottawa residents with 1 dose (12+): 765,350 (+2,089)
Ottawa residents with 2 doses (12+): 624,143 (+10,919)
Share of population 12 and older with at least one dose: 83 per cent
Share of population 12 and older fully vaccinated: 69 per cent
Total doses received in Ottawa: 1,237,860 (+8,008)
*Total doses received does not include doses shipped to pharmacies and primary care clinics, but statistics on Ottawa residents with one or two doses includes anyone with an Ottawa postal code who was vaccinated anywhere in Ontario.
VARIANTS OF CONCERN
Ottawa Public Health data*:
Total Alpha (B.1.1.7) cases: 6,830 (+7)
Total Beta (B.1.351) cases: 405
Total Gamma (P.1) cases: 35 (+1)
Total Delta (B.1.617.2) cases: 43 (+5)
Percent of new cases with variant/mutation in last 30 days: 45 per cent
Total variants of concern/mutation cases: 9,117 (+8)
Deaths linked to variants/mutations: 101
*OPH notes that that VOC and mutation trends must be treated with caution due to the varying time required to complete VOC testing and/or genomic analysis following the initial positive test for SARS-CoV-2. Test results may be completed in batches and data corrections or updates can result in changes to case counts that may differ from past reports.
COVID-19 CASES IN OTTAWA BY AGE CATEGORY
0-9 years old: Zero new cases (2,299 total cases)
10-19 years-old: One new case (3,572 total cases)
20-29 years-old: One new case (6,234 total cases)
30-39 years-old: Three new cases (4,246 total cases)
40-49 years-old: Zero new cases (3,649 total cases)
50-59 years-old: One new case (3,332 total cases)
60-69-years-old: One new case (1,962 total cases)
70-79 years-old: Zero new cases (1,095 total cases)
80-89 years-old: Zero new cases (856 total cases)
90+ years old: Zero new cases (520 total cases)
Unknown: Zero new cases (3 cases total)
CASES OF COVID-19 AROUND THE REGION
Eastern Ontario Health Unit: Zero new cases
Hastings Prince Edward Public Health: Two new cases
Kingston, Frontenac, Lennox & Addington Public Health: Zero new cases
Leeds, Grenville & Lanark District Health Unit: Zero new cases
Renfrew County and District Health Unit: Three new cases
Jeff Bezos' very negative rocket launch: One minuscule fix could have avoided it – Inverse
A tsunami of dunks arrived in the wake of Jeff Bezos' 11-minute rocket ride in a questionably shaped New Shepard launch vehicle earlier this week.
It seemed that large percentages of highly-online people were of the opinion that the world's wealthiest man had just squandered enormous amounts of cash on a pointless joyride and that the reportedly $10 billion he's invested so far in Blue Origin, his aerospace company, could have been better spent elsewhere.



Even reporter Soledad O'Brien got in on the pessimistic hot takes: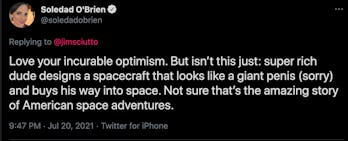 The question is, did Bezos and Blue Origin miss an opportunity to better shape the narrative around their media event? And, if so, what could they have done?
Revelations that Bezos might only pay a true tax rate of 0.98 percent — far less than the average American — and his moves to squash unionizing efforts at his company Amazon, certainly didn't help the matter. The cowboy-hat-wearing CEO's own comments thanking "every Amazon employee and every Amazon customer, because you guys paid for all of this," were similarly tone-deaf, drawing condemnation from U.S. Representative Alexandria Ocasio-Cortez, among others.
But in some ways, those issues are orthogonal to the matter of what kind of value a suborbital flight like Bezos' can bring to the world.
To put it another way, there is one tweak that Bezos could have made to improve the public's perception of space travel and science, which undoubtedly took a severe beating because of his clumsy approach.
It's something that Elon Musk — who is, no doubt just as big a huckster as Bezos — does with ease, and claims an army of space-loving fans because of it: Musk merely often explains there's a larger purpose at play than just a rich boomer going to space.
The technology developed for the dick-shaped rocket can be used for good here, and the scientific discovery and research that tech may enable is potentially good for all humanity.
"People didn't understand why it was important that commercial companies replicate something government did decades ago," Laura Forczyk, owner of the space consulting firm Astralytical, tells Inverse.
"I like to talk about how money spent in space isn't really spent in space; it's spent on Earth. All the technologies created in spaceflight are useful to society."
Forczyk saw the jaunt in terms of its potential for scientific discovery. New Shepard has already carried experiments for universities, NASA, and private companies on previous uncrewed flights and intends to continue to do so. Along with Richard Branson's Virgin Galactic, which has also started taking experimental payloads into suborbital space, a larger market could develop for research opportunities in this region, Forczyk says.
Yet Blue Origin's ham-handed attempts at self-promotion haven't always been the finest. The company, which did not respond to a request for comment from Inverse, sent what appeared to be an extremely petty tweet aimed at their competitor, Virgin Galactic, shortly before the latter's launch a week earlier: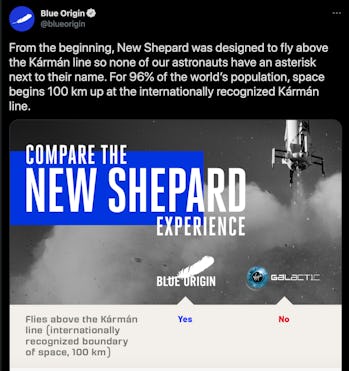 "They were perhaps trying to point out, from a marketing standpoint, that their product and service had superior features," Chris Lewicki, an engineer and space entrepreneur, tells Inverse. "In retrospect that was clearly a bad idea."
Lewicki thinks that the misstep was relatively minor and likely to be soon forgotten. "But it creates a bit of a predisposition for people to be less receptive to the message that follows," he said.
Perhaps Blue Origin won't ultimately pay much of a price for such lapses in judgment. Research has shown that even negative word-of-mouth can increase public awareness of a brand and help sell goods, Jessie Liu, a marketing professor at Johns Hopkins University, tells Inverse.
"Compared to [Elon Musk's] SpaceX, Blue Origin was born with far less hype and publicity in the game of space travel," she writes via email. "So even criticism about Jeff Bezos that gets people to talk about Blue Origin and create awareness is not necessarily a bad thing for the company."
There might be an opportunity for the aerospace company to identify and covert the most engaged consumers through negative word-of-mouth, Liu added, since such comments tend to stem from people's emotional investment, and passion can lead to activity.
Though he understood where some of it was coming from, the negative commentary frustrates Lewicki: "There seems to be a lot of attention on two or three individuals, and a wish that they shouldn't be that wealthy or that they should be using their wealth in some different way."
Both he and Forczyk point out that the fact that Bezos and other billionaires aren't paying as much as they might to the U.S. government in taxes is more a matter for legislators to try to solve, and that Bezos is taking active steps to donate parts of his vast wealth to causes he deems valuable.
"For me, it's an opportunity for self-reflection," says Lewicki. "If I'm complaining that Bezos isn't using his resources to charitably solve problems, then how do I rank up with using my time?"
For us standing at this moment in history, it can be hard to know what future results will come from something like this first passenger launch of New Shepard. Comparing Blue Origin to Amazon, Lewicki says that Bezos seems particularly adept at creating never-before-seen kinds of infrastructure to, say, routinely deliver packages quicker than anyone thought possible.
In the end, the haters are going to say whatever they want about Bezos and his pursuits. It's possible (probable, even) that even if Bezos was clear about the loftier ambitions of Blue Origin — "millions of people living and working space" is the tag line — the launch would still be received poorly.
But the billionaire's passion for space travel is deep-seated, and Lewicki says Bezos has personally told him he's never planning to give up on that dream.
"Right now, the message he's talking about is building the road to space," he said. "That's the theme he's employing."
Advocates for space exploration and the advancement of science and technology can hope that the road to space is a well-thought-out one, with the no-good optics and naked commercialism of this past week's 11-minute flight quickly replaced with efforts that more clearly serve the greater good.
COVID-19: Ottawa adult vaccinations at 69 per cent; Ontario reports 192 new cases – Ottawa Citizen
Article content
Ottawa Public Health reported Friday that 69 per cent of adults in the capital are fully vaccinated.
Article content
According to the OPH vaccination dashboard, updated Friday morning, 591,639 people aged 18 and over have the two shots.
In all, 83 per cent of the population 12 years and older has received one dose.
Seven new cases of COVID-19 were reported in Ottawa on Friday, bringing the total number of cases since the pandemic began to 27,268.
The death toll remains unchanged at 593.
Ottawa Public Health knows of 41 active cases in the region. However, there are no COVID-19 patients in hospital.
In indicators of interest, the rolling seven-day average of cases per 100,000 residents is 3.9, while the populations per cent positivity in testing is 0.5.
The reproductive number, the average number of people that one infected person will pass on a virus to, is 1.28.
Article content
Latest COVID-19 news in Ottawa
Ontario reported 192 new confirmed cases of COVID-19 and one new death on Friday.
While it's the second week the province's numbers have been below 200, confirmed cases have climbed significantly from Monday, when 130 new cases were reported.
Currently, there are 137 people in hospital in Ontario, with 136 in ICU due to COVID-related illness and 84 on a ventilator. (Ontario Public Health statistics of ICU hospitalizations and ventilator cases contain some patients who no longer test positive for COVID-19 but who are being treated for conditions caused by the virus.)
There have been 548,986 confirmed cases and 9,308 deaths since the pandemic began.
In health regions in the Ottawa area, Renfrew and District reported three new cases. There were no new cases reported in the Eastern Ontario Health Unit, Kingston or Leeds, Grenville and Lanark units.
Latest COVID-19 news in Quebec
Quebec reported 101 new cases of COVID-19 and one more death Friday morning.
Hospitalizations in the province declined by four patients, for a total of 67. The number of cases in ICU were unchanged at 21.
The province administered 94,624 additional vaccine doses were administered over the previous 24 hours.
Since the beginning of the pandemic, Quebec has reported 376,530 cases and 11,239 deaths linked to COVID-19.
Latest COVID-19 news in Canada
Canada's Chief Public Health Officer Dr. Theresa Tam reported Friday that 46.7 million doses of vaccine have been administered in Canada, and more than 60 per cent of people over the age of 12 have been fully vaccinated.