Now we'll see how many bought Brand's anti-'mainstream media' shtick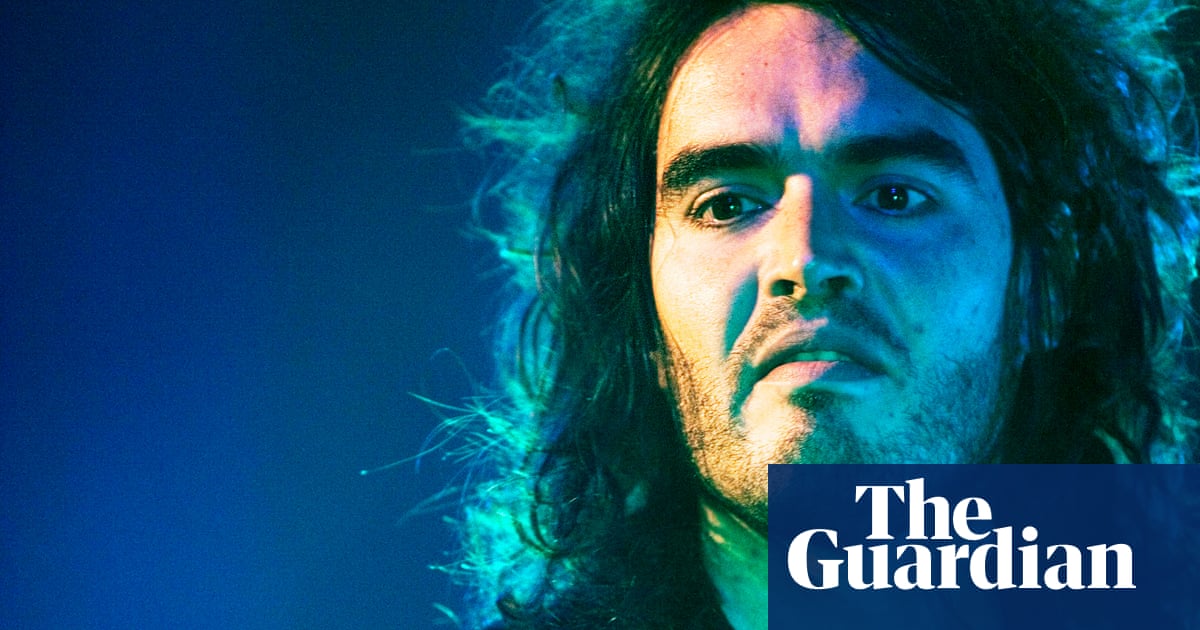 Russell Brand has spent the past decade telling the world not to trust the mainstream media industry. Now the comedian will find out whether the wider public has bought into this scorched-earth narrative – or if they believe the claims of rape and sexual assault reported in the Sunday Times and on Channel 4 over the weekend.
The allegations against Brand – which he denies – once again leave the British media industry reeling from claims that a prominent man was able to misuse his position for sexual pleasure.
What's different from previous cases is that the prominent man has already largely stopped working with the big media institutions. Instead, Brand largely exists in a parallel world where his income comes from podcasting, YouTube advertising revenue, and selling membership of his online community to become one of Russell Brand's "awakened wonders"; fans gain access to interviews with the likes of the former Fox News host Tucker Carlson and anti-vaccine US Democratic presidential candidate Robert F Kennedy.
As a result, although he has been dropped by his agents and could find it a challenge to attract mainstream advertisers, the damage to Brand's current career may be limited by his decision to spend recent years building a fanbase based around rightwing talking points and Covid vaccine scepticism. Brand's own denial suggested "there's a serious and concerted agenda to control these kind of spaces and these kind of voices" – implying that he is being targeted for getting close to the truth.
Elon Musk, the owner of Twitter, sent a supportive message to Brand suggesting journalists were writing the story because "they don't like competition". Andrew Tate, the misogynistic influencer facing human trafficking charges, sent a message of solidarity. The Telegraph columnist Allison Pearson said her first thought on reading about such claims "is to wonder why They are trying to silence the person".
Yet there are still questions for mainstream British broadcasters to answer, even if Brand has not appeared on their programmes in recent years. The BBC and Channel 4, who employed Brand at the peak of his fame in the 2000s, have said they do not have records of complaints against Brand during that era or have failed to answer questions, citing privacy concerns. They also say they now have much improved processes for reporting sexual harassment in the workplace.
At the same time, the Sunday Times reports that staff who worked with Brand in that period claimed that his sexual behaviour was well known – less an open secret and more just open. Hypersexualisation and graphic descriptions of sexual desire were part of his public persona – which is not illegal, but may have been considered red flags by those hiring him to present shows.
One junior staff member on a programme claims they used to be asked to pick up audience members for Brand to sleep with, describing how they felt as if they were "acting like pimps to Russell Brand's needs". Television executives who worked on those shows are still active in the industry.
The BBC – who let Brand go in 2008 after he left sexual messages on the phone of the actor Andrew Sachs – will be reviewing its notes relating to that scandal. That investigation was led by the current BBC director general, Tim Davie.
Brand was clearly aware of the power he had in the media at the height of his fame. During Channel 4's Dispatches documentary, there is a clip of the comedian telling Lorraine Kelly: "If you're in a position of some success, people will let you be a nutter as long as they're making money out of it."
The allegations also raise questions for the agents and advisers who worked with him during that era, such as John Noel Management. The well-established celebrity agency told the Sunday Times that for legal reasons they were not in a position to respond to questions. There is also the unnamed legal representative who, one of the alleged victims claims, wrote an aggressive letter on Brand's behalf when she tried to raise the issue of her alleged sexual assault in 2020.
Multiple newspapers and broadcasters had looked into various allegations against Brand in recent years, but several failed to get their stories to a position where they could be published. In the end it took teams of journalists working for three separate outlets – the Sunday Times, The Times, and Channel 4's Dispatches – to combine their reporting to get the story to the public.
According to the Sunday Times, their initial inquiries began almost five years ago, while some of the staff who worked on the Dispatches part of the investigation moved on to other careers because of the time it took to finish the show. The public appetite for the reporting is there: the Dispatches documentary was watched live by 1.8 million people on Saturday night, a large audience for Channel 4 in this era.
After the #MeToo movement came to global prominence because of reporting about the film producer Harvey Weinstein, many high-profile men lost their careers when women came forward with allegations of sexual impropriety. In the intervening years, many have questioned the depth and scale of change in the industry. In 2019, one comedian declared themselves on board with this reckoning, calling #MeToo "a really positive change" and "a sign of real awakening". That person was Russell Brand.
Howard Anglin: The Conservatives are cruising and the media can't hide its disappointment – The Hub
We use cookies and data to
Deliver and maintain Google services
Track outages and protect against spam, fraud, and abuse
Measure audience engagement and site statistics to understand how our services are used and enhance the quality of those services
If you choose to "Accept all," we will also use cookies and data to
Develop and improve new services
Deliver and measure the effectiveness of ads
Show personalized content, depending on your settings
Show personalized ads, depending on your settings
Non-personalized content is influenced by things like the content you're currently viewing, activity in your active Search session, and your location. Non-personalized ads are influenced by the content you're currently viewing and your general location. Personalized content and ads can also include more relevant results, recommendations, and tailored ads based on past activity from this browser, like previous Google searches. We also use cookies and data to tailor the experience to be age-appropriate, if relevant.
Select "More options" to see additional information, including details about managing your privacy settings. You can also visit g.co/privacytools at any time.
Sources – James Harden, seeking trade, not at 76ers media day
CAMDEN, N.J. — It took nearly four minutes Monday morning for Philadelphia 76ers president of basketball operations Daryl Morey to say James Harden's name. But, after rattling off the names of several other players and speaking confidently about the team's chances to contend this season, Morey turned to the matter of Harden's absence from media day.
"I want to address James Harden," Morey said, sitting on a dais next to coach Nick Nurse, both wearing matching blue blazers to kick off the interviews. "He's not here today. He continues to seek a trade, and we're working with his representation to resolve that in the best way for the 76ers and, hopefully, all parties."
Harden's decision not to come Monday was the latest push in a summer full of them to fulfill his desire to be dealt to the LA Clippers. But although the two teams have talked recently, there's been no traction on a deal, sources told ESPN's Adrian Wojnarowski.
The Sixers' asking price remains high, and the Clippers don't seem inclined to bid against themselves in a marketplace that is cool to unloading significant trade assets for Harden, sources told Wojnarowski.
As a result, Harden is still a member of the 76ers — and the franchise clearly would love for him to return and help in what the 76ers still believe is a group good enough to compete for a championship, even in the wake of the moves the Milwaukee Bucks and Boston Celtics made to get Damian Lillard and Jrue Holiday, respectively, over the past few days.
"Who said they surpassed us?" reigning NBA MVP Joel Embiid responded to a reporter. "We still gotta go out there and compete. You can do whatever you want off the court, but you still gotta go out there and put the ball in the hoop.
"I believe that any team that I'm on, we always gonna have a chance. Just need to be a little bit lucky. Just need to stay healthy — be healthy and stay healthy — and, you know, as a team, just come together."
Harden exercised his $35.6 million contract option for the season in June with hopes of the Sixers trading him before camp, but Morey has shown a willingness to wait out Harden and try to get him reinvested in the team.
To that end, the message over and over again from the 76ers was that they hope they can get Harden to come back and take part alongside them. Harden on Friday was paid the 25% of his contract that he was scheduled to receive by Sunday, sources said, after already having received the 25% payment he was scheduled to receive on July 1.
It remains unclear when, or if, Harden is going to rejoin the team, which is flying to Fort Collins on Monday afternoon before holding training camp at Colorado State University for the next several days.
Morey, when asked if Harden would be fined for missing Monday, said the team would "treat James like every other player on the roster as required by the CBA."
In August, Harden publicly called Morey a "liar" and suggested he wouldn't fulfill his contractual services with the Sixers as long as Morey remained president. The league fined Harden $100,000.
In a call with league and union officials during the NBA's investigation into the comments, Harden insisted he would be fulfilling his contractual obligations with the Sixers should he remain without a trade, sources said.
Morey, who has previously had a close relationship with Harden going back to when he acquired him as the general manage of the Houston Rockets from the Oklahoma City Thunder just before the start of the 2012-13 NBA season, admitted this summer was difficult for him given how it's all played out in the public sphere.
"I would say it was hard," Morey said. "I think there are many people who worked with him for some time, but I've been right there with anyone else.
"Look, I think he's a heck of a basketball player. I like him as a person. It was hard, I think, that he felt like that was the right course of action for him at that point. What else can I say? I think he's a tremendous player that will help us if he chooses to be here. And, right now, that's not where he wants to be."
Morey did, however, push back on Harden's assertion that he is a liar.
"I don't think I have to interpret it," Morey said. "He said what he meant. I think that was well reported on.
"I haven't responded to that because I think it falls flat on its face. In 20 years of working in the league, always followed through on everything. Every top agent knows that. Everyone in the league knows. You can't operate in this job without that. So, you know, privately I've appreciated all the key people in the league reaching out to me and knowing obviously that's not true. But like I said before, obviously it was disappointing that he chose to handle it that way."
Now, Philadelphia begins preparations for training camp — its first under Nurse, who replaced Doc Rivers earlier this summer — unsure of when — or if — its star point guard will join them. To that end, Nurse said he and the team will be preparing for both possibilities and will address them as things unfold.
"For me, it's, it's obviously we've kind of got Plan A, Plan B, right? We've gotta get the team ready regardless. We're expecting him to show up.
"He shows up? We go. If he doesn't? We go. There's two ways to look at it. And we proceed and we really get to work in building our foundation of what we want to do, getting all our principles in, all the things that we want to do, and play the style of play we want to play regardless."
Perhaps the best summation of the situation, however, came from Harden's longtime friend and teammate P.J. Tucker, who was asked whether he thought Harden would be back anytime soon.
"That ain't for me to answer," Tucker said with a laugh and a shake of his head. "I have no idea.
"I hope they figure it out soon. But if not, it's gonna be what it's gonna be."
James Harden skips 76ers media day to take trade demand to next level – SB Nation
We use cookies and data to
Deliver and maintain Google services
Track outages and protect against spam, fraud, and abuse
Measure audience engagement and site statistics to understand how our services are used and enhance the quality of those services
If you choose to "Accept all," we will also use cookies and data to
Develop and improve new services
Deliver and measure the effectiveness of ads
Show personalized content, depending on your settings
Show personalized ads, depending on your settings
Non-personalized content is influenced by things like the content you're currently viewing, activity in your active Search session, and your location. Non-personalized ads are influenced by the content you're currently viewing and your general location. Personalized content and ads can also include more relevant results, recommendations, and tailored ads based on past activity from this browser, like previous Google searches. We also use cookies and data to tailor the experience to be age-appropriate, if relevant.
Select "More options" to see additional information, including details about managing your privacy settings. You can also visit g.co/privacytools at any time.