PayPal in $45 billion bid for Pinterest – sources
PayPal Holdings Inc has offered to buy digital pinboard site Pinterest Inc for $45 billion, people familiar with the matter said on Wednesday, a combination that could herald more tie-ups between financial technology and social media companies in e-ecommerce.
The deal talks come as internet Shoppers increasingly buy items they see on social media, often following "influencers" on platforms such as Instagram and TikTok. Buying Pinterest would allow PayPal to capture more of that e-commerce growth and diversify its income though advertising revenue.
PayPal has offered $70 per share, mostly in stock, for Pinterest, one of the sources said. The online payments provider hopes to successfully negotiate and announce a deal by the time it reports quarterly earnings on Nov. 8, the source added.
The sources cautioned that no deal was certain and terms could change. They asked not to be identified because the matter is confidential.
PayPal and Pinterest did not respond to requests for comment. Bloomberg News first reported on the PayPal-Pinterest talks on Wednesday.
PayPal's offer represents a 26% premium to Pinterest's closing price of $55.58 on Tuesday. PayPal's shares fell over 4% on the news, while Pinterest rose more than 14% to $63.51.
"(The) combination would be a significant positive for PayPal's ongoing monetization initiatives on both sides of its merchant and consumer platforms, especially if Pinterest's social commerce platform gets integrated with Honey's AI into PayPal's destination app," Wedbush analysts wrote in a note.
The payments behemoth was among the big winners of the COVID-19 pandemic, as more people used its services to shop online and pay bills to avoid stepping out. Its shares have risen about 36% in the last 12 months, giving it a market capitalization of nearly $320 billion.
Pinterest also saw a huge spike in users looking for crafts and DIY project ideas, as lockdown curbs kept people at home.
As lockdowns eased, Pinterest has warned about slowing user growth, especially in the United States, its largest market.
Pinterest was valued at about $13 billion when it went public in 2019.
The company is at a crossroads after co-founder Evan Sharp announced last week he would step down as chief creative officer to join LoveFrom, a firm led by Jony Ive, the designer of many Apple Inc products.
Sharp founded the online scrapbook and photo-sharing platform with Ben Silbermann, who is the San Francisco, California-based company's chief executive officer, and Paul Sciarra, who left in 2012.
PayPal had been looking to boost its e-commerce offerings in recent years through acquisitions. It bought online coupon finder Honey Science in 2019 for $4 billion and Japanese buy-now-pay-later (BNPL) firm Paidy for $2.7 billion earlier this year. It acquired return-service provider Happy Returns in May.
SOCIAL MEDIA-DRIVEN COMMERCE
Social media platforms that have not pursued mergers with fintech firms have been working on ways to allow consumers to buy directly from their platforms.
TikTok, for example, is testing a way for users to buy products directly on its short video app. It has partnered with ecommerce giant Shopify and in August began allowing retail brands to link their product catalogs to the app.
Analysts said the PayPal-Pinterest deal talks highlight the potential for other social media and fintech companies to join forces to capture swaths of the e-commerce market.
"Social/interactive commerce is growing in the United States and no one has won it yet. So rather than going against Amazon, PayPal is making a bet on a different kind of shopping model," said Marketplace Pulse e-commerce analyst Joe Kaziukėnas.
(Reporting by Greg Roumeliotis and Arriana McLymore in New York; Additional reporting by Noor Zainab Hussain in Bengaluru and Krystal Hu and Sheila Dang in New York; Writing by Anirban Sen; Editing by Maju Samuel and Richard Chang)
Which upcoming phones will use the Qualcomm Snapdragon 8 Gen 1? – TechRadar
The new Qualcomm Snapdragon 8 Gen 1 is official, and it's set to power some of the very best smartphones of 2022.
Flights and accommodation for this launch event were funded by Qualcomm, but the views reflect the writer's own independent opinion.
But which upcoming phones will be using the new chipset? We've now had the first manufacturers confirm compatbility, and we expect to hear from more Android phone makers over the coming weeks.
Below we'll reveal all the handsets that have been confirmed so far, and then we'll talk you through some of the other phones we're expecting to see that may also sport the latest chipset from Qualcomm.
Xiaomi 12
The first phone confirmed to feature the next-gen chipset is the Xiaomi 12, which the company's CEO has announced will be "available soon".
We expect the Xiaomi 12 to launch in China in the next couple of weeks. It'll then likely come to other markets in early 2022.
While it may be that Xiaomi reveals this phone first, that doesn't necessarily mean it'll be the first phone featuring the next-gen chip that will be available in Western markets.
Oppo Find X4
Although the company has yet to confirm the name of its next flagship as the Find X4, we know that Oppo's top-end phone for 2022 will feature the Snapdragon 8 Gen 1.
Oppo also told us that it would be revealing its next flagship phone before the end of March 2022. The Find X3 was introduced in March 2021, so it would make sense if the Find X4 was introduced around a year later.
Realme GT 2 Pro
Realme teased its next smartphone over the last few days, and the company has now confirmed that the upcoming Realme GT 2 Pro will be one of the first phones to feature the Snapdragon 8 Gen 1.
It's official! #realmeGT2Pro, our first and most premium flagship will pack #Snapdragon8Gen1. Along with the best chip, what else do you think makes a true premium flagship smartphone? #realmeGT2series pic.twitter.com/oFcDGkeVfrDecember 1, 2021
See more
This is expected to be the brand's first seriously top-end phone, designed to compete with flagships from the likes of Apple and Samsung, so it would come as no surprise if it used the new Qualcomm chipset.
We don't yet know much about the Realme GT 2 Pro, or when it'll be officially revealed, but with the company now starting to tease this handset we'd expect to see it sooner rather than later.
A new Motorola Edge
We don't yet know the name of this phone, but during the launch event for the Snapdragon 8 Gen 1 we heard that a new Motorola Edge device is set to debut with the chipset on board.
Ruben Castano, Head of Customer Experiences at Motorola, said: "In just a few days, we will reveal one of the very first smartphones to launch on this new Snapdragon 8 platform in China." That event has now been confirmed for December 9.
There have been leaks and rumors that suggest a new Motorola Edge X30 handset may be introduced in China in the coming weeks. That may be the handset that Castano was talking about, but that hasn't been confirmed, and whatever the phone turns out to be, we don't yet know whether it will launch in markets outside of China.
Rumored Snapdragon 8 Gen 1 handsets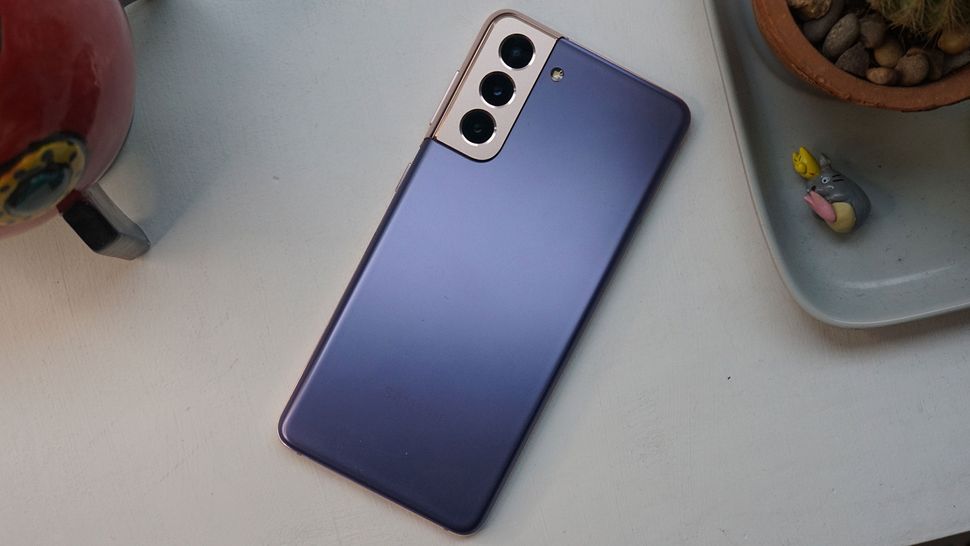 In addition to the confirmed phones above, we expect to see the Snapdragon 8 Gen 1 powering many of the other top-end handsets that are launched over the next year or so.
Arguably the biggest phone that will feature the chipset is the upcoming Samsung Galaxy S22. Normally, Samsung's flagship phones run on its own Exynos chipset in some regions, while models released in other parts of the world use the newest Qualcomm chip.
However, numerous leaks have suggested that all the Galaxy S22 handsets will use Qualcomm's chipset, as Samsung has run into issues with the manufacturing of its Exynos processors.
Other leaks suggest the Huawei P60 may also feature the Snapdragon 8 Gen 1, as the company has hit production problems with its own Kirin chipsets. Rumors suggest that this is due to the global silicon shortage that's impacting the production of numerous devices.
We haven't seen any credible leaks around other phones that could include the Snapdragon 8 Gen 1, but we can speculate that the upcoming OnePlus 10, Samsung Galaxy Z Fold 4, Samsung Galaxy Z Flip 4, Sony Xperia 1 IV and others are likely to be powered by Qualcomm's latest and greatest mobile chip. Watch this space.
Apple iPhone SE 3 on track for March 2022, claims report – Pocket-lint.com
(Pocket-lint) – The much-rumoured 3rd-gen iPhone SE will reportedly release in the first quarter of 2022 – most likely March.
That's the opinion of TrendForce, a market research firm in Taiwan, which believes that Apple is keen to get a firmer grip on the "mid-range 5G smartphone" market.
"Apple is staying with the plan to release its 3rd-generation iPhone SE in 1Q22 and four models under a new series in 2H22," it wrote in its latest report on smartphone production growth.
"The 3rd-generation iPhone SE is expected to be a major instrument in helping Apple establish a presence in the market segment for mid-range 5G smartphones."
The last iPhone SE was released in April 2020 and is still available today. However, it is now somewhat an oddity in Apple's line-up, being the only device with older design and a front-facing Touch ID button.
That might not change, as a rumour in October suggested the button could remain. The 4.7-inch Retina HD display was also said to be returning, although a beefier A15 Bionic chip could power the new device.
Another big change will be the addition of 5G, which will make it more attractive as networks rollout 5G coverage more widely. We'll undoubtedly find out more as spring approaches.
These 3 cases will keep your iPhone 13 slim, protected, and looking fantastic

By Pocket-lint International Promotion
·
1 December 2021
Writing by Rik Henderson. Originally published on 1 December 2021.
Xiaomi 12 series is also "coming soon" with Snapdragon 8 Gen 1 SoC – GSMArena.com news – GSMArena.com
The Snapdragon 8 Gen 1 chip introduced at Qualcomm's ongoing Snapdragon Tech Summit will power several flagship Android devices next year. Realme has already confirmed that its GT 2 Pro will have the Snapdragon 8 Gen 1 chip at the helm, and now Xiaomi's Founder and CEO, Mr. Lei Jun, has also confirmed the use of Qualcomm's freshly announced flagship chip on the Xiaomi 12.
Mr. Jun didn't divulge anything about the Xiaomi 12 but said that the Xiaomi 12 series "will be the world's first smartphones" to have the Snapdragon 8 Gen 1 SoC under the hood.
.@Qualcomm has always been one of the most important partners of Xiaomi. Today I'm proud to announce that after months of joint effort between Xiaomi and Qualcomm, Xiaomi 12 Series will be the world's first smartphones powered by the new @Snapdragon 8 5G Gen 1 mobile platform. pic.twitter.com/U7l3BytRce

— leijun (@leijun) December 1, 2021
The CEO didn't reveal the Xiaomi 12 series' launch date either, but rumor has it that the smartphone will debut on December 12. And while we are yet to get any confirmation on that, the company's official Twitter handle posted a short video clip, saying the Xiaomi 12's mass production has kicked off and it's "coming soon."
Take a sneak peek of the most potent @Snapdragon 8 Gen 1 chipset that will power our upcoming #Xiaomi12Series! #InnovationForEveryone pic.twitter.com/YrNqM8beMN

— Xiaomi (@Xiaomi) December 1, 2021
While Mr. Jun says that the Xiaomi 12 series will be the world's first to be powered by the Snapdragon 8 Gen 1 chip, that may not be the case since Motorola has announced a December 9 event to unveil the Snapdragon 8 Gen 1-powered Edge X30, unless Xiaomi is already geared up to introduce the Xiaomi 12 before next Thursday.
OnePlus, Oppo, and iQOO have also confirmed to launch Snapdragon 8 Gen 1-powered smartphones without getting into the details. nubia said it will use the new flagship chip on its Z series, while ZTE announced it will launch an Axon series smartphone with the Snapdragon 8 Gen 1 next year.
You can read our Snapdragon 8 Gen 1 announcement coverage here to learn more about it.