Piece of art guaranteed when you buy a ticket to UBCO's Art on the Line – pentictonherald.ca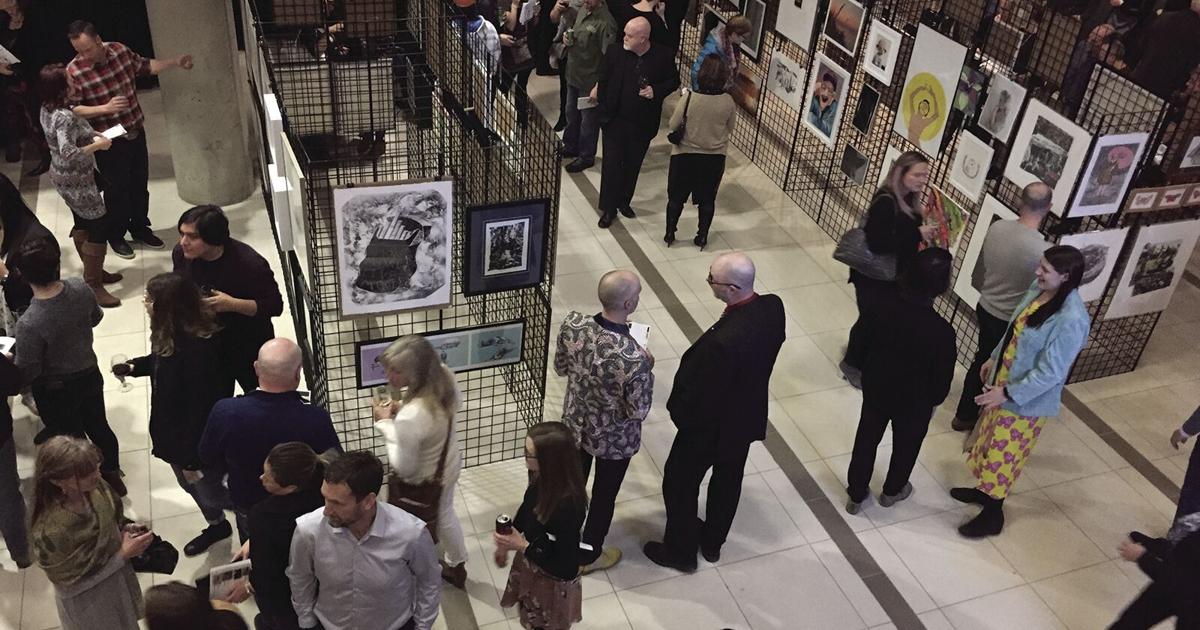 After a two-year hiatus due to COVID-19 restrictions, Art on the Line returns as an in-person event at UBC Okanagan on March 5.
UBCO's annual fine arts fundraiser is a lively event that has supported local visual arts students for 19 years, said Abby Bloome, event co-organizer and a fourth-year Bachelor of Fine Arts student.
"We invite people to join us for an evening of fine art and face-to-face fun," she said. "This is our chance to come together as a community and support our local artists. Art on the Line is an amazing event that gives students a chance to grow. And community members can collect one-of-a-kind pieces for their homes."
The event is co-sponsored by the Faculty of Creative and Critical Studies in association with the Visual Arts Course Union.
It is a black-tie gala evening where original works of art are raffled to guests. There are only 100 tickets sold for the chance to choose from the 150 works available in this one-of-a-kind juried art exhibition. Each piece of art has been donated by local artists, UBCO faculty and fine arts students.
The event begins at 5:30 p.m. at the Charles E. Fipke Centre, 3247 University Way.
FCCS Visual Arts Instructor David James Doody is the MC and host. He describes Art on the Line as a great opportunity to enjoy a beautiful selection of original art, fine food, refreshments and a touch of suspense.
"I have been taking part in this event for almost 20 years when I began my BFA in 2.002," he recalls "I still remember as a young artist the first time my art was chosen. It was absolutely the coolest feeling ever. Art on the Line is one of the most important exciting events in our students' calendars."
Proceeds from the evening will help support a number of organizations including the Visual Arts Course Union, the 2022 BFA graduate exhibition and catalogue, the visiting artist program, fine arts student travel grants as well as local non-profit Cool Arts Society, which provides art opportunities for adults with developmental disabilities.
Organizers are still collecting two- and three-dimensional artwork to be donated and raffled during the event.
Local artists who are interested in supporting this fundraiser can email aotl2022@ubcovacu.org for a submission form and submission guidelines.
The event is planned to be in-person, but will also be live-streamed.
Tickets cost $200 for two people to enter and guarantees one piece of artwork. Tickets will also be available for people who would like to attend, but not bid on artwork; they will be at the door for $20 or $10 for students. More information is available at artontheline2022.eventbrite.ca.
—
Art on the Line
What: Art on the Line gala and fundraiser
Who: Local artists, Faculty of Creative and Critical Studies students and faculty
When: Saturday, March 5 starting at 5:30 p.m.
Where: Charles E. Fipke Centre, 3247 University Way, UBC's Okanagan campus
Cost: $200 per ticket (one ticket admits two people, and guarantees one piece of artwork) or day of entry admission for $20, $10 for students
Art pieces stolen from Campbell River charity – Campbell River Mirror
Two pieces of art were taken from a Campbell River charity over the Victoria Day long weekend, and the Campbell River RCMP is looking for the public's health to get them back.
A drum hand-painted by Greg Henderson was stolen, as was a framed print of a family of grizzly bears painted by Brent J. Smith.
At this point in time, said Const. Maury Tyre, we're hoping that the thieves can redirect their moral compass, as the charity is really just trying to get its art back. The art can be returned no questions asked at this time, but if it comes down to the police completing the investigation and finding someone in possession of the missing pieces of art, charges could end up being sought for possession of property obtained by crime.
The art pieces can be returned to the Campbell River RCMP at their office at 275 S Dogwood Street, Campbell River.
If you have any information regarding the theft of the art pieces or their possible location, please contact the Campbell River RCMP at 250-286-6221.
---

marc.kitteringham@campbellrivermirror.com
Like us on Facebook and follow us on Twitter
ArtCampbell RiverLocal Newstheft
ARTS AROUND: Spring-inspired art exhibit opens at Rollin Art Centre – Alberni Valley News
A new exhibit at the Rollin Art Centre features 16 locals artists, each displaying their own creative renditions of the season of spring.
"SPRING – Seasonal Imagery" includes artists such as Janice Sheehan, Mae LaBlanc, Jim Sears, Joan Akerman, Jayant Chaudhary, Cathy Stewart, Cheryl Brennan, Cynthia Bonesky, Mary Ann McGrath, Cheryl Frehlich, Dodie Manifold, Patrick Larose, Phyllis Davenport, Judith Rackham, Susie Quinn and Karen Poirier.
The exhibit runs until June 18. Join us the gallery this Saturday, May 28 for refreshments and an opportunity to meet these talented artists.
WORKSHOPS
Two-Day Watercolour Workshop at Rollin Art Centre — June 1 and 2 from 10 a.m. to 4 p.m. — The Basics of Colour Theory & Pigments
Ionne McCauley is an accomplished artist, quilter, and author currently living in Qualicum Beach. In this workshop you will learn about value, hue, tone, shade, and saturation. Workshop fee is $150. Supply fee (to be paid to the instructor) is $20 and kit fee includes all paints used in class, paper to start and a grayscale. Register at Rollin Art Centre at 250-724-3412. Numbers are limited.
One-Day Acrylic Workshop at Rollin Art Centre — Saturday, July 16 from 10 a.m. to 3 p.m. — Landscapes Made Easy
Susan Schaefer will guide you through this, discussing what makes a good composition while simplifying your landscape. Schaefer has been a professional artist for the past 20 years and has taken workshops from some of Canada's finest artists. Workshop fee is $115 +GST. A supply list is available. Register at Rollin Art Centre at 250-724-3412. Numbers are limited.
SUMMER TEAS
Teas on the Terrace are back at the Rollin Art Centre and tickets are now on sale.
Tickets are $20 for our strawberry teas and $25 for a High Tea, served on a two-tiered plate. Join us on the terrace, under the canopy of the trees, sipping tea, listening to local musicians and sampling a selection of snacks.
The first event will be a Strawberry Tea on July 7 featuring the Folk Song Circle.
Melissa Martin is the Arts Administrator for the Community Arts Council, at the Rollin Art Centre and writes for the Alberni Valley News. Call 250-724-3412. Email: communityarts@shawcable.com.
TRAMPS! looks at the art movement behind the The New Romantics – CBC.ca
Cutaways is a personal essay series where filmmakers tell the story of how their film was made. This is one of 5 essays from directors featured at the 2022 Inside Out 2SLGBTQ+ Film Festival.
Rising from the nihilistic ashes of the punk movement in the late 1970s, a fresh crowd of flamboyant fashionistas, who would later be christened the New Romantics, began to materialize on the streets of London, England.
My new feature film, TRAMPS! repositions the iconic 80s subculture as an art movement rather than solely a pop-cultural one.
This period in British history was particularly unique because kids could attend art or fashion school for free, and also lived in massive squatted houses with other fledgling artists. In a pre-AIDS era, this way of living provided a lifestyle with very little sense of consequence and resulted in a flourish of art being produced that straddled film, music, art and fashion causing waves around the world that resonate to this day.
Their radical, proto-drag confused the media, who couldn't look away — like a cultural car crash, and soon enough they were brought into homes internationally with the rocket-like rise-to-fame of the likes of Boy George and his band Culture Club.
The idea for the film originates back to my trip to London, England with my first movie back in 2013. Admittedly, I came to the city with a well-developed obsession with UK music, arts and subculture going all the way back to my youth. I was struck by the proximity of these artists who were both central to my preexisting obsessions, and those who permeated the margins of the cultures I had come to love.
I knew straight away that I needed to spend time getting under its skin for my next movie, and it wasn't until a series of coincidences revealed to me what that movie would be, that things started falling into place.
As my research plunged to its depths I realized that I wanted to shift the focus away from megastars and instead shine a light on people like painter Trojan, who had to this point been thrust into the shadows of his partner in crime, performance artist Leigh Bowery. These shadows were also cast by the onslaught of AIDS and rampant drug use, which effectively banished so much of the creative community to obscurity.
I crossed paths with incredible artists like fashion designers BodyMap, jewelry designer and stylist extraordinaire Judy Blame, choreographer Michael Clark and style icons Princess Julia and Scarlett Cannon. I was obsessed with their images, having permeated the pages of revolutionary cultural magazines like I-D and The Face, but seemed to flounder in terms of being celebrated as part of this movement which really was born out of a diversity of art practises, rather than strictly pop music aimed at straight people and dominant culture.
For me, TRAMPS! is a movie about youth culture, the central characters just happen to be more advanced in their years. Of course, night life in London still thrives, and although they seem to be slipping away to the annals of the digitization of gay culture, the East End alternative gay bars still teem with boundary pushing queer artists and festive freaks. DJ's like Princess Julia and Jeffrey Hinton are still very much at the centre of it. They've been at it since the early 80s — Jeffrey Hinton was the resident DJ at Leigh Bowery's nightclub Taboo, which was infamously debaucherous.
People like Julia and Jeffrey are a well of energy and I was eager to dip my bucket in! I wanted to bridge the gap between the archaic divide between so-called "kids these days" and the generations that predated them. I think the adage goes, if you're not interested, you're not interesting. The subjects in my film continue to engage with and produce art in whatever guise that may be — even just dressing up!
Making a documentary can be pretty depleting, especially when you spend years chasing pennies from granting bodies. For me that also extended into a sense of unworthiness — like the project I cared so deeply for didn't have the worth I felt it had. It can also be costly in many other ways, such as a forced unsustainable lifestyle, especially when other filmmakers seem to sail through things like financing and distribution, where I felt I was destined to flounder.
That's why when I would look at the subjects in TRAMPS! I began to see them not as just members of bygone subculture, but instead as a sort of mystical source of inspiration. To be an artist is to be a survivalist, resilience is at its centre, and so the narrative of the movie began to develop around those themes. Because I needed to hear it, I assumed others like me would also benefit from their secrets. What was the source of that resilience? How do they survive? How will I continue to make art and survive?
The New Romantics were essentially living what we are now seeing in what is sometimes referred to as the precariat generation; those whose income and employment are entirely insecure today. While working small jobs in friends shops, and a variety of other side gigs, trying to survive while making this movie — this fear-filled existence became central in my life and the narrative of the movie as well. Very dramatic I know, but these are undeniably dramatic times.
I hoped the answer, and inspiration to continue down this path existed somewhere in their story. This was the inspiration I needed to grow as a filmmaker and as a person, and so TRAMPS! was born.
I wanted to find some tenderness in a community that was so well-known for its aesthetic alone, and through this concept and cliché of the "artists struggle" I feel we really did find a lot of heart in that. It wasn't until the movie was invited to play BFI Flare, and I stood on the stage at two sold out screenings that I realized that pursuit I so desperately needed to continue, truly did manifest in this documentary. I'm so excited to be able to share that with anyone and everyone who may continue to be in that position.
Ultimately, TRAMPS! is an allegorical gesture to artists of any generation trying to navigate how to produce work in an aggressively capitalist political economy. It happens to take place in London, but I hope it speaks to artists everywhere.
---
TRAMPS! screens in Toronto at the Inside Out 2SLGBTQ+ Film Festival on Tuesday, May 31. It is available to stream across Ontario from May 26 to June 5.