Previewing Jays-Rays and the rest of the MLB playoffs – TSN
As expected, the 60-game sprint flew by and despite a few virus-related hiccups and lessons learned along the way, Major League Baseball has made it to the postseason.
For the first time ever, 16 teams have been invited to the dance, and for the first time since 2016, the Toronto Blue Jays are a part of it.
With a truly unique setup that will see four three-game wild-card series take place in each league, the chance of an upset or three has never been higher, especially after reaching a wild final Sunday with compacted standings in both leagues leaving every single matchup up in the air until the last possible moment.
A three-game wild-card round in top-seed cities will then see baseball bubble in California (American League) and Texas (National League) for the division series and beyond, with the World Series slated for the Texas Rangers' new ballpark in Arlington.
To get things teed up, former New York Mets general manager and TSN Baseball Insider Steve Phillips and I predict each series, end-of-season award winners, as well as outline some key names for the Jays as they head into their best-of-three showdown with the Tampa Bay Rays at Tropicana Field.
(8) Toronto Blue Jays at (1) Tampa Bay Rays
PHILLIPS: The Rays beat the Jays six out of 10 games this year, but eight of the 10 games were decided by two runs and four were extra-inning games. These gap between these two teams is not as significant as the seeding indicates. The Rays have better pitching and defence than the Jays, plus they have experience on their side. The Jays are better offensively but will have to find ways to score against this power-armed staff.
VERDICT: Rays in 3 games.
MITCHELL: With the similarities in organizational approach at the root of it, this series is potentially the start of an intriguing rivalry over the next few years. It's been called a rivalry before thanks to the amount of clashes within the AL East, but real rivalries are made in the postseason and Charlie Montoyo trying to knock off the organization he spent more than two decades with is a good narrative to build off of. The Jays scored more runs than the Rays this year and you can argue have more talent, man for man, in the lineup, but Kevin Cash's club is the best team in the American League for a number of reasons, starting with pitching. It begins with the trio of starters the Rays will send to the mound in Blake Snell, Tyler Glasnow and Charlie Morton, but that group is backed by one of the best bullpens in baseball. From the strong rotation to the flexible power bullpen to the mix-and-match ability in the lineup, this is what the Blue Jays always envisioned looking like in a year or two. They're not there quite yet, but anything can happen in a three-game series.
VERDICT: Rays in 3 games.
Three Key Blue Jays
PHILLIPS
1. SP Hyun-Jin Ryu
Ryu was brought in to be the leader of this staff. The quality of his pitching is only a part of the value the Jays thought they were getting with the $80 million they gave him. His postseason experience (eight games started, 4.05 ERA) is more than anyone else on the roster. The Jays need him to not only win his start, but they also need him to go at least seven innings to protect the bullpen, considering that there are no off-days in the series.
2. 1B Vladimir Guerrero Jr.
Guerrero Jr. went 12 for 27 (.444) over the last seven games of the regular season. He had three doubles a triple and two home runs with seven runs scored and eight RBI. He is finally locked in at the plate. He is waiting for a pitch he can drive and recognizing the first strike he sees may not be the best strike he sees. He has shown the ability to rise to the big moments as he did at the Home Run Derby last year. He can win a game by himself.
3. RP Nate Pearson
The Jays' bullpen is not necessarily a swing-and-miss unit. Pearson can be a real weapon for Montoyo as his stuff can lead to some big strikeouts in critical moments. It remains to be seen how quickly he can warm up and how he bounces back from one day to another, but he is a different look than anybody else in their pen. The Jays could go further than expected if he can handle the heart of the lineup or get a big strikeout with runners in scoring position.
MITCHELL
1. SP Hyun-Jin Ryu
Ross Atkins went out and bought himself an ace for $80 million last December and Ryu delivered, authoring a 2.69 ERA across 12 starts and finishing with 1.9 fWAR, more than triple the next most valuable arm on the Blue Jays' pitching staff. It's a pretty simple equation for the Jays as they head into the postseason: It's a must-win game every time Ryu takes the mound because the rotation depth behind the veteran lefty simply doesn't match up with their American League counterparts.
2. RF Teoscar Hernandez
Leading the team in home runs with 16 might not surprise anyone who has watched Hernandez over the past couple of years. The power is evident. But what Hernandez did this summer was become a tougher out by chasing less and swinging at better pitches inside the zone, culminating in an important shortened-season breakout for the Jays. When combined with the exciting Cavan Biggio/Bo Bichette one-two punch at the top of the order and the Juniors, Vladdy and Lourdes, in the middle, Hernandez's emergence really helped lengthen Montoyo's lineup and turn it into a top-10 offence in terms of runs scored. Hernandez's presence is as important as it gets.
3. RP Jordan Romano
Working his way back from a freak middle finger injury suffered at the end of August just as he was coming into his own as a high-leverage force, there's no guarantee Romano will be able to make any sort of real impact in the postseason. But if the 27-year-old right-hander can make it back and look like anything close to the pitcher he was when he struck out 21 over his first 14.2 innings, the Blue Jays' bullpen will add the type of power arm that has become so synonymous with playoff success over the past few years and give Montoyo another late-inning option alongside veterans Rafael Dolis and Anthony Bass.
REST OF AL WILD-CARD SERIES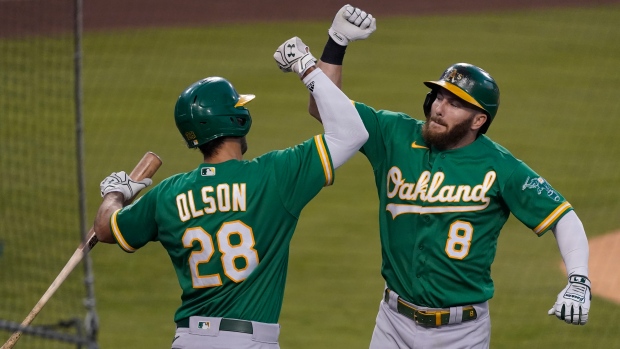 (7) Chicago White Sox at (2) Oakland A's
PHILLIPS: Oakland has a young, inexperienced but very talented rotation. Their bullpen is the best in baseball. They excel in run prevention with their pitching and excellent defensive team. Offensively, they underachieved in 2020 and they lost one of their best all-around players in third baseman Matt Chapman to a season-ending hip injury. They may be challenged to score against good pitching. The White Sox are talented and exciting. They are a well-balanced team with a blend of youth and experience. Lucas Giolito and Dallas Keuchel give them a one-two punch in the rotation. First baseman Jose Abreu and shortstop Tim Anderson lead a very deep lineup that has struggled a bit down the stretch. They only went 12-19 this year against teams with a .500 but they went 14-0 in games started by left-handed pitchers. Oakland will likely throw two lefty starters in the three games.
VERDICT: White Sox in 3 games.
MITCHELL: In this unique 60-game sprint we've seen teams be able to overcome a poor showing in one area of the roster with a great showing from another, something that's much harder to do over the course of a gruelling 162 games. The A's did exactly that. Bob Melvin's rotation was the definition of mediocre, while the bullpen, led by Liam Hendriks, is arguably the best in baseball with a collective ERA well under 3.00. It's the complete opposite on the south side of Chicago, where Lucas Giolito's power arsenal and Dallas Keuchel's postseason experience from the days with the Astros will give their loaded lineup a chance. Similar to the Blue Jays, this may end up being a valuable learning experience for a young White Sox team.
VERDICT: A's in 3 games.
(6) Houston Astros at (3) Minnesota Twins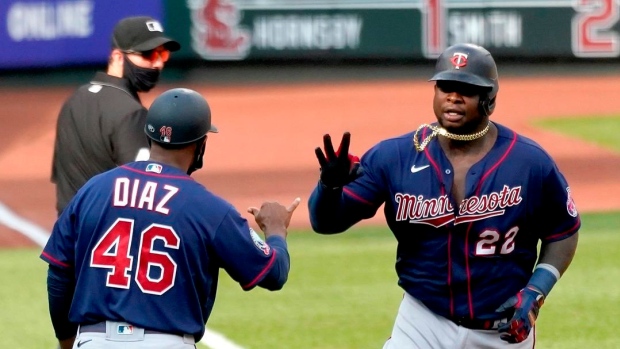 PHILLIPS: The Twins have a high-powered offence that can beat you in so many ways. Surprisingly, they have given up the second fewest runs in baseball; in fact, only seven more runs than the highly respected Cleveland pitching staff. Although none of their starters are overpowering. They went 24-6 at Target Field this year, which can't be ignored. Houston feels like just a shell of the team that had won 100-plus games in each of the past three seasons. The loss of Justin Verlander to Tommy John surgery has weakened their starting rotation and their bullpen is loaded with rookies. Offensively, they still have the star power of Alex Bregman, Jose Altuve and George Springer, but all of them have underachieved. The Astros were awful on the road this season (9-22) and they will be on the road for the entire postseason. But they have been down this road before and are still a scary match-up.
VERDICT: Astros in 3 games.
MITCHELL: It feels weird to call the previously powerhouse Houston Astros an underdog, but this team isn't the same trash-can banging squad we've seen over the last few years. Sign stealing aside, there's no Justin Verlander, no Gerrit Cole, no Roberto Osuna and many of the key lineup pieces – most notably Jose Altuve and Alex Bregman – have suffered through down years. There's enough punch in the lineup to get hot and make a run, but they'll absolutely need Zack Greinke to look vintage and one of their young rotation arms — Lance McCullers Jr, Cristian Javier, Jose Urquidy or Framber Valdez — will have to spin a gem for them to pull off the upset of a Twins team that can score runs in bunches. The best trade of the off-season might have been Minnesota's acquisition of Kenta Maeda, who went 6-1 with a 2.70 ERA, from the Dodgers back in February.
VERDICT: Twins in 3 games.
(5) New York Yankees at (4) Cleveland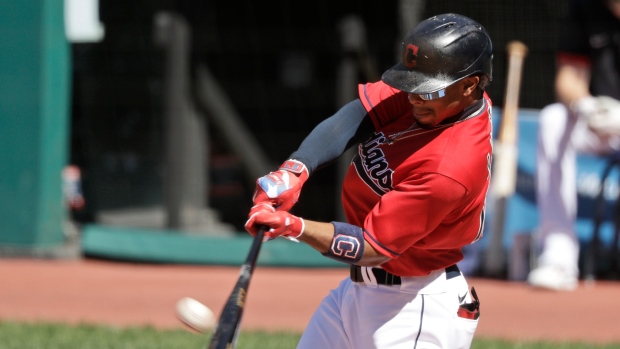 PHILLIPS: Cleveland is all about their pitching. No team has as deep a rotation as they do in the American League, and they have a deep bullpen, too. They struggle to score but superstars Francisco Lindor and Jose Ramirez can put the offence on their shoulders. They have postseason experience, which will make a difference as this may be their last hurrah before trading Lindor. The Yankees battled injuries all year and their starting pitching has been compromised while their bullpen has underachieved. Offensively, they are as healthy as they have been all season and have the potential to dominate if everyone plays to their highest level. If sluggers Aaron Judge and Giancarlo Stanton get hot, then look out. They are only 12-18 on the road this season and will be playing the entire postseason on the road.
VERDICT: Yankees in 3 games.
MITCHELL: Tabbed as being one of the best teams in baseball in the long pandemic-driven lead-up from February through July, the Yankees were all over the map this summer. One week they'd look like a World Series contender, and the next they'd be in jeopardy of slipping out of the playoffs altogether. Is that a product of the short season or are they truly an inconsistent and imperfect team? In order to prove it's the former, they'll have to go through a Cleveland team that's once again led by strong starting pitching in the form of Cy Young favourite Shane Bieber and veteran Carlos Carrasco. While the Cleveland offence lacked punch and finished near the bottom of baseball in runs scored, third baseman Jose Ramirez is an MVP candidate and shortstop Francisco Lindor is capable of special things.
VERDICT: Yankees in 2 games.
NL WILD-CARD SERIES
(8) Milwaukee Brewers at (1) Los Angeles Dodgers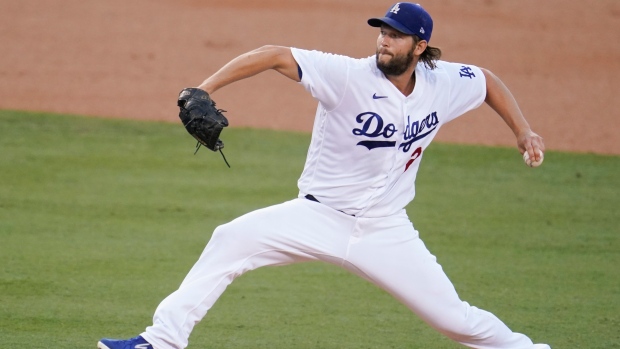 PHILLIPS: The Dodgers are the most balanced team in baseball. They have scored the second most runs and given up the third fewest. They have the best overall record and did it despite subpar seasons from last year's MVP Cody Bellinger and first baseman Max Muncy. The addition of outfielder and MVP candidate Mookie Betts has improved them in every way. Clayton Kershaw is surrounded by a bevy of young starters who can dominate a good lineup. The Brewers are a mix-and-match team. Manager Craig Counsel is the best at matching up his personnel to counterbalance the opposition. Christian Yelich has had an abysmal year, and is the reason why they barely made the playoffs. They rely upon their bullpen more than any other team as they have the two best relievers in the game in Devin Williams and Josh Hader.
VERDICT: Dodgers in 2 games.
MITCHELL: World Series bridesmaids in 2017 and 2018, the Dodgers took a step back in 2019, disappointingly falling to the eventual-champion Washington Nationals in the NLDS last year. This year, they seem to catch a break with the Brew Crew — one of two teams in the postseason with a sub-.500 record — but nothing is assured in such a short series, even with a 14-win delta between the two teams. Any team with Cody Bellinger and Mookie Betts is going to be formidable offensively, and the Dodgers were, but it's a deep pitching staff that should be able to carry them back to where they were a couple of years ago. Clayton Kershaw looking vintage down the stretch will take some of the pressure of their four young rotation arms, Walker Buehler, Dustin May, Tony Gonsolin and Julio Urias. Outside of Brandon Woodruff, Milwaukee's rotation simply doesn't stack up and won't be able to keep it close enough for lights-out relievers Josh Hader and Devin Williams to matter.
VERDICT: Dodgers in 2 games.
(7) Cincinnati Reds at (2) Atlanta Braves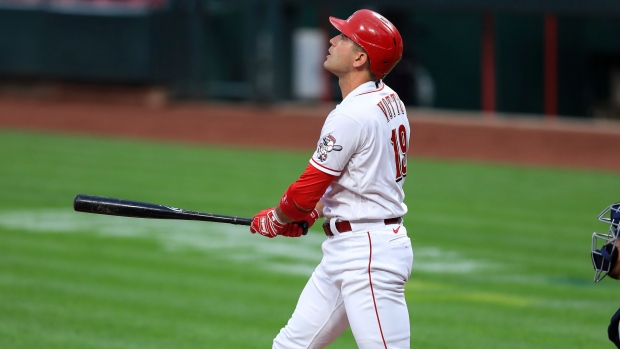 PHILLIPS: The Braves have baseball's best offence. It is a patient, powerful and deep lineup. Their starting pitching has been decimated by injuries, but they have one of the deepest and most effective bullpens in the game. The Cincinnati Reds are a scary matchup because of the impact in their starting rotation. Trevor Bauer, Luis Castillo and Sonny Gray give the Reds the best 1-2-3 in any rotation in the National League. The Reds have a paltry offence. They only had a .212 team batting average and a .312 on-base percentage. They do have power, but have a tough time linking multiple hits together. They just have to score enough with their pitching.
VERDICT: Reds in 3 games.
MITCHELL: Despite their starting rotation being decimated by injury — it would've been lovely to see Mike Soroka in this postseason mix — the Braves were carried by the most potent offence in all of baseball, led by the ridiculously hot trio of Ronald Acuna Jr., NL MVP favourite Freddie Freeman and key free-agent signing Marcell Ozuna. This series is a matchup of strength versus strength because the Reds rotation of Trevor Bauer, Sonny Gray and Luis Castillo can match up with any team in baseball and they'll be asked to pitch deep into each game, as they have all season. The Cincinnati rotation struck out more batters than any group in baseball, setting up a great showdown with the Atlanta bats.
VERDICT: Braves in 3 games.
(6) Miami Marlins at (3) Chicago Cubs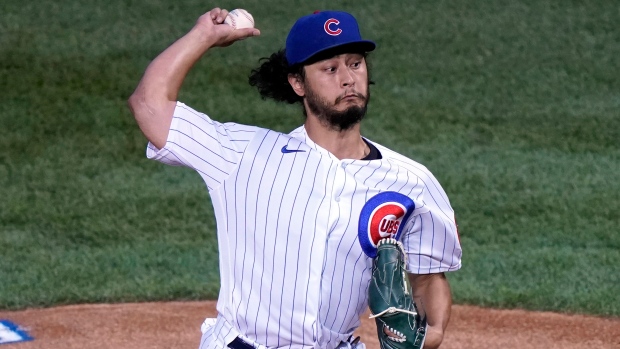 PHILLIPS: The Cubs have quality starting pitching with Yu Darvish, Kyle Hendricks and Jon Lester, but their bullpen has been unstable all year. Their offence is very inconsistent as they have had poor seasons from third baseman Kris Bryant, shortstop Javier Baez and first baseman Anthony Rizzo. They are often all or nothing offensively. With their talent and experience they can make it to the World Series, but with their inconsistency they could be knocked out in the wild-card round. The Miami Marlins are the game's most surprising playoff team. They were picked to come in last place in the NL East. They were impacted by the COVID-19 virus more than any club, yet they remarkably overcame adversity. They were 12th in ERA and ninth in runs scored, yet beat out the defending champion Washington Nationals, and large-market Phillies and Mets. Don't tell them they don't have a chance because they don't care what you think.
VERDICT: Cubs in 2 games.
MITCHELL: If you need evidence of the weirdness provided by just 60 games, look no further than the Miami Marlins. Not only were they expected to be closer to contention for the No. 1 overall pick than a postseason spot when the season began, they were also ravaged by COVID-19 early in the season and spent an extended stint on the sidelines as a team trying to get healthy. While Miami is a completely nondescript group of cobbled together veterans and emerging youth, the Cubs return to the postseason with most of the key lineup pieces in place from their 2016 World Series run. Unfortunately, each and every one of Anthony Rizzo, Kyle Schwarber, Javier Baez, Kris Bryant and Willson Contreras has struggled, likely leaving a lot of pressure on the plate of Cy Young contender Yu Darvish and Kyle Hendricks to spin gems. One interesting aspect of this series is the Marlins' success outside of Florida this year. At home, they were just 11-15, but they made up for that by going 20-14 on the road, where they'll play all three games.
VERDICT: Cubs in 3 games.
(5) St. Louis Cardinals at (4) San Diego Padres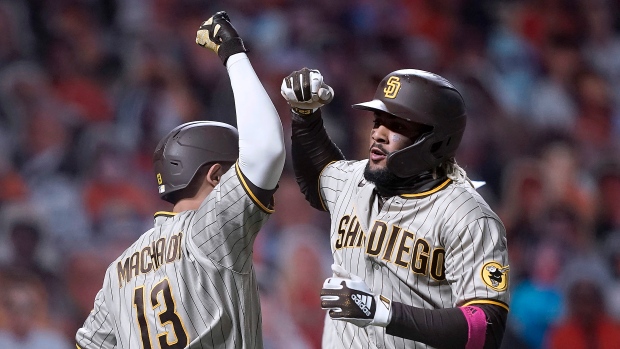 PHILLIPS: The San Diego Padres are the second-best team in the National League. They are a well-balanced team with no major deficiency. They have star power. They have grinders. They have a blend of youth and experience. They are holding their breath on injuries to their top two starters as Mike Clevinger (elbow) and Dinelson Lamet (bicep) both came out of their last starts due to pain in their arms. The St Louis Cardinals had their season shutdown for 17 days due to the coronavirus. They have played 11 doubleheaders to make up the lost games in their schedule, which has been a grind. They have pitched well enough to overcome an anemic offence. They hit the fewest home runs in baseball and were outscored by all but two teams.
VERDICT: Padres in 2 games
MITCHELL: Welcome to the Fernando Tatis Jr. coming-out party. Similar to the White Sox, the Padres have been slowly building to this point for the past couple of years, using the shortened season as a springboard to what should be a very interesting contention window with a group of star position players and an improving rotation led by Lamet and trade deadline acquisition Clevinger. Thanks to both of those right-handers heading into the series with questionable health statuses, the Padres offence will have to lead the way, something it's fully capable of doing after scoring 325 runs, third most in baseball behind the Dodgers (349) and Braves (348). The Cards are a mediocre team from top to bottom, but it's a veteran-laden group that has been there before and they'll be better prepared for this stage than the Padres. That won't matter.
VERDICT: Padres in 3 games.
AMERICAN LEAGUE DIVISION SERIES
PHILLIPS
(5) Yankees vs. (1) Rays
PHILLIPS: The Rays won eight of 10 games against the Yankees during the regular season when the Yankees were dealing with injuries to their lineup. Gerrit Cole and Masahiro Tanaka are playoff-tested more than Blake Snell and Tyler Glasnow. The Rays need to string hits together to score, while the Yankees can score with one swing of the bat with their power.
VERDICT: Yankees in 5 games.
(7) White Sox vs. (6) Astros
The Astros get their mojo back with an upset win over the Minnesota Twins. Their offence starts to hit on all cylinders creating a margin for error for their young bullpen. Dallas Keuchel has been great all season for the Sox, but facing his former team will be a challenge and the difference in the series.
VERDICT: Astros in 5 games.
MITCHELL
(5) Yankees vs. (1) Rays
Gerrit Cole gives the Yankees a chance in any series, but the Rays are too deep on the pitching side to lose to New York in a five-game scenario as long as they continue to get key hits at key times, which they always seem to do.
VERDICT: Rays in 5 games.
(3) Twins vs. (2) Athletics
Even though an elite bullpen has carried the A's all summer long, the Twins have more than enough offence to squeeze by in a close series, as the Matt Chapman injury really starts to show here.
VERDICT: Twins in 4 games.
NATIONAL LEAGUE DIVISION SERIES
PHILLIPS
(4) Padres vs. (1) Dodgers
Clayton Kershaw has dominated the San Diego in his career. The Dodgers offence explodes as Bellinger and Muncy return to form. The Padres inexperience shows, and they make too many mistakes.
VERDICT: Dodgers in 3 games.
(7) Reds vs. (3) Cubs
The Reds pitching is deeper than the Cubs, particularly in the bullpen. Both teams are offensively challenged, but the Cubs big bats of Kris Bryant, Javier Baez and Anthony Rizzo come to life against this familiar opponent.
VERDICT: Cubs in 4 games.
MITCHELL
(4) Padres vs. (1) Dodgers
There's going to be so much exciting talent on the field in this series, it's a shame one of them has to lose. The Padres are going to be a problem for the Dodgers this decade, but not just yet.
VERDICT: Dodgers in 3 games.
(3) Cubs vs. (2) Braves
Four years ago many thought the Cubs would have multiple rings by now, but despite an exciting core of position players, things have gone awry in one way or another, showing just how hard it is to have sustained success in this sport. This year, they make a surprise run.
VERDICT: Cubs in 5 games.
ALCS
PHILLIPS
(6) Astros vs. Yankees (5)
This is a rematch of the 2017 ALCS when the Astros were banging on garbage cans and 2019 ALCS where the Astros were allegedly whistling to signal pitches. The Yankees are motivated by revenge and play this series with a chip on their shoulder. The Yankees bang on the baseball and it whistles out of the park. Gerrit Cole dominates his former team.
VERDICT: Yankees in 5 games.
MITCHELL
(3) Twins vs. (1) Rays
This series between two very balanced teams will go the distance, but the trio of Blake Snell, Tyler Glasnow and Charlie Morton only gets better as the postseason goes on and that makes all the difference here.
VERDICT: Rays in 7 games.
NLCS
PHILLIPS
(3) Cubs vs. (1) Dodgers
The Dodgers depth and balance can overwhelm opponents. They seem to come up with what they need when they need it. The Cubs bullpen is no match for the Dodgers' relentless offence.
VERDICT: Dodgers in 5 games.
MITCHELL
(3) Cubs vs. (1) Dodgers
A rematch of the 2016 NLCS, this time the Dodgers get the upper hand as they continue their march towards their first World Series title since 1988.
VERDICT: Dodgers in 5 games.
WORLD SERIES
PHILLIPS
(5) Yankees vs. (1) Dodgers
This is battle of behemoths. The offences are better than the pitching staffs and this turns into a slugfest. This series will swing back and forth. Each team will have multiple stars during the series who could be MVP if their team wins. It will go down as one of the best World Series ever.
VERDICT: Dodgers in 7 games.
WORLD SERIES MVP: Mookie Betts
MITCHELL
(1) Rays vs. (1) Dodgers
It may be boring to pick this much chalk, but the Rays and Dodgers have been arguably the best two teams in baseball since the jump, so it's only fitting they eventually collide in Arlington starting Oct. 20. Tampa will put up a fight, but the Dodgers deserve to get over the hump and $365-million man Mookie Betts is the catalyst.
VERDICT: Dodgers in 6 games.
WORLD SERIES MVP: Mookie Betts
AWARDS
PHILLIPS
AL MVP: 1B Jose Abreu, Chicago White Sox
NL MVP: 1B Freddie Freeman, Atlanta Braves
AL Cy Young: Shane Bieber, Cleveland
NL Cy Young: Trevor Bauer, Cincinnati Reds
AL Rookie of the Year: OF Kyle Lewis, Seattle Mariners
NL Rookie of the Year: 3B Alec Bohm, Philadelphia Phillies
AL Manager of the Year: Charlie Montoyo, Toronto Blue Jays
NL Manager of the Year: Don Mattingly, Miami Marlins
MITCHELL
AL MVP: 3B Jose Ramirez, Cleveland
NL MVP: 1B Freddie Freeman, Atlanta Braves
AL Cy Young: Shane Bieber, Cleveland
NL Cy Young: Trevor Bauer, Cincinnati Reds
AL Rookie of the Year: OF Kyle Lewis, Seattle Mariners
NL Rookie of the Year: RP Devin Williams, Milwaukee Brewers
AL Manager of the Year: BBWAA voter. No choice.
NL Manager of the Year: Jayce Tingler, San Diego Padres​
Longtime Oilers locker room attendant Joey Moss dies at 57 – Sportsnet.ca
EDMONTON — Joey Moss, a longtime Edmonton Oilers locker room attendant, died Monday at the age of 57.
The #Oilers organization is extremely saddened by the passing of our dear friend & colleague, the legendary Joey Moss.
Once an Oiler, always an Oiler.
RIP, Joey. pic.twitter.com/KJSkN9oO9W

— Edmonton Oilers (@EdmontonOilers) October 27, 2020
Moss was born in 1963 with Down Syndrome, the 12th of 13 children to Lloyd and Sophie Moss.
He became the Oilers' locker-room attendant in 1984 when superstar Wayne Gretzky was dating his older sister, Vikki. Moss joined the Edmonton Football Team in 1986 and held roles with both organizations for over 30 years.
Heartbreaking to hear about Joey Moss passing away. He is the soul of the @EdmontonOilers. I'll remember him singing the anthem w/pride, getting fired up about wrestling and always asking if I combed my hair with a pork chop. My deepest condolences to the Moss family. pic.twitter.com/Ssa0ZBcoSn

— Andrew Ference (@Ferknuckle) October 27, 2020
He worked with the CFL club from the opening of training camp in June until mid-August, at which time he headed over to the Oilers locker-room for the NHL season _ capturing the hearts of Edmonton sports fans along the way, particularly with his enthusiastic participation in the national anthem before the start of every hockey game.
Moss helped the training staff with such tasks as filling water bottles and equipment duties, but became more than an attendant over the years by providing inspiration to everyone in the locker-room.
Moss was awarded the NHL Alumni Association's "Seventh Man Award" in 2003, for those "whose behind-the-scenes efforts make a difference in the lives of others."
A little numb and horribly saddened by the news… but #yeg legend Joey Moss has passed away at the age of 57. Not even sure where to start… but condolences to the entire Moss, Eskimo & Oiler Families. He left a wonderful legacy & will be deeply missed by so many. #RIPJoeyMoss pic.twitter.com/GvyeqTFjiB

— Bryn Griffiths (@BrynMightyMouth) October 26, 2020
In October 2008, Moss was honoured with a mural in Edmonton for his service with both clubs. In 2012, he received a Queen Elizabeth II Diamond Jubilee medal honouring significant contributions and achievements by Canadians, and was inducted into the Alberta Sports Hall of Fame in 2015.
Moss also inspired the Joey Moss Cup, a tournament held at the end of Oilers' training camp.
Edmonton sports legend Joey Moss dies at 57 – Global News
Edmonton sports legend Joey Moss has died at the age of 57, Global News has learned.
Moss has been a beloved member of the Edmonton Oilers for decades. He became the NHL team's locker room attendant in 1984, after he was recommended by The Great One himself — Wayne Gretzky. The two met when Gretzky was just 20 years old. He was dating Moss' sister at the time.
In a statement, the Moss family said Joey passed away peacefully Monday with his family by his side.
The Oilers sent out a message on Twitter Monday night, saying the entire organization was mourning the loss of "dear friend and colleague, the legendary Joey Moss."
Moss, who was born with Down syndrome, joined the Edmonton Football Team two years later.
The Winnifred Stewart Association, which Moss and his family were involved with for many years, shared a statement from his family.
"It is with deep sadness that the family announces the passing of Joey Moss. Joey passed away peacefully on Oct. 26 at the age of 57 with his family by his side.
"Joey was a remarkable person who taught us to love, laugh and enjoy life always.
"While Joey is most recognized as the dressing room attendant for the Edmonton Oilers and the Edmonton Football Team, and singing the national anthem; Joey is also remembered for his incredible dance moves and putting a smile on your face when you are feeling down.
"Joey's 35 years tenure with the Edmonton Oilers and the Edmonton Football Team shows his dedication and loyalty to the jobs that he loved. His strong work ethic and contributions were rewarded, as he was presented with an NHL All-Star Award, Queen Elizabeth II Diamond Jubilee Award, and was inducted into the Alberta Sports Hall of Fame, just to name a few.
"We would like to thank the city of Edmonton and everyone who supported and embraced Joey.
"We hope that Joey's legacy will continue on through the Edmonton Oilers, Edmonton Football Team and all professional sports clubs and workplaces, as we continue to recognize the contributions that people with developmental disabilities make in our society, as integral members of the workforce."
The Winnifred Stewart Association and Foundation said Moss touched the hearts of a lot of people.
"Joey was an inspiration to many and was an ambassador for people with developmental disabilities. This loss will be felt far and wide, and we are so grateful for the time we had with him.
"Our deepest sympathy goes out to Joey's family, his friends and all of Edmonton during this difficult time."

2:03


Edmonton sports legend Joey Moss dies at 57



In a post on its website, the Edmonton Football Team organization paid tribute to Moss and said it was deeply saddened to learn of his passing.
"We extend our heartfelt condolences to the Moss family," the football club said.
"Edmonton lost a hero today. Joey's bravery, humor, strength, work ethic and perseverance in our dressing room and in our community left indelible impressions that will live with us all.
"More than that, Joey endeared himself to everyone in our province, our country and beyond, no matter who they were. He was a symbol of what true teamwork is comprised of and we are all better for having known him. He touched us all."
Over the years, he's captured the hearts of those in Edmonton and beyond, particularly for his enthusiastic participation in the national anthem before the start of every game.
Moss racked up many accolades in Edmonton over the years.
In 2003, he was presented the NHL Alumni Association's "Seventh Man Award," which goes to NHL members "whose behind-the-scene efforts make a difference in the lives of others."
In 2007, he accepted the Mayor's Award from then-mayor Stephen Mandel in recognition of the Oilers commitment to persons with disabilities.
In, 2015, he was inducted to the Alberta Sports Hall of Fame to honour his contributions and dedication made to both the Oilers and Edmonton's CFL club. In 2012, he was recognized with a Queen Elizabeth II Diamond Jubilee Medal.
Moss is also the namesake behind "Joey's Home", an assisted-living home for people with developmental disabilities overseen by the Winnifred Stewart Association.
© 2020 Global News, a division of Corus Entertainment Inc.
Lions Saddened By Passing Of Owner And CFL Giant, David Braley – BC Lions
The BC Lions Football Club is very saddened to announce that our owner and champion David Braley passed away peacefully this morning at his home in Burlington, Ontario.
"We share this news with the heaviest of hearts. David has been a proud and fiercely loyal owner of our team, a champion of the Canadian Football League, and a leader for whom his love of our game and our country went hand in hand and spanned decades. We share our deepest condolences with his family, friends and admirers," said Rick LeLacheur, President of the BC Lions Football Club.
"One of his final acts of devotion to Canadian football was a clear expression of his desire that the stability of our club be maintained through a smooth transition following his passing. We will work closely with David's estate to follow that plan."
Also owner of the Hamilton Tiger-Cats from 1989 to 1990 and the Toronto Argonauts from 2010 to 2015, Braley served as an Interim Commissioner of the CFL and Chair of its Board of Governors. He was inducted into the Canadian Football Hall of Fame in 2012.
Braley was a highly successful entrepreneur with a genius for business and a generous philanthropist who made enormous contributions in the arenas of, i health, research and sport, including amateur football. Passionate about politics and public service, he served his country as a Senator from 2010 to 2013. Last year, he was named an officer of the Order of Canada, one of Canada's highest honours.
"We have lost our greatest champion. All of us associated with the Lions have personally seen, time and time again, David's selfless commitment to our club and our fans," LeLacheur.
"But his example and inspiration, along with the direction he provided us all as his health failed, fuels our confidence in the Lions future. The BC Lions will continue to work hard to honour his memory by being the best we can be on the field, in the boardroom and in the community."
A BC LIONS & CFL GIANT
Mr. Braley first purchased the financially-strapped BC Lions prior to the 1997 season and would be at the helm for one of the Canadian Football League's most remarkable turnaround stories, both on and off the field.
During his induction speech at the Canadian Football Hall of Fame in 2012, Mr. Braley spoke of how proud he was going from 8,000 fans in the stands at his first game as owner to averaging 35,000 at the highest point of his tenure.
His first Grey Cup win as a CFL owner was a historic one. In 2000, the Lions flipped the switch in November and became the first team in pro football to win a championship despite finishing below .500 in the regular season. The Cinderella run was completed with a 28-26 win over Montreal in the 94th Grey Cup at Calgary's McMahon Stadium.
Three years later, the golden age of Mr. Braley's Lions ownership began when he and the late Bobby Ackles successfully lured Wally Buono, the CFL's most successful head coach, to the Lions from Calgary.
The Lions finished first in the Western Division every year from 2004-2007, posting a regular season record of 52-19-1 in the process. In 2006, the franchise won its' fifth Grey Cup and second under Mr. Braley's ownership by taking down the Alouettes yet again, 25-14 in Winnipeg.
He would earn a third in 2011 when the Lions went from an 0-5 start to Grey Cup champions, beating the Winnipeg Blue Bombers in front of our home fans at the newly renovated BC Place. The 2011 Grey Cup festival was also one of the more successful CFL events to date.
Along with the three Grey Cup championships and bringing fans back to the stadium, Mr. Braley's ownership reign was also known for the Lions becoming major pillars in communities across the entire province. Prior to 2020, the club would visit an average of 140 schools per year.
A former high school player himself, Mr. Braley always believed in promoting the game of football at the grassroots level.
It was then-Hamilton mayor Bob Morrow who urged Mr. Braley to step in and purchase the struggling Hamilton Tiger-Cats in 1989. That was the start of his very successful track record of owning football franchises. The Tiger-Cats would appear in the Grey Cup in his first season as owner and would then return to community ownership prior to the 1992 season.
Mr. Braley also owned the Toronto Argonauts from 2010-2015. The highlight of that tenure was the Argonauts hosting and winning the historic 100th Grey Cup. It was the fourth and final Grey Cup win as a CFL owner.
A well-known leader and innovator, Mr. Braley also spent time as Chairman of the CFL's Board of Governors and also served as Interim Commissioner from March-November of 2002 before the appointment of Tom Wright.
Mr. Braley's success in the world of sports wasn't just limited to the Canadian Football League. He kept soccer alive in the market by purchasing the Vancouver 86ers (A-League) in 1997 and owning them until the year 2000.
He was also a major force in bringing the 2012 World Cycling Championships to Hamilton in 2012 and was involved in Southern Ontario's successful bid for the 2015 Pan Am Games.
After studying Sciences at McMaster University, Mr. Braley's success in the business world began with General Motors Acceptance Corporation in Hamilton before he moved on to London Life Insurance.
He then purchased William Orlick Industries (now known as Orlick Industries) in 1969, and over the next several years transformed it from a small business into one of the leading manufactures of aluminum die-cast auto parts. Orlick Industries has also provided jobs for hundreds of workers in the Hamilton area.
Mr. Braley was always known for also being a champion in the world of Philanthropy, donating over $125 million to various organizations over the years.
During a remarkable ten-month stretch from August 2006 to June 2007, he gave $50 million to McMaster's medical school and an additional $5 million for the University's new athletic complex, which is appropriately named the David Braley Athletic Centre.
He also gave $10 million to Hamilton Health Sciences for a new cardiac, vascular and research institute as well as $5 million to St. Joseph's Healthcare for operating rooms and kidney care.
In 2007, he was presented with an award from the Downtown Vancouver Business Improvement Association for charitable and philanthropic contributions.
Mr. Braley's long and storied career also included politics. He was appointed to the Canadian Senate by Prime Minister Stephen Harper in May of 2010, and would go on to serve for nearly three years before retiring from government. He received this country's highest honour, the Order of Canada in 2019
Born in Montreal in 1941, his family moved to Hamilton in 1943. He quickly discovered his true passion for the game of football as a young child when he attended his first Tiger-Cats game at old Ivor Wynne Stadium. Love of the game is what led him to strap on the pads at Westdale High School and of course, carve out nearly three decades of success as an Owner and Governor in the Canadian Football League.
Mr. Braley is an honoured member of the Canadian Football Hall of Fame (2012), McMaster Sports Hall of Fame (2007) and Hamilton Sports Hall of Fame (2006).