Qualcomm details connectivity, AI and performance benefits of new Snapdragon 888 – MobileSyrup
Qualcomm kicked off the first day of its 2020 Snapdragon Tech Summit by announcing its latest Snapdragon 888 mobile platform. Initially light on details, Qualcomm hosted another live stream on Day two of the Tech Summit to dig deeper into the new Snapdragon 888.
During its Day 2 keynote, Qualcomm shared more about the new system-on-a-chip (SoC) and what it brings to the table for 5G, artificial intelligence (AI), photography and more. The Snapdragon 888 will likely power many of 2021's most significant Android flagships.
To start, Qualcomm dug into the 3rd gen Snapdragon X60 5G Modem-RF System integrated into the Snapdragon 888. The X60 enables 5G, Wi-Fi 6 and Bluetooth experiences. On the 5G end, the X60 supports Sub-6 carrier aggregation and mmWave, sporting up to 7.5Gbps speeds on 5G. Additionally, Qualcomm says the X60 works across virtually all major networks worldwide, as well as U.S. nationwide 5G through the use of Dynamic Spectrum Sharing (DSS).
Snapdragon 888 supports global 5G multi-SIM as well, allowing for international roaming and managing multiple numbers from the same device.
Aside from 5G, the X60 includes the recently announced Qualcomm FastConnect 6900 Mobile Connectivity System. This system enables up to 3.6Gbps Wi-Fi 6 speeds, 6GHz capacity with Wi-Fi 6E. FastConnect 6900 also enables support for Bluetooth 5.2, dual Bluetooth antennas, Qualcomm aptX suite, broadcast audio and advanced modulation and coding optimizations.
Snapdragon's AI power
As Qualcomm noted on Day 1, the Snapdragon 888 uses the company's 6th generation Qualcomm AI Engine, which sports the new Qualcomm Hexagon 780 processor. Qualcomm says the Hexagon 780 enables premium experiences that merge AI with professional cameras, personal voice assistants, gaming, connectivity and more.
Qualcomm says the Snapdragon 888 boasts three times more performance per watt over the previous generation, as well as 26 tera operations per second (TOPS). To put that in perspective, last year's Snapdragon 865 with the 5th gen AI Engine featured 15 TOPS, so this year's increase is quite impressive.
Alongside the 6th gen AI Engine, the Snapdragon 888 includes the 2nd gen Qualcomm Sensing Hub, which integrates a dedicated low-power AI processor. The Sensing Hub enables features like screen awake, lift and activity detection, and audio event detection.
Powerful camera and gaming capabilities
Qualcomm detailed the improvements to camera capabilities in the Snapdragon 888. Specifically, the company touted its new Spectra 580 ISP, the first in a Snapdragon with a Triple Image Signal Processor (ISP) capable of capturing from three cameras at once.
As the company boasted on Day 1, the Spectra 580 ISP features processing speeds of up to 2.7 gigapixels per second. which translates to roughly 120 photos at 12-megapixel resolution. Qualcomm says the Spectra ISP is capable of capturing 120fps burst snapshots or taking three 4K HDR videos at the same time. Finally, the Spectra 580 ISP includes a new low-light architecture for capturing brighter photos in the dark. There's support for 10-bit colour depth in the High Efficiency Image File Format (HEIF).
Qualcomm continued its gaming push as well, noting that the Snapdragon 888 comes equipped with the full Snapdragon Elite Gaming feature set. That means HDR graphics, Variable Rate Shading (VRS) and more features. VRS helps improve game rendering performance by up to 30 percent for mobile's most immersive experiences.
Further, the Snapdragon 888 sports Qualcomm's Game Quick Touch tech, which can lower touch latency by increasing responsiveness by up to 20 percent.
Increased performance and security rounds out the Snapdragon 888
Qualcomm says the Snapdragon 888 features major architectural advances that improve power efficiency and more. That includes using a 5nm process. The new Qualcomm Kryo 680 generates up to 25 percent better CPU performance with top frequencies of up to 2.48GHz. Additionally, the Kryo 680 is the first commercial CPU subsystem based on the Arm Cortex-X1.
Coupled with the Kryo 680 is a more powerful Adreno 660 GPU boasting up to 35 percent faster graphics rendering compared to the previous generation. Qualcomm says both the new CPU and GPU can sustain performance over long periods of time but didn't elaborate on how long.
On the security side of things, the Snapdragon 888 features several built-in pieces for maintaining the privacy of user data on the device. That includes a Qualcomm Secure Processing Unit, Qualcomm Trusted Execution Environment and support for Qualcomm Wireless Edge Services. Wireless Edge Services is a cloud-based service that allows Snapdragon 888 to measure the security of the device and its wireless connections in real-time.
Qualcomm says it expects Snapdragon 888-powered devices to be commercially available in the first quarter of 2021. Those interested can learn more about the new SoC here.
Betsson Secures a 50% Stake in JDP Tech – Looking to Boost Growth in Latin America
Swedish iGaming giant Betsson has recently invested heavily into expanding into new markets as it seeks to continue to grow its business. The online sports betting and casino operator acquired a 50% stake in JDP Tech, a company offering payment processing focused on the South American market.
Through Betsson Perch Investments, a subsidiary of Betsson, the iGaming operator paid a total of €8.8 million in shares to JDP tech in order to obtain a 50% stake. JD Tech is a software development company focusing on payment processing solutions, a vital part of any iGaming company.
According to Pontus Lindwall, CEO of Betsson, the deal is an integral part of Betsson's long term strategy. He said: "This is a strategically important region for Betsson, and we see great potential for the company in the long term. With this major investment, Betsson is well-positioned to further expand our business in the Latin American online gaming market."
Why Payment processing is Important for the Latin American Market
Payment processing is important in any market, with consumers preferring to use sites that offer fast and secure payments without complicated requirements or rules. In Latin America, the iGaming market is expanding rapidly, and there's a need for sites offering convenient payments.
Latin American users expect to be able to deposit funds to their account quickly using their preferred method, and withdrawals should be fast and simple too. It's important that iGaming sites listen to the needs of the consumers and ensure that a wide range of popular payment methods are supported. For this, good payment processing software is an integral part of a site.
Latin American consumers have a growing number of options to choose from when it comes to iGaming, so they're likely to join a competitor if the site they're using doesn't offer the kind of service they expect.
How Betsson Aims to Expand in Latin America
Betsson has been targeted the Latin American market for some time now, and this recent acquisition represents part of the company's long-term strategy in this area of the world. In 2019, Betsson purchased a 75% stake in Suaposta, a Brazillian sports betting operator. This move came shortly after Brazil passed new sports betting regulations and aimed to put Betsson in the best position for the deregulation of the sports betting market.
Last year, Betsson also entered the Colombian market, buying a 70% stake in Colbet as it looked to expand its South American operations. In addition to this, Betsson is aiming to obtain an operating licence in Buenos Ares, Argentina.
In Mexico, the Swedish betting giant entered into a partnership with Big Bola Casinos, aiming to launch a sports betting service in later 2021. Big Bola Casinos is one of the few gambling operators licenced by the government of Mexico, giving Betsson an excellent opportunity to establish itself in a relatively undeveloped market.
These moves show that Betsson is serious about entering the Latin American market and is looking to become one of the biggest sports betting operators in the area. Through continued investments and partnerships, Betsson has taken steps to grow its business and bringing safe and convenient sports betting to a wider market.
After an initial slow start, Victorian over 50s are turning out to get their COVID jabs – ABC News
Brenda Holt would have been at the front of the line to get her COVID vaccination this morning, except there was no line.
Key points:
All Australians over 50 are eligible for the AstraZeneca shot today
Victoria's mass vaccination hubs were all reporting wait times of under 15 minutes this morning
People are being told to wait 14 days between the flu vaccination and the COVID vaccination
Brenda walked right on in to Melbourne's Royal Exhibition Building vaccination hub, got her jab and left with a tear in her eye as she moved a tiny step closer to being able to visit her family in Texas.
Anyone over the age of 50 can now get the AstraZeneca vaccine at a mass vaccination clinic but, in Melbourne at least, it was a seemingly slow start.
Wait times of under 15 minutes were being reported for people who arrived without an appointment at all of the high-volume vaccination centres in Melbourne, Geelong and Ballarat this morning.
By midday, wait times had stretched to more than an hour at the Exhibition Building, the Melbourne Convention and Exhibition Centre, and the Heidelberg Repatriation Hospital.
The state health department said the Royal Exhibition Building was booked out for appointments, and it was experiencing very high call volumes through its vaccine phone booking service.
Loading
Brenda expected more people to be waiting in line early to get the jab when the centres opened.
"I just am shocked and really disappointed," Brenda said.
"I think that we're in a bit of a bubble here in Australia, we don't understand how devastating it's been, and it's not real to us.
"We've been so lucky and we've handled this so well until the vaccination rollout, I have no idea why it's taken so long."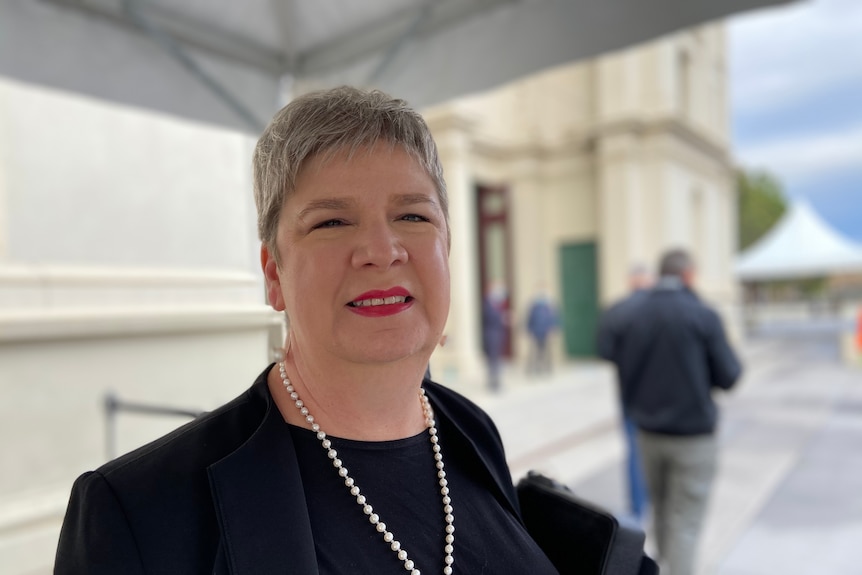 Everyone who booked will be vaccinated
Jeroen Weimar, Victoria's COVID-19 Response Commander, said by lunchtime, 8,500 people had called the COVID-19 hotline to make a booking.
"At the moment, what we're seeing is a really healthy demand for people coming out who want to get vaccinated," he said.
"Everybody who's got an appointment today will be vaccinated today. Everyone in line will get a vaccination today."
If the queues were too long at the end of the day, Mr Weimar said people would be asked to come back the next day.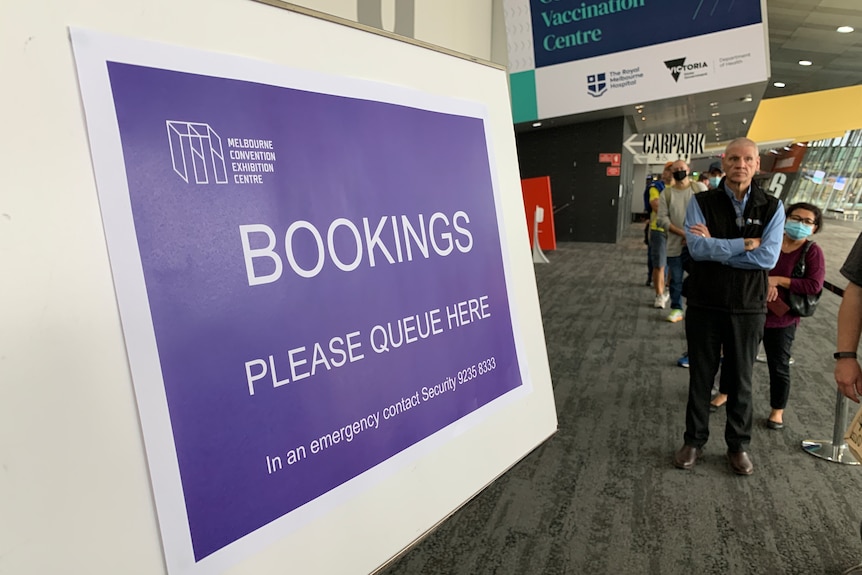 The Box Hill Hospital vaccination centre, in Melbourne's east, was very busy in the morning and some people were asked to go to a nearby clinic at Ringwood East, Mr Weimar said.
He said there were wait times of up to 90 minutes for some people who had not booked appointments at the large vaccination centres.
With a staff of 700 people handling the calls, he said the operation would be scaled up as appropriate.
"We will quite happily put hundreds more people into the phone lines if the demand is there to book vaccinations," Mr Weimar said.
"My request for Victorians would be, if you're eligible, come forward now so we can get you vaccinated.
"Let's have a really busy few weeks and months and then we can get on and get the rest of the community done."
So far, 520,000 Victorians have received their first dose of a vaccine.
There are now six high-volume vaccination hubs operating in Victoria, at the Royal Exhibition Building, Melbourne Convention and Exhibition Centre, the former Ford Factory in Geelong, the Heidelberg Repatriation Hospital, Sunshine Hospital and Mercure Ballarat.
Another 15 vaccination centres have opened today at these locations:
Bendigo Hospital
Latrobe Regional Hospital – Traralgon Racecourse
Albury Wodonga Health – Wodonga Community vaccination clinic
GV Health – Shepparton Showgrounds, McIntosh Centre
Eastern Health – Box Hill
Eastern Health – Ringwood East Community Clinic*
Northern Health – Epping
Monash Health – Monash Medical Centre*
Monash Health – Dandenong*
Monash Health – Kingston*
Monash Health – Moorabbin*
St John of God Hospital – Berwick*
Peninsula Health – Rosebud Hospital*
Peninsula Health – Frankston*
Austin Health – Olivia Newton-John Centre*
(* Phone bookings only initially, no walk-ins)
Another mass vaccination hub will open tomorrow at the Cranbourne Turf Club.
There are about two million Victorians now eligible to get the COVID vaccination.
The majority being vaccinated now are receiving the AstraZeneca vaccine, with a limited number of people under 50 in the 1a and 1b priority groups getting the Pfizer vaccine.
Epidemiologist Catherine Bennett said there may be some hesitancy to get the AstraZeneca vaccine, given reports of blood clots in a small number of people.
"As more people take up the vaccine, I think other people will then think yeah, there's a lot of benefits of this, and my friends are fine, and I'm OK with this," she said.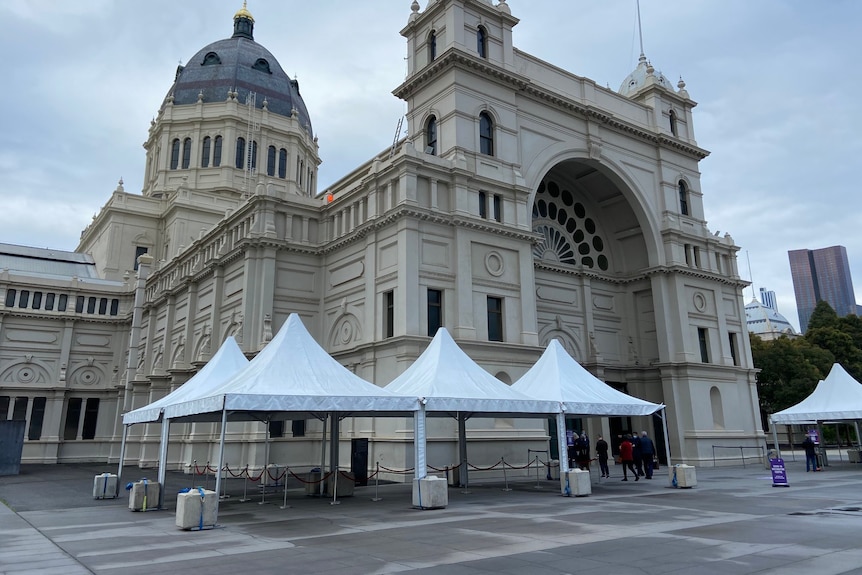 Professor Bennett said the vaccination scheme was starting to gather speed after a slow start.
"We've actually had four times as many jabs go out in the last four weeks, as did in the previous first six weeks of the rollout," she said.
"And in another two weeks, it steps up again, because that's when they can also access the vaccine through their GP."
Brenda said she understood the hesitancy some people might feel about the COVID vaccine, but the risk was small.
"Any of us who've taken any drugs at any time, I mean you take a risk and I think the risk of what this vaccine can do compared to what COVID could do to you are pretty stark," she said.
Dianne McKenzie was also among those getting vaccinated at the Royal Exhibition Building, and said she felt a sense of relief.
"Gotta say I'm really grateful, because I've been trying to keep safe, trying to keep my elderly mum safe by staying away from people, and this feels like a little bit of extra protection so I can stop worrying about myself and worrying about her and relax a little bit after a hard year," she said.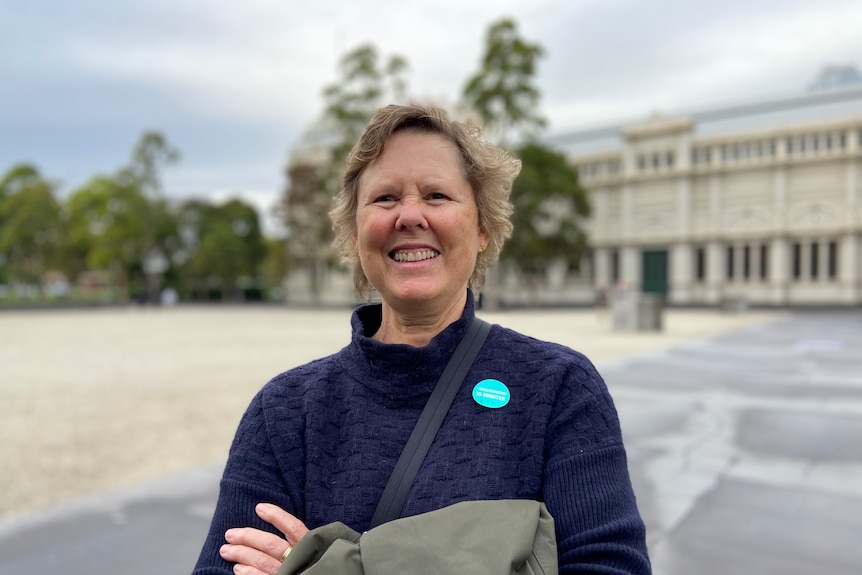 Melbourne Lord Mayor Sally Capp urged people to follow the advice of doctors after receiving her vaccine dose at the Convention and Exhibition Centre.
"The scariest part is actually admitting publicly that you are 50," she said.
"If that's the scariest bit then we're going to be OK. We know that all of the health experts have said that AstraZeneca is effective and I think it's really important that we keep listening to that health advice."
The Victorian health department is also recommending people who have had the flu vaccine wait for two weeks before receiving the COVID vaccine.
The department said there was no evidence the two vaccinations interact with each other, but if a person does have a reaction, the 14-day time frame would make it clear which vaccine they have reacted to.
Woodbine Racetrack will host a number of Pop-Up COVID-19 vaccine clinics this week – Vancouver Is Awesome
TORONTO — Woodbine Racetrack will be the site for a pop-up COVID-19 vaccine clinic this week.
Woodbine Entertainment announced Monday the clinic at the racetrack will begin Wednesday for the Rexdale community. The clinic will operate for at least three days and will be open to those 18 years and older living in 'hot spot' communities in M9V and M9W postal codes.
"We are very proud and grateful to be able to host this much needed pop-up clinic at Woodbine Racetrack for the Rexdale community," Woodbine CEO Jim Lawson said in a statement. "We look forward to working with our community partners over the coming days to deliver a positive experience that will benefit people throughout Rexdale."
The clinic will also be open to frontline essential workers who provide daily care to horses stabled at Woodbine Racetrack.
"These workers are critical to the wellbeing of more than 1,000 horses and obviously cannot work from home. Many of them live in dormitories on our property and in the surrounding areas," said Lawson.
This report by The Canadian Press was first published May 3, 2021.
The Canadian Press