Quebec TV producer Wiseman sentenced to two years less a day for touching minor
MONTREAL — The former producer of one of Quebec's most popular television programs was sentenced Friday to two years less a day in jail and three years of probation for sexually touching a 12-year-old girl.
Luc Wiseman, 67, was also ordered to register as a sex offender for 20 years, following a sentencing hearing at the Montreal courthouse. Wiseman pleaded guilty to one count of sexual interference in July.
Quebec court Judge Pierre Labelle addressed Wiseman's victim directly as he delivered the sentence.
"There is nothing in this decision that can erase what happened," he said. "I can only hope that your suffering will diminish with time and that the people around you give you all the comfort … necessary. I also commend your courage in denouncing these acts."
The offences took place on three occasions between 2020 and 2021. Wiseman caressed and kissed the breasts of his victim and touched her vagina. The victim's identity is protected by a publication ban.
The sentence was jointly recommended by the prosecution and the defence.
Labelle said he believes that Wiseman's remorse is sincere and that there is a low risk he will reoffend. The judge said he also took Wiseman's lack of a criminal record, guilty plea and the fact that he has gone through therapy into account when deciding the sentence.
However, Labelle said that the offences have had serious consequences on the physical and psychological health of the victim, who has suffered from stress, anxiety, panic attacks and physical pain.
All sex crimes are serious, the judge said, adding that silence and passivity are not forms of consent.
"Committing such acts profoundly wounds the physical integrity of a victim," the judge said.
Wiseman, who was arrested in May 2021, was given credit for 45 days in pretrial detention. Labelle also banned Wiseman from communicating with his victim — except to write her a letter of apology — and from being near a daycare or school for five years.
Wiseman was the president of Avanti Groupe, which produces "Tout le monde en parle," one of Quebec's most popular television shows.
He initially faced five charges — two charges were stayed, and Wiseman was acquitted of production and possession of child pornography.
This report by The Canadian Press was first published Aug. 26, 2022.
Caroline Plante, The Canadian Press
Online news bill could revive local papers in Canada, MPs told – The Globe and Mail
Ottawa's online news bill – which would force tech giants Google GOOGL-Q and Facebook META-Q to pay for reusing articles produced by Canadian news organizations – would help revive the flagging local news industry, spokesmen for papers across the country told a committee of MPs on Friday.
They said local papers, which have been closing across Canada, hemorrhaging staff and losing advertising revenue, could see a huge cash injection from tech giants and begin hiring again, if the bill becomes law.
"A weakened press, threatened with abandoning its mission and disappearing after decades of existence, is seriously endangering our democracy," said Benoit Chartier, chair of the board of Hebdos Quebec, which represents the province's independent local press. Mr. Chartier publishes a number of local papers, including Le Courrier de Saint-Hyacinthe, one of the oldest French language newspapers in North America.
Paul Deegan, president and CEO of News Media Canada, which represents big and small news organizations, said there is now a "significant imbalance of power between tech giants and Canadian news outlets."
He said the bill would enable small papers to join together to negotiate deals with Google and Facebook, which has been renamed Meta, for using their content.
Facebook, Google and Apple have already signed some partnerships with news organizations in Canada, including The Globe and Mail.
The architect of a similar law in Australia, which Canada's Bill C-18 is based on, told MPs that there has been a $200-million (Australian) annual injection into Australia's news industry, since the law was introduced.
Rod Sims, who was chair of the Australian Competition and Consumer Commission when it implemented its news media bargaining code, said the law had prompted Google and Facebook to do deals with almost all news outlets in Australia, including small newspaper groups.
The law has also led the Guardian, a British news outlet, to expand its Australian operations and hire many more journalists, he said.
Mr. Sims, a professor at the Australian National University, said the code's aim had been to address a massive imbalance in bargaining power between tech giants and media outlets that meant fair commercial deals could not be struck.
Like its Australian model, Canada's bill would force the tech giants to do deals with news outlets and pay for posting news or links to articles, if they have not already done so voluntarily.
David Skok, founder & CEO of The Logic, an independent news outlet focusing on business and technology, said the bill is "a backstop forcing publishers and platforms to come to the table for fair, equitable, and transparent agreements that don't privilege only those with negotiating power."
But Prof. Michael Geist, an expert in internet law at the University of Ottawa's law school, warned that the wording of Bill C-18 is flawed and likely to prompt legal challenges.
He said the bill contravenes several treaties, such as the Berne Convention, which aims to protect the rights of authors but allows the use of quotations, including those of newspaper articles.
"There is no question that this will be challenged on a number of different levels," he told the Commons heritage committee.
Jen Gerson, an independent journalist and co-founder of the Line, an online newsletter, expressed fear that the bill would "backfire spectacularly."
She said news publishers, rather than the platforms, benefit if Google or Facebook posts links to news articles. Ms. Gerson warned that Facebook and Google could respond to the law by "restricting access to mainstream news articles."
Australia's law led to a fierce backlash from the tech giants. Facebook protested by temporarily blocking news on its platform across Australia.
Google has written to each MP and senator saying there are multiple flaws in Bill C-18 as well as "misconceptions" about how an online-news law would work in practice.
The proposed law would prevent tech giants penalizing or giving preference to news organizations it has done deals with.
Google has said this could affect the way it ranks news on its search engine and moderates content. Currently the search engine elevates information from "trusted sources."
Fiona smashes into Atlantic Canada, washing away homes and knocking out power – CBC.ca
​​​​​​Hundreds of thousands of customers in Eastern Canada are without power as post-tropical storm Fiona brings intense, hurricane-strength winds and torrential rains to swaths of Nova Scotia, Prince Edward Island, New Brunswick, Newfoundland and Quebec's Magdalen Islands.
Part of the town of Port aux Basques, N.L., has been placed under an evacuation order after storm surge swept away multiple homes and structures to sea. It's unclear if there are any casualties. The town has also declared a state of emergency.
Fiona made landfall in Nova Scotia shortly after 4 a.m. AT between Canso and Guysborough.
The Canso Causeway, which links Cape Breton to mainland Nova Scotia, is closed to high-sided vehicles.
As of 10:45 a.m. AT, more than 405,000 Nova Scotia Power customers were without electricity. The company says it has more than 525,000 customers. It said people can go the utility's outage map for estimated restoration times.
CBC Radio is providing live updates on Hurricane Fiona around the clock. Listeners are invited to call in to share their storm experiences and any emergency updates from their communities at 1-800-565-5550. Listen online via CBC Lite, which uses less data, or over the air (90.5 FM in Halifax, 92.1 FM in Sydney, 96.1 FM in Charlottetown or check your local frequency here).
P.E.I.'s Maritime Electric said more than 82,000 out of a possible 86,000 customers were without power.
N.B. Power was reporting more than 55,000 outages, concentrated in the province's southeast. The outages are mostly in areas the company groups as "Shediac Cap Pelé," "Moncton Riverview Dieppe" and "Sackville Port Elgin."
Conditions are like nothing we've ever seen. We are logging reports of downed trees and wires but will only be responding to emergency calls. -Dispatcher Kelly ☎️ <a href="https://t.co/gX7YPTPDSN">pic.twitter.com/gX7YPTPDSN</a>

&mdash;@ChtownPolice
Newfoundland Power was reporting 1,133 customers without power, and Hydro Quebec reported 4,232 without power in the Gaspésie–Îles-de-la-Madeleine region and1,684 in the Magdalen Islands.
Hurricane or tropical storm warnings are in place throughout most of Atlantic Canada and southern Quebec.
State of emergency declared in Cape Breton
The Cape Breton Regional Municipality and neighbouring Victoria County have declared a local state of emergency and are asking residents to stay at home.
The Canadian Red Cross has opened a shelter at Centre 200 in Sydney, N.S., however it was without power on Saturday morning. The municipality is planning to open additional comfort centres when local travel is safe.
North Sydney fire Chief Lloyd MacIntosh spoke with CBC News as he was transporting a woman from her home to a safe location after the roof blew off her house.
"We pulled up, well, literally half of the roof was gone," MacIntosh said. "It's been an adventurous night to say the least."
MacIntosh said there's been a lot of damage in North Sydney.
"Every intersection, every block of North Sydney is filled with trees. Trees have come down on homes, trees have come down on cars, there's buildings that have collapsed and there's quite a bit of damages," he said.
"The daylight will bring quite a few surprises for a few people."
Part of a steeple came down from St. Joseph Church in Cape Breton Regional Municipality, a building that's more than 100 years old.
Cellular networks spotty
Cellular networks were spotty across Nova Scotia and P.E.I. Saturday. Many were unable to get a cell signal to make calls or access internet.
Bell Aliant acknowledged the outages in a tweet posted Saturday morning. The telecom company they were working with utility companies to restore full power to their cellular sites as soon as possible.
"Numerous wireline and cell sites in Atlantic are impacted by power outages across the provinces. As battery back up power will begin to deplete, our teams will be activating generators to keep sites up and running," the company tweeted.
Rogers also tweeted they are aware of the outages and their local crews will work to get services up and running.
CBC News has contacted Bell Aliant and Rogers for an update on restoration times.
Tree fell on fire truck with crew inside
Erica Fleck, the assistant chief of Halifax Regional Fire and Emergency, said a tree fell on a fire truck that had a crew inside. There were live wires.
She said the fire crew stayed in the truck as Nova Scotia Power technicians worked to get the crew out safely.
"The power lines are down everywhere," she said. "It's not safe to be on the roads."
Fleck cautioned that response times will be longer because fire crews will have to remove downed trees that are in their way.
In a tweet, Environment and Climate Change Canada said the highest wind gust reported in Nova Scotia has been 179 km/h in Arisaig, north of Antigonish on Nova Scotia's coast.
CBC meteorologist Tina Simpkin said wind gusts of 100 km/h were recorded in Moncton, N.B., shortly after 6 a.m.
Wind gusts of up to 100 km/h are expected in some areas of the province over the next 24 hours, with sustained winds clocking in at 65 km/h.
'Like nothing we've ever seen': Charlottetown police
In a tweet, Charlottetown police said they are logging reports of downed trees and wires but are only responding to emergency calls.
"Conditions are like nothing we've ever seen," the force said in a post on Twitter.
CBC meteorologist Ryan Snoddon said the storm approached Nova Scotia at 64 km/h but slowed significantly as it arrived in the province. This will be a long-duration event for P.E.I. and eastern Nova Scotia, he said.
By 9 a.m., the centre of the storm will be moving to the western side of Cape Breton and it will slowly depart Nova Scotia.
Winds will ease in mid-to-late morning for central Nova Scotia and late afternoon or evening for eastern Nova Scotia, he said.
Nova Scotia Power's efforts to restore electricity are being hampered by strong winds.
"We're still seeing significant wind gusts, specifically Cape Breton," said Peter Gregg, company president and CEO. "Until those wind gusts come down, we won't be able to get crews out there. But we're making progress in Halifax."
Environment Canada said Fiona will reach the Quebec Lower North Shore and southeastern Labrador by late Saturday night.
The agency said severe winds and rainfall, large waves and storm surges were all occurring.
Environment Canada said rainfall will be significant, particularly north and west of Fiona's track, where it could lead to flooding. Some areas could see as much as 200 millimetres of rain. About 120 millimetres had already been reported in some weather stations in eastern Nova Scotia by 3 a.m.
Some waves along Nova Scotia's Eastern Shore could build to be more than 10 metres, with waves along southern Newfoundland on Saturday morning reaching higher heights.
"Waves over eastern portions of the Gulf of St. Lawrence and Cabot Strait could be higher than 12 metres," Environment Canada said.
While we wait for the NHC's official call, it looks like <a href="https://twitter.com/hashtag/Fiona?src=hash&amp;ref_src=twsrc%5Etfw">#Fiona</a> has recently made landfall between Canso and Guysborough. With an unofficial recorded pressure at Hart Island of 931.6 mb, this makes Fiona the lowest pressured land falling storm on record in Canada. <a href="https://t.co/TYo9G05sUz">pic.twitter.com/TYo9G05sUz</a>

&mdash;@ECCC_CHC
It said the western Gulf will see waves from the north up to eight metres in some places, "which will probably cause significant erosion for north-facing beaches of Prince Edward Island."
The forecaster said the Magdalen Islands will also see some coastal erosion from waves.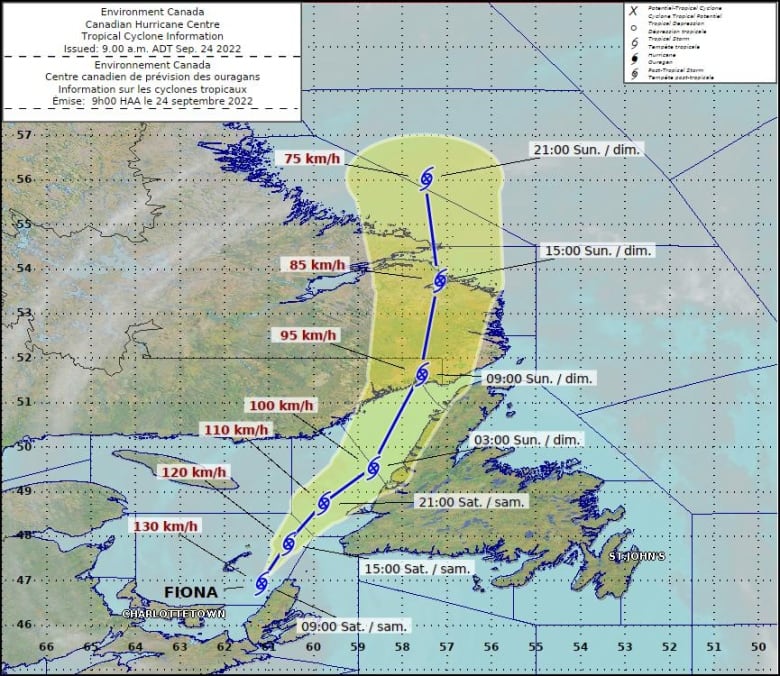 Coastal flooding is a big concern for Nova Scotia, Prince Edward Island, the Magdalen Islands, eastern New Brunswick and southwest Newfoundland.
"The highest risk for coastal flooding will be a combination of storm surge with large waves moving onshore," Environment Canada said.
Hurricane Fiona arrived in Nova Scotia as a post-tropical storm Saturday morning. In Halifax, the largest community impacted, as CBC's Ellen Mauro reports, there were widespread power outages and downed trees throughout the city.
"This is is definitely going to be one of, if not the most powerful tropical cyclones to affect our part of the country," said Ian Hubbard, meteorologist for the Canadian Hurricane Centre in Dartmouth, N.S. "It's going to be definitely as severe and as bad as any I've seen."
MORE TOP STORIES
Canada has picked a new ambassador to China – CTV News
Prime Minister Justin Trudeau has tapped Jennifer May to be Canada's new ambassador to China, filling a nearly year-long vacancy in the key diplomatic post.
The government announced May's appointment on Friday, after sources told CTV News and other outlets on Thursday that May—who speaks Mandarin— had been selected to take on the position and that China had signed off on Canada's pick.
"I am deeply honoured to take up this important post on behalf of Canada and Canadians," May tweeted on Friday.
In taking on this new role, she'll become Canada's lead on stickhandling a fraught relationship with China and will be responsible for advancing business and economic ties between the two countries, as well as "standing up for democratic values, human rights, and the rule of law," according to the release from Trudeau's office.
May, who until August was Canada's ambassador to Brazil, joined Canada's foreign affairs department more than 30 years ago. Over her career, May has held a series of positions, including executive director of defence and security relations, director of Eastern Europe and Eurasia relations, and has she served in Bonn, Hong Kong, Beijing, Vienna, Bangkok and Berlin.
"A dedicated public servant, Ms. May's many years of diverse experience on international missions, and her deep understanding of Asia, will serve to manage this important bilateral relationship and advance Canadian interests in China," Trudeau said in the statement.
Canada has been without an ambassador to China since the end of 2021, when Dominic Barton moved out of the Beijing offices.
Canada has an embassy in Beijing, as well as consulates general in Chongqing, Guangzhou, Hong Kong, and Shanghai.
Asked by CTV News a few months back what the holdup was when Canada hit the six-month mark without an ambassador, Foreign Affairs Minister Melanie Joly's office had pledged a representative would be named in "due course," saying officials continued to engage with China at the "highest levels."
At the time, former ambassador to China Guy Saint-Jacques said that the notable absence was an indication that the federal government "does not understand" the value of a strong diplomatic presence on the ground.
"Having an ambassador gives you intelligence… because here's a person who can have access to high-level [information] that other people at the embassy can't," he said. "You are depriving yourself from all that useful information."
Barton publicly announced his resignation on Dec. 6, 2021, just months after helping to secure the release of former diplomat and entrepreneur Michael Kovrig and Michael Spavor.
The two men were arbitrarily detained and held in a Chinese jail for more than 1,000 days. Their arrests are widely seen as retaliation for the Vancouver arrest of Huawei executive Meng Wanzhou on a U.S. extradition request.
Those events launched what would become nearly three years of icy relations between Canada and China.
May's appointment comes just ahead of Canada marking the one-year anniversary of the two Michael's release.
It was late on the night of Sept. 24, 2021 when Trudeau made a national address, announcing that Kovrig and Spavor had boarded a plane in China with Barton, and "they're on the way home."
With files from CTV National News Ottawa Bureau Chief Joyce Napier, CTV National News Producer Mackenzie Gray and CTVNews.ca Producer Sarah Turnbull