Ramblings: Eichel Out Indefinitely, Panarin Returns, The Top ES Line By Far (Mar 14) – dobberhockey.com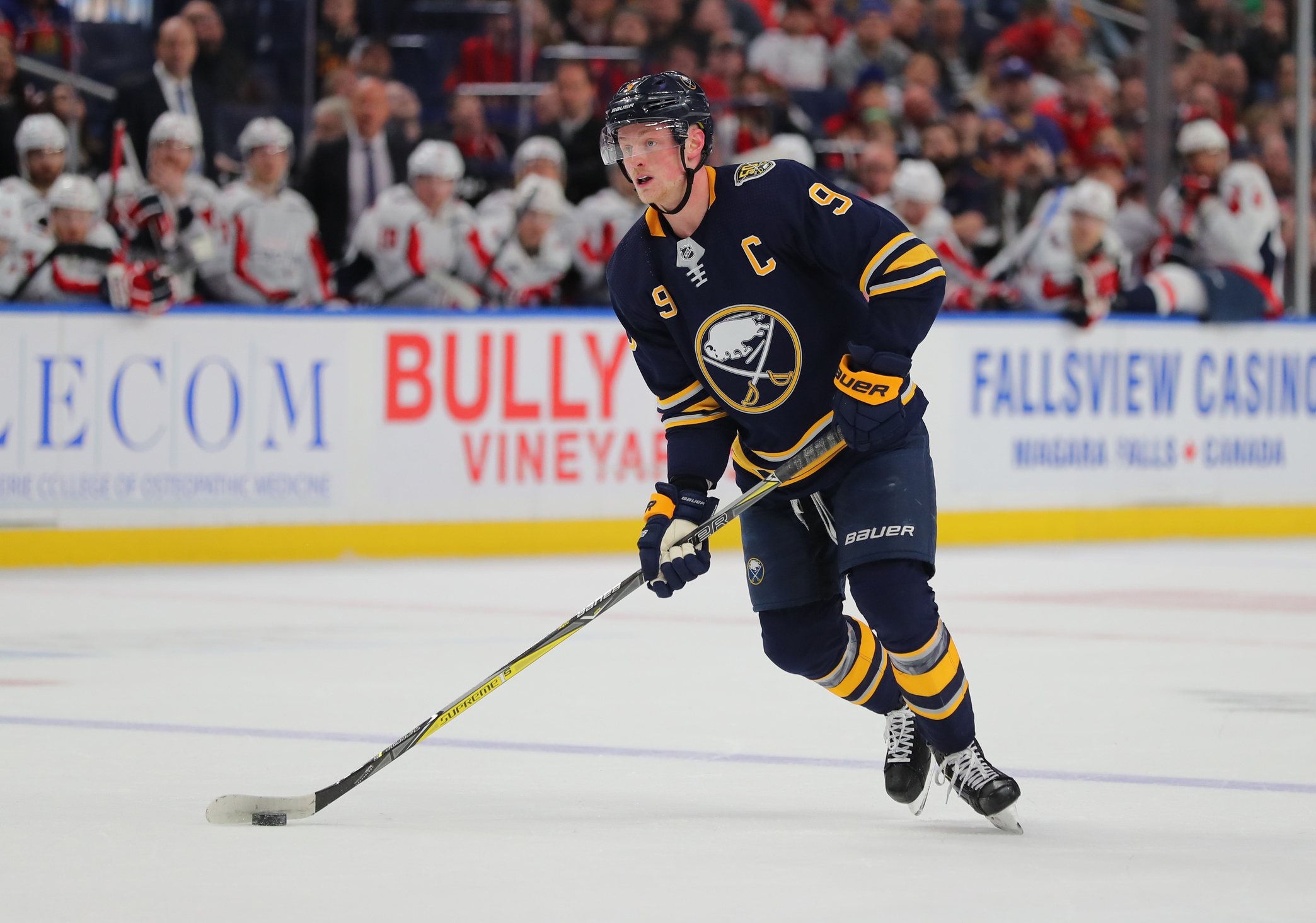 Another chapter to the Sabres soap opera unfolded on Saturday, as Jack Eichel will be out "for the foreseeable future" with an upper-body injury. The question lingers as to whether this is a legitimate injury that isn't something minor, or a trade request that the Sabres don't want to make public. Either way, Eichel is already in bust territory with just two goals (but 16 assists) in 21 games. He's too elite of a talent to drop from fantasy rosters at this point, yet fantasy owners might receive little to nothing else out of the Buffalo captain over the rest of the season.
There's many different ways that you could break down how awful the Sabres season has been. If a team's best players need to be their best players in order to win, I present you with this:
Total Sabres goals: 56 (worst in NHL)
Taylor Hall goals: 2
Jack Eichel goals: 2
Jeff Skinner goals: 1
Debate if you wish whether these are actually the Sabres' top players, but they represent the three highest cap hits on the Buffalo books.
I was able to type those numbers before Saturday's game and leave them unchanged afterward, as the Sabres were shut out 3-0 to Pittsburgh. Both our Daily Fantasy and Game Picks writers recommended going all in on the Penguins, which made perfect sense. Casey DeSmith stood out for the Penguins, stopping all 24 shots he faced. He's been great for spot starts, as he's allowed just three goals over his last three games – all quality starts.
After a slow start, Evgeni Malkin appears to be back on track. His assist on Saturday extended his point streak to seven games, which is tied for the longest current point streak. He has 10 points (3 G, 7 A) over that span. Hope you were patient.
*
Artemi Panarin returned to the Rangers lineup after missing the past nine games due to a leave of absence. He recorded one assist in the Rangers' 4-0 win over Boston, and it was a beauty.
Owners of Brad Marchand, David Pastrnak, and Patrice Bergeron probably thought that they were in a great spot facing Keith Kinkaid. However, it was Kinkaid who foiled the Bruins, stopping all 18 shots he faced in picking up a shutout. Alexandar Georgiev was pulled in each of his last two starts, so veteran Kinkaid could start a few more games while Shesterkin is sidelined.
Later in the day, the Rangers also tweeted this:
If you're not sure what this means, Vitaly Kravtsov's KHL season has just finished, and he is on his way to New York. Of course, that means he will need to clear quarantine and begin practicing with the Rangers. All of that will take a few weeks, so the 2018 ninth overall pick will need a bit more time before he makes his long-awaited NHL debut. Where exactly he will fit in the Rangers lineup this season remains to be seen, but he's a must-own in keeper leagues. View Kravtsov's Dobber Prospects profile.
*
In perhaps a surprise move, the Hurricanes have placed Jake Gardiner on waivers. The plan is to move him to the taxi squad to provide some salary cap relief, so the Canes might be looking to make a trade here. He's been dealing with back problems recently as well. He's in the second season of a four-year, $16.2 million contract.
*
In case you missed it, the Midseason Guide is now available for download! You'll find the usual team-by-team breakdowns and projections, which now also include a spreadsheet for easy comparisons and calculations for your adds, drops, and trades. You'll also find a scheduling breakdown for the stretch run, as well as prospect information if you're planning for next season. If you haven't purchased yours, you can get it right here.
*
As a result of Anders Lee's injury, Kieffer Bellows was given an opportunity on the Islanders' top line with Mathew Barzal and Jordan Eberle (more on that where that unit stacks up to other lines below). He took advantage, scoring the game-tying and game-winning goals in the third period of the Isles' 3-2 win over New Jersey. The goals were Bellows' first two points of the season in his ninth game. Eberle assisted on both of Bellows' goals. Assuming Bellows can stick on that line, he might be worth taking a flier on in deeper leagues. Otherwise, he's strictly a bangers league prospect, as he's averaged two hits per game this season.
*
In a game where the Lightning raised their Stanley Cup banner in front of a few fans, Ondrej Palat extended his point streak to five games. Over that span he has racked up 10 points (2 G, 8 A). Although he's been getting those points with Brayden Point on his line, Palat's five-game point streak is also a five-game power-play point streak. He's already accumulated 15 PPP this season, which places him fifth in the NHL. Dating back to last season's playoffs, he's benefitted from a star player being out of the lineup (either Steven Stamkos or Nikita Kucherov). He scored 11 goals and 18 points in 25 playoff games, while he's been a point-per-game player (26 points in 26 games) this season.
*
Sergei Bobrovsky might be on a lot of bust lists again this season with underwhelming ratios. So it's worth mentioning that he is 5-0-0 and has a .917 SV% during March, including his win and quality start against the Blackhawks on Saturday. Meanwhile, Chris Driedger has started just once in Florida's past six games. Bob was expected to bounce back to some degree after a disappointing first season in Florida, and he finally seems to be doing that.
📢 advertisement:

Anthony Duclair made a splash in his return to the Panthers' lineup on Saturday, recording two assists to go with a plus-3 and four shots. Those assists were both on Aleksander Barkov goals. Duclair and Carter Verhaeghe (1 G, 1 A on Saturday) have both benefitted from playing on Barkov's line. Verhaeghe is already having a career year (20 PTS in 27 GP), while Duclair's 0.65 PTS/GP is his highest point rate of his career. At the time of their signings, Duclair, Verhaeghe, and Patric Hornqvist (22 PTS in 27 GP) seemed like major downgrades on Mike Hoffman and Evgenii Dadonov, but that hasn't exactly been the case.
*
Alex Ovechkin scored his 716th career goal on Saturday, which puts him one goal away from tying Phil Esposito for sixth in all-time goals. As a multicategory league guy, I thought that the more fascinating stat was that the goal came on his 5,638th shot. That passed Jaromir Jagr for second all-time in NHL history. He only needs to catch Ray Bourque, who is still another 570 shots ahead. Since Ovie hits 300 shots regularly over non-shortened seasons, he could potentially break that record two seasons from now.
As for the here and now, Ovechkin is well down the Rocket Richard race with 10 goals in 23 games. However, he's now scored goals in three of his past four games.
*
One player who is ahead of Ovechkin in goals at the moment is Nikolaj Ehlers, who followed up a two-goal game on Thursday with another goal on Saturday, his 14th of the season. This one was a power-play goal, his third of the season. No player with at least 11 goals has a lower PPTOI (1:35) or %PP (32.1%) than Ehlers. Yet somehow he can't get onto the first-unit power play. Nice problem for Winnipeg to have.
In allowing five goals on Saturday, Frederik Andersen has failed to post a quality start in four consecutive games. The Leafs play only two games next week, which are back-to-backs against Calgary. You might be best served to limit your expectations on Andersen next week with both the recent play and the possibility he may only play once. At least he'll be glad to see the end of the Jets, who torched him for 12 goals over the three games he played against him this week. Expect Michael Hutchinson (who has great numbers this season) or Jack Campbell (if he's healthy) to face the Senators today (Sunday).
*
If you don't include the one game that Mark Stone missed because of injury early this week, he has a seven-game point streak. But it would be more accurate to say that Stone is on fire this month with 14 points (5 G, 9 A) in his last seven games.
Stone's linemate Max Pacioretty added a goal and two assists of his own against the Blues. I went to Frozen Tools to look up whether the Pacioretty – Stone unit is the top even-strength line in the league. Sure enough, it is, and by a fairly wide margin.
| | | |
| --- | --- | --- |
| Line Combination | Team | GF |
| MAX PACIORETTY – MARK STONE – CHANDLER STEPHENSON | VGK | 22 |
| PATRICE BERGERON – BRAD MARCHAND – DAVID PASTRNAK | BOS | 17 |
| J.T. MILLER – BROCK BOESER – ELIAS PETTERSSON | VAN | 17 |
| JORDAN EBERLE – ANDERS LEE – MATHEW BARZAL | NYI | 15 |
| ZACH HYMAN – MITCHELL MARNER – AUSTON MATTHEWS | TOR | 14 |
| PATRIC HORNQVIST – JONATHAN HUBERDEAU – ALEX WENNBERG | FLA | 14 |
| PATRICK KANE – PIUS SUTER – ALEX DEBRINCAT | CHI | 14 |
| SIDNEY CROSBY – BRYAN RUST – JAKE GUENTZEL | PIT | 14 |
Is it also fair to say that Chandler Stephenson is to the Golden Knights what Zach Hyman is to the Leafs?
*
For a good five seconds I thought the refs were going to blow this play dead. But apparently you can push the ball over the goal line in hockey too.
Thatcher Demko is starting to make Canucks fans say, Jacob who? Okay, that's not entirely true. Yet Demko is gradually making a case to be the Canucks' team MVP, just as Markstrom had been. With a 34-save performance in a 2-1 win over Edmonton, Demko has now posted quality starts in six of his last seven games. Over that stretch, he also has a 5-2-0 record to go with a 1.70 GAA and .950 SV%. As well, his season 7.32 GSAA places him in the top 10 in that category. The Canucks might still have defensive issues, but they've found another goalie who can cover up those warts.
*
With a goal on Saturday, Evander Kane now has goals in three consecutive games. He also fired seven shots in this game.
Yesterday I mentioned Kevin Labanc's recent success on the top line with Kane and Logan Couture. On Saturday he added another goal, which gives him 11 points (5 G, 6 A) over his last 10 games.
*
For more fantasy hockey discussion, or to reach out to me, you can follow me on Twitter @Ian_Gooding
UEFA threaten to ban breakaway clubs from all competitions
By Simon Evans
MANCHESTER, England (Reuters) – European soccer's governing body UEFA has warned clubs linked to a breakaway Super League that they face being banned from domestic and international competitions if they set up a rival to the Champions League.
In a joint statement https://www.uefa.com/insideuefa/mediaservices/mediareleases/news/0268-12121411400e-7897186e699a-1000–statement-by-uefa-english-fa-rfef-figc-premier-league-laliga-le with Spanish, English and Italian leagues and federations, UEFA said it will consider "all measures", including the courts and bans from domestic leagues, in opposition to plans for a breakaway competition.
UEFA said it had learnt that clubs from those countries "may be planning to announce their creation of a closed, so-called Super League".
"If this were to happen, we wish to reiterate that we….(and) also FIFA and all our member associations – will remain united in our efforts to stop this cynical project, a project that is founded on the self-interest of a few clubs at a time when society needs solidarity more than ever," UEFA said.
"We will consider all measures available to us, at all levels, both judicial and sporting in order to prevent this happening. Football is based on open competitions and sporting merit; it cannot be any other way," the statement added.
In January, FIFA had said that a breakaway league would not be recognised and that "any club or player involved in such a competition would as a consequence not be allowed to participate in any competition organised by FIFA or their respective confederation" – meaning players would be banned from the World Cup.
Sunday's UEFA statement said: "The clubs concerned will be banned from playing in any other competition at domestic, European or world level, and their players could be denied the opportunity to represent their national teams.
"We thank those clubs in other countries, especially the French and German clubs, who have refused to sign up to this. We call on all lovers of football, supporters and politicians, to join us in fighting against such a project if it were to be announced. This persistent self-interest of a few has been going on for too long. Enough is enough."
(Reporting by Simon Evans, editing by Ed Osmond and Christian Radnedge)
Netherlands and Poland seal narrow Billie Jean King Cup playoff wins
(Reuters) – The Netherlands and Poland both needed deciding doubles wins to battle through their Billie Jean King Cup playoffs on Saturday but Britain, Italy and Canada all enjoyed easier passages.
In Den Bosch, the Dutch were without world number 11 Kiki Bertens for the second day because of injury and found themselves trailing China 2-1 after Wang Xiyu beat Lesley Kerkhove in Saturday's opening singles.
But Aranxta Rus beat Wang Xinyu to level the tie and then teamed up with Demi Schuurs to defeat Zhang Shuai and Zu Yifan to send the hosts through.
It was equally tight in Poland where the hosts were pushed to the brink by Brazil.
Brazil's Carolina Meligeni Alves took the tie into a deciding doubles with a win over Katarzyna Kawa but the Poles prevailed 3-2 as Kawa and Magdalena Frech came back from a set down to beat Meligeni Alves and Luisa Stefani.
Kazakhstan also won a deciding rubber to see off Argentina.
Britain led 2-0 overnight against Mexico in London but Marcela Zacarias beat Heather Watson to keep alive the tie.
Katie Boulter proved too strong for Giuliana Olmos though to clinch the tie for the hosts.
Italy beat Romania 3-1 while Canada's teenager Leylah Annie Fernandez sealed her country's path as she gave her side an unassailable 3-0 lead over Serbia thanks to a three-set win over Nina Stojanovic.
Ukraine eased past Japan 4-0 while Anastasija Sevastova secured Latvia's 3-1 victory over India.
The eight winners move forward to next year's qualifying round where they will hope to reach the 2022 Billie Jean King Cup Finals.
The old Fed Cup was re-branded last year and named after the American great and 12-times Grand Slam singles champion who won the inaugural tournament nearly 60 years ago.
This year's 12-team Finals were postponed because of the pandemic and a new date has yet to be finalised.
(Reporting by Martyn Herman; editing by Clare Fallon)
Motor racing-Canadian Grand Prix cancelled for second year
(Reuters) -The Canadian Grand Prix scheduled for June 13 at the Circuit Gilles Villeneuve in Montreal has been cancelled for the second year in a row, CBC Radio reported on Thursday although Formula One said discussions remained ongoing.
With the spread of new COVID-19 variants and Canada battling to contain a third wave of the virus, Montreal public health authorities concluded that even if run behind closed doors without spectators the risks were too high, reported the CBC.
F1 officials, according to the CBC, wanted to bypass the mandatory 14-day quarantine for the hundreds of staff, crew members and drivers and rely on private medical staff and have the entire operation run in a bubble.
The race is scheduled to follow on immediately from Azerbaijan, whose grand prix is scheduled for June 6 in Baku and is due to go ahead after also being cancelled last year.
"We are continuing our discussions with the promoter in Canada and have no further comment," an F1 spokesperson told Reuters.
The Autosport website quoted a spokesperson for the Canadian promoter as saying the radio report referred to "a document of recommendations from public health.
"We as an organisation have not had confirmation from our public health officials and won't comment until we get an official confirmation."
Canada, with some of the world's toughest travel rules, obliges its citizens and residents arriving from abroad to self-isolate for 14 days.
International arrivals are required to quarantine for up to three days in a hotel.
One of Canada's biggest sporting events, it would mark the second consecutive year the grand prix has been removed from the F1 schedule due to the spread of COVID-19.
Media reports have suggested Turkey is on standby to be slotted in as Canada's replacement.
The Istanbul circuit is logistically convenient for freight coming from Baku and was brought in last year also at short notice to bolster a calendar ravaged by the pandemic.
(Reporting by Steve Keating in Toronto/Alan Baldwin in London; Editing by Ken Ferris)