RCMP partners with New York art academy 'to give a face and a name' to remains of missing people – CTV News
MONTREAL —
In a renewed effort to identify the remains of 15 people, the RCMP has announced it is partnering with the New York Academy of Art for a project it describes as sui generis.
"This was a unique opportunity to have 15 Canadian faces reconstructed in a single week," said RCMP Chief Superintendent Marie-Claude Arsenault, officer in charge of sensitive and specialized investigative services. "We hope to give a face and a name to people whose loved ones don't know what happened to them."
The RCMP said it has the unidentified remains of more than 700 people in its national database."Without knowing their identities, it's impossible to return them [to their] home[s]," the force states.
"With the help of a unique partnership, the RCMP is giving a face to some of these people in the hopes of unlocking the mystery of who they are."
The project will use 3D-printed versions of real skulls supplied by the British Columbia Coroners Service and the Nova Scotia Medical Examiner Service.
Select artists from the academy will then take part in a forensic sculpturing workshop to mould the missing faces.
"Academy students will put their anatomical knowledge and artistic skills to work in order to reconstruct each of the faces with clay," the RCMP explains.
The 15 skulls are all male and were located between 1972 and 2019. They were chosen for the initiative because they were in the best overall condition.
The skulls were printed in batches of four in Ottawa, with each group taking 48 hours to complete.
The newly refreshed faces will be added to the Canada's Missing website in the hopes that someone will recognize them, "and giving some closure to families."
Since the workshop's creation in 2015, it has reconstructed dozens of faces in collaboration with the New York City Office of the Chief Medical Examiner, resulting in at least four visual identifications.
The RCMP says it hopes, in the future, to bring the workshop to Canada to increase the country's facial recognition capability. The workshop takes place from Jan. 6 to 10.
Fort McKay artist's council art reflects reconciliation and healing hopes, but demands injustices be confronted – Fort McMurray Today
Article content
The artwork in the new council chambers at the Jubilee Centre reflects the hopes and beliefs that local First Nation and Métis peoples have for reconciliation.
Article content
But Frederick McDonald, an artist from the Fort McKay First Nation commissioned for the paintings, made sure people at an April 25 unveiling ceremony didn't forget why the artwork was made in the first place.
In a nine-minute poem, McDonald made people at the ceremony confront the legacies of the residential school system, 60s scoop and colonialism have on Indigenous peoples.
He talked about the high rates of homelessness, drug and alcohol addictions, unemployment, food insecurity and suicide found today in Indigenous communities across Canada.
His poem discussed the racism and discrimination inflicted upon Indigenous peoples by some leaders in politics, policing, health care, education, religion and business. He blasted the RCMP's role in enforcing these policies throughout the years.
Politicians from all levels and parties were skewered. Even racist depictions of Indigenous people in movies and TV shows weren't spared in his poem. If people listening to his poetry felt uncomfortable, that was his point.
"Have you heard enough? Have you had enough? Do you want to do something? Really, you still want to talk about truth and reconciliation?" he said.
"If you do, let's talk about healing. Let's talk about all our pains: there's, your's and mine. Let's talk about the drum's. Let's talk about the dance. Let's talk about celebrations and ceremony, about differences of culture, about understanding and working together. So much to do. So much to do. So let's begin."
Article content
McDonald's poem captured the rage felt by so many First Nation, Métis and Inuit people, but his three paintings in the council chambers reflects his optimism in the future. He wanted his art to acknowledge the past but not dwell on pain or anger. This was also insisted upon by an elders council.
"As Aboriginal people, we want to be able to tell our own stories, so that's what these paintings are all about," said McDonald. "It's about us sharing our stories, sharing them in a positive manner, working towards the future together—not side-by-side, not separate—but together going forward."
A fourth piece is a talking stick, which was created by Elder Shurley Arthurs of the Fort McMurray First Nation 468. It sits at the desk where guest speakers address council. All the pieces were bound by teachings of honesty, love, truth, humility, wisdom, courage and respect.
"We hope relations between all people will continue to flourish. That is my big wish. I pray for that everyday. Because with the world as it is, who knows how much short time we have?" said Arthurs. "Love the people around you. It's very important."
Council decided in 2019 that the artwork for the new chambers would be completed by Indigenous artists, following a motion made by Councillor Keith McGrath. A committee was formed that included elders, knowledge keepers and creatives from Indigenous communities in the region.
Mayor Sandy Bowman said the art will remind council of the Indigenous history of this region, which serves "as a constant reminder to unite, and foster change and understanding."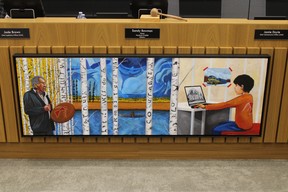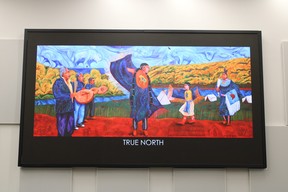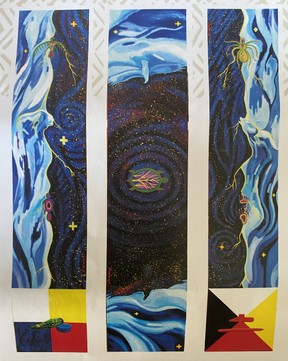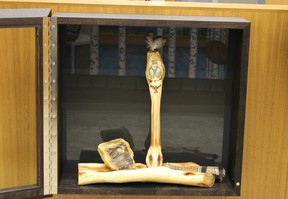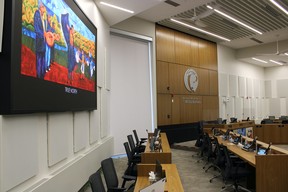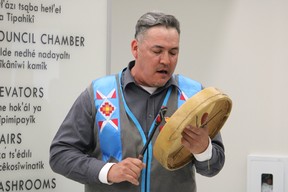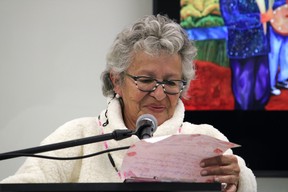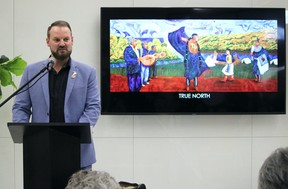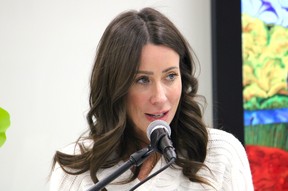 vmcdermott@postmedia.com
$922 Million Divorce Sale Makes Macklowe Art Collection Most Valuable Ever – BNN
(Bloomberg) — A multi-year saga came to a close on Monday night at Sotheby's New York, where the final tranche of artworks from the divorced octogenarians Harry and Linda Macklowe brought in $246.1 million.
Together with the $676 million auction of the first batch of their collection last November, the former spouses' 65 artworks totaled $922.2 million, making it retroactively one of the most valuable art collections in the world, and, Sotheby's claims, the most valuable collection to ever sell at auction.
The sale itself came about as the result of a bitter 2018 divorce between Harry, a billionaire real estate developer, and his then-wife Linda.
They feuded in court over assets—she got silver valued at $409,500, books valued at $85,500, and jewelry worth $3.84 million, though he got cars worth $385,000 and their yacht Unfurled, worth $23.5 million. It eventually emerged that the largest chunk of their wealth was in art.
"The art collection is the parties' most valuable marital property," wrote New York State Supreme Court Justice Laura Drager in her 2018 ruling. "The parties hold significantly less in stocks or other investments compared to the value of the art collection. The Husband credibly testified that the art enabled diversification and was an alternative investment form."
Drager ruled that Linda could keep more than half of the artworks, with a total value of just under $40 million, given that both sides' valuations of the pieces were relatively in-line. The rest represented the bulk of the collection's worth, but the pair disputed its value—Linda argued it was worth $625 million, Harry argued it was worth $788 million. So Drager ordered it sold: only the market, she wrote, could determine its true worth. "In addition," Drager added, "the sale will provide each party with needed cash to enable them each to enjoy their lifestyles."
Top Lots
After Monday night, there's much cash to support their lifestyles.
The 30 lots carried a total estimate of $167.6 million to $236.4 million. (Estimates are for the price where bidding ends, or what's known as the hammer. But the sums reported here are what the buyers paid in total, which include auction house fees known as buyer's premiums. These can add between 13.9% and 25% (the higher the price, the lower the premium) to the total sum.
The most expensive lot in the sale was a brooding color field painting by Mark Rothko from 1960. Painted in a range of dark reds and maroons against a blue background, the couple acquired the painting in 1983, according to the auction house. Estimated at $35 million to $50 million, on Monday night the auctioneer Oliver Barker began bidding at $30 million, and dragged it slowly up in $500,000 increments to a $41.5 million hammer. With premiums, it came to $48 million.
Other major lots included Gerhard Richter's massive 1975 Seascape painting, which sold for $30.2 million, squarely within its $25 million to $35 million estimate, a 1986 Andy Warhol Self Portrait, estimated between $15 million and $20 million which sold for $18.7 million, and a Cy Twombly "chalkboard" painting, Synopsis of a Battle from 1960. Estimated between $12 million and $18 million, bidding began at $10 million and never really took off; it hammered at $13 million, or $15.3 million with premiums.
It was a successful if not dazzling evening sale for Sotheby's, and the first of a week of auctions in which it hopes to sell some $1.18 billion worth of art. Next is its Modern Evening Auction, where 61 scheduled lots are expected to be sold for as much as $443.4 million.
©2022 Bloomberg L.P.
BlackburnNews.com – Blyth Festival Art Gallery reopens – BlackburnNews.com
Blyth Festival Art Gallery reopens
"Just East of Auburn" is one of the works being shown and offered for sale in the Blyth Festival Art Gallery's Season-long Community Showcase. The 16" x 20" oil painting is by Goderich artist William Creighton.
May 16, 2022 5:18am
After a two year hiatus, art will once again hang on the walls of the Bainton Gallery at Blyth Memorial Hall.
The art at the Blyth Festival Art Gallery is to complement the four plays presented by the Theatre Festival on its outdoor Harvest Stage.
The summer's Community Art Show will run from June 1 to September 24.
President of the Gallery Committee, Carl Stevenson, says art needs to be felt to be experienced, to be emotionally connected to the viewer.
Area artists interested in participating in the non-juried exhibition can get more information by accessing the Gallery's Facebook page, or email blythfestivalartgallery@gmail.com.
All of the art showcased will be available for purchase.