Redmi 11 Prime 5G, Redmi 11 Prime, Redmi A1 go official – GSMArena.com news – GSMArena.com
The Indian division of Redmi held an event today where it announced three entry-level phones – the Redmi 11 Prime 5G, the Redmi 11 Prime, and the ultra-affordable Redmi A1. All phones are powered by Mediatek chipsets and sales will begin later this week.
Redmi 11 Prime 5G
This is the most powerful smartphone of the trio. It comes with a Dimensity 700 chip and two memory options – 4/64 GB or 6/128 GB. There is also a third one listed on the Xiaomi website, 4/128 GB, but it is not up for sale yet.
At the front is a 6.58" LCD with Full HD+ resolution and 90Hz refresh rate. The waterdrop notch houses a 5MP f/2.2 camera. The Redmi 11 Prime 5G has a main 50MP camera at the back with an f/1.8 lens and a 2MP depth sensor.
Xiaomi Redmi 11 Prime 5G runs MIUI 13 over Android 12. Its battery has a 5,000mAh capacity and support for 18W charging, but the adapter in the box can provide 22.5W rates.
Other highlights include a side-mounted fingerprint scanner, a long tray for two SIM cards and a microSD card, a 3.5 mm audio jack and FM Radio.
The Redmi 11 Prime 5G is offered in Thunder Black, Chrome Silver, and Meadow Green colors. The first sale is scheduled for September 9 and prices are INR12,999 ($160) and INR14,999 ($185) for the two available storage options.
Redmi 11 Prime
The Redmi 11 Prime didn't get all of its details confirmed, but we learned it will be powered by the Helio G99 chipset – a 6nm chip.
Just like its 5G sibling, the Redmi 11 Prime has a 6.58" LCD with 90Hz refresh rate and FullHD+ resolution, as well as a waterdrop notch on the top. There is also Gorilla Glass on top to protect the screen.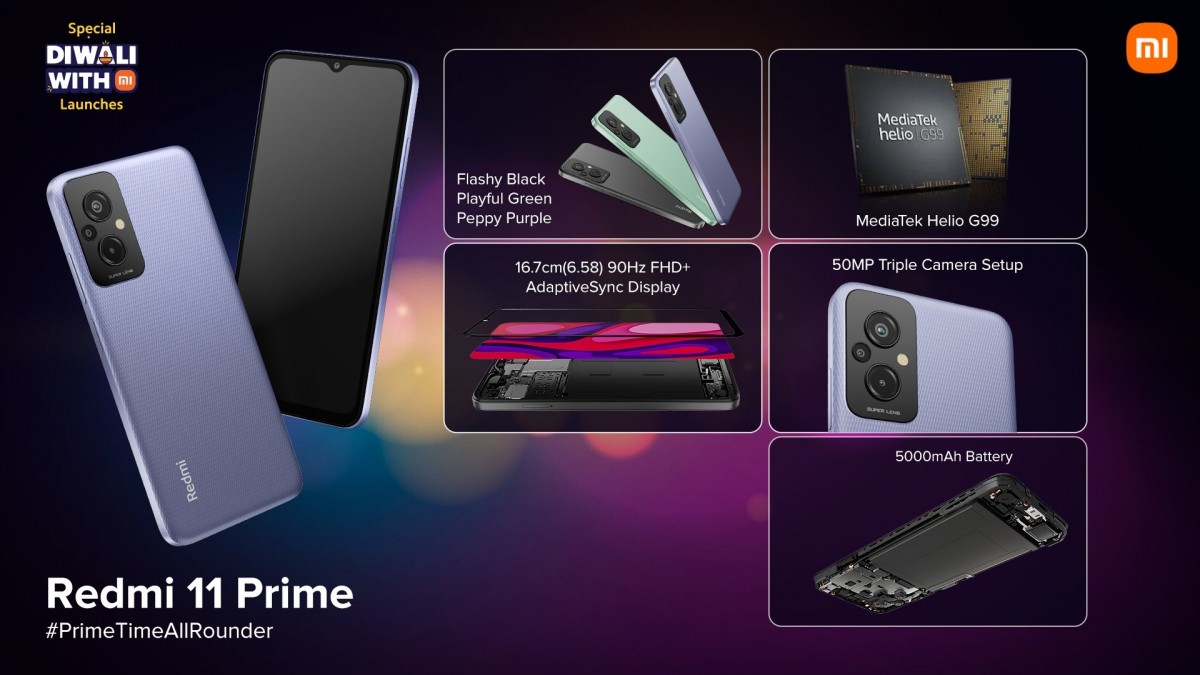 The back has a "50MP triple camera system", which is to say a 50MP main unit and two 2MP modules for macro and depth. The selfie camera has an 8MP sensor.
Redmi 11 Prime brings another 5,000mAh battery and just like the 5G version it ships with a 22.5W charger, despite only supporting 18W top-ups. There is also a 3.5 mm audio jack, an IR blaster, and the latest Bluetooth 5.3.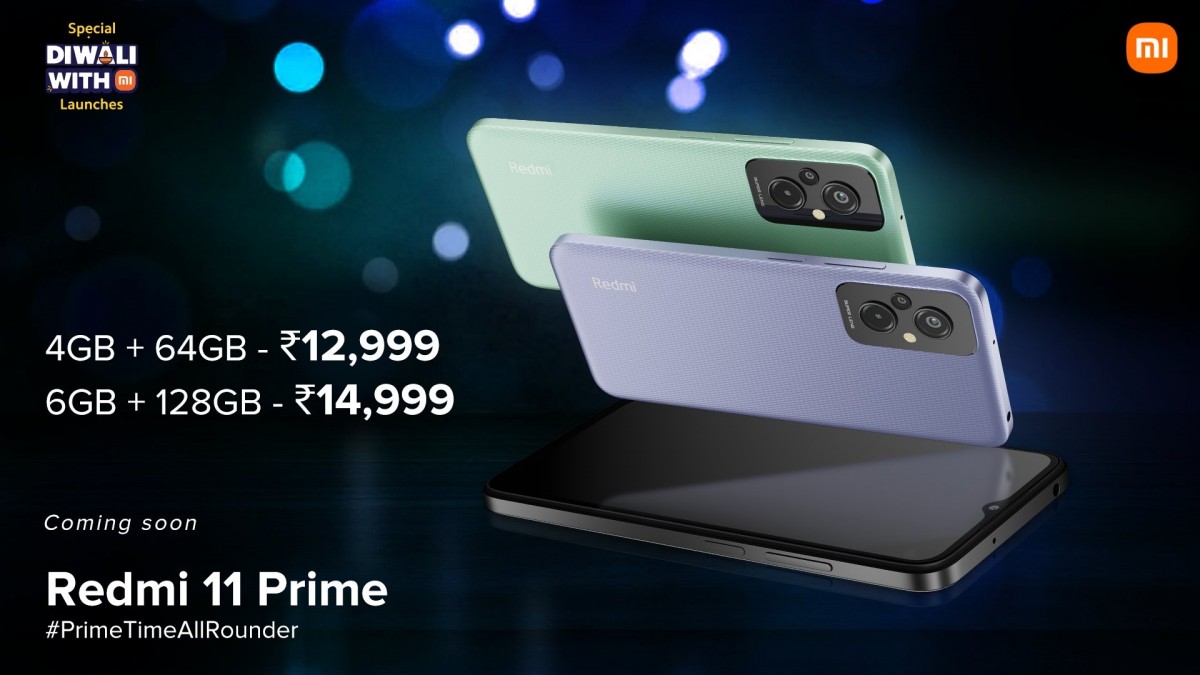 Xiaomi stopped short of announcing a launch date, saying the Redmi 11 Prime will arrive "soon". It did reveal the prices though – INR12,999 for 4/64 GB and INR14,999 for 6/128 GB. Color options are three – Black, Green, and Purple, the latter two with a fancy diamond-shaped design.
Interestingly enough, the phone looks a lot like the Poco M5 which was already announced yesterday in India with ever so slight price differences.
Redmi A1
The Redmi A1 takes after the Xiaomi Mi A1 of yesteryear, only it tries to fit within a much more conservative budget. There is no MIUI here, the Redmi A1 runs a clean Android 12.
The Redmi A1 has a leathery finish on the back, and many assume leather to be a premium texture, even if the panel is actually plastic. On the inside, we have a Helio A22 chipset, coupled with 2GB RAM and 32GB storage. There is also a MicroSD slot for up to 512GB more.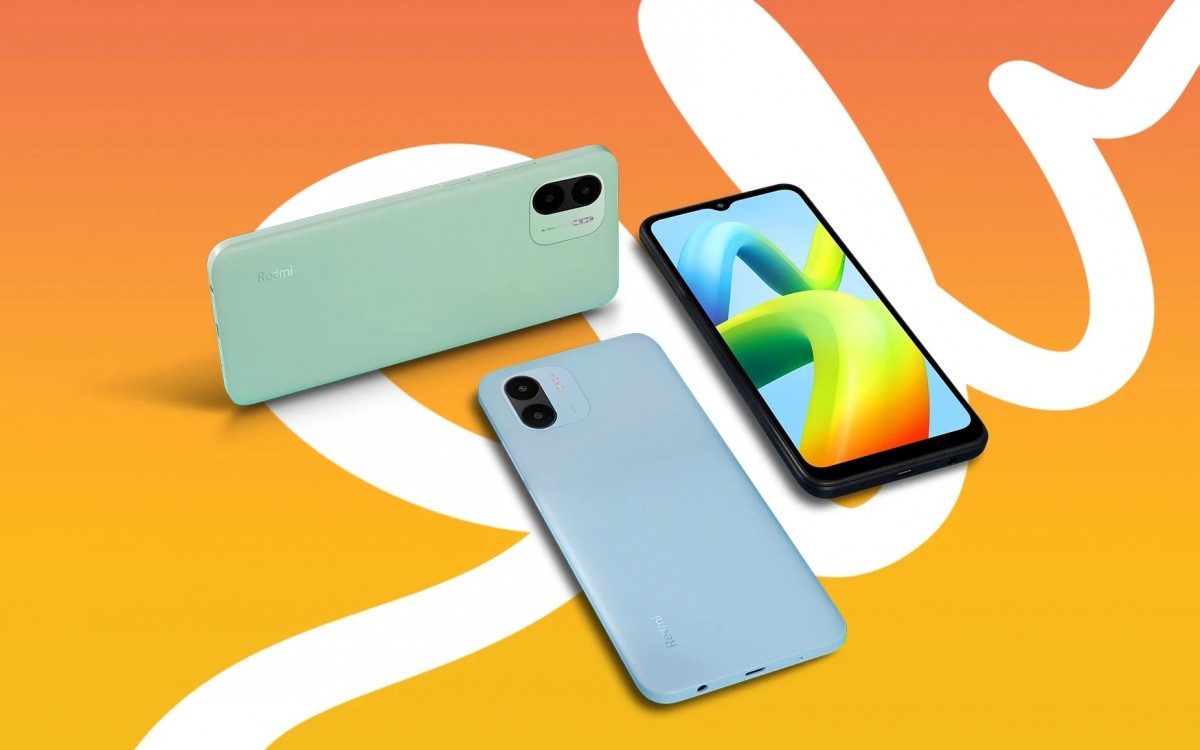 The front of the phone has a 6.52" LCD with 720p resolution and a tall 20:9 ratio. The back has a dual-cam setup that resembles the Xiaomi 12 flagships visually. However, the main shooter has a lowly 8MP sensor, while the 2MP depth sensor hardly adds much to your shots. The selfie camera has a 5MP sensor.
Just like its mightier siblings, the Redmi A1 has a 5,000 mAh battery, but sadly, it has a microUSB port on the bottom, which is kinda hard to take on a phone launched in the second half of 2022.
The price of the Redmi A1 is INR6,499, which is about $80. The first flash sale is scheduled for September 9 and the phone can be purchased in Black, Blue, or Green colors.
Apple updates iOS 16 to fix shaky iPhone 14 Pro camera and copy-paste issues – Yahoo Canada Finance
Apple released its latest iPhone lineup and mobile platforms earlier this month, and a couple of annoying bugs quickly made themselves known to users. The good news is that the tech giant has quickly whipped up patches to fix the issues and has now released them as part of the iOS 16.0.2 update. One of the problems the update solves is the iPhone 14 Pro's compatibility troubles with third-party apps that use its camera, such as Instagram, TikTok and Snapchat.
Users found that when they fire up those apps and use the device's rear cam, the camera view shakes on screen and the phone emanates grinding and rattling noises. In its patch notes, Apple said the update fixes an issue wherein the "[c]amera may vibrate and cause blurry photos when shooting with some third-party apps on iPhone 14 Pro and iPhone 14 Pro Max." The company didn't elaborate on the cause behind it, but it's possible that the apps weren't meshing well with the device's optical image stabilization system, causing the rattling noises.
Another troublesome problem the update fixes is the persistent appearance of permission prompts when trying to copy and paste content between apps. Apple senior manager Ron Huang previously admitted that it was "absolutely not expected behavior" and said the company was dealing with it. iOS 16.0.2 will get rid of other bugs, as well, including one that causes the device's display to go black during setup and another that renders the touch input on some iPhone X, iPhone XR and iPhone 11 displays to be unresponsive after they're serviced.
AirPods 3 vs. AirPods Pro 2 Buyer's Guide – MacRumors
Almost three years after the launch of the first-generation AirPods Pro, Apple unveiled the second-generation model alongside the iPhone 14 lineup and several new Apple Watches. Although the second-generation ‌AirPods Pro‌ feature the same design as their predecessor, they improve on features like Active Noise Cancellation, in-ear detection, and battery life, while introducing new functionality like Adaptive Transparency, volume adjustment touch controls, and precision finding.

In late 2021, Apple announced a major update for its standard AirPods, with the new earbuds featuring Spatial Audio, Adaptive EQ, force sensor controls, sweat and water resistance, MagSafe charging, and more.
Should you consider purchasing the $179 third-generation AirPods, or do you need the higher-end ‌AirPods Pro‌, which sell for $249? Our guide helps to answer the question of how to decide which of these sets of AirPods is best for you.
Comparing the AirPods and AirPods Pro
The AirPods and ‌AirPods Pro‌ share a large number of important features such as Spatial Audio with dynamic head tracking, sweat and water resistance, and skin-detect sensors. Even so, there are some meaningful differences between them that are worth highlighting, including design and Active Noise Cancellation.
Third-Generation AirPods
Semi in-ear design
Force sensor controls
H1 chip
Bluetooth 5.0
Up to 5 hours listening time with Spatial Audio enabled
Up to 4 hours of talk time with a single charge
Up to 20 hours of talk time using ‌MagSafe‌ Charging Case
‌MagSafe‌ Charging Case with Find My
‌MagSafe‌ Charging Case compatible with ‌MagSafe‌ charger, Qi wireless charging mats, and Lightning
Second-Generation AirPods Pro
In-ear design with silicone ear tips (four sizes)
Vent system for pressure equalization
Force sensors and touch controls for volume adjustment
H2 chip
Bluetooth 5.3
Active Noise Cancellation
Transparency and Adaptive Transparency
Conversation Boost
Up to 5.5 hours listening time with with Spatial Audio enabled
Up to 4.5 hours of talk time with a single charge
Up to 24 hours of talk time using ‌MagSafe‌ Charging Case
‌MagSafe‌ Charging Case with built-in speaker for ‌Find My‌, U1 chip for Precision Tracking, and lanyard loop
‌MagSafe‌ Charging Case compatible with Apple Watch charger, ‌MagSafe‌ charger, Qi wireless charging mats, and Lightning
Final Thoughts
The standard AirPods are now very similar to the ‌AirPods Pro‌, offering almost all of the same features at a lower price point. As a result, the third-generation AirPods should be the default choice for most prospective buyers. If you also have AirPods Max, which already offer ANC, and are looking for an additional pair of headphones to use while working out or on the go, the third-generation AirPods are also a good choice.
You should only buy the ‌AirPods Pro‌ if you specifically prefer the fit and improved sound that in-ear silicone tips can provide, or need Active Noise Cancellation. It is also worth buying ‌AirPods Pro‌ if you could make good use of Apple's Conversation Boost accessibility feature. Otherwise, the advancements of the H2 chip, minor battery life improvements, and Adaptive Transparency may not be a worthwhile set of improvements over the standard AirPods.
‌AirPods Pro‌ frequently see hefty discounts on Amazon and other third-party retailers, so stepping up to the Pro version may be more worth it if you can take advantage of one of those deals. The standard AirPods also often see solid discounts, so it is always worth seeking the best price using our Deals roundup.
Apple Watch Ultra, AirPods Pro (2nd Gen) go on sale in India – Deccan Herald
Last week, Apple released the iPhone 14, 14 Pro along with the Watch Series 8 and Watch SE (2nd Gen) in India. Now, Apple fans can buy the top-end Watch Ultra and the new AirPods Pro (2nd Gen).
The new Watch Ultra is the most advanced and toughest Watch from Apple to date. It is an all-weather smartwatch with military-grade MIL-STD 810H tested to work in extreme weather conditions and also sustain water pressure up to 100 metres, and even comes with EN13319 certification, a depth gauge with a water temperature sensor. It can work in extreme environmental conditions from -20-degree Celsius to 55-degree Celsius.
It has a massive Always-On Retina LTPO OLED display with 2,000 nits brightness and comes in a 49mm case made of titanium. On the front, it has a flat sapphire crystal display with edge protection. It also features IP6X dust-resistant certifications and users can customise the action button, which is found beside the Digital Crown.
It is powered by 64-bit Apple S8 dual-core processor, W3 wireless chipset, and U1 ultra wideband. Apple Watch Ultra makes use of two new motion sensors and an advanced sensor-fusion algorithm, to detect severe car crashes.
Also, with a single charge, Apple Watch Ultra can easily last 36 hours and if you turn on the Low Power Mode and other low-power settings, it can go for sixty hours. This is unprecedented in the whole of the Watch Series line-up since the first model (2015). It costs Rs 89,900.
Read more | Apple Watch Ultra: Key features you should know
On the other hand, the new AirPods Pro sports a refreshed charging case design and includes a lanyard loop.
The AirPods Pro features a new-generation H2 processor, which promises to deliver an exceptional acoustic experience and cancels up to twice as much noise as the previous generation AirPods Pro. With a new low-distortion audio driver and custom amplifier, AirPods Pro can ensure to offer richer bass and crystal-clear sound across a wider range of frequencies. For the first time, Apple will also offer a new extra small ear tip is included so even more people can have a better user experience on AirPods Pro.
With Transparency mode, user can listen to the outside world and also music or answer a call. This comes in handy will crossing a road or traveling a mass transport vehicle such bus or metro/subway overseas and being able to listen to the next destination announcements.
It also supports Spatial Audio to deliver an immersive listening experience. With this feature, users can perceive sound individually, based on the size and shape of his/her head and ears.
The new AirPods Pro promises to deliver close to six hours of listening time with ANC (Active Noise Cancellation) on, that's one and half hours of additional listening time compared to the first iteration. And, the charging case can recharge the AirPods Pro four more times, which means, the latter can last for 30 hours.
The earbuds, the case, and the retail box are produced with an eco-friendly manufacturing process and even the materials are responsibly sourced. Inside, some of the components such as magnets are made 100 percent recycled rare earth elements, for the first time — 100 per cent recycled gold in the plating of multiple printed circuit boards.
The case also uses 100 per cent recycled tin in the solder of the main logic board, and 100 per cent recycled aluminium in the hinge. AirPods Pro is free of potentially harmful substances such as mercury, BFRs, PVC, and beryllium.
And, the redesigned packaging has ensured there is no need for the outer plastic wrap at all, and 90 per cent or more of the packaging is made using fiber-based materials. It costs Rs 26,900.
On Apple India online store, prospective buyers get the engraving such as emojis, numbers, special characters, names, and words in English and seven regional languages– Kannada, Hindi, Bengali, Marathi, Tamil, Gujarati, and Telugu. Apple offers engraving service free in India.
Must read | Everything you need to know about Apple AirPod Pro (2nd Gen)
Get the latest news on new launches, gadget reviews, apps, cybersecurity, and more on personal technology only on DH Tech.