Samsung Galaxy A12 and Galaxy A02s announced: 6.5" screens and 5,000 mAh batteries – GSMArena.com news – GSMArena.com
We've been hearing about the Galaxy A12 and Galaxy A02s for some time now and today Samsung made both smartphones official as the first members of its Galaxy A (2021) lineup.
Samsung Galaxy A12
The Galaxy A12 succeeds the Galaxy A11 introduced back in March and brings upgrades to the camera and battery departments.
The Galaxy A11 packed a 4,000 mAh battery, whereas the Galaxy A12 ships with a 5,000 mAh cell, both charging at 15W.
The A11 featured a triple camera setup on the back comprising a 13MP primary, 5MP ultrawide, and 2MP depth sensor units. The A12, on the other hand, retains the ultrawide and depth sensors, swaps the 13MP camera with a 48MP module, and gets a 2MP macro unit. These are arranged in a square formation.
The Galaxy A12 packs a slightly larger 6.5″ HD+ Infinity-V display that has a notch for the 8MP selfie camera, which remains unchanged from the A11.
Under the hood, the Galaxy A12 has an octa-core processor consisting of CPU cores clocked at 2.3GHz and 1.8GHz. Samsung doesn't say what chipset it used, but looking at the configuration it appears the smartphone is powered by the Helio P35 SoC.
Samsung also doesn't reveal what version of Android the Galaxy A12 boots to. The smartphone comes with 3GB, 4GB, or 6GB RAM on board and has three storage options – 32GB, 64GB, and 128GB. You also get a microSD card slot for storage expansion by up to 1TB.
The Galaxy A12 features a side-mounted fingerprint reader, comes with the Samsung Knox security platform, and is offered in Black, Blue, White and Red colors.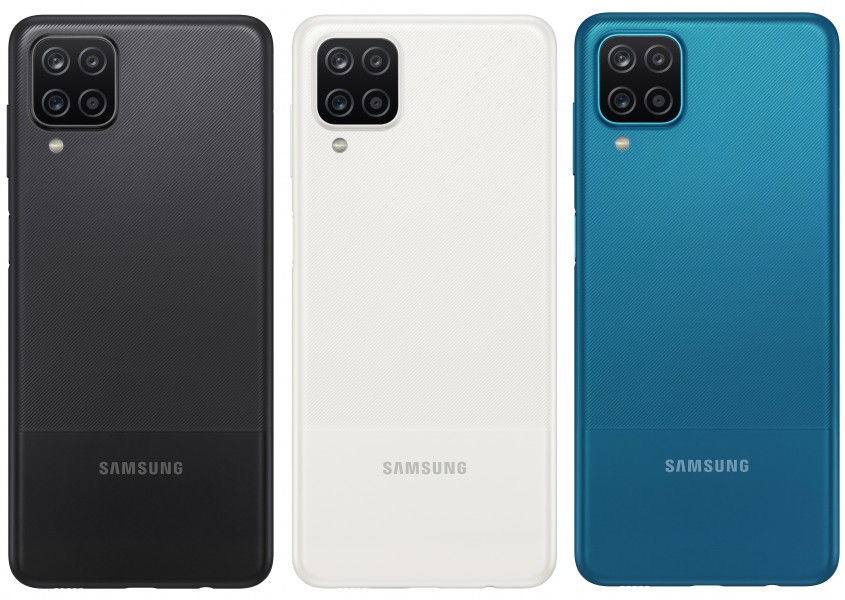 The Galaxy A12 will be available from January 2021. The 64GB variant is priced at €179, and for €20 more, you can get double storage.
Samsung Galaxy A02s
The Galaxy A02s follows up the Galaxy A01 announced last December. It is built around a 6.5″ HD+ Infinity-V display and is powered by an octa-core processor clocked at 1.8GHz, which could be a part of the Snapdragon 450.
The smartphone comes with 3GB RAM and 32GB storage onboard, and it also has a microSD card slot, which allows storage expansion by up to 1TB.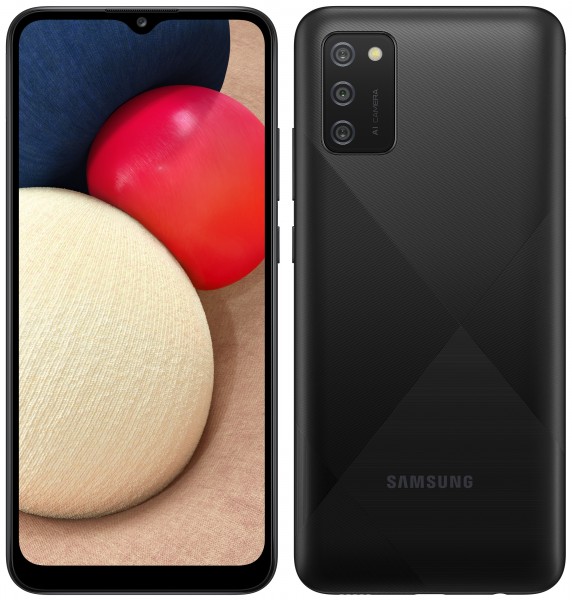 For photography, you get a total of four cameras – a 5MP shooter inside the notch and a 13MP primary camera on the back joined by 2MP macro and 2MP depth units.
Fueling the entire package is a 5,000 mAh battery with 15W charging, which is a significant upgrade over the A01's 3,000 mAh cell.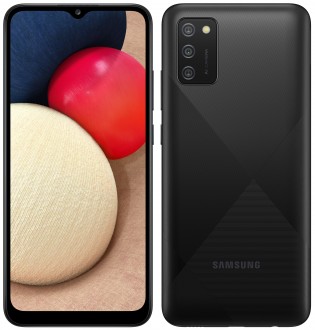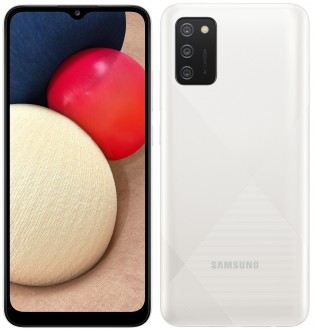 Galaxy A02s in Black and White colors
The Galaxy A02s has Black and White color options and will go on sale from February 2021 for €150.
Tim Cook: Active install base of iPhones is now over 1 billion – Engadget
Last year the install base of active iPhones grew to over 900 million devices, and in Apple's Q4 2020 earnings call, CEO Tim Cook revealed that after the launch of the iPhone 12 family, it is now over 1 billion. In an interview with Reuters, he pointed at Apple's growth in China as a factor also, saying that upgrades set an all-time record in the region. In response to an analyst's question, Cook said "we saw the largest number of upgraders that we've ever seen in a quarter."
Apple CFO Lucas Maestri said on the call that its overall active installed base of hardware has topped 1.65 billion, showing what a large share is represented by just the iPhone family. Apple reported record results with over $111 billion in revenue for the quarter, with results from its Services category highlighting how it's continuing to make money from that massive base of installed hardware.
Apple earns $100 billion in quarterly revenue for the first time ever – MobileSyrup
In the tech giant's fiscal Q1 2021 earnings report, Apple revealed that it crossed the $100 billion USD (about $128 billion CAD) in quarterly revenue mark for the first time in the company's history by bringing in $111.4 billion USD (roughly $142 billion CAD) in total, and $1.68 USD (about $2.15 CAD) per share.
This number also surpasses the company's expected revenue, which was predicted to hit $103.12 billion USD ($132 billion CAD).
It's important to note that quarterly earnings report includes iPhone 12, iPhone 12 mini, iPhone 12 Pro and iPhone 12 Pro Max sales, which amounted to $65 billion USD (approximately $83 billion CAD) in revenue, another all-time record for the company. The previous highest iPhone revenue quarter was $61.58 billion USD (roughly $78 billion CAD) in the first quarter of 2018.
It will be interesting to see if the predicted "super cycle" of upgrading from older iPhones like the iPhone X series to the iPhone 12, which features 5G and the most substantial redesign to the look of the smartphone in years, continues later into 2021.
"This quarter for Apple wouldn't have been possible without the tireless and innovative work of every Apple team member worldwide," said Tim Cook, Apple's CEO, in a recent press release.
"We're gratified by the enthusiastic customer response to the unmatched line of cutting-edge products that we delivered across a historic holiday season. We are also focused on how we can help the communities we're a part of build back strongly and equitably, through efforts like our Racial Equity and Justice Initiative as well as our multi-year commitment to invest $350 billion throughout the United States."
Apple's Mac sales also surged this quarter to $8.68 billion USD (roughly $11.1 billion CAD), likely as a result of more people working from home amid the ongoing COVID-19 pandemic. In Q1 2021 Apple revealed a new MacBook Air, MacBook Pro and Mac mini powered by its own M1 processor. The company is expected to release a new version of its desktop iMac that features the M1, likely bolstering Mac sales even further.
On the services side of things, an area where Apple continues to shift into growth, the company earned $15.76 billion (about $20 billion) this past quarter. Services include platforms like Apple Music, Apple Arcade, Apple TV Plus, Apple News+ and most recently Apple Fitness+, a fitness subscription service.
Finally, sales from Apple's wearables, home and accessories category, which includes the companies popular AirPods and AirPods Pro, hit $12.97 billion USD ($roughly $16.6 billion CAD) this quarter.
Apple says its big privacy change is coming in 'early spring' as conflict with Facebook heats up – CNBC
A monorail train displaying Google signage moves past a billboard advertising Apple iPhone security during the 2019 Consumer Electronics Show (CES) in Las Vegas, Nevada, U.S., on Monday, Jan. 7, 2019.
Bloomberg | Bloomberg | Getty Images
The long-awaited privacy update to Apple's iPhone and iPad operating systems that could dramatically hurt mobile advertising is coming in "early spring," Apple told CNBC on Wednesday.
To target mobile ads and measure how effective they are, app developers and other industry players currently often use Apple's (IDFA), or a string of letters and numbers that's different on every Apple device. But once this update rolls out, app makers will be forced to ask permission to access a user's IDFA through a prompt. A significant portion of users are expected to say no, reducing the effectiveness of targeted ads.
Apple first announced the change last summer, giving advertisers and app makers ample time to prepare. But it's become a major point of contention for ad-supported companies, who could lose revenue from the change.
Facebook in particular argues that the change will hurt the availability of free content on the open web and the ability of small business to place personalized ads. On Facebook's Q4 2020 earnings call Wednesday, CEO Mark Zuckerberg slammed the change, calling Apple one of its biggest competitors and claiming that the change "threatens the personalized ads that millions of small businesses rely on to find and reach customers."
The timing of Apple's change has been the subject of intense speculation in the mobile industry. Apple CEO Tim Cook is set to speak Thursday about data privacy at the Computers, Privacy and Data Protection conference in Brussels. On Thursday, the company is also releasing new marketing materials, including an update to its website and a report on data usage to illustrate how companies track user data across websites and apps.
Apple told CNBC that the next beta version of iOS will require app developers to ask permission to access the phone's unique identifier.
The current version of iOS is 14.4, which was released earlier this week. There currently isn't a public beta version beyond that available to developers. Apple declined to provide additional timing details.
As companies prepare for the change, they're letting partners and advertisers know how they plan to approach the change. Google on Wednesday said in a post that it will no longer use any information that falls under Apple's AppTrackingTransparency framework for its iOS apps, and doesn't plan to show the prompt on those apps.
Nominations are open for the 2021 CNBC Disruptor 50, a list of private start-ups using breakthrough technology to become the next generation of great public companies. Submit by Friday, Feb. 12, at 3 pm EST.