Samsung Galaxy SmartTag shows up in Canadian database – MobileSyrup
Samsung will reportedly unveil the Galaxy S21 series and the Buds Pro on January 14th.
Alongside these devices, the South Korean company is also rumoured to unveil the rumoured Galaxy SmartTag. Recently, the device was certified by Taiwan's NCC, and now we've spotted it in the Canadian Radio Equipment List (REL) confirming the product will launch in the North.
The product received the approval date from the Canadian Radio Equipment List on December 23rd. The REL doesn't offer very many details, just that it weighs 0.34kg and offers a frequency range of 2402.0 MHz to 2480.0 MHz.
According to the NCC leak, this tile-like device comes in both Black and Oat colours. Further, the leak also offered pictures of the device.
Pricing, when it'll officially release, and more are currently unknown; however, it's cool that Samsung plans to bring its new trackers to Canada.
Source: Government of Canada
Image Credit: GSMArena
watchOS 7.3 for the Apple Watch adds new Unity Watch Faces, Time To Walk and more – MobileSyrup
watchOS 7.3, the latest version of Apple's wearable operating system, is set to release today.
The update includes several notable features like a new Unity Watch Face collection to celebrate Black History Month, 'Time to Walk' Fitness+ recordings from several notable celebrities and ECG in more regions around the world.
Along with the new Unity Watch Faces, Apple is also launching a new version of the Apple Watch Series 6 that includes a Black Unity Sport Band on February 1st.
Regarding ECG's wider release, the feature is releasing in Japan, Mayotte, the Philipines and Thailand.
The update also includes performance improvements and fixes related to Control Center and Notification Center issues.
While watchOS 7.2 is rolling out now, and at roughly 3PM ET, hit my Apple Watch Series 6.
Update 26/01/2021 3:31pm ET: This story has been updated to confirm that watchOS 7.2 has now arrived on my Apple Watch Series 6.
Source: Apple
Apple Releases 14.4 Software for HomePod With New U1 Features for Mini – MacRumors
Apple today released a new 14.4 software update for the HomePod, with the update coming over a month after the 14.3 software release that brought performance improvements and bug fixes.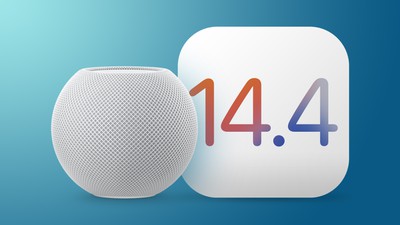 Today's update introduces new U1 Ultra Wide band functionality between the HomePod mini and devices that have a U1 chip like the iPhone 11 and iPhone 12 models.
Software version 14.4 includes bug fixes and the following new features with an Ultra Wideband (U1) equipped iPhone.
– Hand off music with visual, audible, and haptic effects from ‌iPhone‌ to ‌HomePod mini‌
– Get personalized listening suggestions on ‌iPhone‌ when it is next to ‌HomePod mini‌
– Media controls automatically appear without having to unlock ‌iPhone‌ when it is close to ‌HomePod mini‌
The update adds visual, audio, and haptic effects when songs are transferred from a ‌‌HomePod mini‌‌ to a U1-enabled ‌iPhone 11‌ or ‌‌iPhone 12‌‌. When an ‌‌‌iPhone‌‌‌ is near the ‌‌‌HomePod mini‌‌‌ it begins a soft haptic touch rhythm that gets faster and faster as the ‌‌‌‌iPhone‌‌‌‌ gets closer until the interface to transfer a song between the ‌‌‌‌HomePod mini‌‌‌‌ and the ‌‌‌‌iPhone‌‌‌‌ opens.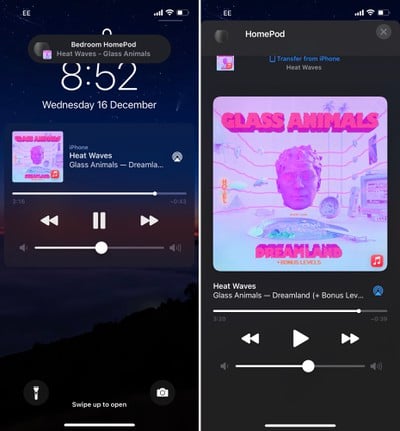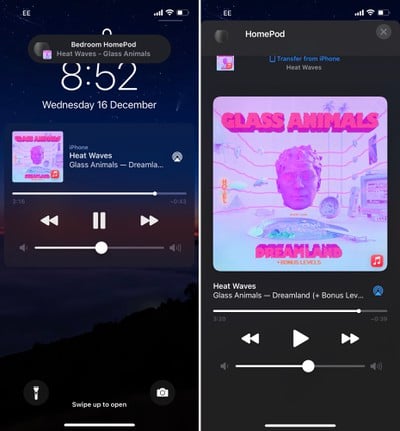 This functionality will make handoff quicker and more reliable on a ‌‌‌‌HomePod mini‌‌‌‌ and an ‌‌‌iPhone 11‌‌‌ or ‌‌‌iPhone 12‌‌‌, all of which are equipped with U1 chips that let the devices better understand where they are in relation to one another.
The update also adds personalized listening suggestions on ‌iPhone‌ when it is next to the ‌HomePod mini‌ and it causes media controls to automatically appear without having to unlock the ‌iPhone‌ when it is nearby the ‌HomePod mini‌.
U1 chip functionality is unique to the ‌HomePod mini‌ and is not available on the standard ‌HomePod‌ because the ‌HomePod‌ does not have a U1 chip inside.
Apex Legends season 8 gameplay trailer: Fuse and a destroyed Kings Canyon – Polygon
Respawn Entertainment has debuted a new 80s-action-movie style trailer for Apex Legends season 8 and Fuse is its biggest star. Along with a preview of the game's newest Legend, the trailer also gives us a brief glimpse of the newly-destroyed version of the Kings Canyon map.
Since this trailer puts Fuse at the center, it's also our best look so far at what he can do. It seems that Fuse has a wrist-mounted grenade launcher, which he can use to hurl explosives at enemies. He also appears to be able to drop a cluster of napalm onto the map, which sets the ground on fire for quite a while after its used. While those two are likely his Tactical ability and his Ultimate, Fuse's Passive still remains a mystery.
The trailer also shows off the newly-updated version of Kings Canyon. The map seems to be in shambles after a ship crashed into it in an earlier season 8 trailer. While we don't get many details on what kind of damage the crash caused, we do see a few locations that seem to have gained some new entrances thanks to the massive holes blasted in their walls.
Season 8's other new additions come on the weapons front and we get a preview of them in the trailer as well. This season's new weapon is the old-west style 30-30 Repeater rifle. The semi-automatic gun seems to pack quite a punch but it's definitely got a slower rate-of-fire than most of the other weapons in the game.
Respawn Entertainment is also adding Golden Magazines with season 8, which appear to infinitely feed ammo directly from your bag to your weapon, without the need to reload.
All of these new additions to Apex Legends should go live as soon as the season starts on Feb. 2.