Second annual Huntsville ART CRAWL starts today – Huntsville Doppler – Huntsville Doppler
Submitted by Huntsville Festival of the Arts
The Huntsville Festival of the Arts (HfA) is thrilled to announce the 2nd Annual Huntsville ART CRAWL running from June 1-30 in Downtown Huntsville, Muskoka.
Initially launched in 2021 as a COVID-safe initiative, the Huntsville ART CRAWL is a free self-guided art tour through businesses and venues throughout downtown Huntsville. This year's event has grown, featuring over 60 local artists, 32 different venues, and a number of special events. See the full list of participants at huntsvilleartcrawl.ca.
Visitors are encouraged pick up a map from any downtown business (or download from huntsvilleartcrawl.ca) and create their own ART CRAWL experience by touring local businesses, galleries, and studios, which will feature exhibits, demos, and interactive experiences by local artists. Artwork will be available for participants to purchase during the event. Proceeds will go to participating artists, with a portion of sale directly supporting the business the art is featured in. Get your map stamped at five venues, and you'll be entered into a draw for a fabulous prize package. The first 30 visitors will automatically receive $25 Downtown Dollars that can be spent in business downtown.
"We're so pleased to bring this event back again this year." says Dan Watson, executive director of HfA. "The CRAWL is a fantastic opportunity to enjoy the work of our talented local artists, support local businesses, have fun with friends and family, and explore Downtown Huntsville's beautiful new streetscape design."
This year's ART CRAWL includes a number of special events:
Wednesday Walkabouts: An organized group walk every Wednesday in Downtown Huntsville to explore and enjoy the Huntsville Art Crawl. At 5 p.m., individuals will gather at the HfA Studio located at 58 Main St. (entrance across from River Mill Park) before beginning a tour of various stops on the Huntsville Art Crawl and ending at a local restaurant or bar for drinks and appetizers. There will be lots of fun surprises along the way including visits from participating artists, prizes, music and more. Anyone interested in joining the walks can register online at huntsvilleartcrawl.ca or call 705-788-2787.
Saturday Demos: Join artists in the moment as they paint and create 'en plein air'. Demos will take place in different downtown locations each Saturday in June from 1 p.m.-4 p.m. (On June 25, our Group of Seven Canoe Mural Paintings begin. There will be no Saturday Demo on this day.)
Landed Arts Festival: HfA joins forces with local artists to present the 3rd annual Landed Arts Festival: a four day celebration of art & music inspired by nature at the beautiful Hillside Farm (2295 Hwy 60) from June 15-18. Featuring visual art by Neil Sternberg, Pam Carnochan, Elise Muller, Rob Stimpson, Marike MacDonald, Helena Renwick, Elizabeth Johnson, Janine Marson & Carolyne Wagland. Craft Beer & Beverages from Canvas Brewery will be available on site. Visit www.landedartsfestival.com for more information.
The special event also features a concert series with MORE BARN!: The Music of Neil Young (led by Tobin Spring) on June 15 & 16, swinging hot jazz & tango from Annabelle Chvostek on June 17 and multiple award winning folk artist Abigail Lapell on June 18.
Group of Seven Canoe Murals: From June 20-26, Artist Gerry Lantaigne will lead a group of local artists in the creation of 7 more canoe murals featuring the work the Group of Seven. Now in its third year, artists will paint the canoes "en plein air" during a week-long event in Downtown Huntsville's River Mill Park. Artists to be confirmed. Engage with the artists while you watch the beautiful paintings being created! Once completed, these canoes will be displayed in Downtown Huntsville as part of the Group of Seven Outdoor Gallery Tour and eventually included in the Algonquin Outfitters Paddle Art Auction.
Community Living Art Auction: Community Living Huntsville's Artists for Inclusion online art auction supports Community Living's Transitional Housing program. The online auction closes July 4 at 8pm. https://app.galabid.com/clhuntsville-2022
The CRAWL is made possible with generous support from the Huntsville Municipal Accommodation Tax Association, the Huntsville Downtown BIA, and community partners the Huntsville Art Society & Muskoka Unlimited.
For further information and updates, please visit huntsvillefestival.ca or huntsvilleartcrawl.ca
Don't miss out on Doppler!
Sign up here to receive our email digest with links to our most recent stories.
Local news in your inbox three times per week!
Click here to support local news
New interactive art installation in front of Ackland Art Museum engages community – The Daily Tar Heel
The Ackland Art Museum installed a new interactive art piece, or "spatial gesture," on its terrace that features magenta arches and iridescent glass– inviting Chapel Hill community members to stop and look.
The eye-catching art features several arches that extend from the ground and frame reflective panels that change color based on light and movement. When backlit by red, green and blue lights, the panels capture shadows of those standing in front of them.
White platforms at each end of the arches allow visitors to sit, perform, eat or just talk with friends.
The Urban Conga, a design studio based in Brooklyn, N.Y., created the installation, called pARC, as an open-ended space for the Chapel Hill community. It was installed on June 18 and will remain there until July 2024.
Maeghann Coleman is a designer on the Urban Conga team and helped create the installation. An artist and architect, she has been there since its start in 2013.
She said her team tried to work together to mesh the concepts of both the arches and seating elements with the shadow play.
"We're taking art off the pedestal and giving people the opportunity to interact in the way that they would want to," Coleman said.
Coleman said she hopes the piece will be used by visitors and help them create new relationships with people who they don't normally interact with.
Ryan Swanson, who serves as The Urban Conga studio's founder and creative director, mirrored Coleman's desire for the installation to foster community.
"Within the space, we tried to create multiple tools that people could kind of use to create, inspire and really learn and listen to each other and really become this communal space," Swanson said.
According to The Urban Conga's website, the art should invite people off the street and into the museum and University. The goal of the installation is to attract passersby to the museum to view, relax, laugh and — most importantly — play.
"We really focus on sparking community interaction and social activity through open-ended play," Swanson said. "So through our work, we see play as a tool to bring people together within the public space."
The Ackland Art Museum is hosting a sunset celebration at the pARC this Friday at 5 p.m. where attendees can make their own pARC-inspired iridescent suncatchers, relax with friends and family and explore the museum's galleries.
On Sunday, July 24, the museum is hosting "Ackland F.A.M.: Play at the pARC". From 1 p.m. to 5 p.m., families can grab an activity kit and take a summery scavenger hunt through the galleries. In the evening, there will be a pARC-inspired movement workshop led by choreographer Killian Manning and will feature special musical guest Dan Levine on cello.
Katie Ziglar, the director of the Ackland Art Museum, said the exhibit is meant for all age groups to enjoy.
"We have our values as a museum," says Ziglar. "We have three they are rigor, playfulness and responsiveness. This is right up our alley, our playful ally."
She said pARC is the third installation in a series of interactive installations.
"The first was some beautiful turning, spinning that people could ride around on with different colors made by a Mexican design group," Ziglar said.
The second was an "installation based on ancient Arabian water vessel in our collection," according to Ziglar.
She said that she hopes the new installation brings new audiences to the Ackland, and that it inspires people to want to learn more about the museum and what it can offer the public.
"I think the biggest thing is showcasing the value of play and how it can be used in different ways in different spaces to people together," Swanson said. "And that's really the true essence of our work, is highlighting that play is a valuable tool."
To get the day's news and headlines in your inbox each morning, sign up for our email newsletters.
Art exhibition with references to famous movies coming to Strathcona County – FortSaskOnline.com
This summer, Strathcona County will have an art exhibition saturated with popular culture references.
Red Deer artist Jason Frizzell will be showcasing his miniature sculpture pieces called "We'll Build a Palace Upon the Ruins" at Gallery@501, Strathcona County's only public art gallery.
From July 8 to Aug. 20, the exhibition will be on display for all to enjoy.
It will showcase close to 60 small-scale sculptures that continue a thematic exploration of transition, identity, denial and discovery. It will also take viewers through different time periods and eras as they explore the showcase.
"Jason has created a really interesting journey of discovery for our visitors when they enter the gallery space," said Kris Miller, the curator for Gallery@501.
Some pop culture references viewers will see include Mad Max, The Wizard of Oz, Planet of the Apes, The Flintstones and Stephen King.
To go along with the art itself, Gallery@501 also partially recreated Frizzell's studio space within the gallery.
"Being that he is working in a miniature format, it is really interesting to see these sculptural pieces. The content, stories, narratives that he is sharing with us for this artwork really struck a chord for us."
Gallery@501 is also adding a sensory-friendly feature to the exhibition so the art can be explored through touch and iPads for larger viewing.
The public is also invited to an opening reception and exhibition walk-through with Jason Frizzell on July 14 at 7 p.m.
Gallery@501 is located at #120, 501 Festival Avenue, Sherwood Park. It is always free to visit.
Idea Exchange welcomes new Cambridge Art Galleries director – CambridgeToday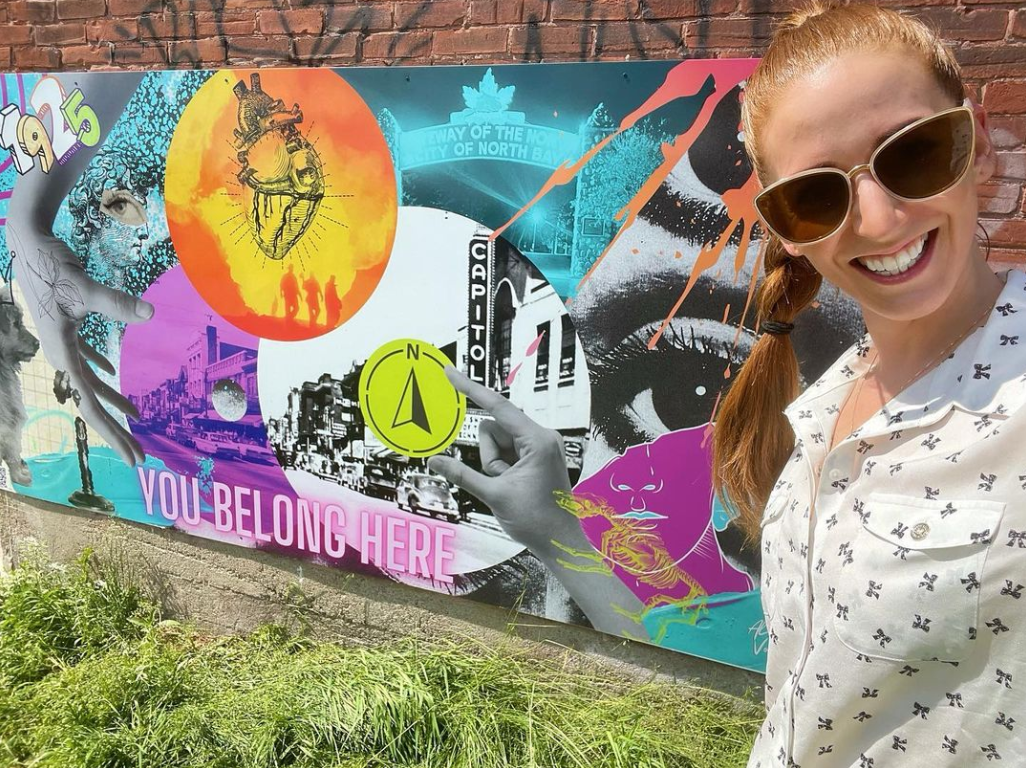 The Idea Exchange is ready to welcome Alix Voz as the new Gallery Director/Curator of Cambridge Art Galleries. Alix will be starting in the position Wednesday, says a release from the city.
"We are thrilled to have Alix joining us in Cambridge," said Idea Exchange CEO Helen Kelly in a press release. "Her enthusiasm for presenting art exhibitions that are engaging and accessible for the broader community is infectious. We look forward to many dynamic public art projects and programs under her leadership."
For the past four years, Vos has been working as the director/curator at the WKP Kennedy Gallery in North Bay.
She holds a master of arts in interdisciplinary Studies with a specialization in Art History and Fine Arts, Geography, Communication and Culture, from York University and a Bachelor of Fine Arts from Nipissing University, says the release. She is an adjunct faculty member at Nipissing University where she teaches art courses in the Bachelor of Fine Arts Program. She is also an instructor in the Visual and Creative Arts Advanced Program at Sheridan College.
An active community member, Vos served as the vice-chair of the public art policy committee for the City of North Bay.
Vos has her own contemporary art practice and has had her work exhibited at the Art Gallery of Sudbury, the Living Arts Centre in Mississauga, and the Red Head Gallery in Toronto. Her artistic practice includes drawing, having recently published her illustrations in a children's book. She is currently working on an art-history-inspired children's illustration book series.
With a love of literature and a passion for art, Vos says she's excited about the opportunities for community engagement at Idea Exchange.
The community will have an opportunity to meet the new curator/director during the virtual opening reception of Fibreworks 2022 on July 21 at 7 p.m., registration is required to attend.