Shark researchers size up real 'Megalodon' for first time – BBC News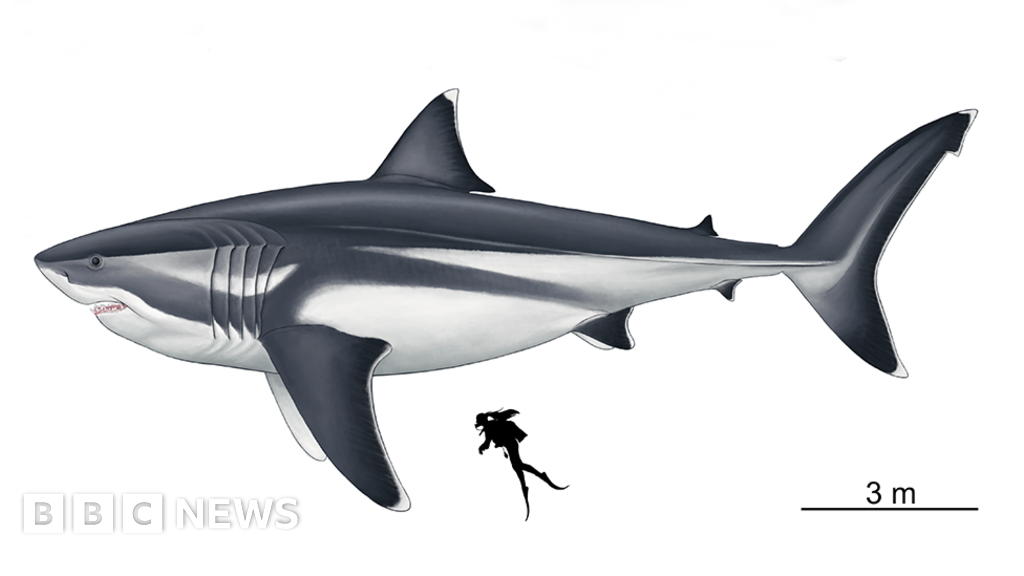 The enormity of a prehistoric mega-shark made famous in Hollywood films has finally been revealed by researchers.
Until now, only the length of the Otodus Megalodon, as featured in the 2018 film The Meg, had been estimated from fossils of its teeth.
However a team from Swansea and Bristol universities have combined maths with nature to reveal just how big it was.
The study has been published in the journal Scientific Reports.
Researchers used mathematical methods and comparisons with living relatives to find the overall size of the megalodon, which lived from about 23 million to three million years ago.
Results suggest a 16m (52ft) megalodon – almost three times as long as a great white shark – is likely to have had a head about 4.65m (15ft) long, a dorsal fin as large as an entire adult human and a tail about 3.85m (13ft) high.
Jack Cooper, who is to study a PHD in palaeobiology at Swansea University, described the research as his "dream project".
"Megalodon was the very animal that inspired me to pursue palaeontology but studying the whole animal is difficult considering all we really have are lots of isolated teeth," he said.
"It's significant that we have now been able to produce estimates of proportions and dimensions of the body parts when there are no fossils to go off.
"However the dimensions in the film were actually pretty accurate."
Previously, the shark was only compared with the great white, but the latest analysis was expanded to include five modern sharks, including the makos, salmon shark and porbeagle shark.
Mr Cooper added: "We could take the growth curves of the five modern forms and project the overall shape as they get larger and larger – right up to a body length of 16 metres."
Tla'amin Nation COVID-19 survivor warns virus spreads easily and recovery is difficult – Yahoo News Canada
Brandon Peters was keeping his bubble small this summer.
The Vancouver resident planted a "COVID garden" and planned on playing it as safe as possible during the pandemic. Those plans were derailed, and so was his health, after attending the funeral of a loved one on Tla'amin Nation territory on the north Sunshine Coast near Powell River, B.C.
Peters, a member of the nation, was diagnosed with COVID-19 within days of the visit. After spending most of September in bed fighting the virus, he is now speaking out publicly to warn people just how hard that fight can be.
<p class="canvas-atom canvas-text Mb(1.0em) Mb(0)–sm Mt(0.8em)–sm" type="text" content=""I opened myself up for just a minute, a couple people hugged me, and I got sick within a couple of days," said Peters Thursday on On The Island." data-reactid="15″>"I opened myself up for just a minute, a couple people hugged me, and I got sick within a couple of days," said Peters Thursday on On The Island.
He said when he left the north Sunshine Coast, he was so overcome with fatigue he could not complete the 80 kilometre drive to the Langdale Ferry Terminal to catch a ferry to the Lower Mainland. Instead, he had to pull over and sleep.
Peters did make it back to Vancouver though, only to have a horrible night where he said he felt "deep pain" throughout his body and had an excruciating headache.
<p class="canvas-atom canvas-text Mb(1.0em) Mb(0)–sm Mt(0.8em)–sm" type="text" content="Down for the count" data-reactid="18″>Down for the count
The next day he got tested for COVID-19. The day after that, he learned he was positive.
For the next few weeks, Peters lay in bed so overcome with exhaustion he said he couldn't eat anything and drank only water.
"The fatigue was so intense I would have to gather my gumption just to go to the washroom," he said.
In a recently uploaded video on the Tla'amin Nation's Facebook page, Peters says he wondered every day while bed-ridden if he was going to make it to see another week.
Fortunately, Peters was never hospitalized and says he now has about 80 per cent of his strength back. Now he wants to tell others his story to try and prevent anyone from going through the harrowing ordeal he did — or worse.
The video is part of sharing that story.
"People might look at me like a leper over the next little while but I think if I help a couple people it will make the video worthwhile," said Peters.
He said it is important to him that people take the risks of the virus seriously and stop engaging in activities that could put themselves or others at risk.
"This is going to be with us for a while and we need to make those responsible decisions."
According to a media release from the Tla'amin Nation, there have been 36 positive COVID-19 cases reported in the nation since September 7.
The community is currently in a state of local emergency and non-approved visitors are restricted from Tla'amin land.
<p class="canvas-atom canvas-text Mb(1.0em) Mb(0)–sm Mt(0.8em)–sm" type="text" content="To hear the complete interview with Brandon Peters on On The Island, tap here." data-reactid="30″>To hear the complete interview with Brandon Peters on On The Island, tap here.
NASA says bus-sized asteroid safely buzzed Earth | TheHill – The Hill
NASA reported that an asteroid roughly the size of a school bus passed by Earth early Thursday morning, traveling from about 13,000 miles away.
According to the government space agency, the rock made its closest approach to Earth around 7 a.m. EDT on Thursday, passing over the Southeastern Pacific Ocean.
NASA first reported on the asteroid on Tuesday, saying that scientists estimated the space rock was about 15 to 30 feet wide. Scientists predict that the asteroid will now travel around the sun and not make its way back into the Earth's vicinity until 2041.
A small near-Earth asteroid about the size of a small school bus will safely zoom past our planet around 13,000 miles (21,000 km) above the surface. The space rock will then make its way around the Sun, passing Earth again at a farther distance in 2041. https://t.co/z6uDogXn52 pic.twitter.com/c9Xv4PhNFi

— NASA JPL (@NASAJPL) September 23, 2020
Paul Chodas, director of the Center for Near-Earth Object Studies at NASA's Jet Propulsion Laboratory in Southern California, said Tuesday that space rocks such as these are relatively common and are not considered a threat to life on Earth.
"There are a large number of tiny asteroids like this one, and several of them approach our planet as close as this several times every year," Chodas said. "In fact, asteroids of this size impact our atmosphere at an average rate of about once every year or two."
He added that "the detection capabilities of NASA's asteroid surveys are continually improving, and we should now expect to find asteroids of this size a couple days before they come near our planet."
2020 SW, discovered by @Catalina_sky, is about 15 to 30 ft. wide and will pass by Earth Thurs., Sept. 24, at a distance of about 13,000 miles (22,000 km). Tiny asteroids like 2020 SW approach Earth this closely several times every year and aren't a threat: https://t.co/xKWtzxLI7Q pic.twitter.com/FpkY77zibw

— NASA Asteroid Watch (@AsteroidWatch) September 23, 2020
NASA said that while Thursday's asteroid was not on a trajectory to hit Earth, it would have likely broken up in the atmosphere and become a bright meteor, known as a fireball, before causing any damage.
This comes a month after NASA reported that an asteroid is on a path toward Earth one day before the U.S. presidential election, although the agency said that the chances of it actually hitting the Earth's surface are less than 1 percent. NASA confirmed in a statement to The Hill last month that the rock would not pose a threat.
"If it were to enter our planet's atmosphere, it would disintegrate due to its extremely small size," a spokesperson said in the statement. "NASA has been directed by Congress to discover 90% of the near-Earth asteroids larger than 140 meters (459 feet) in size and reports on asteroids of any size."
UM physicists part of international team for historic first – UM Today