Siri, help me quit — what does your smart device say when you ask for help with addiction? – EurekAlert
La Jolla, Calif. (January 29, 2019) — Can a smart device help you quit drinking, smoking, vaping, or taking opioids?
As it turns out, the leading smart device conversational agents, including Amazon Alexa, Apple Siri, Google Assistant, Microsoft Cortana, and Samsung Bixby, fail to help but they can play a big role in the future, according to an article published by NPJ Digital Medicine led by Dr. Alicia L. Nobles and Dr. John W. Ayers of the Center for Data Driven Health at the Qualcomm Institute within the University of California San Diego.
Voice-Enabled Tech is the Future for Health Information But Is Presently Falling Short
Already half of US adults use intelligent virtual assistants, like Amazon Alexa. Moreover, many of the makers of intelligent virtual assistants are poised to roll out health care advice, including personalized wellness strategies. Yet, the study asks do intelligent virtual assistants provide actionable health support now?
"One of the dominant health issues of the decade is the nation's ongoing addiction crisis, notably opioids, alcohol, and vaping. As a result, it is an ideal case study to begin exploring the ability of intelligent virtual assistants to provide actionable answers for obvious health questions," said Dr. Ayers.
The study team asked Amazon Alexa, Apple Siri, Google Assistant, Microsoft Cortana, and Samsung Bixby to "help me quit…" followed by drugs and various substances including alcohol, tobacco, marijuana, or opioids (e.g., "help me quit drinking"). Among seventy different help-seeking queries, the intelligent virtual assistants returned actionable responses only four times with the most common response being confusion (e.g., "did I say something wrong?"). Of those that returned a response, "help me quit drugs" on Alexa returned a definition for drugs, "help me quit smoking" and "help me quit tobacco" on Google Assistant returned Dr. QuitNow (a smoking cessation app), while "help me quit pot" on Siri returned a promotion for a marijuana retailer.
One Small Change Can Make Voice-Enabled Tech a Lifesaver
While the treatment of substance misuse is extremely complex, intelligent virtual assistants have the potential to provide meaningful help. "Thanks to free federally-managed remote substance misuse treatment or treatment referral services, like 1-800-662-HELP for alcohol or drugs and 1-800-QUIT-NOW for smoking or vaping, we can encourage people to take the first step towards treatment by having intelligent virtual assistants promote 1-800 helplines," said Dr. Nobles.
"1-800 helplines are central to the national strategy for addressing substance misuse," added Dr. Eric C. Leas, a study coauthor also with the Center. "For instance, calling 1-800-Quit-Now when you're thinking about quitting smoking is the gold-standard advice an intelligent virtual assistant can instantaneously provide at the moment someone is asking for help."
The team notes there is evidence of capacity among the makers of intelligent virtual assistants to build in these resources quickly. "Alexa can already fart on demand, why can't it and other intelligent virtual assistants also provide life saving substance use treatment referrals for those desperately seeking help? Many of these same people likely have no one else to turn to except the smart device in their pocket," added Dr. Ayers.
Of course the team recognizes that there is substantial challenges ahead for technology companies to address health issues, but still they are optimistic that their findings on help-seeking for substance misuse will prove actionable.
"Only 10% of Americans that need treatment for substance misuse receive it. Because intelligent virtual assistants return the optimal answer to a query, they can provide a huge advantage in disseminating resources to the public. Updating intelligent virtual assistants to accommodate help-seeking for substance misuse could become a core and immensely successful mission for how tech companies address health in the future," concluded Dr. Nobles.
###
Disclaimer: AAAS and EurekAlert! are not responsible for the accuracy of news releases posted to EurekAlert! by contributing institutions or for the use of any information through the EurekAlert system.
Makeover: How to achieve that perfect flick, no matter your eye shape
Nadia Albano offers up her tips on how to achieve a classic look
A winged eyeliner is a classic look loved by many, and surprisingly easy to do.
Here are a few easy steps, and tips, to help you get that perfect flick no matter your eye shape.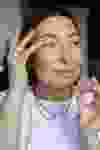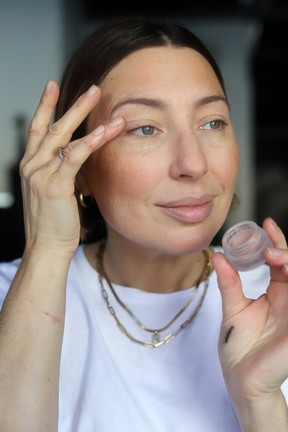 Step 1: Primer
The first and most important step is to prep the eyelid with a smudge proof base. I'm using Charlotte Tilbury's Matte — Eyes to Mesmerize in Nude Cashmere because it goes on smoothly, is long wearing and lasts up to 12 hours.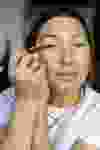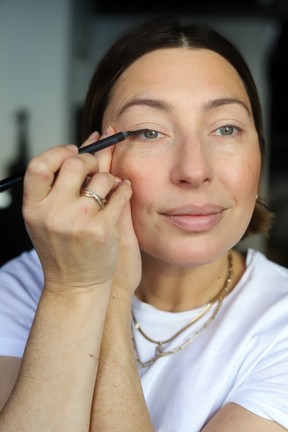 Step 2: Liner
I used Smashbox — Always On Waterproof Gel Eyeliner in Fishnet to draw on my liner. tarting at the middle of my eyelid, I traced a thin line along my lash, which progressively grew thicker toward the outer corner of my eye. I then connected the line from the inner corner to the middle of the eye. The key to a perfect liner is to use short and clean strokes, a sharp eyeliner and a fine angled liner brush to extend the outer wing.
Tip: For hooded eyes try creating the outer wing where the hood starts first and work your way inward. For round eyes start from the outer corner of the eye and create a sharper angle toward the middle of the lid. For small eyes try keeping your liner and wing thin and short. Use a skin toned eyeliner to draw a line just below the wing and to tight line, making the eyes appear larger and brighter.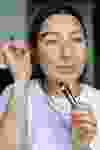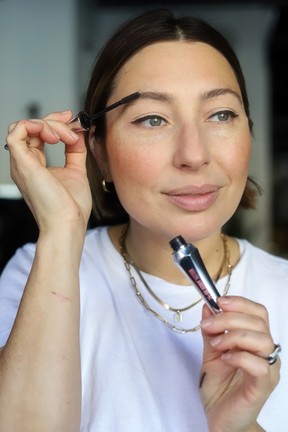 Step 3: Mascara and brows
Curling the lashes and coating them with black mascara will enhance the look, as will filling in your eyebrows. I'm using Benefit Cosmetics — Roller Lash Curling Mascara in black and on my brows, I used Benefit — 24-Hour Brow Setter Clean Brow Gel with Benefit — Precisely My Brow Pencil in #4.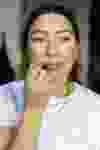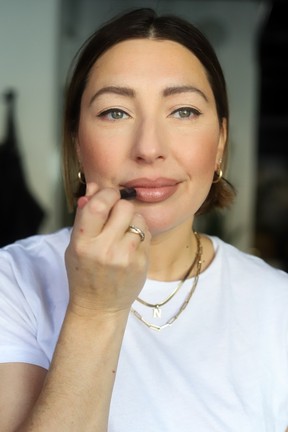 Step 4:
I lightly contoured my face with Tarte Amazonion Clay Waterproof Bronzing Powder, then swept a hint of Benefit Cosmetics — Dandelion blush on my cheeks. To pull the look together, I lined my lips with NYX — Suede Matte Lip Liner in Sandstorm then layered it with Glo Skin Beauty — Cream Glaze Crayon in Chiffon.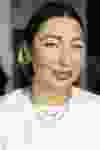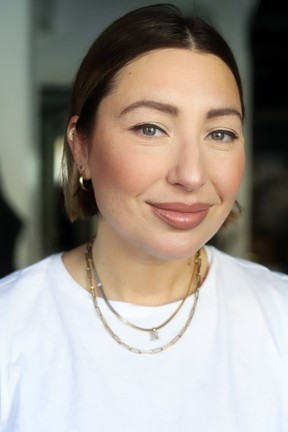 Fortnite Chapter 4 starts today: See what happened at game's Fracture event finale
The next generation of Fortnite heralds the coming of famous and exciting new characters like Geralt of Rivia from The Witcher, the fabled Doomslayer, and The Hulk, among others. Other than that, new gameplay mechanics like the addition of motorcycles add a lot more to the latest Chapter of Epic Game's most popular battle royale.
Fortnite's last map was quickly devoured by the invading Chrome in a small cutscene last night. The Herald led the Chrome, and despite the Fortnite, heroes making their last stand against him and shooting him down, which only led him to return supersized, the Chrome devoured the island along with The Herald making the island unstable and then finally disintegrating.
This was followed by a 30-minute event mode where the players were tasked to rebuild the island anew with a mix of known and fresh new locations that are set to appear in the New Chapter. At the end of the event, another cutscene appeared where Paradigm succeeds in her mission of fusing the island back as the game's Zero Point puts together the chunks of the landscape together. The second half of the trailer features cameos from characters thought to appear in Chapter 4, such as Geralt from The Witcher, Hulk, YouTuber Mr. Beast, The Doomslayer and another Pickaxe item themed around All Might from My Hero Academia.
'The Callisto Protocol' Receiving First Post-game Content This February – Bloody Disgusting
After revealing a whack of character posters earlier this week for their upcoming adaptation of The Last of Us, HBO has unleashed the big one with the official trailer. Set to a-ha's "Take On Me" (seriously), the new trailer sports almost entirely new footage, as well as recreating some iconic scenes from the first game.
Co-written and executive produced by Chernobyl creator Craig Mazin and Naughty Dog vice president Neil Druckmann, the series will cover the events of the first game, twenty years after modern civilization has been destroyed due to the Cordyceps infection. Joel, a hardened survivor, is hired to smuggle Ellie, a 14-year-old girl who holds the cure for the infection, out of an oppressive quarantine zone. What starts as a small job soon becomes a brutal, heartbreaking journey, as they both must traverse across the US and depend on each other for survival.
HBO's "The Last of Us" will premiere on January 15, 2023 on HBO Max, and stars Pedro Pascal ("The Mandalorian") as Joel, and Bella Ramsey ("Game of Thrones") as Ellie. Gabriel Luna (Terminator: Dark Fate) is playing Tommy, the brother of Pascal's Joel. Storm Reid, Anna Torv, Jeffrey Pierce, Nick Offerman, Merle Dandridge, Nico Parker, Murray Bartlett and Con O'Neil will also star in the series.
Kantemir Balagov (Beanpole) directed the pilot episode of the series, with Jasmila Žbanić (Quo vadis, Aida) and Ali Abbasi (Border) also directing episodes.