Social media CEOs get earful on bias, warning of new limits – NewmarketToday.ca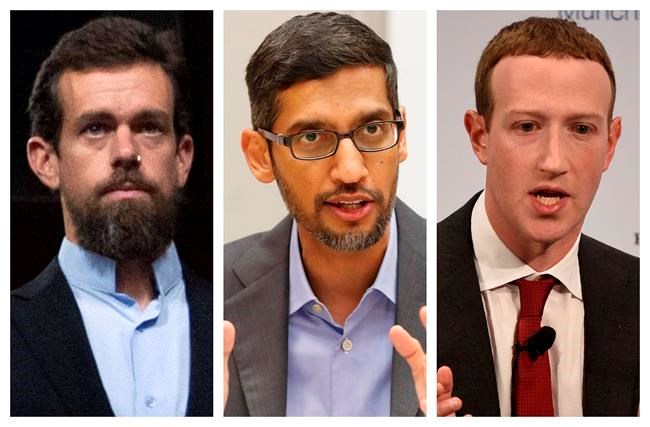 WASHINGTON — With next week's election looming, the CEOs of Twitter, Facebook and Google were scolded by Republicans at a Senate hearing Wednesday for alleged anti-conservative bias in the companies' social media platforms and received a warning of coming restrictions from Congress.
Lawmakers of both parties are assessing the companies' tremendous power to disseminate speech and ideas, and are looking to challenge their long-enjoyed bedrock legal protections for online speech.
The Trump administration, seizing on unfounded accusations of bias against conservative views, has asked Congress to strip some of the protections that have generally shielded the tech companies from legal responsibility for what people post on their platforms.
"The time has come for that free pass to end," said Sen. Roger Wicker, chairman of the Senate Commerce, Science and Transportation Committee. Wicker, R-Miss., said the laws governing online speech must be updated because "the openness and freedom of the internet are under attack."
He spoke at the opening of the hearing as Twitter CEO Jack Dorsey, Facebook's Mark Zuckerberg and Google's Sundar Pichai waited to testify via video.
Wicker cited the move this month by Facebook and Twitter to limit dissemination of an unverified political story from the conservative-leaning New York Post about Democratic presidential nominee Joe Biden. The story, which was not confirmed by other publications, cited unverified emails from Biden's son Hunter that were reportedly disclosed by Trump allies.
Republicans led by President Donald Trump have accused the social media platforms, without evidence, of deliberately suppressing conservative, religious and anti-abortion views.
In their prepared testimony, Dorsey, Zuckerberg and Pichai addressed the proposals for changes to a provision of a 1996 law that has served as the foundation for unfettered speech on the internet. Critics in both parties say that immunity under Section 230 enables the social media companies to abdicate their responsibility to impartially moderate content.
Zuckerberg acknowledged that Congress "should update the law to make sure it's working as intended."
Dorsey and Pichai urged caution in making any changes. "Undermining Section 230 will result in far more removal of online speech and impose severe limitations on our collective ability to address harmful content and protect people online," Dorsey said.
Pichai appealed to lawmakers "to be very thoughtful about any changes to Section 230 and to be very aware of the consequences those changes might have on businesses and consumers."
The session lacked the in-person drama of star-witness proceedings before the coronavirus. The hearing room was nearly empty except for Wicker and a few colleagues, but their questioning was sharp as tempers flared among members.
"Twitter's conduct has by far been the most egregious," Sen. Ted Cruz, R-Texas, told Dorsey. Cruz cited Twitter's limitations on the newspaper story as part of "a pattern of censorship and silencing Americans with whom Twitter disagrees."
Sen. Brian Schatz, D-Hawaii, went after Republicans, saying the hearing was a "sham."
"This is bullying," Schatz told the CEOs. "Do not let U.S. senators bully you into carrying the water" for politicians seeking to discredit their opponents. With their questions, Schatz said, the Republicans "are trying to bully the heads of private companies into making a hit job" on political leaders
Trump earlier this year signed an executive order challenging the protections from lawsuits under the 1996 telecommunications law.
Assistant Attorney General Stephen Boyd told congressional leaders in a letter Tuesday that recent events have made the changes more urgent, and said the restrictions by Twitter and Facebook related to the newspaper story was "quite concerning."
Ajit Pai, chairman of the Federal Communications Commission, an independent agency, recently announced plans to reexamine the legal protections — an about-face from the agency's previous position.
Social media giants are also under heavy scrutiny for their efforts to police misinformation about the election. Twitter and Facebook have imposed a misinformation label on content from the president, who has about 80 million followers. Trump has raised the baseless prospect of mass fraud in the vote-by-mail process.
Starting Tuesday, Facebook didn't accept any new political advertising. Previously booked political ads will be able to run until the polls close Nov. 3, when all political advertising will temporarily be banned. Google, which owns YouTube, also is halting political ads after the polls close. Twitter banned all political ads last year.
Democrats have focused their criticism of social media mainly on hate speech, misinformation and other content that can incite violence or keep people from voting. They have criticized the tech CEOs for failing to police content, homing in on the platforms' role in hate crimes and the rise of white nationalism in the U.S.
Facebook, Twitter and YouTube have scrambled to stem the tide of material that incites violence and spreads lies and baseless conspiracy theories.
The companies reject accusations of bias but have wrestled with how strongly they should intervene. They have often gone out of their way not to appear biased against conservative views — a posture that some say effectively tilts them toward those viewpoints. The effort has been especially strained for Facebook, which was caught off guard in 2016, when it was used as a conduit by Russian agents to spread misinformation benefiting Trump's presidential campaign.
___
Follow Gordon at https://twitter.com/mgordonap.
Marcy Gordon, The Associated Press
Fuse expands integrated media operations with senior hire – Media In Canada
Fuse expands integrated media operations with senior hire
Luke Moore brings media and business development experience to the Toronto-based full-service creative agency.
<!–
–>
Luke Moore brings media and business development experience to the Toronto-based full-service creative agency.
Israeli Prime Minister Secretly Flew To Saudi Arabia, Israeli Media Reports – NPR
Updated at 8:30 a.m. ET
Israeli Prime Minister Benjamin Netanyahu secretly flew to Saudi Arabia on Sunday with his Mossad spy chief Yossi Cohen to meet Saudi Crown Prince Mohammed bin Salman and U.S. Secretary of State Mike Pompeo, multiple Israeli media outlets reported. Saudi Arabia's government has denied the reports.
It is the first such meeting between Israeli and Saudi leaders to be reported widely in Israeli media, and could be a signal that Israel, Saudi Arabia and the Trump Administration are coordinating their stance on Iran before President-elect Joe Biden takes office.
Saudi Arabia's foreign minister has denied that the reported meeting with Netanyahu took place, saying "the only officials present were American and Saudi."
Biden has said he'd consider reviving the Iran nuclear deal, which President Trump left at Israel's urging. Israel and Saudi Arabia, which share covert ties, both see Iran as an adversary.
Netanyahu's office declined comment on the reported trip, but the prime minister may have dropped hints about it in a speech he delivered Sunday.
"We must not return to the old nuclear agreement. We must continue the uncompromising policy to ensure Iran does not develop a nuclear weapon," Netanyahu said. "Thanks to our firm stance against a nuclear Iran – and thanks to our opposition to a nuclear deal with Iran – many Arab countries fundamentally changed their approach to Israel."
Hours after Netanyahu delivered the speech, an online flight tracker recorded a private plane, one reportedly used by Netanyahu before, flying Sunday evening from Tel Aviv to Neom in Saudi Arabia and returning about five hours later.
Israeli media cited anonymous Israeli officials confirming the visit. Israeli journalists noted that Israel's military censor, which often bans publication of news sensitive to Israel's national security, approved the reports for publication.
It is unclear if Israeli and Saudi officials also discussed opening formal diplomatic relations in the reported meeting, following in the footsteps of Saudi Arabia's neighbors, the United Arab Emirates and Bahrain.
Pompeo, who has been touring Israel and Gulf Arab states touting the Trump administration's pressure campaign on Iran, announced his meeting Sunday with bin Salman in Saudi Arabia's new high-tech city Neom, but did not mention if Netanyahu was present. The U.S. Embassy in Jerusalem declined comment.
Israeli Defense Minister Benny Gantz, a political rival of Netanyahu, criticized that the alleged visit was leaked to Israeli media, though it was unclear if he was confirming the reports.
"The leak of the covert flight of the prime minister is an irresponsible step. I don't act that way. I never acted that way and I will never act that way and I think in that context the citizens of Israel need to be concerned," Gantz said in a meeting with his political party, according to a statement from his party's office.
Engine Media Teams with Panasonic System Solutions Company on the Panasonic UMG Collegiate Clash Esports Tournament – Canada NewsWire
University of Texas at Dallas Esports wins $5K in scholarships
LAS VEGAS, Nov. 23, 2020 /CNW/ –Engine Media (TSX-V: GAME; OTCQB: MLLLF) partnered with Panasonic System Solutions Company of North America to deliver the UMG Collegiate Clash Esports Tournament, an interactive remote-based esports tournament, exclusively sponsored by Panasonic.
The Collegiate Clash Esports Tournament was hosted live on November 8, 2020 from the Panasonic Esports Arena at Black Fire Innovation Lab located at the University of Nevada, Las Vegas (UNLV). The tournament featured 11 collegiate esports teams:
University of Missouri

Esports

University of Georgia

Esports

University of Central Florida

Esports

University of Akron

Esports

University of Texas at Dallas

Esports

Illinois Wesleyan University

Esports

Arizona State University

Esports

University of Tulsa

Esports

University of Arkansas

Esports
Grand View Esports

University of Ottawa

(

Kansas

)
The teams competed in the single elimination Fall Guys competition. Fall Guys is one of the top multiplayer games on streaming platforms. University of Texas in Dallas edged out the University of Central Florida to take home the $5K scholarship.
As a comprehensive supplier with game-winning AV solutions for Esports, Panasonic offers an extensive portfolio of laser and LCD projectors; professional displays; 4K and HD production switchers; 4K and HD PTZ, studio and cinema cameras and camcorders, creating high-quality engaging and immersive visual experiences.
Engine Media's UMG Gaming platform provided end-to-end support including tournament operation, administration, and broadcast. Engine Media's leading analytics solution, Stream Hatchet, provided comprehensive reporting across the tournament. This included Stream Hatchet's new Campaign Management solution, which seamlessly integrated Panasonic branding into the broadcast.
"Panasonic was excited to work with Engine Media to create the first Engine Media's UMG Collegiate Clash Powered by Panasonic," said Rob Goldberg, Sales Director–Visual Systems, Panasonic System Solutions Company. "As esports continues to gain popularity, Panasonic looks forward to providing our seamless 4K glass-to-glass solutions for this growing marketplace."
The tournament was further enhanced and amplified by Engine Media's, Winview, a fan engagement app, giving viewers the opportunity to directly engage with the competition.
"We were excited about the opportunity to combine Panasonic's professional video production technology with Engine Media's vertically integrated esports products," says Jill Peters, Chief Revenue Officer of Engine Media, "We appreciate and support Panasonic's dedication to enriching the opportunities and experience in collegiate esports. Engine Media is dedicated to growing the collegiate space by providing compelling opportunities to both fans and education institutions."
The competition was broadcasted to esports fans globally via UMG Gaming and Panasonic on Twitch channels, which enabled students and fans to see player's reactions and the heart pounding moment of the competition.
About Engine Media Holdings, Inc.
Engine Media is focused on accelerating new, live, immersive esports and interactive gaming experiences for consumers through its partnerships with traditional and emerging media companies. The company was formed through the combination of Torque Esports Corp., Frankly Inc., and WinView, Inc. and trades publicly under the ticker symbol (TSX-V: GAME) (OTCQB: MLLLF). Engine Media will generate revenue through a combination of direct-to-consumer and subscription fees; streaming technology and data SaaS-based offerings; programmatic advertising and sponsorships; as well as intellectual property licensing fees. To date, the combined companies have clients comprised of more than 1,200 television, print and radio brands including CNN, ESPN, Discovery / Eurosport, Fox, Vice, Newsweek and Cumulus; dozens of gaming and technology companies including EA, Activision, Blizzard, Take 2 Interactive, Microsoft, Google, Twitch and Ubisoft; and have connectivity into hundreds of millions of homes around the world through their content, distribution and technology.
About Panasonic System Solutions Company of North America
Panasonic System Solutions Company of North America, a division of Panasonic Corporation of North America, delivers game-changing technology solutions that deliver customized experiences to drive better outcomes—for our customers and our customers' customers. Panasonic designs and manufactures reliable, flexible and dependable products and solutions to help create, capture and deliver information of all types, especially where, when and how it is needed. The complete suite of Panasonic professional solutions for government and commercial enterprises of all sizes addresses unified business communications, mobile computing, , retail point-of-sale, office productivity, audio and visual systems (projectors, displays & digital signage) and professional video production. To learn more and Panasonic's business products and solutions visit: https://na.panasonic.com/us/audio-video-solutions.
Connect with Panasonic Professional Imaging & Visual Systems:
Twitter, LinkedIn, Facebook, YouTube
Cautionary Statement on Forward-Looking Information
This news release contains forward-looking statements. Forward-looking statements involve known and unknown risks, uncertainties and other factors which may cause the actual results, performance or achievements of Engine to be materially different from any future results, performance or achievements expressed or implied by the forward-looking statements. Often, but not always, forward-looking statements can be identified by the use of words such as "plans", "expects" or "does not expect", "is expected", "estimates", "intends", "anticipates" or "does not anticipate", or "believes", or variations of such words and phrases or state that certain actions, events or results "may", "could", "would", "might" or "will" be taken, occur or be achieved. Forward-looking information contained in this news release include, but are not limited to, any regulatory or other approvals required in connection therewith and Engine's expectations for growth in its operations and business. In respect of the forward-looking information contained herein, Engine has provided such statements and information in reliance on certain assumptions that management believed to be reasonable at the time, including assumptions as to obtaining required regulatory approvals. Forward-looking information involves known and unknown risks, uncertainties and other factors which may cause the actual results, performance or achievements stated herein to be materially different from any future results, performance or achievements expressed or implied by the forward-looking information. Actual results could differ materially from those currently anticipated due to a number of factors and risks. Accordingly, readers should not place undue reliance on forward-looking information contained in this news release.
The forward-looking statements contained in this news release are made as of the date of this release and, accordingly, are subject to change after such date. Engine does not assume any obligation to update or revise any forward-looking statements, whether written or oral, that may be made from time to time by us or on our behalf, except as required by applicable law.
Neither the TSX Venture Exchange nor its Regulation Services Provider (as that term is defined in policies of the TSX Venture Exchange) accepts responsibility for the adequacy or accuracy of this release.
SOURCE Engine Media Holdings, Inc.
For further information: Jill Peters, [email protected], 404-580-9765; Kevin Webb, [email protected], 404-775-9099, https://www.engine.media
Related Links