Social media firms risk 'humongous' fines if they grant access to under-13s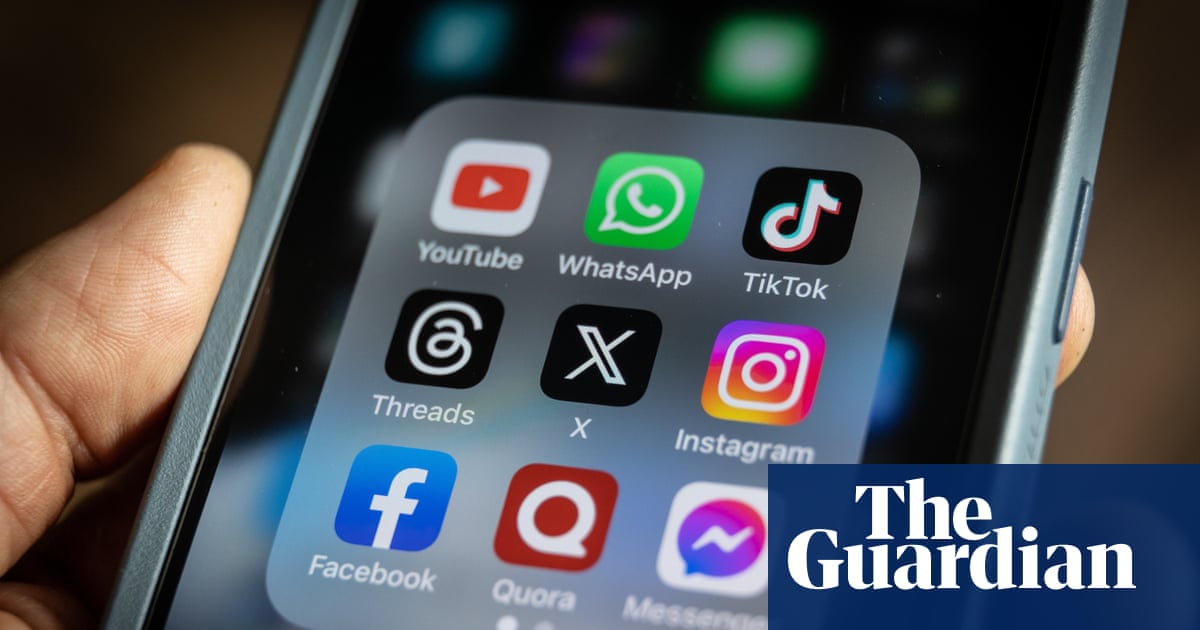 Social media firms could face "humongous" fines if they fail to block the accounts of under-13s, the technology secretary has said.
Michelle Donelan made the comments on the eve of the long-awaited online safety bill returning to parliament for its final stages on Wednesday after numerous delays.
Donelan said she wanted a "zero tolerance" approach to children using social media, telling the Daily Telegraph: "If that means deactivating the accounts of nine-year-olds or eight-year-olds, then they're going to have to do that.
"Because otherwise the mental toll and the ramifications for these young people is unimaginable and we're just storing up a bigger problem for tomorrow in terms of the long-term impact that we are going to face."
Under the bill, the UK's communications regulator, Ofcom, will have powers to fine companies up to 10% of their global turnover if they fail to include effective checks to enforce age limits in their terms and conditions.
The watchdog could also prosecute company bosses who persistently breach their duty with a maximum penalty of up to two years in jail.
It will publish a draft code of practice before Christmas that will "raise the threshold" for the "appropriate" checks that will be required to prevent under-13s accessing social media platforms.
The legislation has faced repeated delays and amendments after a backlash from some in the tech industry who argued the law will undermine the use of encryption to keep online communications private.
Donelan said the bill, scheduled to complete its passage through parliament on 19 October, would "potentially save young people's lives" by protecting children from harmful content such as that featuring self-harm and pornographic material.
She acknowledged that the rules laid out in social media firms' terms and conditions were currently not being enforced.
"We've got kids as young as nine, eight-year-olds on social media platforms and also accessing things like pornography," she said.
"We can't expect these young children to grow up and be able to live happy, successful lives unless we're setting them up right. That is important."
She added: "If the [companies] are found by the regulator to be allowing young people on their platform below the age of 13, they could face these massive, humongous fines."
Meta, which owns Facebook, Instagram and WhatsApp, said it had introduced measures such as video age verification tests as part of efforts to remove under-13s from its platforms.
Snapchat said it was deleting accounts and blocking sign-up attempts by tens of thousands of under-13s every month.
Elon Musk's X Slapped With Trademark Lawsuit From Social Media Ad Agency
X CORP., THE company formerly known as Twitter that ditched its bird logo in July, has notched another lawsuit in its growing pile of legal woes.
That ad agency, X Social Media, sued X. Corp in Florida on Monday, arguing that consumers are likely to to confused their ad services with the Elon Musk
The complaint, which was first reported by Bloomberg Law, states that X Social Media, LLC "has continuously used the X Social Media Mark in commerce since at least early 2016," and that the Elon Musk-owned company was aware of X Social Media's pre-existing rights to the trademark its brand overhaul.
In the filing, X Social Media — an advertising agency service geared towards law firms — claims that it has invested over $400 million in advertising, $2 million of which was dedicated to brand awareness, and that X. Corp's name change will be "financially and strategically harmful" to the Florida-based agency.
"In a short time, X Corp. has wielded its social media clout, marketing resources, and overall national notoriety to dominate consumer perception of its 'X' mark," the complaint states.
It is seeking an order that would block X Corp. from continuing to use the X name and requested an unspecified amount of money damages.
Elsewhere on Monday, Musk was also sued for libel after falsely claiming Ben Brody, 22, a recent graduate of the University of Riverside, California, was a government agent posing as a neo-Nazi. The lawsuit accused the billionaire of making "reckless false statements" and "promotion of disinformation," and seeks $1 million in damages.
Texas firm Farrar & Ball attorney Mark Bankston, Brody's legal counsel, wrote in an X post that Brody and his family were doxxed as a result of the conspiracy theory Musk promoted on his site, and had to flee their home during "weeks of terror." Brody, he wrote, has a reputation now "catastrophically damaged" by the wealthiest man on the planet and has suffered mental anguish "at the crucial moment when he exits college and enters his career path."
Despite his lawyers being informed of Brody's defamation claim in August, Bankston has said that Musk declined to either retract his unfounded accusation or apologize for it.
Sources – James Harden, seeking trade, not at 76ers media day
CAMDEN, N.J. — It took nearly four minutes Monday morning for Philadelphia 76ers president of basketball operations Daryl Morey to say James Harden's name. But, after rattling off the names of several other players and speaking confidently about the team's chances to contend this season, Morey turned to the matter of Harden's absence from media day.
"I want to address James Harden," Morey said, sitting on a dais next to coach Nick Nurse, both wearing matching blue blazers to kick off the interviews. "He's not here today. He continues to seek a trade, and we're working with his representation to resolve that in the best way for the 76ers and, hopefully, all parties."
Harden's decision not to come Monday was the latest push in a summer full of them to fulfill his desire to be dealt to the LA Clippers. But although the two teams have talked recently, there's been no traction on a deal, sources told ESPN's Adrian Wojnarowski.
The Sixers' asking price remains high, and the Clippers don't seem inclined to bid against themselves in a marketplace that is cool to unloading significant trade assets for Harden, sources told Wojnarowski.
As a result, Harden is still a member of the 76ers — and the franchise clearly would love for him to return and help in what the 76ers still believe is a group good enough to compete for a championship, even in the wake of the moves the Milwaukee Bucks and Boston Celtics made to get Damian Lillard and Jrue Holiday, respectively, over the past few days.
"Who said they surpassed us?" reigning NBA MVP Joel Embiid responded to a reporter. "We still gotta go out there and compete. You can do whatever you want off the court, but you still gotta go out there and put the ball in the hoop.
"I believe that any team that I'm on, we always gonna have a chance. Just need to be a little bit lucky. Just need to stay healthy — be healthy and stay healthy — and, you know, as a team, just come together."
Harden exercised his $35.6 million contract option for the season in June with hopes of the Sixers trading him before camp, but Morey has shown a willingness to wait out Harden and try to get him reinvested in the team.
To that end, the message over and over again from the 76ers was that they hope they can get Harden to come back and take part alongside them. Harden on Friday was paid the 25% of his contract that he was scheduled to receive by Sunday, sources said, after already having received the 25% payment he was scheduled to receive on July 1.
It remains unclear when, or if, Harden is going to rejoin the team, which is flying to Fort Collins on Monday afternoon before holding training camp at Colorado State University for the next several days.
Morey, when asked if Harden would be fined for missing Monday, said the team would "treat James like every other player on the roster as required by the CBA."
In August, Harden publicly called Morey a "liar" and suggested he wouldn't fulfill his contractual services with the Sixers as long as Morey remained president. The league fined Harden $100,000.
In a call with league and union officials during the NBA's investigation into the comments, Harden insisted he would be fulfilling his contractual obligations with the Sixers should he remain without a trade, sources said.
Morey, who has previously had a close relationship with Harden going back to when he acquired him as the general manage of the Houston Rockets from the Oklahoma City Thunder just before the start of the 2012-13 NBA season, admitted this summer was difficult for him given how it's all played out in the public sphere.
"I would say it was hard," Morey said. "I think there are many people who worked with him for some time, but I've been right there with anyone else.
"Look, I think he's a heck of a basketball player. I like him as a person. It was hard, I think, that he felt like that was the right course of action for him at that point. What else can I say? I think he's a tremendous player that will help us if he chooses to be here. And, right now, that's not where he wants to be."
Morey did, however, push back on Harden's assertion that he is a liar.
"I don't think I have to interpret it," Morey said. "He said what he meant. I think that was well reported on.
"I haven't responded to that because I think it falls flat on its face. In 20 years of working in the league, always followed through on everything. Every top agent knows that. Everyone in the league knows. You can't operate in this job without that. So, you know, privately I've appreciated all the key people in the league reaching out to me and knowing obviously that's not true. But like I said before, obviously it was disappointing that he chose to handle it that way."
Now, Philadelphia begins preparations for training camp — its first under Nurse, who replaced Doc Rivers earlier this summer — unsure of when — or if — its star point guard will join them. To that end, Nurse said he and the team will be preparing for both possibilities and will address them as things unfold.
"For me, it's, it's obviously we've kind of got Plan A, Plan B, right? We've gotta get the team ready regardless. We're expecting him to show up.
"He shows up? We go. If he doesn't? We go. There's two ways to look at it. And we proceed and we really get to work in building our foundation of what we want to do, getting all our principles in, all the things that we want to do, and play the style of play we want to play regardless."
Perhaps the best summation of the situation, however, came from Harden's longtime friend and teammate P.J. Tucker, who was asked whether he thought Harden would be back anytime soon.
"That ain't for me to answer," Tucker said with a laugh and a shake of his head. "I have no idea.
"I hope they figure it out soon. But if not, it's gonna be what it's gonna be."
James Harden skips 76ers media day to take trade demand to next level – SB Nation
We use cookies and data to
Deliver and maintain Google services
Track outages and protect against spam, fraud, and abuse
Measure audience engagement and site statistics to understand how our services are used and enhance the quality of those services
If you choose to "Accept all," we will also use cookies and data to
Develop and improve new services
Deliver and measure the effectiveness of ads
Show personalized content, depending on your settings
Show personalized ads, depending on your settings
Non-personalized content is influenced by things like the content you're currently viewing, activity in your active Search session, and your location. Non-personalized ads are influenced by the content you're currently viewing and your general location. Personalized content and ads can also include more relevant results, recommendations, and tailored ads based on past activity from this browser, like previous Google searches. We also use cookies and data to tailor the experience to be age-appropriate, if relevant.
Select "More options" to see additional information, including details about managing your privacy settings. You can also visit g.co/privacytools at any time.