Sony looks beyond the PlayStation 5 with its own brand of PC gaming gear – CNBC
Sony's new PC gear will help it expand its reach in gaming beyond PlayStation.
Sony
Sony is launching its own range of gaming-focused computer monitors and headsets, hoping to tap into the lucrative high-end PC gaming market as it looks beyond its main PlayStation console brand.
Called Inzone, Sony's PC gaming lineup features two monitors. The Inzone M9 monitor is the priciest of the pair, retailing at $900. It features a 27-inch display with 4K resolution and a 144Hz refresh rate — meaning a smoother picture. A less expensive model, the $530 Inzone M3, has a higher refresh rate but lower resolution.
The Inzone M9 will be available this summer, while the Inzone M3 won't be released until winter.
As for headsets, Sony said it will release three in total: The Inzone H9 ($300), Inzone H7 ($230) and Inzone H3 ($100). They're currently available for pre-orders, though Sony hasn't yet provided a release date.
The priciest of the three, the Inzone H9, is wireless and features noise canceling technology as well as an "ambient sound" mode that picks up on sounds in your surroundings. The Inzone H7 is cheaper and lacks noise canceling, but it comes with more battery life — up to 40 hours, versus 32 hours with the Inzone H9. The Inzone H3, meanwhile, has to be plugged into your computer with a cable.
The move pits Sony against established players in the PC gaming hardware space, including Lenovo, ASUS and Razer.
It also gives the company a way of expanding its video game business beyond its PlayStation console gaming division. Sony said it wants to take advantage of growth in the esports space.
"The market has been expanding with a higher interest in gaming with the spread of e-sports tournaments and the advancement of gaming entertainment," said Yukihiro Kitajima, head of game business at Sony.
"With Sony's strong history of high-end audio and visual technology products, we believe this new line will offer even more options for those looking to upgrade their current gaming systems."
Sony continues to face fierce competition from longtime rival Microsoft, which has adopted a strategy of making aggressive acquisitions to build out its reach in an industry that's set to be worth almost $200 billion in 2022, according to forecasters Newzoo.
Both companies are betting big on a buzzy concept in tech known as the "metaverse," which involves vast immersive digital worlds where people can work or find entertainment. Earlier this year, Sony revealed a new virtual reality headset called PlayStation VR2.
Asmongold calls out Blizzard after brief WoW ban: "You obviously f**ked up" – Dexerto
Asmongold was recently banned from World of Warcraft for a brief period but was quickly allowed back in the game after Blizzard overturned the initial suspension.
In a recent YouTube video, Asmongold described his banning from World of Warcraft as a "glorious day." During this video, the popular content creator began by recounting the events leading up to the moment he found out he had been banned from playing Blizzard's hit MMO.
"I go to log on to World of Warcraft and it tells me this: Blizzard account has been suspended." Jokingly, Asmon then added, "they shut me down, rightfully so." He then went on to address Blizzard directly and offer up his thanks for what he clearly believed was an error on their behalf.
"I wanna say thank you, Blizzard, this is gonna be great clickbait on YouTube. You obviously f***ed up and didn't mean to suspend me but that doesn't mean my editors aren't gonna farm this out for viewers on YouTube. Thank you, Blizzard."
He then went on to read out an email from the devs, explaining why he was banned from World of Warcraft for allegedly engaging with real money transactions (RMT). However, Asmon was quick to shut down the idea that he had done any RMT trading in the video, which appeared to be the reasoning for his banning.
Asmon then called out Blizzard for their recent string of banning players for supposedly unsubstantiated reasons or banning players and then quickly overturning the decision. He did this by reading out tweets from other content creators as well as community members who have found themselves in similar situations when playing World of Warcraft.
Following his video, the World of Warcraft community on Reddit have shown their support for the content creator as well as also voicing their disappointment at Blizzard for banning Asmongold and others and then quickly backflipping after realising it was a mistake.
For all the latest on Asmongold, check out Dexerto's full coverage here.
Samsung unveils prices for Galaxy Z Flip4 and Z Fold4 in India, details discounts and promos – GSMArena.com news – GSMArena.com
We have waited nearly a week for Samsung to unveil the prices for the new Galaxy Z foldables for the Indian market and here they are. Fans can now pre-book a Z Flip4 or Z Fold4 and score some gifts and discounts. This is a special Samsung Live promo event that starts today and ends tomorrow a midnight.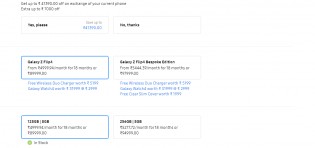 Pre-booking options for Samsung Galaxy Z Fold4 and Z Flip4
First, the prices. The table below has the breakdown by storage capacity. A couple of things to note about the Samsung Galaxy Z Flip4 – the customizable Bespoke Edition is available from Samsung Live and Samsung Exclusive Stores (and only in 256GB trim), the 512GB version is not available in the country. As for the Samsung Galaxy Z Fold4, the top 1TB model is available, but only through Samsung Live and Samsung Exclusive Stores.
Galaxy Z Fold4
256GB
512GB
1TB*
₹155,000
₹165,000
₹185,000
₹8,000 cashback or Upgrade Bonus
* 1TB variant exclusive to Samsung Live and Samsung Exclusive Stores
Galaxy Z Flip4
128GB
256GB
256GB Bespoke*
₹90,000
₹95,000
₹98,000
₹7,000 cashback or Upgrade Bonus
* Bespoke Edition exclusive to Samsung Live and Samsung Exclusive Stores
Note that these are the base prices, the two-day promo event offers some discounts. You can get ₹8,000 cashback with the pre-booking of a Z Fold4 or ₹7,000 with a Z Flip4. You will need an HDFC credit or debit card for that. Alternatively, if you are planning to trade in an old phone for credit, you will get an additional ₹8,000 or ₹7,000 towards purchasing the new foldable.
There's more – you get a free Wireless Charger Duo (normally valued at ₹5,200). The Galaxy Z Flip4 Bespoke Edition also comes with a free Slim Clear Cover (worth ₹2,000).







Some of the possible color combinations for the Galaxy Z Flip4 Bespoke Edition
For some peace of mind you ca get 1 year of Samsung Care+ at half price – ₹6,000. No Cost EMI is available for up to 24 months as well.
Finally, you can get a previous generation Galaxy watch at a hefty discount. Those who pre-book the Galaxy Z Fold4 can pick up a Galaxy Watch4 Classic (46mm, Bluetooth) for ₹3,000 (down from the MSRP of ₹35,000). If you picked the Z Flip4 instead you can grab a Watch4 Classic (42mm, Bluetooth) for ₹3,000 (down from ₹32,000).
If you prefer one of the new Galaxy Watch5 models, those are already on pre-order – here is the pricing info for them. You can pre-book one now and get a discount on the new Galaxy Buds2 Pro.
An exploration of the history of Yorkshire, the Acadians and the Mi'kmaq – Town of Sackville
An exploration of the history of Yorkshire, the Acadians and the Mi'kmaq
August 15
An exploration of the history of Yorkshire, the Acadians and the Mi'kmaq
Facilitated by Renée Belliveau, this online presentation will help us understand what impact the arrival of the Yorkshire Settlers had on the Tantramar area, both the good and the bad.
To join the presentation using the Microsoft Teams platform, type shorturl.at/kmP69 in your browser or contact m.pryde@sackville.com for the link.