Sony to launch PlayStation 5 in India in February – SaltWire Network
(Reuters) – Sony Corp said on Friday its PlayStation 5 (PS5) console will be launched in India in coming weeks as it tries to capitalise on the pandemic-driven boom in gaming.
"We are happy to announce that PS5 shall be launched in India on 2nd of February 2021," the Japanese firm tweeted from its PlayStation India Twitter handle.
Preorders for PS5 will begin on Jan 12 and will be available for orders at major retailers, including Amazon and Flipkart, the tech firm said.
Microsoft Corp launched two models of its Xbox gaming console in November, seven years after the debut of the previous version, while Sony launched its PS5 in core markets two days later.
(Reporting by Ann Maria Shibu in Bengaluru: Editing by Neil Fullick)
Keep Your iPhone 12 and Its Accessories Away From Pacemakers – Lifehacker
If you or someone you know has an Implantable Cardioverter Defibrillator (ICD), you may want to avoid using an iPhone 12. According to a recent study in the Heart Rhythm Journal, the iPhone 12 and its accessories can interfere with an ICD's behavior, and even stop it from working.
The study found several components within the iPhone 12 can "potentially inhibit lifesaving therapy in a patient particularly while carrying the phone in upper pockets." This warning applies to all iPhone 12 devices, including the iPhone 12, iPhone 12 Mini, iPhone 12 Max, and iPhone 12 Max Plus. The iPhone 12's MagSafe accessories are also a risk, specifically the MagSafe Charger and MagSafe Duo Charger, due to their magnets and NFC radios.
According to the study, the magnetic charging coils and RF-emitting components in these products are strong enough to interfere with an ICD's internal mechanisms, which respond to magnetic fields. Researchers observed immediate suspension of the ICD's heart-regulating operations if an iPhone "was brought close to the ICD over the left chest area." The interference "persisted for the duration of the test."
This poses serious health risks, including the possibility of heart failure or cardiac arrest. To help inform users of the potential risks, Apple updated its iPhone 12 health and safety documentation with new guidelines based on the report's suggestions. Apple now recommends users keep their iPhone 12 and MagSafe accessories more than six inches away from their chest at all times, and more than 12 inches away if your phone is wirelessly charging. Definitely don't put your iPhone in your shirt or jacket's breast pocket.
While these warnings are for the iPhone 12 line and its magnetic accessories specifically, they're not the only products that can affect medical devices. A similar case study shows smartwatches and fitness trackers can interfere with ICDs if they come within 2.4 centimeters of the ICD's location in a patient's chest. The iPhone 12 interference is more severe—especially while charging wirelessly—but you should take caution using any smart devices near someone with an ICD.
G/O Media may get a commission
watchOS 7.3 for the Apple Watch adds new Unity Watch Faces, Time To Walk and more – MobileSyrup
watchOS 7.3, the latest version of Apple's wearable operating system, is set to release today.
The update includes several notable features like a new Unity Watch Face collection to celebrate Black History Month, 'Time to Walk' Fitness+ recordings from several notable celebrities and ECG in more regions around the world.
Along with the new Unity Watch Faces, Apple is also launching a new version of the Apple Watch Series 6 that includes a Black Unity Sport Band on February 1st.
Regarding ECG's wider release, the feature is releasing in Japan, Mayotte, the Philipines and Thailand.
The update also includes performance improvements and fixes related to Control Center and Notification Center issues.
While watchOS 7.2 is rolling out now, and at roughly 3PM ET, hit my Apple Watch Series 6.
Update 26/01/2021 3:31pm ET: This story has been updated to confirm that watchOS 7.2 has now arrived on my Apple Watch Series 6.
Source: Apple
Apple Releases 14.4 Software for HomePod With New U1 Features for Mini – MacRumors
Apple today released a new 14.4 software update for the HomePod, with the update coming over a month after the 14.3 software release that brought performance improvements and bug fixes.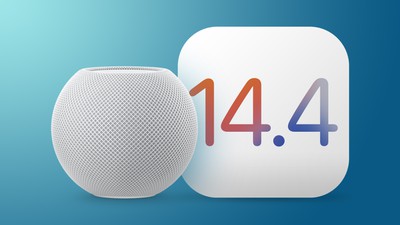 Today's update introduces new U1 Ultra Wide band functionality between the HomePod mini and devices that have a U1 chip like the iPhone 11 and iPhone 12 models.
Software version 14.4 includes bug fixes and the following new features with an Ultra Wideband (U1) equipped iPhone.
– Hand off music with visual, audible, and haptic effects from ‌iPhone‌ to ‌HomePod mini‌
– Get personalized listening suggestions on ‌iPhone‌ when it is next to ‌HomePod mini‌
– Media controls automatically appear without having to unlock ‌iPhone‌ when it is close to ‌HomePod mini‌
The update adds visual, audio, and haptic effects when songs are transferred from a ‌‌HomePod mini‌‌ to a U1-enabled ‌iPhone 11‌ or ‌‌iPhone 12‌‌. When an ‌‌‌iPhone‌‌‌ is near the ‌‌‌HomePod mini‌‌‌ it begins a soft haptic touch rhythm that gets faster and faster as the ‌‌‌‌iPhone‌‌‌‌ gets closer until the interface to transfer a song between the ‌‌‌‌HomePod mini‌‌‌‌ and the ‌‌‌‌iPhone‌‌‌‌ opens.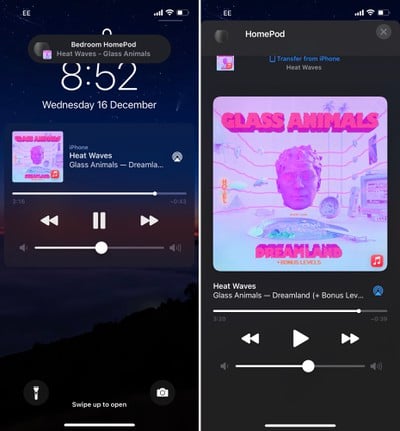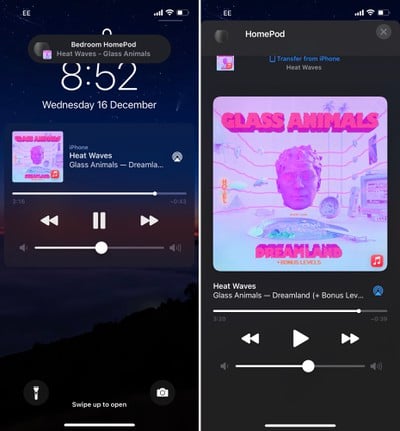 This functionality will make handoff quicker and more reliable on a ‌‌‌‌HomePod mini‌‌‌‌ and an ‌‌‌iPhone 11‌‌‌ or ‌‌‌iPhone 12‌‌‌, all of which are equipped with U1 chips that let the devices better understand where they are in relation to one another.
The update also adds personalized listening suggestions on ‌iPhone‌ when it is next to the ‌HomePod mini‌ and it causes media controls to automatically appear without having to unlock the ‌iPhone‌ when it is nearby the ‌HomePod mini‌.
U1 chip functionality is unique to the ‌HomePod mini‌ and is not available on the standard ‌HomePod‌ because the ‌HomePod‌ does not have a U1 chip inside.