Spencer Fernando: Media not interested when Singh is confronted by Sikhs – KamloopsBCNow
Pro-Chinese agents pose as activists on social media to protest Canadian rare earth mine – Financial Post
Cybersecurity experts say fake accounts created to give China miners competitive advantage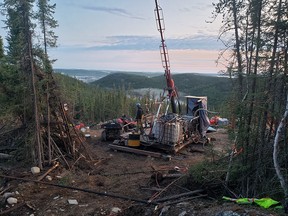 Article content
Pro-Chinese agents posed as concerned local residents on social media to try to spark protests over the opening of rare earth mines in the U.S. and Canada, cybersecurity researchers said in a new report.
Article content
The fake Twitter and Facebook accounts were created to give China, the largest producer of rare earth minerals, a competitive advantage, cybersecurity research company Mandiant disclosed on Tuesday.
Mandiant has reported on a network of thousands of fake accounts across numerous social media platforms, websites and forums since 2019 that support China's political interests. In one recent campaign Mandiant coined "Dragonbridge", fake accounts purported to be concerned local residents and environmentalists on Facebook to orchestrate protests at the Texas facility of the Australian mining company Lynas Rare Earths Ltd., according to Mandiant. It was unclear who was behind the campaign, the firm said.
Article content
The fake accounts claimed that the processing facility would spur irreversible environmental damage and radioactive contamination that could cause cancer and deformities in newborns, Mandiant researchers said. The accounts also criticized President Joe Biden's plan to expedite mining of these rare minerals.
China has used its dominance in the rare earth minerals market, critical for manufacturing mobile phones and other electronics, to threaten the U.S. with export bans.
As a result, the Pentagon has promised to beef up domestic production. It inked a US$30 million deal with Lynas in 2021 to build a facility in Texas, which the Australian company said could help it produce a quarter of the world's demand.
Article content
Dragonbridge was also behind fake accounts criticizing a new mine in Saskatchewan from Canada's Appia Rare Earths & Uranium Corp., which was announced this month, according to the report. In addition, the campaign's accounts stoked anger over USA Rare Earth LLC's plans to open a mine in Oklahoma, Mandiant said.
The Department of Defense said it will review the report, adding it would look into "ongoing concerns regarding a lack of transparency and over-reliance on concentrated foreign sources of critical minerals in key U.S. supply chains for essential global civilian and national security applications."
Dragonbridge has been behind 10 disinformation campaigns targeting Ukraine, according to Mandiant, including claims that the U.S. was storing bio-weapons in labs in the country, according to Mandiant.
"The private sector is now the victim of attacks by Chinese information operations, which are growing increasingly aggressive," said John Hultquist, vice president for Mandiant Intelligence.
"Information operations are typically a problem for civil society, governments, and platforms," he said. "They rarely target the private sector so directly and aggressively."
Hollywood Enlists Asian Media in US-Led $71 Billion Piracy Fight – BNN
(Bloomberg) — Hollywood studios battling online piracy have enlisted the first Asian members of an industry coalition set up to seek out and shut down illegal streaming sites.
The Hong Kong-based streaming service Viu and True Visions, a leading Thai pay-TV provider, will be the first Asian companies to join the Alliance for Creativity and Entertainment, whose members include Netflix Inc., Walt Disney Co. and other major media companies.
The alliance is part of the US Motion Picture Association and has 39 members, with plans to enlist other players in Latin America and elsewhere. Dues from the media organizations are used to finance legal fights against the theft of content.
Piracy has been on the rise during the pandemic, costing US entertainment companies an estimated $29 billion to $71 billion in lost revenue annually, according to executives at the organization. And media companies typically notice, and act on, copyright and intellectual property theft before police.
"We now have local partners fighting this local fight, who can connect to local law enforcement," Charles Rivkin, chairman of the alliance and the Motion Picture Association, said in an interview. "It's a whole lot more effective when you have a local player come in with the MPA than the MPA just parachuting in on our own and trying to make headway."
Expanding Ranks
While the organization is mostly made of US companies, including all of the major Hollywood studios and streaming services that form the MPA trade group, it also has international partners. BBC Worldwide and Vivendi SE's Canal+ are two of its biggest European members. Rivkin said he has long sought to expand the group's footprint in Asia-Pacific, where some of the largest illegal streaming sites are run.
Viu is one of the biggest streaming platforms in Asia, with 58.6 million monthly active users, according to the company. True Visions is a cable and satellite TV operator based in Thailand, and last month helped the alliance and local police arrest an alleged content pirate and shut down his website.
"We recognize the need to address the piracy that is widespread in our markets," Marianne Lee, chief of content acquisition and development at Viu, said in a statement. "We are committed to ensuring consumers move from illegal piracy sites to legal options."
While Hollywood has battled film and TV piracy for years, it became particularly problematic after major studios made their content more readily accessible online during pandemic lockdowns. John Fithian, the head of the National Association of Theatre Owners, said in April piracy was so widespread in 2021 that studios scrapped plans to debut their big, new films online rather than in theaters.
The alliance says it's also looking to partner with major sports leagues across the world, since they are also the target of digital content thieves. In April, ACE added beIN Media Group, one of the biggest international sports broadcasters, to its ranks.
©2022 Bloomberg L.P.
Boston media explodes after Red Sox blow it without unvaccinated closer Houck – Sportsnet.ca
Editor's Note: The COVID-19 situation, in sports and around the world, is constantly evolving. Readers in Canada can consult the country's public health website for the latest.
The Boston media is known for being tough on their teams at all times.
It reaches another level, though, when something like Tuesday night happens.
Because Boston Red Sox closer Tanner Houck is unvaccinated, he had to be placed on the restricted list prior to this week's series in Toronto against the Blue Jays.
And wouldn't you know it, his absence loomed large on Tuesday when the Blue Jays scored two runs in the bottom of the ninth for a 6-5 win over the Red Sox.
Longtime Boston Globe columnist Dan Shaughnessy and other members of the Boston media were quick to post their feelings on Twitter.
Without Houck, the Red Sox asked Tyler Danish, who pitched the eighth, to go back out for the ninth.
But Danish, who has zero career saves, let the first two runners on. That prompted Red Sox manager Alex Cora to replace him with Hansel Robles.
Robles wasn't any more successful, giving up RBI singles to Bo Bichette and Vladimir Guerrero Jr. to end it.
When asked if the situation made him more frustrated about the vaccination situation, Cora said no.
"We go with the 26 that are here, and we try to get 27 outs and we didn't do it," Cora said.
The Blue Jays have now won five of six against the Red Sox in Toronto this season heading into Wednesday's series finale when Toronto will start ace Alek Manoah.
And, maybe just maybe, the same two teams will play in the same venue in October.