Square Payment Volume Disappoints Amid Further Bitcoin Investment – CMC Markets
Square (NYSE: SQ) shares fell after hours as the company's December-quarter financials beat analyst expectations but gross payment volume was slightly below estimates. The company is one of the fastest-growing fintechs in the world and has witnessed the popularity of its Cash App soar during COVID-19. In general, digital payment tech companies have been some of the biggest winners throughout the health crisis as they have made it easier for people and businesses to send and receive payments safely.
This article was originally written by MyWallSt. Read more market-beating insights from the MyWallSt team here.
Square's fourth-quarter earnings
On Tuesday, the San Francisco-based company recorded better-than-expected Q4 results;
Adjusted earnings of $0.32 per share, up 39% year-over-year (YoY), beating the Street's estimate of $0.24.
Revenues of $3.16 billion, up 141% YoY, smashed the consensus forecast of $3.11 billion.
Gross profit of $804 million, up 52% YoY, beating forecasts of $801 million.
Sales for its Seller system, which allows merchants to accept mobile card payments via a plastic dongle that's inserted into a mobile phone, grew to $987 million.
Subscription and services-based income climbed to $449 million, up 60% YoY.
Square's gross payment volume falls short
Shareholders were disappointed with Square's gross payment volume (GPV) of $32 billion for the quarter, which was up 12% YoY but still fell short of Wall Street's prediction of $32.1 billion. Square's GPV provides investors with an overall picture of transaction volumes and is the main gauge of the total dollar amount being transferred through its payment services. The higher the volume of payments tracked by GPV, the more transaction revenue Square can generate.
Square stated that revenue growth was driven by more people using the Cash App to buy and sell Bitcoin. The mobile payments company benefited hugely from the recent Bitcoin rally, helping Square generate $1.76 billion in profit. Excluding Bitcoin, Square's total net revenue increased to $1.4 billion, meaning the company was heavily reliant on cryptocurrency transactions on its platform during the quarter.
During the earnings call, Square also disclosed that it had invested a further $170 million into Bitcoin in addition to its earlier $50 million purchase. This investment could provide the company with further income down the line, yet the worry for investors here is that financial regulators might begin to crack down on Bitcoin.
Square is growing its user base
Square shares have surged over 16% year-to-date as investors largely ignored the threat of small businesses closing during the pandemic and how this could affect the company. Instead, shareholders focused on the growth of the company's Cash App and how the service could help people make payments safely during the pandemic. At the end of 2020, its Cash App had 36 million users, up from 30 million at the end of Q3.
Square's revenue growth is benefiting from the shift to e-commerce and growing popularity for its digital cryptocurrency transaction services offered by its Cash App. Whether investors need to be worried about Square's reliance on Bitcoin is still a concern for many. However, Bitcoin continues to receive legitimacy in the eyes of the financial world as more companies like Tesla invest in it. This might just be a play that could work in the company's favor but is still one that investors are watching closely.
MyWallSt gives you access to over 100 market-beating stock picks and the research to back them up. Our analyst team posts daily insights, subscriber-only podcasts, and the headlines that move the market. Start your free trial now!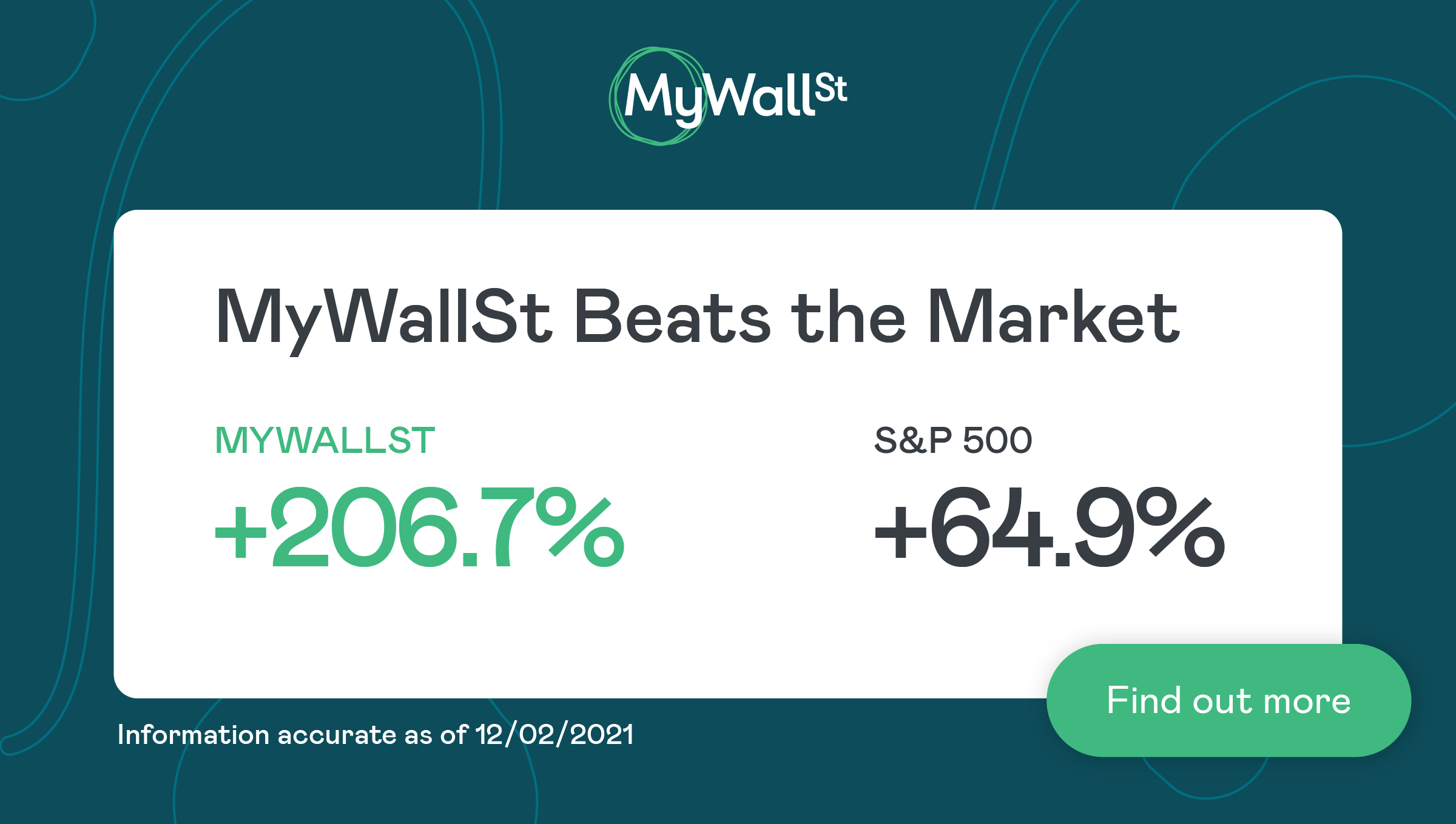 Disclaimer Past performance is not a reliable indicator of future results.
CMC Markets is an execution-only service provider. The material (whether or not it states any opinions) is for general information purposes only, and does not take into account your personal circumstances or objectives. Nothing in this material is (or should be considered to be) financial, investment or other advice on which reliance should be placed. No opinion given in the material constitutes a recommendation by CMC Markets or the author that any particular investment, security, transaction or investment strategy is suitable for any specific person.
The material has not been prepared in accordance with legal requirements designed to promote the independence of investment research. Although we are not specifically prevented from dealing before providing this material, we do not seek to take advantage of the material prior to its dissemination.
CMC Markets does not endorse or offer opinion on the trading strategies used by the author. Their trading strategies do not guarantee any return and CMC Markets shall not be held responsible for any loss that you may incur, either directly or indirectly, arising from any investment based on any information contained herein.
*Tax treatment depends on individual circumstances and can change or may differ in a jurisdiction other than the UK.
Continue reading for FREE
Wealthsimple hits $4 billion valuation on funding from Ryan Reynolds, Drake
(Reuters) -Wealthsimple said on Monday it has raised C$750 million ($610.40 million) in its latest funding round, which more than doubled the Canadian fintech company's valuation to C$5 billion.
The latest funding round included participation from celebrities Drake, Michael Fox and Ryan Reynolds, according to the company.
The Toronto-based company that has helped make stock trading, peer-to-peer money transfers and tax filing easily accessible, said it will use the amount raised to further expand its market position, product suite and team.
The latest funding round, led by venture capital firms Meritech and Greylock, also includes investments from iNovia, Sagard, TSV and Redpoint.
The funding consists of C$250 million primary fundraising by Wealthsimple and a C$500 million secondary offering by holding company Power Corp of Canada, its largest shareholder.
Wealthsimple said it has seen rapid growth in the past 14 months as Canadians took an interest in stock trading during the COVID-19 pandemic.
Earlier this year, the company said it plans to grow revenue by adding premium features for its clients.
($1 = 1.2288 Canadian dollars)
(Reporting by Eva Mathews and Tiyashi Datta in Bengaluru; Editing by Shailesh Kuber and Shounak Dasgupta)
Ethereum breaks past $3,000 to quadruple in value in 2021
SINGAPORE (Reuters) –Cryptocurrency ether broke past $3,000 on Monday to set a new record high in a dazzling rally that has outshone the bigger bitcoin, as investors bet that ether will be of ever greater use in a decentralised future financial system.
Ether, the token transacted on the ethereum blockchain, rose 3% on the Bitstamp exchange to $3,051.99 by lunchtime in Asia. It is up more than 300% for the year so far, easily outpacing a 95% rise in the more popular bitcoin.
In part, the big rally is a catch-up to late 2020 gains in bitcoin, said James Quinn, managing director at Q9 Capital, a Hong Kong cryptocurrency private wealth manager.
It also reflects improvements to the ethereum blockchain, he said, and a growing shift towards "DeFi", or decentralised finance, which refers to transactions outside traditional banking for which the ethereum blockchain is a crucial platform.
"At first, the rally was really led by bitcoin because as a lot of the institutional investors came into the space, that would be their natural first port of call," Quinn said.
"But as the rally has matured over the last six months, you have DeFi and a lot of DeFi is built on ethereum."
The launch of ether exchange-traded funds in Canada and surging demand for ether wallets to transact non-fungible tokens such as digital art have also pushed up the price.
The ether/bitcoin cross rate has soared more than 100% this year and hit a 2.5-year high on Sunday, pointing to a degree of rotation into the second-biggest cryptocurrency as investors diversify their exposure.
"Surging DeFi volumes continue to push ethereum prices higher as investors gain confidence in crypto and see ethereum as a safe second-place asset," said Jehan Chu, managing partner at Hong Kong blockchain venture capital firm Kenetic Capital.
Illustrating the momentum for such new transactions, Bloomberg reported last week that the European Investment Bank plans on issuing a digital bond over the Ethereum blockchain, while JP Morgan plans a managed bitcoin fund.
Bitcoin, the world's biggest crypto asset with more than $1 trillion in market capitalisation, regained the $50,000 mark last week and hovered around $58,000 on Monday, up about 3% but well below its record high at $64,895.22.
The U.S. dollar was broadly steady. [FRX/]
(Reporting by Tom Westbrook and Vidya Ranganathan; Editing by Himani Sarkar & Shri Navaratnam)
Warren Buffett's Berkshire Hathaway
By John McCrank and Jonathan Stempel
NEW YORK (Reuters) – Some Berkshire Hathaway shareholders are grappling with how Warren Buffett's conglomerate will handle a thicket of post-pandemic challenges, including looming inflation, a dearth of acquisitions and demands for more environmental and social disclosures.
Making money at Berkshire used to be like "shooting fish in a barrel, but that's gotten harder," Buffett's long-time business partner Charlie Munger said at the conglomerate's annual meeting on Saturday.
Investors have long been happy to bet on Buffett outperforming markets, and many remain confident Berkshire's growth will pick up if the U.S. economy continues roaring back from its pandemic-induced slump. Still, some worry the last year may have exacerbated Berkshire's difficulties delivering faster growth.
"We have been reducing our position in Berkshire for a number of years because it appears that we can make more money than he can," said Bill Smead, whose firm, Seattle-based Smead Capital Management has reduced its Berkshire holdings to about 2.2% of its $2.5 billion portfolio, from 5% a decade ago.
With unprecedented government stimulus and rock bottom interest rates threatening to lift inflation, Berkshire may be too big to pivot heavily to companies that could benefit from rising consumer prices, Smead said.
Several Berkshire shareholders expressed frustration that Buffett did not snap up more shares of companies at the beginning of the pandemic, a missed opportunity given the S&P 500's nearly 90% surge from last year's low.
Steve Haberstroh, a partner at Berkshire shareholder CastleKeep Investment Advisors, said it was "frustrating" Berkshire didn't swoop in to buy distressed companies sooner.
Yet, he was gratified when the company announced share buybacks and new stakes in Verizon Communications Inc and Chevron Corp .
Another issue hampering Berkshire's ability to generate money is historically low interest rates, which the Federal Reserve has pledged to leave at near-zero for years.
Berkshire now earns about $20 million annually on its more than $100 billion in Treasury bills, compared with about $1.5 billion before the pandemic, Buffett said.
"Imagine your wage is going from $15 an hour to $0.20 an hour," Buffett said.
Still, Berkshire has outperformed the S&P 500 year to date, gaining 18.6% versus the index's 11.84% gain. But it has trailed over the past decade, returning nearly 236% compared with just over 277% for the index.
As the economy improves, Berkshire is poised to benefit, said James Shanahan, an analyst at Edward Jones & Co.
"If it has a challenge, it relates to capital deployment," he said. Berkshire's $145.4 billion cash hoard could swell by $25 billion by year end, he said.
Buffett said he would like to put $70 billion to $80 billion to work through acquisitions.
But the growth of special purpose acquisintion companies, which take private companies public, has made buying whole companies pricey for Berkshire, Buffett said.
EYE ON SUCCESSION
As in previous years, investors have also been focused on Berkshire's guidance regarding succession.
Among the biggest reasons for Berkshire's success is the relationship between Buffett, 90, and Munger, 97, and the business culture they cultivate.
Both expressed confidence in Berkshire's ability to stay on course once they're gone, and had possible Buffett successors, Vice Chairmen Greg Abel and Ajit Jain, join them on stage at the annual meeting.
"This decentralization won't work unless you have the right kind of culture accompanying it," Buffett said about Berkshire.
"Greg will keep the culture," Munger said of Abel.
Robert Miles, a shareholder who teaches a class on Buffett and Berkshire at The University of Nebraska, called Abel and Jain's presence "a real value-add," in that they fielded several questions and were more visible than in most prior years.
Jain said he and Abel talk every quarter about businesses they oversee.
Abel addressed Berkshire's efforts around environmental, social and governance (ESG) issues topics that were on the meeting's agenda, with two shareholder proposals asking the company's board to publish annual reports on how each of its units addressed them.
Berkshire opposed the proposals, citing its decentralized business model.
Both proposals were rejected, but received support from around one quarter of the votes cast, suggesting greater discontent than Berkshire shareholders historically have demonstrated.
"These are complex topics that warrant ongoing dialogue," said Caitlin McSherry, Director of Investment Stewardship at Neuberger Berman, a Berkshire shareholder that backed the proposals.
Smead, of Smead Capital Management, looks forward to when Berkshire will again become a frequent buyer of choice for companies looking to sell.
"We would (add) where they are back to shooting fish in a barrel," he said.
(Reporting by John McCrank and Jonathan Stempel; additional reporting by Megan Davies; Editing by Ira Iosebashvili and Diane Craft)