St. Albert seniors create social media buzz over hockey TikToks – St. Albert TODAY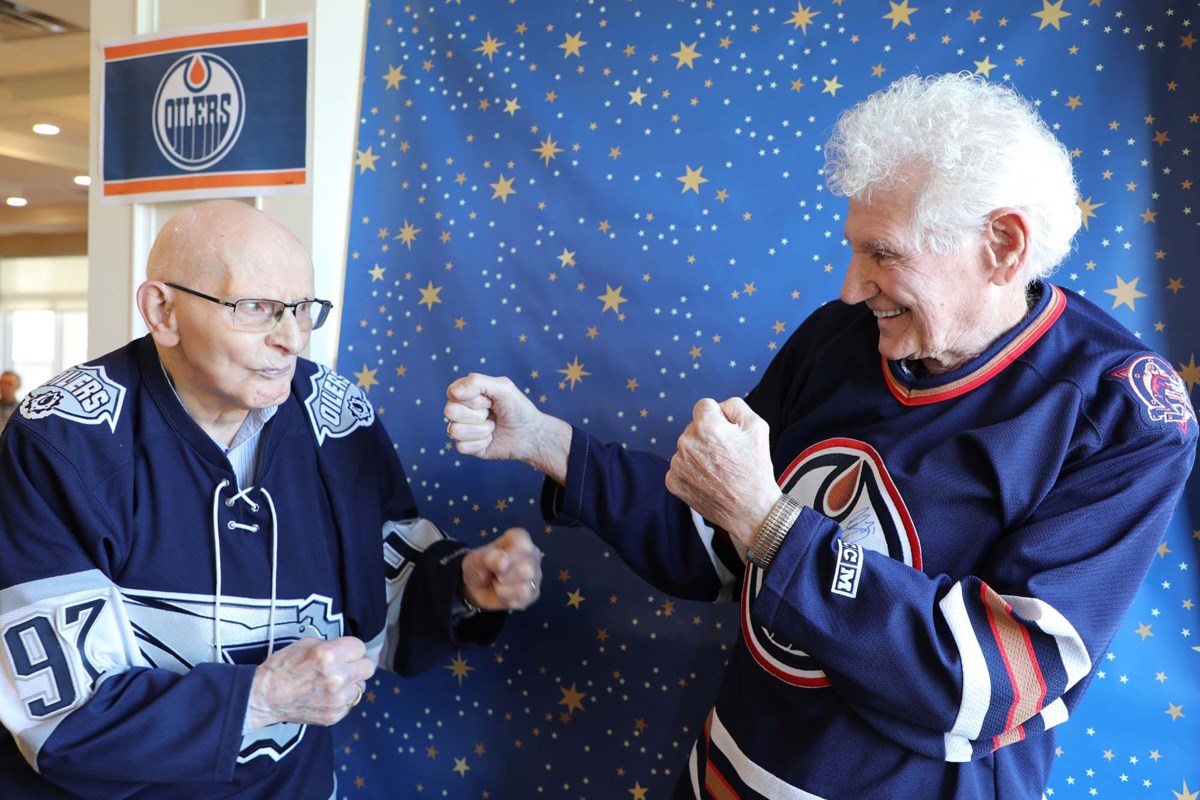 St. Albert seniors Ron Espey and Gib Paradis said TikTok has become quite interesting since they have found social media fame with their viral videos inspired by hockey.
Seniors at the St. Albert Retirement Residence have racked up thousands of likes on videos of them cheering on the Edmonton Oilers as the Oilers make their way through the Stanley Cup playoffs.
Espey said they were quite surprised when a video of him and Paradis wearing Oilers jerseys, dropping gloves, and pulling punches to the tune of You Gotta Fight for Your Right by the Beastie Boys received more than 200,000 likes.
"Oh, gosh. We were really surprised with that. Quite, quite a surprise," said Espey.
"Unbelievable," said Paradis.
Both Paradis and Espey are long-time Oilers fans and who have been enjoying the playoff games.
"We're really interested in the final thing here with Calgary and Edmonton," said Espey.
Paradis thinks the Battle of Alberta will be a busy one.
"But the Oilers have a better team, I think. I'm sure." he said.
Lori Kari is the recreation therapist and the regional director of health and wellness at the St. Albert Retirement Residence. She said staff and residents have been blown away by the number of likes some of their videos have received.
Kari said usually they would be happy to see 100 likes on a video.
"Like, 'Woo! We're doing so awesome,' and, 'That's great families are seeing it — that is so great!' Then all of a sudden, the fighting video had reached 1,000 [likes], and then 2,000. And then it was 100,000. And now I think it's 230,000 likes. It just really blew us away," she said.
Kari said they started the TikTok account in August of 2020 because she was looking for innovative and creative programming that is engaging.
"With the social media, that's kind of what's on trend. And so, if my kids can do TikTok, why can't my seniors do TikTok," she said.
As for what the seniors think of the fame, Kari said they are just having fun with it.
She said they have received lots of calls from family and lots of calls from different media organizations as well.
Paradis said he has even heard from a daughter in Victoria over the TikToks.
Kari and Paradis will soon be featured on the television program Good Morning Toronto.
"Every single time [Paradis is] hilarious. He says, 'You gotta be kidding. You gotta be kidding.' He just can't even believe it either. Because, like I said, for them it's just a fun program," she said.
Kari said she and recreation aide Loida Geralde brainstorm the ideas for the videos. They get inspiration from what is trending.
"A lot of times, it's just impromptu as well. We don't know what they're going to say. We don't develop a script for them. So, they have really no idea [either]. It just kind of falls into place," she said.
Kari said filming the videos also adds a lot of buzz to the building.
"A lot of times, when we film a video, especially if it's in our multi-purpose room, there's 15 other residents that will just come and watch because they find it so funny to watch their table mate or their best friend in these videos," she said.
Kari said there is a lot of excitement for the Battle of Alberta between the Edmonton Oilers and the Calgary Flames, and a future video might feature one of their seniors calling a senior at one of their Calgary sites.
"The Battle of Alberta is going to be happening. And we think that's going to be a funny one," she said.
As for whether everyone in the building is an Oilers' fan, Kari said there are at least two residents who are Flames fans.
"I put little Oiler flags on every table in the dining room just for fun. There was one resident, he took it down. He was like, 'No, no, no, Lori. We need a Flames [flag] at this table.'"
Chris Christie has a message for Donald Trump after latest social media attacks – CNN
We use cookies and data to
Deliver and maintain Google services
Track outages and protect against spam, fraud, and abuse
Measure audience engagement and site statistics to understand how our services are used and enhance the quality of those services
If you choose to "Accept all," we will also use cookies and data to
Develop and improve new services
Deliver and measure the effectiveness of ads
Show personalized content, depending on your settings
Show personalized ads, depending on your settings
If you choose to "Reject all," we will not use cookies for these additional purposes.
Non-personalized content is influenced by things like the content you're currently viewing, activity in your active Search session, and your location. Non-personalized ads are influenced by the content you're currently viewing and your general location. Personalized content and ads can also include more relevant results, recommendations, and tailored ads based on past activity from this browser, like previous Google searches. We also use cookies and data to tailor the experience to be age-appropriate, if relevant.
Select "More options" to see additional information, including details about managing your privacy settings. You can also visit g.co/privacytools at any time.
Who is Lachlan Murdoch, heir apparent of Rupert Murdoch's media empire?
For Lachlan Murdoch, this moment has been a long time coming. Assuming, of course, that his moment has actually arrived.
On Thursday, his father Rupert Murdoch announced that in November he'll step down as the head of his two media companies: News Corp. and Fox Corp. Lachlan will become the chair of News Corp. while remaining chief executive and chair at Fox Corp., the parent of Fox News Channel.
The changes make Rupert's eldest son the undisputed leader of the media empire his father built over decades. There's no real sign that his siblings and former rivals James and Elisabeth contested him for the top job; James in particular has distanced himself from the company and his father's politics for several years. But Rupert, now 92, has long had a penchant for building up his oldest children only to later undermine them — and sometimes to set them against one another — often flipping the table without notice.
Given Rupert Murdoch's advanced age, this might be his last power move. But there's a reason the HBO drama "Succession" was often interpreted as a thinly disguised and dark satire of his family business. In Murdoch World, as in the fictional world of the Roy family, seemingly sure things can go sideways in an instant, particularly when unexpected opportunities arise.
Lachlan Murdoch has lived that first hand. Born in London, he grew up in New York City and attended Princeton, where he focused not on business, but philosophy. His bachelor's thesis, titled "A Study of Freedom and Morality in Kant's Practical Philosophy," addressed those weighty topics alongside passages of Hindu scripture. The thesis closed on a line from the Bhagavad Gita referencing "the infinite spirit" and "the pure calm of infinity," according to a 2019 article in The Intercept.
Béatrice Longuenesse, Lachlan's thesis advisor at Princeton, confirmed the accuracy of that report via email.
After graduation, though, Lachlan plunged headlong into his father's business, moving to Australia to work for the Murdoch newspapers that were once the core of News Corp.'s business. Many assumed he was being groomed for higher things at News Corp., and they were not wrong. Within just a few years, Lachlan was deputy CEO of the News Corp. holding company for its Australian properties; shortly thereafter, he took an executive position at News Corp. itself and was soon running the company's television stations and print publishing operations.
Lachlan's ascent came to an abrupt halt in 2005, when he resigned from News Corp. with no public explanation. According to Paddy Manning, an Australian journalist who last year published a biography of Lachlan Murdoch, the core problem involved two relatively minor issues on which Lachlan disagreed with Roger Ailes, who then ran Fox News.
"The real point was that Lachlan felt Rupert had backed his executives over his son," Manning said in an interview. "So Lachlan felt, 'If I'm not going to be supported, then what's the point?'" Manning did not have direct access to Lachlan for his book "The Successor," but said he spoke in depth with the people closest to his subject.
Lachlan returned to Australia, where he has often described feeling most at home, and founded an investment group that purchased a string of local radio stations among other properties.
While he was away, News Corp. entered choppy waters. The U.K. phone-hacking scandal, in which tabloid journalists at the News of the World and other Murdoch-owned publications had found a way to listen to voicemails of the British royal family, journalistic competitors and even a missing schoolgirl, had seriously damaged the company. The fracas led to resignations of several News Corp. officials, criminal charges against some, and the closure of News of the World as its finances went south.
Manning said that the damage the scandal inflicted on News Corp. — and on both Lachlan Murdoch's father and his brother James, chief executive of News' British newspaper group at the time — helped pull Lachlan back to the company.
"He was watching the family tear itself apart over the phone-hacking scandal," Manning said. Lachlan was "instrumental in trying to circle the wagons and turn the guns outwards, and stop Rupert from sacking James."
While it took more convincing, Lachlan eventually returned to the company in 2014 as co-chairman of News Corp. alongside James.
Not long afterward, Ailes was forced out of his job at Fox News following numerous credible allegations of sexual harassment.
Lachlan Murdoch has drawn criticism from media watchdogs for what many called Fox News' increasingly conspiratorial and misinformation-promoting broadcasts. The network hit a nadir following the 2020 election when voting machine company Dominion Voting Systems sued Fox News for $1.6 billion, alleging that Fox knowingly promoted false conspiracy theories about the security of its voting machines.
Fox settled that suit for $787.5 million in March of this year. A similar lawsuit filed by Smartmatic, another voting-machine maker, may go to trial in 2025, Fox has suggested.
In certain respects, though, Lachlan Murdoch's behavior suggests some ambivalence about his role at News Corp. In 2021 he moved back to Sidney and has been mixing commuting and remote work from Australia ever since. "I think there's a legitimate question about whether you can continue to do that and for how long" while running companies based in the U.S., Manning said.
Ukraine war: US to give Kyiv long-range ATACMS missiles
US President Joe Biden plans to give Ukraine advanced long-range missiles to help Kyiv with its ongoing counter-offensive, US media report.
They quote US officials familiar with the issue as saying Ukraine will get some ATACMS missiles with a range of up to 190 miles (300km).
This would enable Kyiv to hit Russian targets deep behind the front line.
A Ukrainian military source told the BBC that the attack in the port of Sevastopol used Storm Shadow missiles, which are supplied by Britain and France.
Such missiles have a range of just over 150 miles.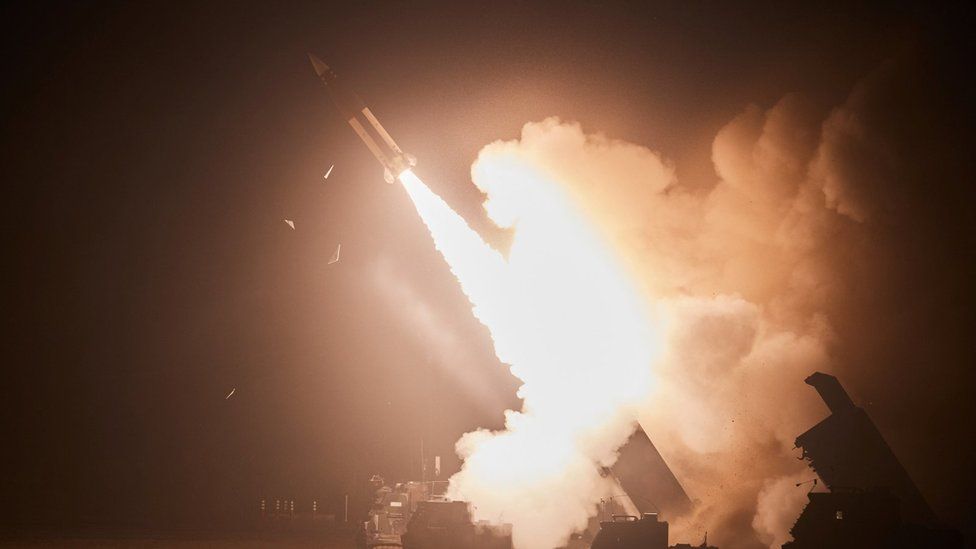 NBC News and the Wall Street Journal quote unnamed US officials as saying Mr Biden told his Ukrainian counterpart Volodymyr Zelensky that Kyiv would get "a small number" of ATACMS (Army Tactical Missile System) missiles. The two leaders met at the White House on Thursday.
The WSJ adds that the weapons will be sent in the coming weeks.
Meanwhile, the Washington Post cited several people familiar with the discussions as saying Ukraine would get ATACMS armed with cluster bomblets rather than single warheads.
Neither the US nor Ukraine have officially confirmed the reports.
After the Biden-Zelensky talks Washington announced a new tranche of $325m (£265m) in military aid – including artillery and ammunition – for Ukraine. America's Abrams tanks will be delivered to Kyiv next week.
However, both presidents have been evasive on the ATACMS issue.
"I believe that most of what we were discussing with President Biden yesterday… we will be able to reach an agreement," Mr Zelensky said on Friday during a visit to Canada.
"Yes, [this is] a matter of time. Not everything depends on Ukraine," he added.
Kyiv has for months been pushing for ATACMS to boost its tough and bloody counter-offensive in the south.
It says key Russian supply lines, command positions and other logistical hubs deep behind the front line would then be within striking distance, forcing Moscow to move them further away and thus making it harder to resupply troops and weaponry.
Russian positions in the occupied Ukrainian regions in the south – including Crimea – would be particularly vulnerable, Ukraine says.
President Vladimir Putin launched a full-scale Russian invasion of Ukraine in February 2022, and the Biden administration was initially hesitant to provide Ukraine with modern weaponry.
But its stance has since shifted dramatically, with Kyiv getting high-precision Himars long-range rocket systems and Patriot air defence missiles.
President Biden has been hesitant on ATACMS amid fears that such missiles could bring a direct clash with nuclear-armed Russia closer.