Stats Canada survey suggests some Canadians worried about safety of COVID-19 vaccine – St. Albert Today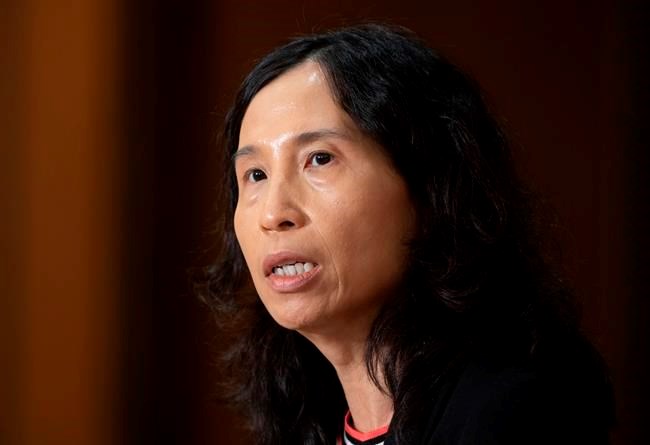 OTTAWA — A new Statistics Canada survey suggests that while the vast majority of Canadians would get a COVID-19 vaccine if and when it becomes available, more than one in 10 likely would not.
The survey comes as governments around the world are rushing to develop a vaccine for the illness that has infected more than 23 million people around the world, including 126,000 in Canada.
Among the reasons respondents gave for not wanting the vaccine were concerns about its safety and potential side effects, while some said they did not trust vaccines in general.
Canada's chief public health officer Dr. Theresa Tam says authorities need more information about those who are worried about or opposed to a vaccine to ensure they have the proper information about how vaccines are approved.
She says while efforts are being made to accelerate development of a vaccine, the federal government will not take shortcuts when it comes to ensuring the safety of a COVID-19 vaccine before it is approved and distributed.
Tam says she is concerned about misinformation spread online about vaccines, adding internet and social-media companies should have a responsibility to police their domains to make sure that doesn't happen.
This report by The Canadian Press was first published Aug. 25, 2020.
The Canadian Press
Quebec reports 698 new COVID-19 cases, seven more deaths – Wiarton Echo
That's the highest single-day count since May 21.
Quebec has recorded 698 new cases of COVID-19 — the highest single-day count since May 21 — bringing the province's total to 71,005 as of Saturday.
Seven new deaths have been reported, all of which occurred between Sept. 19 and 24. The province's death toll now stands at 5,821.
The number of hospitalizations increased by 18, for a total of 217. Of those, 33 were in intensive care.
Related
All our coronavirus-related news can always be found at montrealgazette.com/tag/coronavirus.
Sign up for our email newsletter dedicated to local COVID-19 coverage at montrealgazette.com/coronavirusnews.
Help support our local journalism by subscribing to the Montreal Gazette here.
19 new coronavirus cases reported in Saskatchewan, hits single-day testing record – Global News
Winnipeg police say a woman has died and several other people have been injured in a collision involving a vehicle that was fleeing police.
The crash happened at about 1:30 p.m. Saturday in the area of Salter Street and Boyd Avenue, police said in a statement.
According to police, officers tried to pull over a vehicle for a traffic stop but the driver "took off at a high rate of speed."
Seconds later, the vehicle hit another car in the nearby intersection of Andrews Street and Boyd Avenue.
Four people in the vehicle that was struck — including an infant and a child — were sent to hospital. A woman who was in that vehicle has died from her injuries, police said.
Two people from the vehicle that had fled police were also transported to hospital.

0:24


No injuries reported after school bus crashes into hydro pole in downtown Winnipeg



The Independent Investigation Unit of Manitoba, which investigates serious incidents involving police, has been called to investigate.
In a press conference Saturday evening, Winnipeg Police Const. Rob Carver said that almost everyone in the collision was in either serious or critical condition.
"Incredibly tragic, we've got an infant in the vehicle, a child in the vehicle, a woman who was killed in this crash, tragic all around," said Carver, who also stressed that the incident was not a result of a police pursuit.
"We pulled up, we attempted to have this vehicle spoken to, and the vehicle fled. We did not pursue it."
For the two people in the fleeing vehicle, Carver said he does not have an idea on their injuries, but that they will at some point be taken into custody "when their medical condition allows for that."
"In the space of less than half a minute … what started out as a routine incident ended up with multiple people in the hospital and a woman killed, and these people were not connected at all."
— With files from Global News' David Lao
© 2020 Global News, a division of Corus Entertainment Inc.
Possible COVID-19 exposure at three Saskatoon businesses: SHA – CTV News Saskatoon
SASKATOON —
The Saskatchewan Health Authority (SHA) is warning of a possible COVID-19 exposure at three Saskatoon businesses in the last week.
The SHA said a person or persons attended the following locations while likely infectious:
• Sept. 19 – Walmart Supercentre at 225 Betts Ave. in Saskatoon from 4 to 6 p.m.
• Sept. 22 – Planet Fitness at Market Mall on 2325 Preston Ave. S in Saskatoon from 4 to 6 p.m.
• Sept. 23 – KFC at 1808 McOrmond Drive in Saskatoon from 5 to 10 p.m.
The SHA is advising anyone who was at these locations on the specified dates and times to self monitor for 14 days or immediately self isolate and call HealthLine 811 if they develop symptoms of COVID-19.
People may develop symptoms between two and 14 days after getting exposed to the virus, according to the SHA.