The 2021 MKBHD camera blind competition has had an unexpected winner – The Goa Spotlight
The well-known youtuber MKBHD has published a blind comparison of cameras, putting to the test 16 smartphones launched this year by the main brands.
This year's contenders have been: Samsung Galaxy S21 Ultra, ZTE Axon 30 Ultra, ASUS ROG 5, Lenovo Legion Duel, Sony Xperia Pro I, Oppo Find X3 Pro, Xiaomi Mi 11 Ultra, OnePlus 9 Pro, Pixel 6 Pro, Pixel 5a, iPhone 13 Pro, Motorola Edge , ASUS Zenfone 8, Poco X3 GT, Surface Duo 2 and Realme GT.
The phones were subjected to an eliminatory competition, in which each terminal identified only by a letter, rather than by name, to avoid any bias. The competition had millions of votes to determine which phone takes the best photos.
Of course, there are many technical elements to consider when choosing the best photo (such as sharpness, contrast, light management, and dynamic range), but what matters in this test is the "best" subjective photo. For the users.
Round of 16
In the first round, they beat the Samsung Galaxy S21 Ultra (vs ZTE Axon 30 Ultra), the ASUS Rog 5 (in front of the Lenovo Legion Duel), the Sony Xperia Pro I (versus Oppo Find X3 Pro), the OnePlus 9 Pro (compared to Xiaomi Mi 11 Ultra), the Pixel 5a (vs. Pixel 6 Pro), the iPhone 13 Pro (in front of the Motorola Edge), the ASUS Zenfone 8 (vs. Poco X3 GT) and Realme gt (versus Surface Duo 2).
The most surprising result of the first round is that the Pixel 5a beat out its big brother, the recently announced Pixel 6 Pro.
Quarter finals
In the next round, they beat the ASUS Rog 5 (versus Samsung Galaxy S21 Utra), the OnePlus 9 Pro (versus Sony Xperia Pro I), the Pixel 5a (vs iPhone 13 Pro) and Realme gt (vs ASUS Zenfone 8).
Here are several surprising results, such as the victory of the ASUS Rog 5, a smartphone more designed to play than to photograph, compared to the Samsung Galaxy S21 Ultra, or that of the Pixel 5a over the iPhone 13 Pro, a much more expensive device
Semifinal
In the semifinal, they won the OnePlus 9 Pro (vs ASUS Rog 5) and Pixel 5a (versus Realme GT)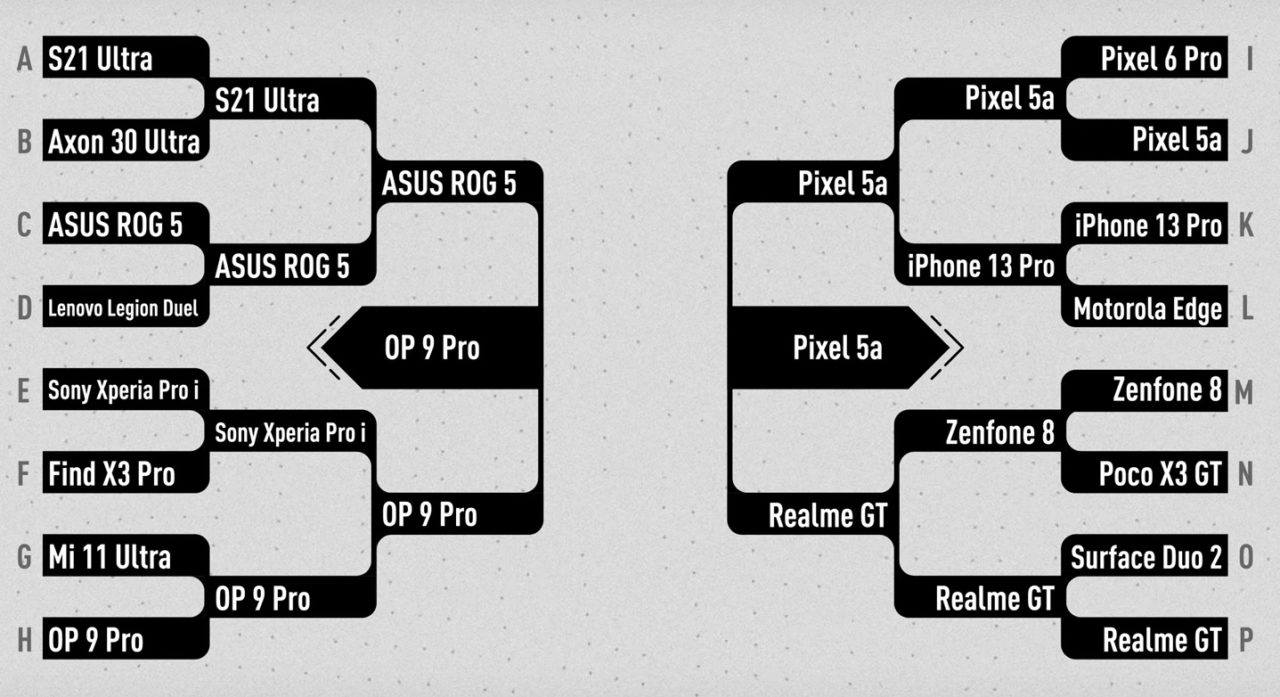 Final
In the final, the Pixel 5a, a $ 399 smartphone, managed to prevail as the winner against the OnePlus 9 Pro and, therefore, the rest of the smartphones in the competition – most of them much more expensive.
Be sure to watch the complete MKBHD video to have more detail of the images that were used in the competition.
[embedded content]
[embedded content]
Instagram is testing paid subscriptions with a small group of creators – The Verge
US Instagram users will soon be able to subscribe to a small number of creators and influencers to access exclusive content and features. In a blog post, the company says it's launching a test of subscriptions today, with more creators being added in the coming weeks.
Fans will pay a monthly fee to access subscriber-only content from creators they follow, like exclusive Lives and Stories. Subscribers will also get a purple badge by their username that signals their status to the creator. Price tiers will range from $0.99 to $99.99 per month, and creators can select the price point for their subscriptions. Co-head of product Ashley Yuki told TechCrunch that Instagram will not take a cut of creators' subscription revenues "until at least 2023."
Ten creators are part of the early test, including basketball player Sedona Prince, Olympian Jordan Chiles, and astrologer Aliza Kelly.
"I'm excited to keep building tools for creators to make a living doing creative work and to put these tools in more creators' hands soon," Mark Zuckerberg, CEO of Meta, which owns Instagram, wrote in a Facebook post. Facebook also has its own version of a subscription program for creators.
In a video today, Instagram head Adam Mosseri says subscriptions are "one of the best ways" for influencers and creators to have a predictable income. Some creators have already been monetizing Instagram features like Close Friends by charging fans a fee off-platform for access to Stories. Instagram and Facebook aren't the only companies to roll out subscription models to compete with platforms like TikTok; in 2021, Twitter introduced Super Follows, and some creators offer additional subscriber content off-platform on Patreon or Substack.
Xiaomi 11T Pro with Snapdragon 888 and 120W charging launched in India – GSMArena.com news – GSMArena.com
Xiaomi launched the 11i and 11i HyperCharge about two weeks ago in India, and today the company introduced one more smartphone in the country – Xiaomi 11T Pro.
The Xiaomi 11T Pro was unveiled last September and is powered by the Snapdragon 888 SoC. It runs Android 11-based MIUI 12.5 out of the box without any ads, and Xiaomi has promised to provide three years of Android and four years of security updates to the smartphone.
The 11T Pro is built around a 6.67″ FullHD+ 120Hz AMOLED screen with Dolby Vision support and Gorilla Glass Victus protection. The display has a punch hole in the center for the 16MP selfie camera but doesn't have a fingerprint reader underneath. That's because Xiaomi embedded it to the power button located on the right side of the smartphone.
Around the back, we have a camera system comprising 108MP primary, 8MP ultrawide, and 5MP telemacro units.
The Xiaomi 11T Pro ships with a 5,000 mAh battery with 120W charging, and Xiaomi has bundled the compatible 120W adapter with the smartphone, which is advertised to fill the cell from flat to 100% in 17 minutes.
The rest of the Xiaomi 11T Pro's highlights include 5G connectivity, USB-C, NFC, stereo speakers, Dolby Atmos support, Hi-Res Audio certification, and audio tuning by Harman Kardon.
The Xiaomi 11T Pro comes in Meteorite Black, Moonlight White, and Celestial Blue colors and has three memory options – 8GB/128GB, 8GB/256GB, and 12GB/256GB priced at INR39,999 ($535/€475), INR41,999 ($565/€500), and INR43,999 ($590/€520), respectively. However, those who purchase the smartphone using their Citi Bank credit card are eligible for a discount of INR5,000 ($65/€60).
The 11T Pro is already available for purchase in India through Xiaomi's official Indian website, Amazon.in, Mi Home, and retail outlets.
You can read our Xiaomi 11T Pro in-depth review here to learn more about it, or watch the video review linked below.
[embedded content]
Samsung unveils Exynos 2200 chip with Xclipse graphics based on AMD RDNA 2 – MobileSyrup
Samsung announced its latest mobile processor, the Exynos 2200, sporting a new graphics processing unit (GPU) using AMD's RDNA 2 architecture dubbed 'Xclipse.'
Samsung has teased plans to include AMD graphics tech in its mobile chips for a while now, and in June 2021 announced that its upcoming Exynos chip would offer ray-tracing capabilities. The Exynos 2200 delivers on that promise with hardware-accelerated ray tracing in Xclipse.
Ray tracing, for those unfamiliar with the tech, attempts to simulate how light physically behaves. In video games, ray tracing can help produce more realistic-looking lighting effects, including light that can bounce off reflective surfaces. However, so far ray tracing has proven to be difficult for GPUs to handle and often brings a significant performance hit compared to other lighting solutions.
Still, it's impressive to see the technology come to mobile chips. It'll be interesting to see how well it works in practice. Moreover, Samsung shared this surprisingly weird video touting the capabilities of the Exynos 2200 GPU:
[embedded content]
Aside from the benefits of AMD RDNA 2 and ray tracing in Xclipse, the Exynos 2200 chip sports other benefits. Samsung says the chip uses a 4nm extreme ultraviolet lithography (EUV) process and is one of the first in the mark to integrate Arm's latest ARMv9 CPU cores. The ARMv9 cores offer a significant improvement over ARMv8 in both performance and security.
Specifically, the octa-core Exynos 2200 sports a tri-cluster structure with a single ARM Cortex-X2 core, three performance and efficiency balanced Cortex-A710 'big cores' and four power-efficient Cortex-A510 'little cores.'
Exynos 2200 also support powerful on-device artificial intelligence (AI) thanks to an upgraded neural processing unit (NPU) and both sub-6 and mmWave 5G through an improved modem.
Finally, Samsung touted the chip's image signal processor (ISP), which has a redesigned architecture that supports resolutions of up to 200 megapixels. When recording video at 30fps, the ISP supports up to 108 megapixels in single camera mode and 64+36 megapixels in dual camera mode. The ISP can connect up to seven individual image sensors and drive four sensors simultaneously for multi-camera set-ups. The ISP also supports up to 4K HDR or 8K recording.
While the Exynos 2200 certainly sounds impressive, Canadians might not get to try it out. Samsung typically launches its flagship phones in Canada with Qualcomm Snapdragon chips instead of its own Exynos (usually, Exynos chips power Samsung devices outside of North America). Of course, we won't know for certain until devices rocking the Exynos 2200 release — for now, though, it's probably safe to assume we won't get those devices in Canada.
Those interested in learning more about the Exynos 2200 can check out all the details on Samsung's website.
Image credit: Samsung