The coronavirus and Chinese social media: finger-pointing in the post-truth era
As public health authorities in China and the world fight the novel coronavirus, they face two major communication obstacles: the eroding trust in the media, and misinformation on social media.
As cities, towns, villages and residential compounds have been shut down or implemented curfews, social media have played a central role in crisis communication.
Chinese social media platforms, from WeChat and Weibo, to QQ, Toutiao, Douyin, Zhihu and Tieba, are the lifeline for many isolated and scared people who have been housebound for over two weeks, relying on their mobile phones to access information, socialise, and order food.
These platforms constitute the mainstream media in the war on the coronavirus.
I experienced the most extraordinary Chinese New Year with my parents in China and witnessed the power of Chinese social media, especially WeChat, in spreading and controlling information and misinformation.
China is not only waging a war against the coronavirus. It is engaged in a media war against misinformation and "rumour" (as termed by the Chinese authorities and social media platforms).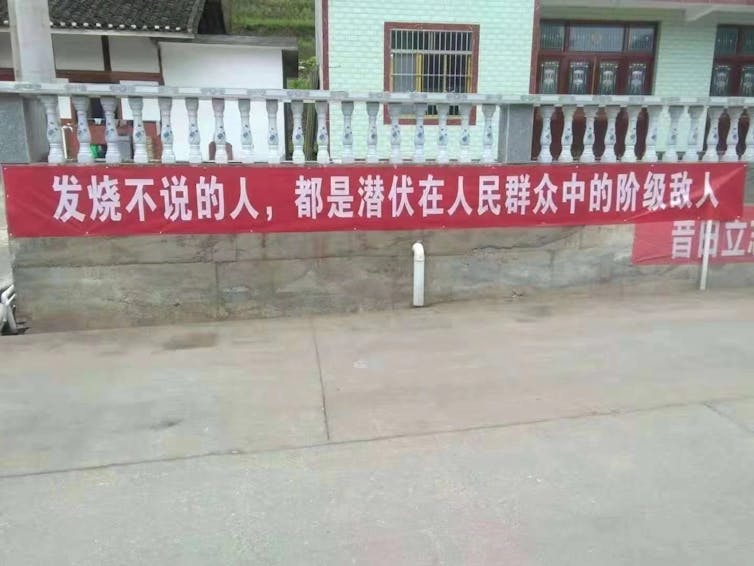 Information about the virus suddenly increased from January 21, after the central government publicly acknowledged the outbreak the previous day and Zhong Nanshan, China's leading respiratory expert and anti-SARS hero, declared on the state broadcaster CCTV the virus was transmissible from person to person.
---
On WeChat, the Chinese all-in-one super app with over 1.15 billion monthly active users, there has been only one dominant topic: the coronavirus.
Rumour mongers and rumour busters
In Wired, Robert Dingwall wrote "fear, finger-pointing, and militaristic action against the virus are unproductive", asking if it is time to adjust to a new normal of outbreaks.
To many Chinese, this new normal of fear and militaristic action is already real in everyday life.
Finger-pointing, however, can be precarious in the era of information control and post-truth.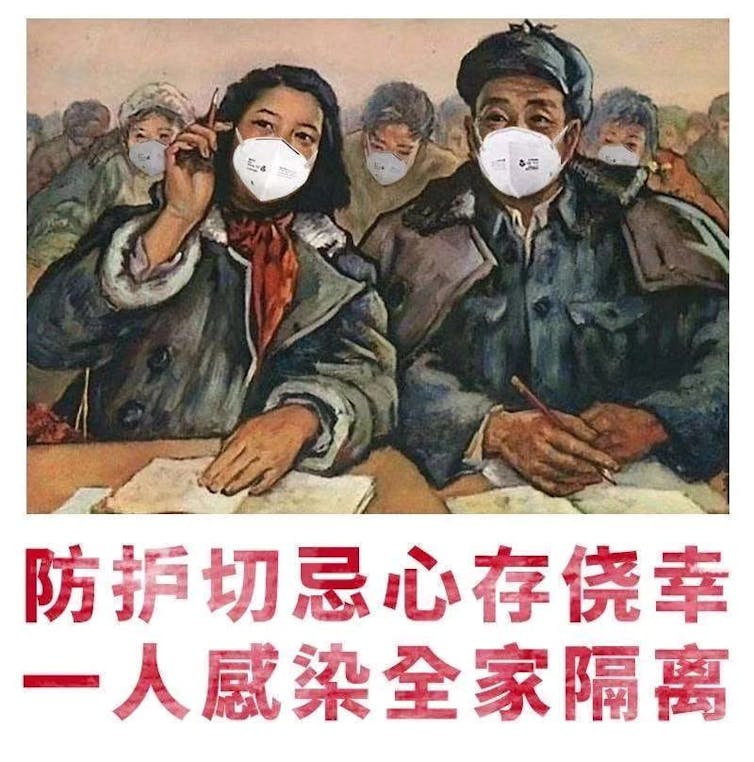 On WeChat and other popular social media platforms, information about the virus from official, semi-official, unofficial and personal sources is abundant in chat groups, "Moments", WeChat official accounts, and newsfeeds (mostly from Tencent News and Toutiao).
Information includes personal accounts of life under lockdown, duanzi (jokes, parodies, humorous videos), heroism of volunteers, generosity of donations, quack remedies, scaremongering about deaths and price hikes, and the conspiracy theory of the US waging a biological war against China.
There is also veiled criticism of the government and government officials for mismanagement, bad decisions, despicable behaviours and lack of accountability.
At the same time, the official media and Tencent have stepped up their rumour-busting effort.
They regularly publish rumour-busting pieces. They mobilise the "50-cent army" (wumao) and volunteer wumao (ziganwu) as their truth ambassadors.
Tencent has taken on the responsibility to provide "transparent" communication. It opened a new function through its WeChat mini-program Health, providing real-time updates of the epidemic and comprehensive information – including fake news busting.
The government has told people to only post and forward information from official channels and warned of severe consequences for anyone found guilty of disseminating "rumours", including permanently blocking WeChat groups, blocking social media accounts, and possible jail terms.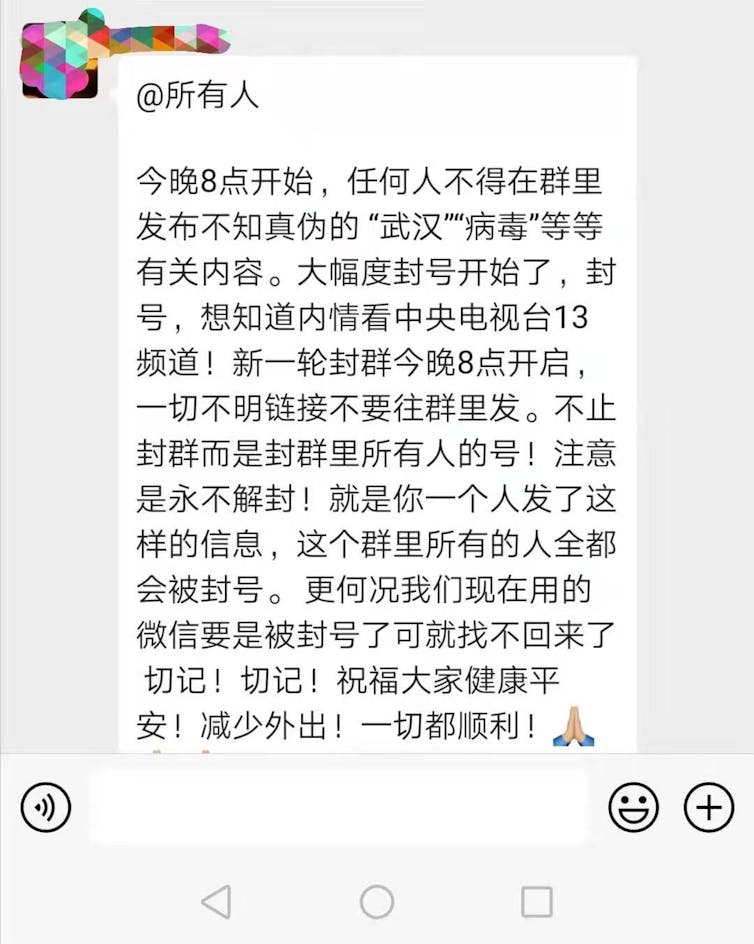 Chinese people, accustomed to having posts deleted, face increased peer pressure in their chat groups to comply with the heightened censorship regime. Amid the panic the general advice is: don't repost anything.
They are asked to be savvy consumers, able to distinguish fake news, half-truths or rumours, and to trust only one source of truth: the official channels.
But the skills to detect and contain false content are becoming rarer and more difficult to obtain.
Coronavirus and the post-truth
We live in the post-truth era, where every "truth" is driven by subjective, elusive, self-confirming and emotional "facts".
---
Any news source can take you in the wrong direction.
We have seen that in the eight doctors from Wuhan who transformed from being rumourmongers to whistleblowers and heroes within a month.
Dr Li Wenliang, the first to warn others of the "SARS-like" virus in December 2019, died from the novel coronavirus in the early hours of February 7 2020. There is an overwhelming sense of loss, mourning and unspoken indignation at his death in various WeChat groups.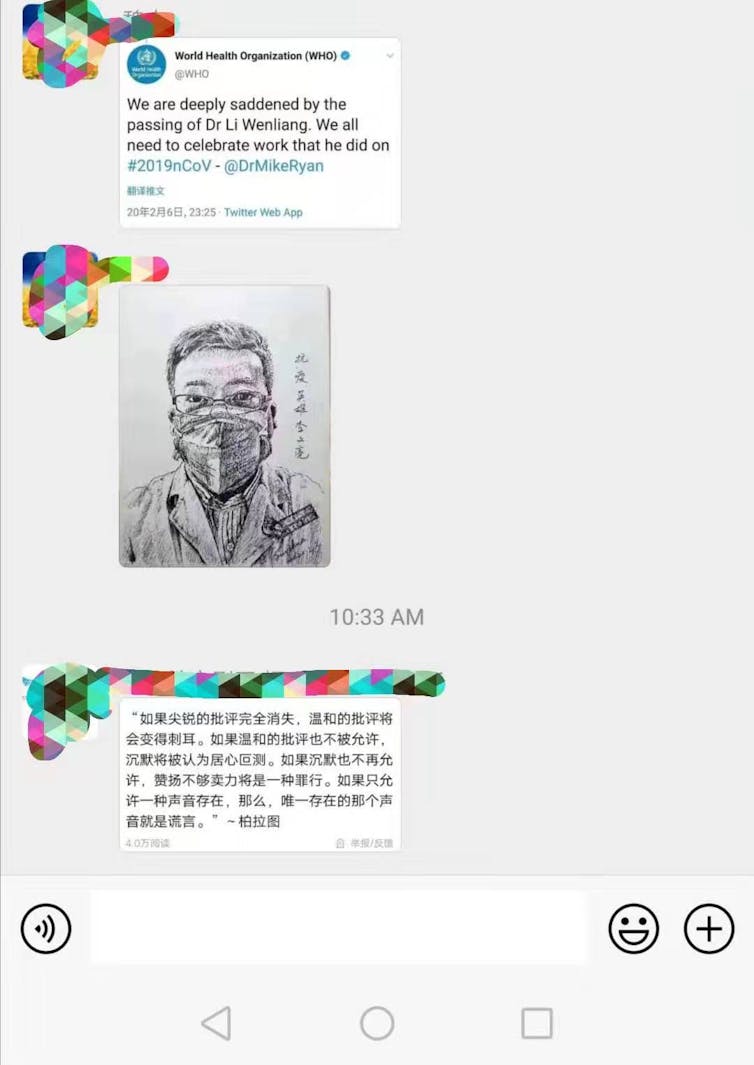 In the face of this post-truth era, we must ask the questions: what is "rumour", who defines "rumour", and how does "rumour" occur in the first place?
Information overload is accompanied by information pollution. Detecting and contain false information on social media has been a technical, sociological and ideological challenge.
With a state-led campaign to "bust rumours" and "clean the web" in a controlled environment at a time of crisis, these questions are more urgent than ever.
As media scholar Yong Hu said in 2011, when "official lies outpace popular rumors" the government and its information control mechanism constitute the greatest obstruction of the truth.
On the one hand, the government has provided an environment conducive to the spread of rumours, and on the other it sternly lashes out against rumours, placing itself in the midst of an insoluble contradiction.
As the late Dr Li Wenliang said: "[To me] truth is more important than my case being redressed; a healthy society should not only allow one voice."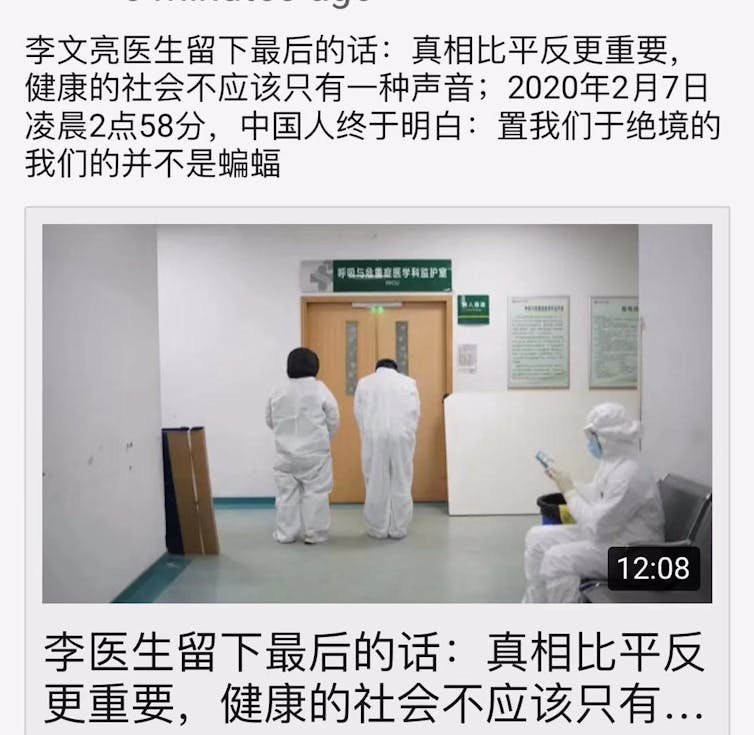 China can lock down its cities, but it cannot lock down rumours on social media.
In fact, the Chinese people are not worried about rumours. They are worried about where to find truth and voice facts: not one single source of truth, but multiple sources of facts that will save lives.
Media Release – August 17, 2022 – Guelph Police – Guelph Police Service
Arrest made in false fire alarm
A Guelph male has been charged in relation to a false fire alarm activation at Guelph General Hospital earlier this year.
Early on January 27, the male had a verbal dispute with hospital security and ran through the hospital, pulling a fire alarm and smashing a window. On Tuesday he turned himself in to Guelph Police.
An 18-year-old Guelph male is charged with making a false alarm of fire and mischief under $5,000. He will appear in a Guelph court October 4, 2022.
Male held after missing court
A Guelph male who missed a court date on charges including carrying a weapon for a dangerous purpose was rearrested Tuesday.
Guelph Police Service officers were on patrol downtown just before 11 a.m. when they spotted a male known to be wanted. The male tried to flee as officers approached but was arrested a short distance away. A search incident to arrest revealed a driver's licence which had been reported stolen in 2018.
A 50-year-old Guelph male is further charged with failing to attend court and possessing stolen property. He will appear in a Guelph bail court Thursday.
Driver suspended after traffic stop
A Guelph male was taken off the road for three days following a traffic stop Tuesday night.
Just after 10 p.m., a member of the Guelph Police Service stopped a vehicle in the area of Willow Road and Dawson Road. The driver was asked to provide a breath sample into a roadside screening device and registered an Alert, indicating a blood-alcohol level between 50 and 100 milligrams of alcohol in 100 millilitres of blood. The legal limit is 80 milligrams.
A 30-year-old Guelph male faces several Highway Traffic Act charges and had his licence suspended for three days.
Total calls for service in the last 24 hours – 211
What The Results Of 32 Studies Teach Us About Parenting In The Age Of Social Media – Forbes
A new study published in the academic journal Current Opinion in Psychology offers a path forward for parents who are searching for better ways to navigate the nascent world of adolescent social media use.
The authors argue that it is possible for parents to put guardrails in place that reduce pre-teen and adolescent anxiety and depression resulting from social media overconsumption, as well as minimize the negative effects of cyberbullying.
Here is an overview of their recommendations.
Recommendation #1: Familiarize yourself with the different styles of social media parenting
It should come as no surprise that parents vary widely in the way they manage their children's social media use. According to the authors, there are four general approaches parents take when monitoring their teenagers' social media use. They are:
Autonomy-supportive. This approach provides a developmentally appropriate rationale for social media rules and takes adolescents' perspectives seriously.
Autonomy-restrictive. This approach provides rules in a strict and harsh way, without much respect for adolescents' perspectives.
Inconsistent. This strategy, or lack thereof, occurs when parents randomly vary in their restrictions, regulations, or discussions of social media.
Permissive. This approach avoids guidance and discussion and provides limited restrictions or rules.
There are other styles as well. Some parents practice 'social media surveillance,' in which they keep tabs on adolescents' media use — for example, by using tracking software, holding adolescents' social media passwords, or checking adolescents' social media profiles. Researchers break social media surveillance down into two sub-categories: 'authoritarian surveillance' (e.g., accessing adolescents' social media accounts and passwords) and 'nonintrusive inspection' (e.g., browsing their profiles).
There are also cases of 'co-use,' where parents and children use social media together.
Before attempting to refine your social media parenting style, it is important to reflect upon your current social media stance and how it may be perceived by your child or children. Are you autonomy-supportive or autonomy-restrictive? Are your rules inconsistent or permissive? Do you co-use social media with your child? Do you practice some form of social media surveillance?
Recommendation #2: A stricter approach may be a better approach
While there is no 'right answer' to the question of how to parent in the age of social media, a preponderance of the data suggests that more active approaches lead to better outcomes than passive approaches.
The authors state, "Overall, studies find that adolescents report less problematic use when parents use more parental monitoring, restrictive or active mediation, or strict internet and smartphone rules."
There is also evidence to suggest that adolescents spend less time using social media when parents implement an autonomy-supportive approach. Other evidence reveals that teens exhibit more anxiety and depressive symptoms when parents use a more autonomy-restrictive style to restrict adolescents' social media use and fewer symptoms when parents implement an autonomy-supportive style.
In other words, there is something to be said for creating a family environment in which social media dialogue between kids and parents is a supportive, two-way street — but while maintaining strict rules to limit overconsumption and problematic social media activity.
Of course, there are counterarguments to this line of thinking. One study published in Frontiers in Psychology, for instance, found that a more restrictive stance on social media access was associated with a heightened risk of social media addiction. What this should illuminate is that while some approaches on average work better than others, individual circumstances should be taken into account when developing your own social media monitoring strategy.
Recommendation #3: Stay informed. As social media evolves, so will the guidance.
Many big questions have yet to be answered. For example, it is still unclear whether the type of social media your child is using (be it online, on a smartphone, for gaming, etc.) influences how you, as a parent, should manage it. It's also unclear how quickly the negative effects of social media overconsumption on a child's well-being can be undone. Can parents expect a rapid turnaround in a child's behavior after shifting course, or do the negative effects linger for some time?
More research is needed to address these important questions.
Media Advisory: Premier Furey to Announce Additional Measure to Address Recruitment and Retention of Physicians – News Releases – Government of Newfoundland and Labrador
The Honourable Andrew Furey, Premier of Newfoundland and Labrador, will announce an additional measure to address recruitment and retention of physicians today (Tuesday, August 16) at 2:15 p.m.
He will be joined by the Honourable Tom Osborne, Minister of Health and Community Services, Dr. Sohaib Al-Asaaed, Post Graduate Medical Education Associate Dean, and Dr. Mikaela Murphy, a second-year family medicine resident.
The availability will take place in Room M5M101, Faculty of Medicine, St. John's Campus, Memorial University.
The availability will be streamed live on Facebook.
– 30 –
Media contacts
Meghan McCabe
Office of the Premier
709-729-3960
meghanmccabe@gov.nl.ca
Laura Thomas
Health and Community Services
709-729-6986, 727-0341
laurathomas@gov.nl.ca