The latest news on COVID 19 developments in Canada for March 28, 2021 – The Record (New Westminster)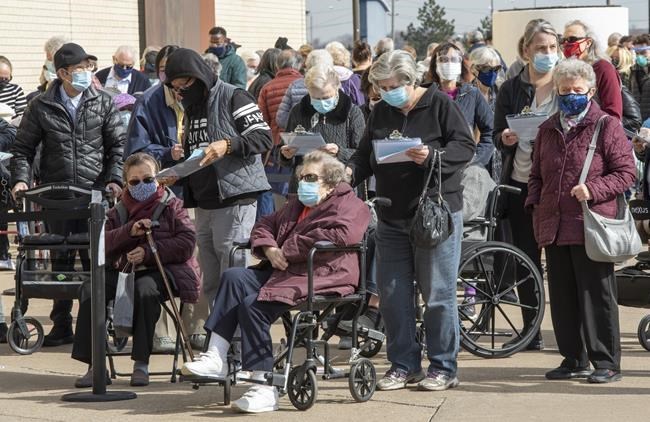 The latest news on COVID-19 developments in Canada (all times Eastern):
2:05 p.m.
Manitoba is reporting one new death of a person with COVID-19 and 55 new cases.
Today's new death — a man in his 60s in the Winnipeg health region — is the 934th person with COVID-19 in Manitoba to die since the pandemic began.
The province reports there are 1,179 active cases, with 140 people in hospital due to COVID-19.
Twenty-seven of those are receiving intensive care.
—
11:30 a.m.
The Quebec government is reporting 917 new cases of COVID-19 and two additional deaths due to the pandemic, but none in the past 24 hours.
Hospitalizations declined by one to 480, but the number of people in intensive care increased by six to 114.
The province vaccinated 45,745 people in the last 24 hours, and has currently given a vaccine dose to 14.4 per cent of the population.
Some 29,407 tests were completed on Friday, which is the last day for which data is available.
—
10:30 a.m.
Ten more people in Ontario have died with COVID-19 as the province reports 2,448 new cases of the disease.
Health Minister Christine Elliott says there are 780 new cases in Toronto.
She says there are also 356 new cases in Peel Region, 278 in York Region, 278 in York Region, 219 in Durham Region and 150 in Ottawa.
This report by The Canadian Press was first published March 28, 2021.
The Canadian Press
<!– Photo: 20210328110340-6060a37ee95030990984e374jpeg.jpg, Caption: Vaccine clinic visitors fill in paperwork as they wait in line at a mass vaccination clinic in Toronto on Tuesday, March 23, 2021. Toronto's mayor is urging anyone 70 years or older to get vaccinated.
John Tory says three new COVID-19 mass vaccination clinics will open Monday, but there are still many appointments unfilled. THE CANADIAN PRESS/Frank Gunn –>
Citigroup lawyer says another bank made bigger payment error than Revlon
NEW YORK (Reuters) – A lawyer for Citigroup Inc told a U.S. judge on Friday he was aware of another large bank that recently made a bigger payment error than Citigroup made last August when it sent $894 million of its own money to Revlon Inc lenders.
Neal Katyal, the lawyer, made the disclosure at a hearing in Manhattan federal court, where Citigroup urged U.S. District Judge Jesse Furman to extend a freeze on $504 million that it has been unable to recoup from the Revlon lenders.
Katyal did not identify the bank, the size of the payment error, or whether the error was fixed.
Citigroup is appealing Furman's Feb. 16 decision that 10 asset managers, whose clients include Revlon lenders, could keep its mistaken payments.
Furman accepted the asset managers' argument that Citigroup, as Revlon's loan agent, paid what they were owed, and they had no reason to think a sophisticated bank would blunder so badly.
Citigroup has said the lenders received a "windfall," and Furman's decision could steer banks away from doing wire transfers in a "finders, keepers" marketplace.
Katyal is a partner at Hogan Lovells and former Acting U.S. Solicitor General. Citigroup hired him for its appeal.
(Reporting by Jonathan Stempel in New York; editing by Diane Craft)
Canada aims to raise safety along notorious "Highway of Tears" with cell phone service
By Moira Warburton
VANCOUVER (Reuters) – Canadian authorities will help fund mobile phone service to increase safety along a remote stretch of highway in British Columbia known as the "Highway of Tears" for the number of women who have gone missing on the route, most of them indigenous.
Indigenous groups recommended the move in 2006 in a report on disappearances and murders of women along the highway between the cities of Prince Rupert and Prince George, roughly 800 km (500 miles) north of Vancouver.
The recommendation was endorsed by a provincial government-mandated commission several years later.
The Royal Canadian Mounted Police are investigating 13 cases of murdered women and five who disappeared on or near the Highway of Tears, although no new cases have been added since 2007. Advocates believe the number of homicides and missing is significantly higher.
Lisa Beare, British Columbia's minister of citizens' services, called the project "a critical milestone in helping prevent future tragedies along this route."
Cell phone plans in Canada are among the most expensive in the world, according to government data, and the cost and lack of coverage in rural areas was a top issue in the last election.
The provincial and federal governments will contribute C$4.5 million towards the C$11.6 million ($9.24 million) cost for Rogers Communications to install 12 cell phone towers, the British Columbia government said on Wednesday.
Lorraine Whitman, president of the Native Women's Association of Canada, applauded the plan but said it was only one step in making the area safer for indigenous women.
"This truly is a blessing for the women," she said. "But not all women have a phone. These towers are being put up, but it makes no use to the person that has no cell phone."
($1 = 1.2558 Canadian dollars)
(Reporting by Moira Warburton in Vancouver; Editing by Sonya Hepinstall)
Canadian fertilizer producer Nutrien to cut greenhouse gas emissions 30% by 2030
By Rod Nickel and Rithika Krishna
(Reuters) –Canada's Nutrien Ltd, the world's largest fertilizer producer by capacity, said on Thursday it aimed to cut greenhouse gas emissions by at least 30% by 2030, in a plan costing the company up to $700 million.
Agricultural companies, including Mosaic and Corteva, have set carbon emissions targets as climate-conscious investors push firms to become more environmentally friendly.
Nutrien plans to spend $500 million to $700 million to meet the carbon emissions target, which includes cutting emissions from nitrogen production by 1 million tonnes of carbon dioxide equivalent annually by the end of 2023.
"We're in a really unique spot to address two big societal challenges – food security, and in a way that reduces our environmental footprint," said Mark Thompson, Nutrien's chief corporate development and strategy officer, in an interview.
Synthetic fertilizers account for 12% of global emissions from agriculture, according to a 2016 United Nations Food and Agriculture Organization report.
Nutrien's target includes Scope 1 and 2 emissions, which reflect direct operations and electricity use. Nutrien is addressing Scope 3 emissions – those related to on-farm activity – with a program that encourages growers to adopt sustainable practices that generate monetary credits.
The Saskatoon, Saskatchewan-based company plans to deploy wind and solar energy at four potash plants by the end of 2025, replacing electricity generated by coal and natural gas.
It also plans to expand its sequestration of carbon emissions from nitrogen fertilizer production and to invest in technology to capture nitrous oxide gas from its facilities.
Nutrien estimates that its carbon credit program could directly amount to $10 to $20 per acre for farmers, and it expects to benefit financially itself as well.
"If we can provide agronomic value and the value of the carbon credit over time, we'll have customer loyalty – we anticipate that we'll be a preferred supplier," Thompson said.
(Reporting by Rithika Krishna in Bengaluru and Rod Nickel in Winnipeg; Editing by Sriraj Kalluvila and Steve Orlofsky)