The National On-Demand: Preparing for COVID-19 vaccine ramp up | Feb. 21, 2021 – CBC.ca
[unable to retrieve full-text content]
Johnson & Johnson's single-shot COVID-19 vaccine endorsed by U.S. advisers – CBC.ca
U.S. health advisers endorsed a one-dose COVID-19 vaccine from Johnson & Johnson on Friday, putting the nation on the cusp of adding an easier-to-use option to fight the pandemic.
The U.S. Food and Drug Administration (FDA) is expected to quickly follow the recommendation and make J&J's shot the third vaccine authorized for emergency use in the U.S. Vaccinations are picking up speed, but new supplies are urgently needed to stay ahead of a mutating virus that has killed more than 500,000 people in the country.
After daylong discussions, the FDA panellists voted unanimously that the benefits of the vaccine outweighed the risks for adults. If the FDA agrees, shipments of a few million doses could begin as early as Monday.
"There's an urgency to get this done," said Dr. Jay Portnoy of Children's Mercy Hospital in Kansas City, Mo. "We're in a race between the virus mutating and new variants coming out that can cause further disease and stopping it."
Health Canada is still reviewing the vaccine. Canada has ordered 10 million doses from Johnson & Johnson with options for up to 28 million more, if necessary. Most of those shots are expected to arrive by the end of September.
WATCH | Canada's procurement minister discusses Johnson & Johnson's vaccine:
The CBC's Tom Parry asks Procurement Minister Anita Anand how many doses of Johnson & Johnson's COVID-19 vaccine Canada will receive after it's approved by Health Canada. 4:56
More than 47 million people in the U.S., or 14 per cent of the population, have received at least one shot of the two-dose vaccines from Pfizer and Moderna, which FDA authorized in December. But the pace of vaccinations has been strained by limited supplies and delays due to winter storms.
While early J&J supplies will be small, the company has said it can deliver 20 million doses by the end of March and a total of 100 million by the end of June.
J&J's vaccine protects against the worst effects of COVID-19 after one shot, and it can be stored up to three months at refrigerator temperatures, making it easier to handle than the previous vaccines, which must be frozen.
Strong protection against worst outcomes
One challenge in rolling out the new vaccine will be explaining how protective the J&J shot is after the astounding success of the first U.S. vaccines.
"It's important that people do not think that one vaccine is better than another," said panellist Dr. Cody Meissner of Tufts University.
The two-dose Pfizer and Moderna shots were found to be about 95 per cent effective against symptomatic COVID-19. The numbers from J&J's study are not that high, but it's not an apples-to-apples comparison. One dose of the J&J vaccine was 85 per cent protective against the most severe COVID-19. After adding in moderate cases, the total effectiveness dropped to about 66 per cent.
Some experts fear that lower number could feed public perceptions that J&J's shot is a "second-tier vaccine." But the difference in protection reflects when and where J&J conducted its studies.
J&J's vaccine was tested in the U.S., Latin America and South Africa at a time when more contagious mutated versions of the virus were spreading. That wasn't the case last fall, when Pfizer and Moderna were wrapping up testing, and it's not clear if their numbers would hold against the most worrisome of those variants.
Importantly, the FDA reported this week that, just like its predecessors, the J&J shot offers strong protection against the worst outcomes, hospitalization and death.
While J&J is seeking FDA authorization for its single-dose version, the company is also studying whether a second dose boosts protection.
Panel member Dr. Paul Offit warned that launching a two-dose version of the vaccine down the road might cause problems.
"You can see where that would be confusing to people thinking, 'Maybe I didn't get what I needed,"' said Offit, a vaccine expert at Children's Hospital of Philadelphia. "It's a messaging challenge."
New cases increasing
J&J representatives said they chose to begin with the single shot because the World Health Organization and other experts agreed it would be a faster, more effective tool in an emergency.
Cases and hospitalizations have fallen dramatically since their January peak that followed the winter holidays. But public health officials warned that those gains may be stalling as more variants take root in the U.S.
"We may be done with the virus, but clearly the virus is not done with us," Centers for Disease Control and Prevention director Dr. Rochelle Walensky, said, speaking at the White House on Friday. She noted that new COVID-19 cases have increased over the past few days.
While it's too early to tell if the trend will last, Walensky said adding a third vaccine "will help protect more people faster." More vaccines are in the pipeline.
On Sunday, a CDC panel is expected to meet to recommend how to best prioritize use of the J&J vaccine.
Other parts of the world already are facing which-is-best challenges. Italy's main teachers' union recently protested when the government decided to reserve Pfizer and Moderna shots for the elderly and designate AstraZeneca's vaccine for younger, at-risk workers. AstraZeneca's vaccine was deemed to be about 70 per cent effective in testing.
Canada became the latest country Friday to allow use of AstraZeneca's vaccine.
Canada to receive 6.5 million Covid-19 vaccines by end of March – CNN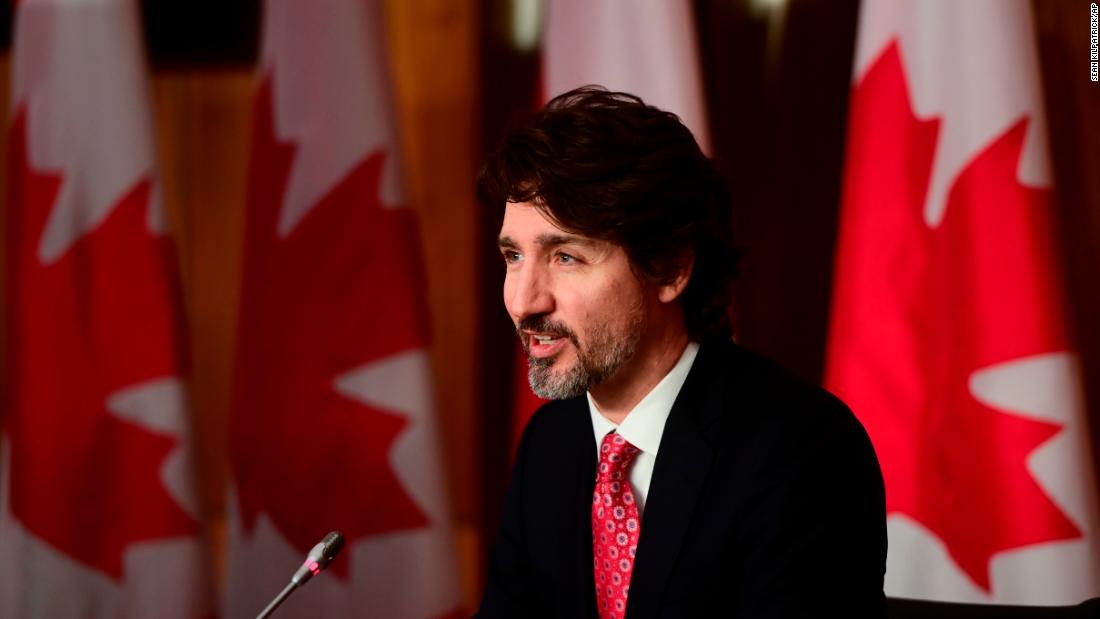 In a press briefing Friday, Trudeau repeated his expectation that every Canadian who wants a vaccine will receive one by September.
Trudeau told reporters Canada had secured an additional two million doses of the AstraZeneca vaccine through Verity Pharmaceuticals and the Serum Institute of India. The first shipment of 500,000 vaccines is expected to arrive within weeks.
This shipment would expand on the 20 million doses the country has already secured from AstraZeneca, Trudeau said.
Canada also received 643,000 doses of Pfizer and Moderna vaccines this week, Trudeau said.
Both Pfizer-BioNTech and Moderna had significantly slowed deliveries to Canada after a combination of manufacturing delays and demands from Europe, where Canada procures its doses.
New variants spreading
Canada has reported 858,217 cases of Covid-19 since the pandemic began, according to Dr. Theresa Tam, Canada's chief public health officer, who briefed reporters on Friday.
There have been 21,865 deaths from Covid-19, she said.
Over the past week, there has been an average of 97,120 completed Covid-19 tests daily with a 3.2% positivity rate and a daily average of 2,960 new cases of Covid-19 and 52 deaths, Tam said.
Over the past week, there were 2,269 patients with Covid-19 in hospitals and 564 patients receiving critical care, Tam added.
As of Friday, 964 cases of the B.1.1.7 variant, 44 cases of the B.1.351 variant and two cases of the P.1 variant had been reported in Canada, Tam said.
Tam warned that as new, more transmissible variants spread, "controlling the epidemic will be much more difficult."
Ontario activates 'emergency brake' in Thunder Bay, Simcoe-Muskoka as York readies to administer vaccines – CBC.ca
Ontario announced Friday afternoon that it is activating an "emergency brake" in Thunder Bay and Simcoe-Muskoka, sending the regions back into lockdown to "immediately interrupt transmission and contain community spread."
The two regions will move into the grey lockdown level of Ontario's COVID-19 restriction plan effective 12:01 a.m. Monday, March 1.
"This is due to a rapid worsening in key public health indicators, as well as a high presence of variants in the Simcoe-Muskoka District Health Unit that continue to increase — the highest in the province. As of February 23, 2021, there has been a total of 170 confirmed cases of a variant of concern in this region," the province said in a news release.
Seven other regions will also be moving into new levels at the same time. They include:
Red-control: Niagara Region Public Health.
Orange-restrict: Chatham-Kent Public Health; Middlesex-London Health Unit; and Southwestern Public Health.
Yellow-protect: Haldimand-Norfolk Health Unit; and Huron Perth Public Health.
Green-prevent: Grey Bruce Health Unit.
Toronto, Peel and North Bay Parry Sound will remain under a stay-at-home order until at least Monday, March 8.
All other regions will remain in their current level for now, the province said.
1,258 new cases — the most in nearly 2 weeks
Ontario reported another 1,258 cases of COVID-19 on Friday — the most on a single day in nearly two weeks — as officials hailed Health Canada's approval of the AstraZeneca vaccine as a "huge deal" for the province's immunization effort.
The new cases include 362 in Toronto, 274 in Peel Region and 104 in York Region.
York Region announced Friday it is ready to vaccinate residents 80 years of age and older by appointment. Eligible residents can book appointments online beginning Monday, March 1 at 8 a.m.
The region will administer vaccines at Cortellucci Vaughan Hospital in Vaughan, Cornell Community Centre in Markham and Ray Twinney Recreation Complex in Newmarket.
"This is a very positive step forward. We are moving aggressively to vaccinate as many as possible within the province's identified priority populations as vaccine supply becomes available," said Dr. Karim Kurji, York Region's medical officer of health.
"We are being as nimble as we can using different delivery models depending on the supplies of vaccines and the groups we need to immunize."
Other public health units that saw double-digit increases include:
Waterloo Region: 69
Hamilton: 64
Ottawa: 52
Durham Region: 42
Thunder Bay: 42
Wellington-Dufferin-Guelph: 35
Halton Region: 32
Windsor-Essex: 31
Simcoe Muskoka: 25
Niagara Region: 19
Brant County: 17
Eastern Ontario: 11
Haliburton, Kawartha, Pine Ridge: 10
Renfrew County: 10
(Note: All of the figures used in this story are found on the Ministry of Health's COVID-19 dashboard or in its Daily Epidemiologic Summary. The number of cases for any region may differ from what is reported by the local public health unit on a given day, because local units report figures at different times.)
Ontario's lab network completed 64,049 tests for SARS-Cov-2, the virus that causes COVID-19, and logged a test positivity rate of 2.3 per cent.
The seven-day average of daily cases climbed to 1,114, marking a sixth straight day of increases.
The Ministry of Education also reported 101 school-related cases: 89 students and 12 staff members. There are currently 18 schools closed due to the illness, about 0.4 per cent of those in the province.
According to the Ministry of Health, there has been a total of 477 cases caused by a virus variant first identified in the United Kingdom, 28 more than in yesterday's update. Another 14 cases have been linked to a variant first found in South Africa, up three from yesterday, and two total cases have screened positive for the variant identified in Brazil.
Variants of concern continue to spread quickly in Ontario, updated modelling presented yesterday shows, and are projected to likely make up 40 per cent of the province's cases by the second week of March.
Ontario's COVID-19 science table said the next few weeks will be "critical" for understanding the impact of these variants, and that there "is a period of remaining risk" before the pandemic likely hits a lull in the summer months.
Meanwhile, public health units recorded the deaths of 28 more people with the illness, bringing Ontario's official toll to 6,944.
AstraZeneca approval could accelerate vaccines rollout
The news comes as Health Canada gave a green light for use of a third COVID-19 vaccine.
"Basically it means we can accelerate our vaccine programs from coast to coast. It also means we have a much more versatile vaccine," said Dr. Isaac Bogoch, an infectious disease physician based in Toronto.
The AstraZeneca vaccine only requires conventional refrigeration and is relatively stable, Bogoch added, meaning it could be a prime candidate for immunization efforts by primary care providers and mobile clinics.
"Of course there's still a lot of questions about who will have access to it, when we're going to get it, through which route we'll get it. But at the end of the day, we have access to more vaccine than we thought," Bogoch told CBC's News Network.
WATCH | Task force member on how AstraZeneca vaccine could be used:
There is a 'large global experience' that shows the AstraZeneca vaccine is safe and effective at reducing severe infection and the likelihood of death, says Dr. Isaac Bogoch, a member of Ontario's vaccine task force. 7:48
Ontario's immunization strategy has been the focus of scrutiny this week, after the task force announced that an online portal for booking appointments wouldn't be operational until mid-March — weeks after several other provinces. Furthermore, the co-chair of the task force, retired general Rick Hillier, wouldn't offer specifics on when people under 60 years old (who are not essential workers) might expect to get their first dose of a vaccine.
Some jurisdictions, notably France, have restricted the AstraZeneca vaccine to people under the age of 65 despite the World Health Organization's insistence that the product is safe and effective for all age groups.
Health Canada approved the AstraZeneca vaccine for Canadians aged 18 and older, and said it has an efficacy rate of about 62.1 per cent.
While the efficacy rate is important, Bogoch said, more crucial is the vaccine's ability to significantly reduce the probability of a severe COVID-19 infection and hospitalization in those who receive it.
Record-high shots given out yesterday
Speaking to CBC Radio's Metro Morning today, Hillier called the approval "wonderful news" but cautioned that provincial officials will need to wait for more instructions from Health Canada before they can say definitely how it will change Ontario's rollout plan.
"It's a third weapon in the fight against COVID-19," Hillier said, alluding to the two other vaccines — manufactured by Pfizer and Moderna — currently being administered in Canada.
The federal government has secured access to 20 million doses of the AstraZeneca vaccine.
The province said it administered 21,805 doses of vaccines yesterday, a new single-day high. A total of 258,014 people have received both doses of a vaccine.
Prioritize vaccine rollout by age and neighbourhood, experts say
The science advisory table says that prioritizing COVID-19 vaccinations on both age and neighbourhood could prevent thousands of cases and reduce the number of deaths linked to the illness moving forward.
The group detailed its advice in a new report released today.
The table said the pandemic has taken a disproportionate toll on older adults and residents of lower income and racialized neighbourhoods, mainly in urban centres.
Targeting those residents for vaccination first could minimize deaths, illness and hospitalizations across Ontario, the report suggested.
Implementing the strategy would not interfere with the ongoing vaccine rollout, but could instead help guide the upcoming mass distribution of shots to the general population, it continued.
Ontario has thus far focused its vaccine rollout on the highest-priority groups, including long-term care residents, and plans to next target populations based on age.