The Samsung Galaxy S20 needs to fix this one big problem with the Galaxy S10 – Techradar
If rumors are to be believed, the Samsung Galaxy S20 is set to be one of the most impressive devices of the year, with incredible specs in the camera, hardware, battery and design departments. There's one feature that hasn't been mentioned, though, and it's something I'm eager to see, because while it was present but flawed in the Galaxy S10, if Samsung can make it useful then the Galaxy S20 could be a true game-changer.
This feature is wireless power sharing (or 'Bilateral Charging' as some call it), which lets you turn your smartphone into its own wireless charging mat to power up other devices, like phones, certain wearables, or earbuds.
It's a feature that we first saw in the Samsung Galaxy S10, and it also came in the Galaxy Note 10 and Huawei P30 Pro, but there's still a lot of work to be done before it's truly useful.
On the Samsung Galaxy S10, the feature was disappointingly limited, so much so that you were generally best off ignoring it, as all the potential this feature brings was squandered with a few big issues.
If the Samsung Galaxy S20 wants to be a great phone in real life, and not just on paper (as it seems so far), it really needs to improve this feature – here's why.
What's wrong with the Samsung Galaxy S10 wireless power sharing?
When I was at a concert with a few co-workers, one of them needed to charge their Samsung Galaxy Note 10, so I offered my fully-charged Samsung Galaxy S10 5G with its reverse wireless charging to give the Note a boost.
That turned out to be a bad idea. From roughly 15% charge, the Galaxy Note informed us it would take almost four hours to charge fully – we let it run for around 30 minutes, in which time the S10 5G lost around 20% charge while the Note only gained 2%, both handsets got really warm, and the phones were out of action for the whole time.
We had to hold the phones together at the same time (there's nowhere to put a phone down at a concert, after all), and you need to hold them at the perfect angle to make sure the Qi chargers in the device align.
It's possible we didn't hold them in precisely the right way at times, since the devices are both so slippery that it took conscious effort to line them up just right. Still, a feature meant to be used by consumers should ideally be easy to use, and charging speeds were painfully slow even when we were sure the phones were aligned.
In the end, the co-worker decided it would be easier to just turn off their phone and not use it for the remainder of the concert.
Not only was the power inefficiency threatening to take the Galaxy S10 5G out of action while failing to save the Note 10, but it was just annoying having to hold the two phones together in exactly the right way to let the Note 10 charge.
Of course, this example is very anecdotal, and different people's experiences with the feature may vary, but I'd be very surprised if many people had truly positive experiences with Bilateral Chargng.
Why Samsung Galaxy S20 needs improved wireless power share
In theory, wireless power share is a really useful feature – in the previous example, it would have been an addition that changed my co-worker's experience with the phone, had it worked. However in its current state, being inefficient and slow, it's not really worth using.
If Samsung were to find a way to improve the feature in the Galaxy S20, it would make the device a genuinely great way to charge other phones, the Samsung Galaxy Buds, and anything else that powers up wirelessly.
Since we're expecting the Galaxy S20 to come with improved wireless charging, it's also possible it could come with better reverse power sharing too, with a higher wattage to let it power things up much quicker.
That wouldn't solve the power inefficiency problem though, and that's more important – generally, when something is power inefficient, most of the energy is lost as heat, and that speaks to the fact the phones in my example got pretty hot. In theory, it's possible the phones could get damaged if they got too hot (although it's probable the company has failsafes to protect against that).
Samsung needs to find a way to ensure wireless power charging in the Galaxy S20 series isn't as inefficient as it was in the S10 devices, both to keep it a useful option for phone users and to protect the handset as much as possible.
One other way of reducing battery drain in the Galaxy S20 while using power sharing is to bump up the battery on the device, and according to the latest leaks (as of writing) all the S20 devices will have power backs with at least 4,000mAh capacity, so it looks like Samsung is going in this direction anyway.
The Samsung Galaxy S20 looks set to have a slew of impressive features – well, at least on paper, as the rumored specs sheet looks like nothing we've seen before. However a phone isn't just a list of specs but a tool we use every day, and if those specs don't translate into useful features, they may as well not exist in the first place.
Hopefully, then, the Galaxy S20 can pack reverse wireless power sharing that's actually useful, so it can fix one of the Galaxy S10's biggest problems.
Moto G31 smartphone launched for Rs 12999 in India – Daijiworld.com
New Delhi, Nov 29 (IANS): Motorola on Monday launched a new smartphone 'Moto G31' with a MediaTek processor, triple camera unit at the back and a 5,000mAh battery.
The smartphone is priced in India, starting at Rs 12,999 for the 4GB RAM+64GB storage option and Rs 14,999 for the 6GB RAM+128GB storage option.
"The Moto G31 comes with Motorola's signature near-Stock Android that is ad-free and bloatware-free. Security matters to our consumers, so it means everything to us. Now you can count on ThinkShield for Mobile, which offers enhanced protection at every level from the factory to the phone, a secured chain of trust and additional security certifications," the company said in a statement.
In terms of features, the smartphone features a 6.4-inch full-HD+ (1,080×2,400 pixels) OLED hole-punch display with a 60Hz refresh rate and a 20:9 aspect ratio.
The Moto G31 runs on Android 11 stock software and has a hybrid dual-SIM slot (Nano+ Nano/microSD).
Under the hood, the device is powered by a MediaTek Helio G85 SoC paired with an Arm Mali-G52 MC2 GPU and up to 6GB RAM, 128GB of internal storage.
Moto G31 houses a 50MP main sensor, an 8MP wide-angle camera and a 2MP maco sensor. Rear camera modes include Dual Capture, Spot Colour, Night Vision, Portrait and more. In the front, the device has a 13MP selfie camera.
The smartphone packs a 5,000mAh battery with 20W TurboPower fast charging support. Connectivity options include 4G LTE, FM Radio, 3.5mm audio jack, Bluetooth v5, dual-band Wi-Fi 802.11 ac, USB Type-C port and more.
Cyber Monday Deals: Get $150 Off Secretlab Chairs and More – IGN – IGN
The great gaming chair deals continue this Cyber Monday as you can currently score up to $150 off popular chairs from Secretlab, Razer, and more. This means you can get the likes of Secretlab's new Evo 2022 series for just under $500, or an OMEGA 2020 chair for about $364.
Best Cyber Monday Secretlab Gaming Chair Deals
UK Secretlab Sale
Best Cyber Monday Gaming Chair Deals
Gaming chairs are the perfect Cyber Monday purchase to level up your current setup. While you might be able to settle down on your couch in your living room, a gaming chair can give you a perfect seat that's easy to move from room to room, so you can have consistent comfort wherever you want to game. Here's some more great gaming chair deals available.
Best GTRACING Gaming Chair Deals for Cyber Monday
GTRACING's Cyber Monday deals are live now as well. And, chairs like the GTRACING Ace-M1 are discounted nearly $200, from $359.99 down to $199.99. From the Pro Series to the gaming recliner chair, here are our picks for the best GTRACING Cyber Monday deals.
All the Best Cyber Monday Deals and Sales
Robert Anderson is a deals expert and Commerce Editor for IGN. You can follow him @robertliam21 on Twitter.
Halo Infinite Receives Brand New CGI Promo Trailer – Bleeding Cool News
343 Industries has released a brand new trailer today for Halo Infinite, this time giving us the proper CGI cinematic vibes. People have been freaking out over the free-to-play multiplayer beta that's been taking place the past couple of weeks, some giving it praise for being fun and awesome and a throwback to classic forms of the franchise, others holding back on saying too much as they wait to see what the campaign will bring them. But overall it sounds like most people are digging the game as-is as they slowly make their way to the December 8th release date. The latest trailer is pretty short and to the point, as we see Master Chief run across the map doing his best to clear out the biggest and baddest foes he's had to face since being reactivated. Enjoy the trailer below as we have info on the beta below, in case you haven't tried it yet.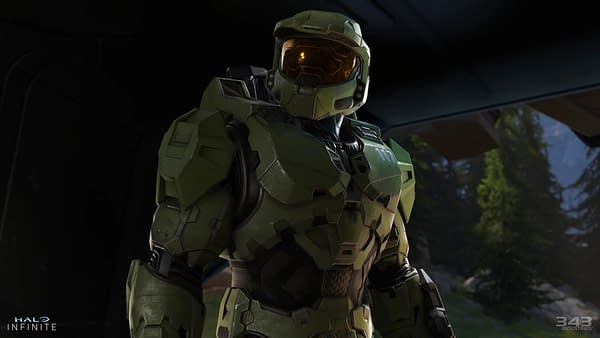 When all hope is lost and humanity's fate hangs in the balance, the Master Chief is ready to confront the most ruthless foe he's ever faced. The legendary Halo series returns with the most expansive Master Chief story yet. Begin anew and step inside the armor of humanity's greatest hero to experience an epic adventure and finally explore the scale of the Halo ring itself.

Legendary Multiplayer, Freed: Halo's celebrated multiplayer returns, reimagined and free-to-play! Seasonal updates evolve the experience over time with unique events, new modes and maps, and community-focused content.

Arena: Halo returns to its roots with fair starts, on-map equipment, and 4-player squads to offer the ultimate arena-shooter experience.

Big Team Battle: Create endless combat possibilities by mixing and matching a rich variety of weapons, vehicles and equipment to experience big-team mayhem and fun that embraces the full spectrum of the Halo sandbox.

Spartan Customization: Become a Spartan that's uniquely your own with a rich and deep player customization system. Earn and discover new cosmetic items simply by playing campaign or multiplayer. Or to obtain even more cosmetic rewards, purchase a Battle Pass that never expires and unlock new content at your own pace.
.pw-in-articleoverflow:hidden;height:250px;
.social_link
margin: 0 10px;
.social_icon
width: 100px;
height: 100px;