This Week In Overwatch 2: Ramattra On Display, No News On PvE, And The Worst Ult
Overwatch 2 is encountering problems faster than the devs can fix them, and that isn't a great strategy for a live service game. In fact, we already found another issue that players have been complaining about while this roundup was being written. Hopefully Blizzard can get these issues sorted soon, as they're primarily related to balancing or connectivity – both of which are very important in a competitive multiplayer game. Until then, we at least have Ramattra to look forward to.
Ramattra Gameplay Trailer Shows Off His Moves, A New Map, And That Doomfist Is Useless
Blizzard finally showed us some gameplay footage for Ramattra, featuring the tank using his abilities to bulldoze through some of the other Heroes. Cassidy's ultimate was neutralised with his projectile shield, and Pharah's barrage had little effect on him. Swapping to his Nemesis form, we say him smack some Heroes all over the map. Looks like he's the guy to have on your team if you need to turn the tide.
However, Ramattra wasn't the only one making his gameplay debut, eagle eyed Overwatch fans spotted a map that isn't in the game as of yet. From the aesthetics, it looks like we might get another map based in Nepal.
Lastly, the gameplay trailer also got players talking about how the introduction of Ramattra essentially makes Doomfist useless – way more than he already is, anyway. Many of the upcoming tank's abilities are similar to that of the Doomfist, except they have more layers to them. Doomfist may need a revamp in order to stay relevant.
Players "May Have To Wait A Bit" For PvE News
One of the major draws of Overwatch 2 was that it will feature a PvE mode where we'll learn more about the world and the Heroes. But as we know, the game hasn't launched with this mode. In fact, we don't know a thing about this PvE mode. It looks like things are going to stay that way for a while.
When asked about the PvE mode on Twitter, Overwatch 2 executive producer Jared Neuss responded, "We're going to be super focused on Season 2 in what I would consider the "soon" timeframe. We'll be talking about PvE and other highly anticipated features in the future but you may have to wait a bit. I know that's not a super satisfying answer, but I honestly can't say more."
A Bug Is Forcibly Kicking Players From Matches, Punishing Them For "Leaving"
Imagine the frustration you feel while waiting in a queue for minutes on end just to get into a game. Add to that the frustration of not getting into a game after waiting so long, and multiply it by Blizzard suspending you without explanation after all that. That's exactly what some Overwatch 2 players have been feeling, as they're getting reprimanded for no reason.
"I was waiting for a Competitive match [and] it told me it had found a game. Suddenly I was banned or suspended for 14 minutes and I cannot see why," said one Reddit user.
Players Debate Which Hero Has The Worst Ultimate
As with any hero-based game, there will always be one hero that will be picked the least. Mostly because they kind of suck. However, it's a double whammy when the Hero, as well as their Ultimate ability are useless, like Doomfist.
Overwatch 2 players discussed which Hero had the worst Ult, and along with Bastion, Doomfist was mentioned quite a bit. That's what you get when the coolest thing you can do is a ground-pound.
Report: Microsoft, Sony & Nintendo All Skipping E3 2023 – Kotaku
This was supposed to be the year, after industry setbacks and a global pandemic, that E3—once the brightest centre of the video game universe—came back "recognizably epic" as a live show for the first time since 2019. Reports today indicate, however, that it will be doing so without any of the console industry's power players.
A story on IGN this evening says "all three of gaming's first-party console manufacturers appear poised to skip E3's big return", meaning that for the first time in the live show's history not a single one of them will be at an event that was traditionally their highlight of the whole damn year.
While this is a definitive final straw for E3, this has been coming for a while. Nintendo stopped holding big E3 press conferences ten years ago (though the company had a showroom floor presence at the last live show in 2019), and Microsoft and Bethesda recently pivoted to holding their own showcases alongside the E3 festivities. Sony also began passing on E3 stuff a few years back.
While Microsoft won't be at any official E3 events, boss Phil Spencer says that, as they've done the last few years, Xbox will in 2023 be doing stuff alongside E3 so that any press and industry folks in town for that show will be around for theirs as well. It's not known what Nintendo and Sony will be doing in E3's stead, if anything, though Geoff Keighley's rival Summer Games Fest will be taking place at roughly the same time.
It's important to note here that this isn't the same E3 as the olden days. Events specialists ReedPop took over planning of the show last year, and said:
For years, we've listened, heard, and studied the global gaming community's feedback. E3 2023 will be recognizably epic—a return to form that honors what's always worked—while reshaping what didn't and setting a new benchmark for video game expos in 2023 and beyond.
G/O Media may get a commission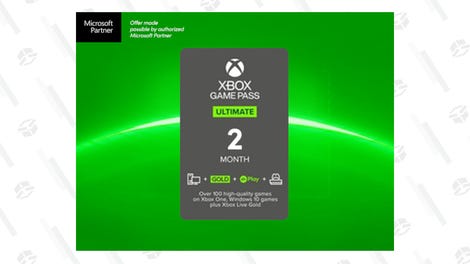 Xbox Game Pass Ultimate Two-Month Subscription
Gaming time
Grants two months of access to Xbox Game Pass Ultimate, which gives you access to Game Pass on your Xbox, PC, and Phone, lets you play online, and even adds an EA Play subscription too, for even more games at under $10.
How they're going to be "recognizably epic" without any major platform holder in attendance is anyone's guess, though ReedPop did say in a statement to IGN that:
As we spent much of 2022 refining how E3 2023 would take shape, reflecting on the feedback we solicited, we did not send a single contract to an exhibitor until the start of this month. We have received a tremendous amount of interest and verbal commitments from many of the biggest companies in the industry, and when we are ready to announce the exhibitors we are confident it will be a lineup that will make the trip to Los Angeles well worth it for the industry and consumers alike.
Sources: Nintendo and PlayStation will not attend E3 2023 | VGC – Video Games Chronicle
Nintendo [3,362 articles]" href="https://www.videogameschronicle.com/platforms/nintendo/">Nintendo and PlayStation [6,843 articles]" href="https://www.videogameschronicle.com/platforms/playstation/">PlayStation will not have a presence at this year's revamped E3 show, according to an IGN report and VGC sources.
E3 2023 will officially run from Tuesday, June 13, until Friday, June 16, according to organiser ReedPop, which has taken over the running of the flagship industry event from the Entertainment Software Association [90 articles]" href="https://www.videogameschronicle.com/companies/entertainment-software-association/">Entertainment Software Association.
According to VGC's publishing sources with knowledge of Nintendo's plans, the company has decided to skip E3 2023 – the event's first physical show in four years – because it feels it has fewer major releases than usual ready to show and which would justify significant event space.
Nintendo has traditionally been one of E3's biggest supporters and was present on the show floor at the last physical event in 2019, when PlayStation and Xbox [6,335 articles]" href="https://www.videogameschronicle.com/platforms/xbox/">Xbox were not.
Sony Interactive Entertainment [2,796 articles]" href="https://www.videogameschronicle.com/companies/sony/">Sony Interactive Entertainment's absence this year is less surprising since it skipped the last E3 show in 2019 entirely, and announced it wasn't planning to attend the 2020 event either, before it was cancelled due to the pandemic.
Forza Motorsport – Developer_Direct, presented by Xbox & Bethesda
Meanwhile, Xbox Game Studios (Microsoft) [2,425 articles]" href="https://www.videogameschronicle.com/companies/microsoft/">Microsoft will have some form of presence in Los Angeles this year with an already-announced summer showcase. However, according to IGN, the Xbox firm will not have a show floor presence at the Los Angeles Convention Center itself.
VGC's own sources claimed discussions were ongoing with Microsoft, however, and that it could yet have a business and media presence similar to last year's Gamescom [195 articles]" href="https://www.videogameschronicle.com/events/gamescom/">Gamescom, if not a traditional booth.
Microsoft traditionally holds its E3 live event away from the LACC, and in 2019 it didn't have its booth there either, instead opting for the neighbouring Microsoft theatre. So unlike Sony and Nintendo, there should still be plenty of Xbox news around the event.
Microsoft's plans are understood to be complicated by the backdrop of recent significant job cuts across the company, in addition to cuts to its marketing budgets which would traditionally cover shows like E3.
Losing all three platform holders would represent a blow to the revamped E3, but sources suggested there should still be a significant presence from major game companies at the event.
New E3 organiser ReedPop told VGC that it had received "a tremendous amount of interest" from many of "the biggest companies in the industry" and that it was confident the line-up would be worth the trip.
"Since ReedPop took on the contract to run E3 six months ago, we've worked diligently with ESA members, using their feedback to create a new type of E3 that supports their goals and needs," a spokesperson said.
"This process takes time and we are working to balance getting it right, and being inclusive, with getting it done quickly. E3 is a deeply significant event for the game industry and being entrusted with an important cultural touchstone is not a responsibility ReedPop takes lightly.
"We continue to work tirelessly to create a show that brings together the global gaming industry. We believe we've created a new format for the event that serves the needs of both the industry and its fans, and are committed to building and growing it in the coming years.
"We have received a tremendous amount of interest from many of the biggest companies in the industry, and when we are ready to announce the exhibitors we are confident it will be a lineup that will make the trip to Los Angeles well worth it for the industry and consumers alike."
When the games industry's other flagship expo, Gamescom, returned from its pandemic hiatus last August, over 500 companies attended, including 2K Games [383 articles]" href="https://www.videogameschronicle.com/companies/take-two-interactive/2k-games/">2K, Bandai Namco Entertainment [669 articles]" href="https://www.videogameschronicle.com/companies/bandai-namco-entertainment/">Bandai Namco, Sega [583 articles]" href="https://www.videogameschronicle.com/companies/sega/">Sega, Ubisoft [837 articles]" href="https://www.videogameschronicle.com/companies/ubisoft/">Ubisoft, Warner Games and Plaion.
VGC has requested comments from Nintendo, Sony and Xbox, and will update this article upon their response.
Details of E3's revamped 2023 format, which will see separate business and consumer events split between four days in June, were revealed late last year.

Under the revamped format, the first two days of E3 2023 (June 13-14) will be reserved exclusively for business. The third day (June 15) will welcome both business and consumer visitors, while the final day (June 16) will be dedicated to consumers.
As well as running high-profile events in the US and Europe, ReedPop is the owner of Gamer Network, which runs websites such as Eurogamer, GamesIndustry.biz, VG247 and Rock Paper Shotgun, and is the network partner of VGC.
Days before the revamped E3 returns, Summer Game Fest [92 articles]" href="https://www.videogameschronicle.com/events/summer-game-fest/">Summer Game Fest, the digital showcase helmed by journalist Geoff Keighley [153 articles]" href="https://www.videogameschronicle.com/people/geoff-keighley/">Geoff Keighley, will hold a live show at the YouTube Theater at Hollywood Park in Inglewood, California.
.cls-1fill:url(#linear-gradient).cls-2fill:#fff
Hacker finds bug that allowed anyone to bypass Facebook 2FA – TechCrunch
A bug in a new centralized system that Meta created for users to manage their logins for Facebook and Instagram could have allowed malicious hackers to switch off an account's two-factor protections just by knowing their phone number.
Gtm Mänôz, a security researcher from Nepal, realized that Meta did not set up a limit of attempts when a user entered the two-factor code used to log into their accounts on the new Meta Accounts Center, which helps users link all their Meta accounts, such as Facebook and Instagram.
With a victim's phone number, an attacker would go to the centralized accounts center, enter the phone number of the victim, link that number to their own Facebook account, and then brute force the two-factor SMS code. This was the key step, because there was no upper limit to the amount of attempts someone could make.
Once the attacker got the code right, the victim's phone number became linked to the attacker's Facebook account. A successful attack would still result in Meta sending a message to the victim, saying their two-factor was disabled as their phone number got linked to someone else's account.
"Basically the highest impact here was revoking anyone's SMS-based 2FA just knowing the phone number," Mänôz told TechCrunch.
At this point, theoretically, an attacker could try to take over the victim's Facebook account just by phishing for the password, given that the target didn't have two-factor enabled anymore.
Mänôz found the bug in the Meta Accounts Center last year, and reported it to the company in mid-September. Meta fixed the bug a few days later, and paid Mänôz $27,200 for reporting the bug.
Meta spokesperson Gabby Curtis told TechCrunch that at the time of the bug the login system was still at the stage of a small public test. Curtis also said that Meta's investigation after the bug was reported found that there was no evidence of exploitation in the wild, and that Meta saw no spike in usage of that particular feature, which would signal the fact that no one was abusing it.
January 30: Headline updated to reflect that only Facebook accounts were vulnerable to the bug; this was due to an editing error. ZW.
Updated with comment from Meta.