Trudeau government passes decision on participation in Beijing Games to Canada's Olympic Committee – National Post
Article content continued
"It's worth doing, alone, but it's much better and smarter to do it with others and to find others, and that used to be the kind of thing that Canada was good at building a consensus on a practical way forward."
Canada's last Olympic boycott came in 1980, when the games were held in Moscow. Canada along with the United States and many other nations boycotted the games in response to the then Soviet Union's invasion of Afghanistan.
At the time, Canada's external affairs minister Liberal Mark MacGuigan stood in the House of Commons and announced the Pierre Trudeau government's intention to boycott the games.
"We have decided that the circumstances leave us no choice, but to urge the Canadian Olympic Association to inform the organizing committee for the 1980 olympics that Canadian athletes will not be participating in the games."
MacGuigan's decision came not long after the Liberals took power and the Conservatives under Joe Clark had similar plans to boycott the games.
Mulroney said the Chinese communist party will use the games to distract from their human rights record and crackdowns on democracy.
"We get dazzled by these things, and they're going to attempt to do that in 2022 in Beijing. But the reality is we've just had too much evidence of what's happening," he said.
He said if Western countries see no change in China's action and still attend the games it sends the wrong message to the ruling communist party.
"There's also a sense, particularly for the party that they're securing the compliance of the world. And that's really really dangerous," he said. "We submitted to it in 2008, look where we are now. Why allow that to happen again?"
• Email: rtumilty@postmedia.com | Twitter: ryantumilty
Flames' Gaudreau steps up on biggest stage with OT winner to set up Battle of Alberta – Sportsnet.ca
CALGARY – There were plenty of questions surrounding Johnny Gaudreau as he entered the playoffs.
It's the one that was asked after his Game 7 overtime winner Sunday night that was perhaps the easiest to answer.
Where did his short-side, roof job over Jake Oettinger 15 minutes into the extra frame rank amongst all his goals?
"Is that a question, really?" he smiled, still buzzing after being mobbed by teammates and shaking hands with the Dallas Stars.
"C'mon. There's no bigger stage than what we just had there. It was really special for me. I was really excited. You dream about stuff like that, scoring in Game 7 in overtime."
So much for talk of this being Gaudreau's last game as a Flame.
Instead, it was perhaps his most memorable, scoring his second game-winner in the tightest of series to set up the first Battle of Alberta in 31 years.
He didn't hoist the team on his shoulders like Connor McDavid, but when his team needed him most he was there, ending a torturous evening for a C of Red that stood on its feet for the bulk of an overtime frame that ended with the Flames 67th shot of the night finally beating Oettinger.
The roar or the crowd was as loud as anything the building has ever endured, which is fitting given the moment will go down in club history as one of its finest.
After all, the last time the Flames won a Game 7 at home it kickstarted the club's lone Stanley Cup run 33 years earlier. It's also the first time in seven years the Flames have won a round and just the third time in 33 years they've made it to the second round.
The fact that Gaudreau scored it was poetic justice, as Oettinger had No. 13's number throughout the series, prompting Gaudreau to look skyward following one of his previous six shots.
The winner was a beauty, which it had to be to beat a goalie who challenged league history with his brilliance.
"I was just trying to put it on net," said Gaudreau, of the rebound he converted from the side of the net.
"I mean, throughout the whole series most of the time you put it on net it's not going in against this kid. I got a good look and it went over his shoulder there. That kid played pretty well the whole series."
So did Gaudreau, who scraped and clawed his way through a tenacious Dallas defence to score two game-winners, add six assists and be the hero when it mattered most. He also assisted on Tkachuk's goal.
That's how legends are made.
Darryl Sutter said two days earlier Gaudreau had officially taken the next step, and on Sunday the 28-year-old winger proved it.
How poetic that in the absence of Chris Tanev he showed up for the game wearing an A on his jersey for the very first time as a Flame.
He became more than just a superstar this year, he became a leader.
And finishing off an epic game like Sunday's is exactly the type of stuff leaders do.
"The C's and A's are decorations," said Sutter.
"It's what you do in the room and on the ice that's important."
What his team did all night long was dominate a Stars club that opened the scoring 40 seconds in, and took just 31 seconds to regain the lead after Tyler Toffoli tied it early in the second.
The Flames chased on the scoreboard but led in every other way, outshooting the Stars 26-4 in a second period in which Matthew Tkachuk's first of the playoffs tied it 2-2 midway through the frame.
From there the tension was unbearable in a building that watched both teams hit the iron three times.
By night's end the Flames had outshot the Stars 67-28, the largest shot differential in NHL Game 7 history and the second largest in the league's playoff lore.
Yet, there was Joe Pavelski breaking in alone following a Flames power play, forcing Jacob Markstrom to make one of the many pivotal saves to prolong the extra session.
The Flames netminder won't get nearly the credit he deserves for the role he played in the game or the series. But none of it is possible without him, especially considering how hard it is to make huge saves after going long stretches watching Oettinger stand on his head.
"(Oettinger) frustrated us because we couldn't score, but we didn't lose belief after all," said Tkachuk, who was asked if it felt inevitable his team would eventually win a game it dominated.
"Or you could look at it like the other way, where it's just not meant to be. It was tonight. We peppered him so much. One had to have gone in for us. Guys worked so hard. I said it this morning, I think that our team, the way we're conditioned, work and wear teams down, we're built for a Game 7 type of game. It took us until minute, almost, 80. It's an important one for us."
For the province.
"It'll be exciting – it's great for all of Alberta," said Tkachuk, whose club was serenaded by a raucous crowd signing to Alberta Bound during handshakes.
"Honestly really haven't allowed myself to think about it yet. It's too fresh from this. I'm probably just going to enjoy this one tonight and turn the page tomorrow."
After directing an incredible 129 shot attempts towards Oettinger, justice was served with Gaudreau's winner.
"We deserved to win," said Sutter, of a series somehow decided by one goal.
"Pretty simple."
Well, actually, it wasn't, making the accomplishment and the next opponent all the sweeter.
"I've been here for nine years and never had even a sniff of a chance to play them in the playoffs," said Gaudreau, when asked about the Battle of Alberta.
"It's pretty special. It's going to be fun. It's going to be good for the province, fun for them and us."
McDavid carries Oilers into second round – TSN
Once in a blue moon, there are otherworldly performances in the National Hockey League. We expect players the calibre of Edmonton's Connor McDavid to perpetually raise that bar. They are simply that talented.
McDavid raised that bar once more in the first round.
In a surprisingly competitive seven-game series against the Los Angeles Kings, McDavid put together one of the best individual performances I can recall. At times it looked like his body had been taken over by a force in the universe – distinctly faster and stronger than everyone else on the ice, with lethal execution to boot.
And this is in the playoffs against a Kings team who exhibited an ability to slow teams down this season, armed with perhaps the NHL's best shutdown player in Phillip Danault. (As an aside, it's hard to say enough about how great Danault was both during the regular season and playoffs; Los Angeles finding an elite shutdown defensive forward who suddenly can score 30 goals in a season is remarkable. Colour me impressed!)
Edmonton was the more talented team in this series, but McDavid was the difference. That's no slight to goaltender Mike Smith, who was – save for a few puck-handling gaffes – strong in net. And players like Evander Kane and Leon Draisaitl (a combined 12 goals) were invaluable.
But McDavid was on another level. He had four goals and 10 assists, played defencemen-level minutes (37 per cent of available ice time), and prevented the Kings from winning any of the minutes when he was on the ice.
Look at the game flow of the series, differentiating between the minutes played by McDavid versus the minutes played by any other Oilers line. This was a very game and lively series until McDavid stepped on the ice, when it always looked like a man against small children.
Territorially, this was a bloodbath: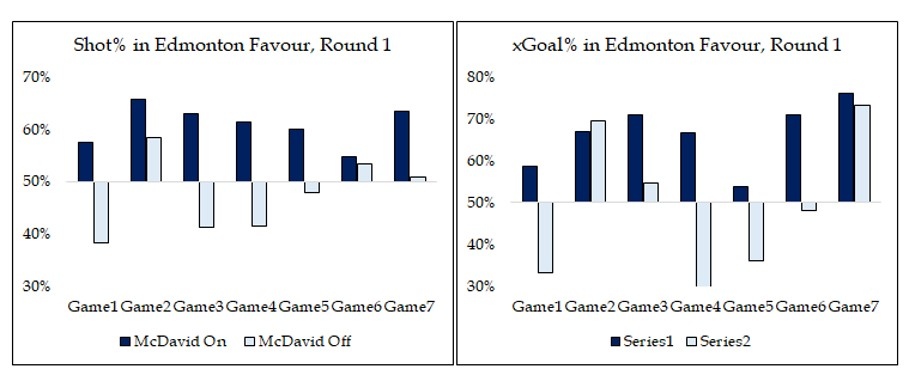 Over the course of the series, the Oilers won about 47 per cent of the shots and 46 per cent of expected goals with McDavid off the ice, with notable out-performance in Game 2 and Game 7. McDavid's line, on the other hand, went supernova: the Oilers owned 61 per cent of the shots and a staggering 68 per cent of expected goals. Layer that into his 37 per cent usage rate, and that's a tidal wave.
How did this territorial domination effect the series? I would say that without McDavid, Edmonton is at real risk of losing a series to perhaps the weakest team of the 16 that qualified for the postseason. But having the best player in the universe tends to help balance things out: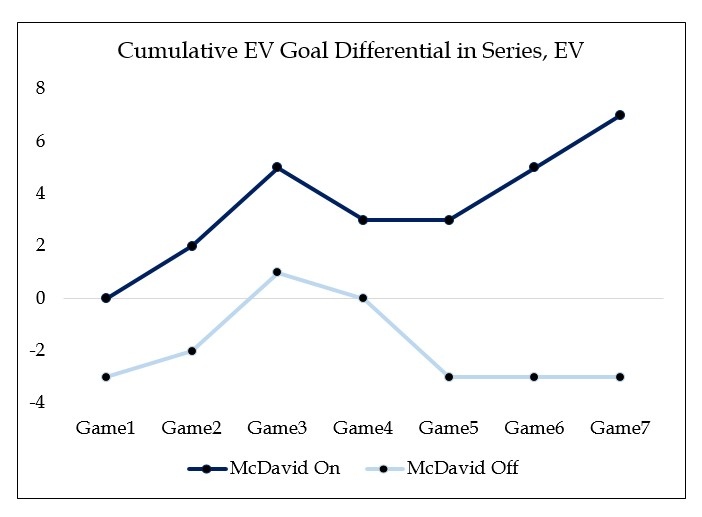 Simply put: Los Angeles was the better team if you measured bottom-nine forwards versus bottom-nine forwards. That's true in possession time, true in scoring chances and true in goals. But Edmonton's first line's obliteration of the Kings was so exceptional, it balanced the ledger and then some.
After Saturday night's showing, I was curious how McDavid's dominance of Los Angeles would hold up against some of the better playoff performances we have seen over the years. If we look at net expected goals (blind to goaltending, important in this context) over the past 15 years, we've seen plenty of dominant skaters – from Pavel Datsyuk's Detroit Red Wings, the two-time defending Stanley Cup champion Tampa Bay Lightning, and the decade-of-dominance team in Washington D.C.
And yet, none of those skaters can hold a candle to what McDavid did in this opening round: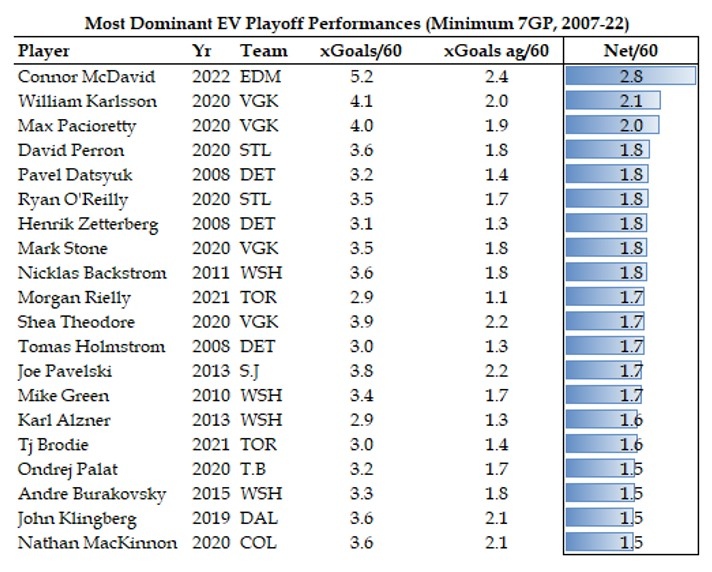 Whether it was Datsyuk's wizardry in 2008 or what Nathan MacKinnon individually accomplished in the bubble over the course of two rounds in 2020, we have a clear baseline for what we consider exceptional, one-sided hockey.
The best performances over the years have seen players create 1.5 to 2.0 of an expected goal advantage for every 60 minutes played, which is the type of stuff you see from Stanley Cup-calibre teams. McDavid just posted a +2.8. (If points are your thing, don't worry, it's the same conclusion. McDavid is averaging 5.6 points per 60 minutes, which again, is the best number we have seen in 15 years.)
Perhaps teams will be incrementally more effective at slowing McDavid down over the rest of the postseason. Certainly, the Colorado Avalanche (to name but one team), who remain in Edmonton's way for the time being, are armed with the weaponry to do just that.
But, after what we just witnessed over the past two weeks, who is foolish enough to bet against McDavid?
Data via Natural Stat Trick, Evolving Hockey, NHL.com
Leafs-Lightning Was Always Going To Leave Someone Haunted – Defector
Following their Game 6 loss to the Tampa Bay Lightning, Toronto Maple Leafs star Auston Matthews said the plan for the series deciding matchup was simple. "We've just got to put our balls on the line and go for it," he told reporters.
He wasn't wrong about that, it just turns out the Lightning were also willing to risk life, limb and every other necessary appendage to get back to the Stanley Cup Final. And for the fifth-straight year in a row Toronto is being sent home after another first round knockout, losing 2-1 in fight that went down to the last minute.
This game was bound to be a punch in gut for one of these two teams with history on the mind entering Game 7: Tampa looking to win the cup for the third-straight year (the first team since the New York Islanders during their stretch from 1979 – 1983), and Toronto, well, just trying to just reach the second round for the first time since 2004. But if we want to be clerical about it, the Leafs were also searching for their first cup win since the Canadian Centennial and Lester B. Pearson was prime minister.
While the sting of this year's exit may not be as bad as previous years for Toronto, it will linger all the same given the two chances at sending Tampa home after leading the series 3-2 after Game 5, which makes for the second season in a row they've blown that kind of lead.
Tampa is moving on thanks to third liner Nick Paul, who scored both goals on the evening and seemed to be everywhere he was needed on the ice Saturday night. Paul picked up his first career playoff goals in the win, which makes since he wound up on the Bolts roster after a March trade from Ottawa. Prior to Saturday he racked up just five goals and 14 points since saying goodbye to the Senators.
But his timing was much needed in a tight game where Tampa's stars were running on an empty tank and the Leafs scorers were threatening most of the game. With two minutes left in the first period, Paul and Ross Colton took an odd man rush into the Leafs' end, with Colton firing on goalie Jack Campbell and Paul turning the rebound for a score.
Whatever high Tampa had coming off that score was quickly deflated when Brayden Point, who scored the winning goal in overtime against the Leafs in Game 6, was injured after colliding with the boards near the end of the first period. Point had to be helped off the ice and tried to return at the beginning of the second period, barely making it one shift before heading to the bench.
The Leafs dialed it up from there, with Captain John Tavares scoring from the slot and putting the score even at 1-1. But the goal was called off on an interference call on Leafs defenseman Justin Holl, who caught Tampa's Anthony Cirelli in a pick. But they got one that counts with just under 7 minutes left in the period, when Matthews charged across the blue line, dragging Tampa defenders with him before dishing to Morgan Rielly for the score.
But before the game could settle into a reset, just three minutes later Paul came back with a skate-to-stick combo that I can only describe in the most technical terms as "un-fucking-believable." See for yourself:
It was fitting that Paul emerged as the latest legend of the moment for a Tampa team that has relied on group contributions during their latest run. Tampa Bay managed to keep a chunk of its players around over its title-winning seasons, and even if the regular cast aren't taking lead, there always seems to be someone ready to step up when the moment comes.
That includes goalie Andrei Vasilevskiy, who played like a fortress on skates last night, stopping 30 out of 31 shots on goal, and locking in the game for the Lightning. A crucial third period power play from the Leafs seemed like it could tip the balance of the game, instead Vasilevskiy fended off six shots and had a little bit of luck with one puck that chased directly behind him, passing through the crease in the blink of an eye.
The disappointment in Toronto will be palpable, and if it wasn't for the skeletal-hand of fate on the shoulder of this franchise always whispering dread nightmares into their ear whenever the spring comes around, Leafs fans could look at the upside. They played like the better team most of the series, and in the deciding game they outshot the defending champions 31 to 25. Maybe this was just the shit luck of the draw. Maybe this season could have been a tipping point for Toronto based off records alone: they set a team record for points (115), Mitch Marner hit a career high 97 points on the season and Matthews netted a record-setting 60 goals. Maybe they could just get the gang back together for one last heist next season. That may not be entirely likely as they have $77.451 million already on the books, with more than a few guys facing the rough questions of life after 30 on an NHL roster and Campbell entering free agency looking for a well-deserved payday. But hey, Matthews and Marner likely aren't going anywhere, which is nice.
Tampa moves on to play the Presidents' Trophy-winning Panthers, the second time they face off in the last two years. The Lightning bounced them last year, so it should be another exciting series of Florida-based hockey, which is a sentence that never stops being weird to this Minnesota-born writer, no matter how good these squads are.