Trump rolls out his defense for all seasons: It's all politics – CNN
By a quirk of fate, two of the most troublesome threats to the ex-President's political viability and business legend unfolded almost simultaneously Thursday in two cities he once dominated. And he responded the way he always does, by going on the attack.
Back in Washington, meanwhile, House Speaker Nancy Pelosi
named those who will serve
on a select committee on the January 6 US Capitol insurrection, which was incited by Trump in a bid to overturn his election defeat. In a poke in the eye to the former President, they include one of his mortal enemies,
Wyoming's Rep. Liz Cheney
, one of the few Republicans to speak truth to his abuses of power surrounding last year's election.
No recent former President has faced the kind of threat to his legacy, reputation and potentially even his fortune now being encountered by Trump. And the ferocity of his defense — faithful to his mantra of never giving an inch to his adversaries — suggests he plans to respond with the kind of all-consuming assault on America's psyche that unfolded during his presidency.
The line from Trump world is that the former President is being targeted not for what he did but for who he is, a construct that has carried him through the Russia probe, two impeachments and numerous other political, personal and business scrapes.
"If the name of the company was something else, I don't think these charges would have been brought," said Alan Futerfas, an attorney for the Trump Organization.
The Trump Organization legal team largely avoided a point-by-point rebuttal of
15 grand jury counts
alleging that Weisselberg — the organization's chief financial officer — evaded taxes on $1.7 million in income and falsified documents in a 15-year scheme. The indictment said the activity allegedly involved other unnamed executives in a firm in which the Trump family itself holds all the top roles. Weisselberg and the Trump Organization both pleaded not guilty. The former President was not personally charged.
Another Trump organization attorney, Susan Necheles, was even more aggressive than Futerfas in alleging a corrupt political conspiracy against Trump.
"We will win this case, but this case should have never been brought," Necheles told reporters outside the courtroom. "This is a political prosecution."
Earlier, prosecutor Carey Dunne anticipated the counterattack that the case was rooted in partisan distaste for the former President.
"Politics has no role in the grand jury chamber, and I can assure your honor that it played no role here," Dunne told the judge, according to a transcript of his remarks released by the Manhattan district attorney's office.
McCarthy plays politics card over January 6 probe
Back in Washington, the nature of the turmoil surrounding Trump was political and not legal.
House Minority Leader Kevin McCarthy
, who has repudiated his earlier criticism of Trump over the mob attack on the Capitol by "Make American Great Again" supporters, insisted the real issue was malfeasance by Democrats.
"I regret the politics of Nancy Pelosi. For six months she played politics with this," said the California Republican, who crushed a plan for an independent bipartisan commission on the attack co-written by one of his own GOP lawmakers.
There is an argument that Pelosi waited too long to agree to a compromise with Republican Rep. John Katko of New York on the makeup of a bipartisan panel. And there are obvious political upsides for Democrats in continuing to investigate Trump's abuses of power, with midterm elections ahead.
But at the same time, the failure of the independent commission deprived the country of the kind of catharsis and historic marker that such panels have provided at moments of national tragedy, so there is a case to be made that a reckoning — over and above probes by regular congressional committees — was due. It is not all about politics.
The witch hunt defense
The complaint that any attempt to subject Trump to legal accountability is politically motivated is not a new refrain. Every time the former President is accused of wrongdoing, he and his acolytes rarely rebut the charges with any level of seriousness or specificity. And Trump himself never takes responsibility for his actions, but instead seeks to flood the zone with partisan confusion and misinformation.
When the Justice Department and the FBI, for instance, became suspicious about multiple contacts between Russia, a hostile foreign power meddling in the US election, and his 2016 campaign aides, Trump claimed he was the victim of a massive "witch hunt." In his first impeachment, his Republican attack dogs complained about a politicized process while sidestepping allegations that he had tried to get Ukraine to launch an investigation into then-Democratic presidential candidate Joe Biden. Trump's second impeachment — after the most flagrant attack on the peaceful transfer of power in US history — was branded by Senate Republicans as a political plot to persecute an ex-President by anti-Trump zealots as he settled into private life.
And even Trump's denials that he actually lost the last election are part of a sweeping and false narrative — rejected by multiple courts — that there was a vast Democratic Party conspiracy to deprive him of a second term in office.
"They used Covid in order to rig the election and in order to steal the election," Trump said in a rally in Ohio last Saturday night.
Trump knows what he is doing. He built his political appeal on the idea that he was a spokesman for millions of Americans who had been rejected by the cozy elite club — just as the brazen billionaire was often mocked by Manhattan high society. This canny understanding of the politics of victimization helped a real estate tycoon from one of the most liberal cities in America, who flew in a personal airliner, bond with millions of working-class voters in the American heartland. Paradoxically, a new set of controversies might embolden Trump and help him refresh his appeal to his base, as he seeks to play the kingmaker in the midterm elections and teases another presidential run in 2024.
His frequent message to his supporters might be paraphrased as: They are not coming after me — they are coming after you. Or as the former President put it in a statement soon after Weisselberg left court, "Do people see the Radical Left prosecutors, and what they are trying to do to 75M +++ Voters and Patriots, for what it is?"
Politics don't work in court
Although the Trump Organization's legal team insisted that Weisselberg was being used by the former President's enemies, the detailed indictment against him will require a staunch and formal legal defense. Political soundbites generally do not stand up in court — as the multiple rejected cases brought by Trump's campaign legal team alleging election fraud in November demonstrate.
The Trump Organization's lawyers did tip their hand as to one aspect of that defense, namely an argument that it is unprecedented to prosecute a tax case such as this as a criminal rather than a civil matter. Some legal experts said the practice is somewhat unusual given that this prosecution centers on rent-free apartments, car leases, school fees and other fringe benefits.
But Harry Litman, a former deputy assistant attorney general, told CNN's Poppy Harlow that given the prominence of Weisselberg in the firm and the allegations of a scheme to defraud, the approach was in line with precedent. "This is spin and talking points that they prepared before, I think, they saw the indictment," Litman said.
Two big questions were left unanswered by Thursday's indictment.
The first is whether the robust indictment against Weisselberg may be designed to get him to cooperate with prosecutors in return for lesser charges — and potentially to testify against Trump family members. Weisselberg has so far refused to do so.
The second question is whether the unsealed indictment represents the full extent of the two-year investigations against Trump and his company or whether there is more to come for the ex-President.
Trump's former personal attorney Michael Cohen, who himself went to jail after pleading guilty to campaign finance and tax charges, said he could have scripted the "witch hunt" defense in advance.
"There is nothing that happened at the Trump Organization that did not go to Donald," Cohen told CNN's Alisyn Camerota.
"Whether it was the purchasing of paperclips or the payment of Allen Weisselberg's grandchildren's tuition. Every single thing went on Donald's desk for signature."
Alberta votes in the strangest — and closest — election in its political history
A year ago, it looked like Rachel Notley's race to lose. Danielle Smith has caught up in high-drama, low-issue battle
EDMONTON — Whoever wins the Alberta election on Monday, it will be one of the strangest campaigns ever fought in the province, with plenty of drama but few policy issues, and the real possibility of the closest outcome in Alberta political history.
In 2015, when the NDP won, it was the reversal of 40 years of conservative rule, aided by vote-splitting and a voting public whose patience was at an end. In 2019, when the United Conservatives won, it was a massive victory, featuring a re-energized right-wing movement looking to revitalize the province's economy.
But this time, with the two parties neck-and-neck as voting day approaches, the election is not about jobs or pipelines or even party platforms.
It's about Rachel Notley, leader of the NDP, and Danielle Smith, leader of the United Conservative Party.
"This race, [has] become presidential, presidentialized…people are not going to say, 'Am I voting UCP or NDP?' They're like, 'Do I want Rachel Notley as my premier or do I want Danielle Smith as my premier?' And I think that's a very different question," said Ken Boessenkool, a staunch Smith critic, longtime conservative strategist and policy adviser with Meredith & Boessenkool.

Issues have surfaced, none of them campaign-defining. The NDP has hammered away on health care. They've promised a recruitment strategy for doctors and nurses, and repeatedly raised the spectre of private medicine, which is actually part of the UCP's handbook. It's an issue the NDP poll better on than the UCP.

And the UCP have talked extensively about the economy. Former prime minister Stephen Harper even put out a video early in the campaign warning about the economic damage he believes the NDP would do if they were re-elected. The UCP polls well on the economy.
"It's been a very low issue-profile campaign," said Evan Menzies, formerly director of communications for the UCP, now with Crestview Strategies in Calgary. "The thing that makes this campaign very complex is the fact that we have an incumbent premier, (and) we have a former premier contesting it. So, Albertans really are looking at sort of two records in office and saying, 'Which is the record that I prefer?'"

Albertans seem to put Smith and Notley in a dead heat in terms of who they like more: 39 per cent have a positive view of Notley, 38 per cent have a positive view of Smith. The numbers are equally tight for those who dislike Notley (46 per cent) and Smith (47 per cent), per recent Abacus Data polling.

Six months, a year ago, it looked like Notley's race to lose. The NDP had good polling numbers, and Notley was well-liked. The party out-fundraised their opponents and was flush with cash.
The UCP, an alliance of two different Alberta conservative traditions, was supposed to end vote-splitting and guarantee conservative rule for another generation. Yet, amidst the pandemic and intense economic fluctuations, it spent considerable time absorbed in internecine quarrelling.

After Jason Kenney quit the UCP, a leadership campaign last summer saw the party's right edge emerge victorious, with Smith taking the helm in a narrow victory. By the time the UCP held its convention last fall, the party was united to defeat Notley's NDP.

The latest polling — the bulk of it from Mainstreet Research — shows the United Conservatives with a modest lead. On May 25, the pollster reported 46 per cent of Albertans planned to cast a ballot for the UCP, and 42 per cent for the NDP, with seven per cent still undecided, and the remainder scattered between small parties.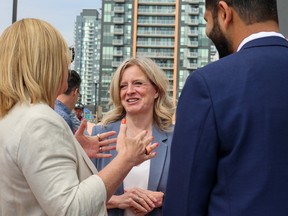 "The fact that the NDP are even close is already an indictment of the Danielle Smith era of the UCP," said Boessenkool. "There's no way that any party should be close to a united conservative tent."
At least part of the reason has been the "bozo eruptions." In a country where an impropriety or an inelegant comment has been enough to end a political career — and scuppered Smith's last crack at becoming premier in 2012 — the UCP has largely kept its candidates while dealing with a steady drip of controversy.
"I think these things will affect turnout: they'll hurt UCP turnout and they'll boost NDP turnout," said Boessenkool.
Jennifer Johnson, a nurse and farmer who lives near the central Alberta town of Bentley, was the UCP candidate for Lacombe-Ponoka, at least until audio of her comparing transgender children in the classroom to feces in cookie dough leaked out. She's still technically on the ballot — it was too late to remove her — but Smith said she won't sit in caucus.
Christine Myatt, who worked for Kenney and is now with New West Public Affairs, said the UCP has done a good job of "neutralizing the attacks."

"(They're) focusing on the UCP's record on the economy, and really sowing equal doubt in the minds of voters about 'do you want to go back to to a Rachel Notley-led government,'" Myatt said.

For most of her career in media and politics, Smith has operated on something of the political fringe; the libertarian wing of Alberta politics. As recently as June 2021, Smith argued in a position paper that out-of-pocket payments would be necessary to sustain the health-care system, and in October 2021, suggested selling off several Alberta hospitals. Those positions have been repeated ad nauseam by her NDP opponents, and Smith has had to swear, repeatedly, she doesn't stand by her previous comments.
Smith also famously embraced fringe positions during the pandemic. She supported the border blockade in Coutts, Alta., and vowed to seek "amnesty" for those who faced charges for violating COVID-19 public-health rules. She said the unvaccinated were the "most discriminated against" group she had seen in her lifetime. And she stopped wearing a poppy on Remembrance Day because of the way politicians tackled COVID.

Additionally, she promoted hydroxychloroquine, an anti-malarial drug, as a "100 per cent" effective treatment for COVID-19, and herself took Ivermectin — an anti-parasitic drug — when she came down with COVID-19, picking up the drug on the same day the College of Physicians and Surgeons of Alberta said it should never be prescribed to treat the viral infection.
While all of this featured prominently in the attacks against Smith during the campaign, the latest bombshell was the finding by Marguerite Trussler, Alberta's ethics commissioner, that Smith violated the Conflict of Interest Act when she lobbied Tyler Shandro, her justice minister, to intervene regarding charges against Artur Pawlowski, a Calgary street preacher, who has now started his own party to the right of the UCP.

Trussler compared Smith's actions to those of Prime Minister Justin Trudeau during the SNC-Lavalin affair. "In the whole scheme of things, it is a threat to democracy to interfere with the administration of justice," Trussler wrote.

Again, the report didn't seem to move voters. At least part of the explanation, said Menzies, is that everyone knew the report was coming and anticipated it wouldn't exonerate Smith. It was already baked in with voters, Menzies said.
What NDP candidate drama there has been has made even less of a mark.
The UCP mentions in its campaign advertising that Notley once said Alberta risked being Canada's "embarrassing cousin" if it didn't get its environmental record under control. And that Sarah Hoffman, former NDP deputy premier, once called Wildrose supporters "sewer rats." Campaign literature in Edmonton details "anti-police" NDP candidates, too, but none of it seems to have broken into the popular discourse.
"I think voters kind of look past the noise now," said Menzies.
On May 18, Rachel Notley and Danielle Smith faced off in a one-on-one leaders debate. It was just hours after Trussler had released her report. The UCP had crowed victory, as Trussler also said that she could find no evidence that Smith had contacted Crown prosecutors directly regarding COVID prosecutions, a central allegation the CBC had been reporting that the NDP had seized on.
In the debate, Notley seemed unable to land a decisive punch on the topic. "You were found to have broken the law in order to interfere with the system of justice to assist with somebody who had been charged with attempting to get people to commit violence against police officers," said Notley.

"Ms. Notley, the NDP and the CBC lied for months saying I was calling Crown prosecutors and my staff were calling Crown prosecutors and it wasn't true, and that is what the ethics commissioner found," Smith responded.

For Smith, the debate was a strong showing. Perhaps her best day on the campaign.

"The NDP has had a full campaign of draws and the UCP has had a full campaign of losses, with one draw," said Boessenkool.

Anecdotal evidence from those working the doors around the province for the NDP suggests voters do care about some of the scandals.
"They're saying, 'this is not the brand of conservatism that I grew up with,'" said Deron Bilous, a former cabinet minister under Notley, who's now with Counsel Public Affairs, and has been volunteering with the NDP.

There have been some high-profile defections from conservative camps, who aren't voting blue this time.
There's no way that any party should be close to a united conservative tent
Doug Griffiths, who served as a cabinet minister under former Progressive Conservative premier Ed Stelmach, said he'd be giving his vote to the New Democrat in Fort Saskatchewan-Vegreville, a suburban and rural riding east of Edmonton.
"I don't believe the UCP party is conservative anymore," Griffiths said in a video. "They are conspiratorial, they are feeding anger. They are anti-science, anti-truth, anti-fact."
And, Jim Foster, who was attorney general in the 1970s under PC premier Peter Lougheed, argued that Smith's ethics breach may actually warrant criminal charges, and that he'd be voting New Democrat in his home of Red Deer.

"I'm a lifelong conservative both federally and provincially, and this is a big change for me to abandon my party, but I simply cannot any longer tolerate this," Foster told the Calgary Herald.

"The vast majority of conservatives who are nervous about Danielle are ultimately going to wind up supporting her," Myatt predicted.

The tight popular vote polling doesn't break down cleanly in terms of seat count, which are weighted towards Calgary and small-town Alberta — conservative heartlands. There are 87 seats in the Alberta legislature, 20 of them in Edmonton, 26 in Calgary and 41 in the rest of the province.
Throughout the campaign, the NDP has enjoyed a solid lead in Edmonton. Abacus Data's most recent polling, released a week before voting day, showed 61 per cent of Edmontonians planned to vote NDP, with 27 per cent saying they'll vote UCP. The race in Calgary is far tighter: 42 per cent said they'd vote NDP, and 47 per cent UCP. The gap is wide in favour of the UCP in the rest of the province, at 59 per cent UCP to 28 per cent NDP.

On Monday, it may come down to who can get people out the door and to the polling stations.

"The only thing left to do is to motivate and mobilize your supporters to get to the polls," said Leah Ward, Notley's former communications director, now with Wellington Advocacy. "There's very little persuading left to do."

• Email: tdawson@postmedia.com | Twitter:
Alberta's Vote Will Test American-Style Far-Right Politics
An election in Alberta will be a test of a premier who has said that she models her politics after those of prominent right-wing U.S. politicians.
The News
Voters in Alberta, the epicenter of conservative politics in Canada, will select a new provincial government on Monday.
Albertans will vote for local representatives in the provincial legislature and the party that wins the most seats will form the government, with its leader becoming premier.
The election pits the United Conservative Party, led by the current premier, Danielle Smith, against a leftist party, the New Democratic Party, led by Rachel Notley, a lawyer.
Before the pandemic, the governing United Conservative Party appeared to have a firm hold on power. But last year, large and angry demonstrations against pandemic restrictions and against vaccine mandates helped spark a trucker convoy in the province that eventually spread, paralyzing Ottawa, Canada's capital, and blocking vital cross-border crossings.
A small group of social conservatives within the United Conservatives ousted their leader, Jason Kenney, ending his premiership, after the government refused to lift pandemic measures.
The party replaced him with Ms. Smith, a far-right former radio talk show host and newspaper columnist prone to incendiary comments; she compared people who were vaccinated against Covid-19 to supporters of Hitler.
The Background
Ms. Smith likes to extol right-wing U.S. politicians, for example, calling Gov. Ron DeSantis of Florida, a Republican running for president, her hero.
She also has floated ideas that most Canadians would never support, like charging fees for public health care.
Ms. Smith now finds herself, analysts say, far to the right of many conservative loyalists, turning what should been a near-certain victory for her party into a close race that has provided an opening for their opponents, the New Democratic Party, a leftist party.
"This would not be a close race if anyone other than Danielle Smith was leading the U.C.P.," said Janet Brown, who runs a polling firm based in Calgary, Alberta's largest city.
Ms. Notley is seeking to steer the labor-backed New Democrats to a second upset victory in the province in recent years.
In 2015, she led the New Democrats to power for the first time in Alberta's history, thanks in part to a fracturing of the conservative movement into two feuding parties.
The stunning win broke a string of conservative governments dating to the Great Depression. But her victory coincided with a collapse in oil prices that cratered the province's economy. Ms. Notley's approval ratings plunged and the United Conservatives took over in 2019.
Ms. Smith's support is largely based in the province's rural areas, surveys show, while Ms. Notley's path to victory on Tuesday will likely be through Alberta's urban centers, including its two largest cities, Edmonton and Calgary.
Edmonton, the provincial capital and a city with a large union presence, is likely to back the New Democrats.
That could make Calgary, which is generally more conservative leaning, a deciding factor. Calgary also has a growing ethnic population, particularly immigrants from South Asia, and Ms. Smith's is unpopular with many of those voters because of some of her extreme statements.
Why It Matters
If Ms. Smith's brand of conservatism fails to return her party to office in Canada's most conservative province, the federal Conservative Party of Canada may need to reconsider its strategy as it prepares to take on Prime Minister Justin Trudeau and his Liberal Party in the next national elections.
The federal conservatives also replaced the party's leader during the pandemic with a combative right-wing politician, Pierre Poilievre, who welcomed truck convoy protesters to Ottawa, the capital, with coffee and doughnuts. Mr. Poilievre shares Ms. Smith's penchant for promoting provocative positions.
Even a narrow victory for Ms. Smith could actually be a loss, if it means fewer conservative seats in the provincial legislature, said Duane Bratt, a political scientist at Mount Royal University in Calgary.
In that scenario, Ms. Smith could find her position as premier and party leader tenuous and many of the policies she promotes could be cast aside, he said.
"If she loses, she's gone," he said. "If she wins, I think she's still gone."
Alberta Election 2023: Live results, breaking news and analysis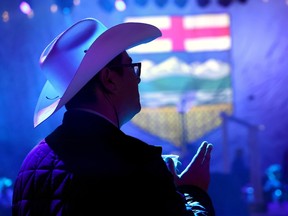 Alberta's United Conservative Party jumped out to a lead over the NDP in early returns Monday in what was forecast to be a tight race in the provincial election.
Danielle Smith's UCP was holding strong in its traditional rural strongholds while Rachel Notley's NDP was faring well in Edmonton, where it won all but one seat in 2019.
Early results were still mixed in the key battleground of Calgary, with about 10 per cent of polls reporting, according to Elections Alberta.
Here are the incoming results by riding:
---
9 p.m.
Braid: Despite the wild and angry campaign, Alberta will settle down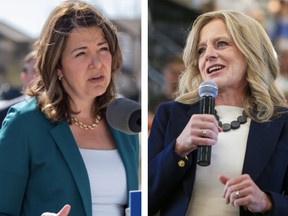 Albertans haven't gone crazy, OK? We're still just regular Canadians who want decent, competent government and a team that can win a Stanley Cup.
But the election campaign gave the province a terrible image across Canada. Here we are with wild-eyed right-wing fascists on one side, insane job-eating communists on the other.

Despite all appearances, this campaign was never about which side was more dangerous. It was about capturing the reasonable middle where most Albertans park their politics. Both parties tried to do that by demonizing the other, while offering policies and solutions well within the bounds of reason.
---
5:36 p.m.
Memorable quotes from the campaign trail
Candidates for both the United Conservative Party and New Democrats have been campaigning over the last four weeks for their party to form the next Alberta government.
Here are some memorable quotes from the campaign:
"(The NDP) devastated the Alberta economy. They created policies that drove investment out, drove jobs out, and we had to reverse all of that," UCP Leader Danielle Smith said on May 1, the day the writ was dropped. "The choice in this election couldn't be clearer. It's a choice between a UCP government that will cut your taxes and make life more affordable or an NDP government that will make you pay more across the board."
—
"Over the past four years, our health care has been thrown into chaos by the UCP," NDP Leader Rachel Notley said during the first week of the campaign. "They'll tell you they fixed it, but Albertans aren't feeling it and they're not buying it . . . our (emergency rooms) are still full, our ambulances are still delayed and many (patients) are waiting months and months for critical tests and surgeries."

—

"I am satisfied Mr. Pawlowski intended to incite the audience to continue the blockade — intended to incite protesters to commit mischief," Justice Gordon Krinke said in Lethbridge on May 2, when he found Calgary pastor Artur Pawlowski guilty of charges related to his role in protests against COVID-19 public health measures. In a leaked phone call between Smith and Pawlowski, before his trial, Smith told Pawlowski the charges against him were politically motivated and she would make inquiries on his behalf and report back.
"(Smith) has a policy of not speaking publicly on matters before the courts, except when she's talking to the person who's before the courts about how she's going to interfere with the matter before the courts," Notley said when asked to comment on Smith's no comment on the Pawlowski case. "That is the most ridiculous thing I've ever heard from her. OK, maybe it's not the most ridiculous, because there's a lot of ridiculous."
—
"(Judicial independence) is a fundamental pillar of our democracy. The premier breached this principle by discussing the accused's case," ethics commissioner Marguerite Trussler said in her report released May 18 into Smith's actions as premier when she called her justice minister about Pawlowski's case.
—
"I've asked the ethics commissioner to give advice," Smith said May 19. "I am a non-lawyer. As premier, I do need to be able to get advice from my top official, my top legal adviser. If she has recommendations on how to do that better next time, I will absolutely accept them."
— The Canadian Press
---
5:30 p.m.
Special measures in place to enable voting for electors affected by wildfires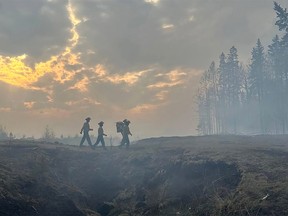 Alberta's 2023 election campaign has taken place alongside a record-breaking spring for wildfires in Alberta. Ten communities were under evacuation orders Monday.
Elections Alberta has set up alternate voting locations for those displaced. Evacuation has been added as an eligible reason to vote by special ballot and mobile voting stations have been placed in evacuation centres.
Incident Command Centres are working to have special ballots delivered to firefighters and emergency crews.

— The Canadian Press
---
10:55 a.m.
Calgary region had 7 of the top 10 busiest advance polling stations in Alberta last week

Electors in Calgary and area were among the most eager to get to the polls.
Of the 10 busiest polling stations in the province during the advance polling period last week, seven were in Calgary, Elections Alberta said on Monday.
And of those seven, four were in the southern half of Calgary and another was located south of the city.
Generally speaking, more Alberta voters chose to cast their ballot during the advance voting period than ever before.
"For the second election in a row we have seen record-breaking voter turnout during advance voting days," said Chief Electoral Officer Glen Resler in a statement issued Monday morning. "In 2019, we saw 700,476 ballots cast during the five days of advance voting, this year we have welcomed 758,550 to the polls so far."
Here were the 10 busiest polling stations during the advance voting period, May 23-27, according to Elections Alberta:
ED 83 (St. Albert): St. Albert Centre
ED 81 (Sherwood Park): Sherwood Park Mall
ED 01 (Calgary-Acadia): Southcentre Mall
ED 14 (Calgary-Hays): McKenzie Towne Church
ED 08 (Calgary-Edgemont): Foothills Alliance Church
ED 65 (Highwood): Okotoks Centennial Hall
ED 02 (Calgary-Beddington): Huntington Hills Community Hall and Sportsplex
ED 33 (Edmonton-Gold Bar): Bonnie Doon Centre
ED 47 (Airdrie-Cochrane): Frank Wills Memorial Hall
ED 23 (Calgary-Shaw): Cardel Rec South
---
10:35 a.m.
Alberta votes in the strangest — and closest — election in its political history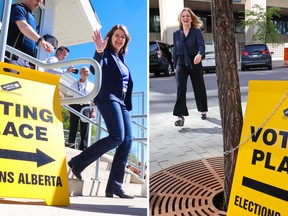 Whoever wins the Alberta election on Monday, it will be one of the strangest campaigns ever fought in the province, with plenty of drama but few policy issues, and the real possibility of the closest outcome in Alberta political history.
In 2015, when the NDP won, it was the reversal of 40 years of conservative rule, aided by vote-splitting and a voting public whose patience was at an end. In 2019, when the United Conservatives won, it was a massive victory, featuring a re-energized right-wing movement looking to revitalize the province's economy.
But this time, with the two parties neck-and-neck as voting day approaches, the election is not about jobs or pipelines or even party platforms.

It's about Rachel Notley, leader of the NDP, and Danielle Smith, leader of the United Conservative Party, writes Tyler Dawson.
---
5 a.m.
Alberta arrives at election day following bitter campaign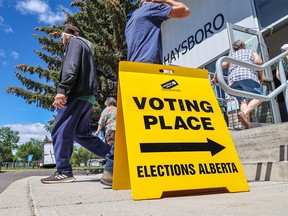 Albertans head to the polls Monday to elect their next government, wrapping up a divisive four-week campaign that's seen each leading party pitch their vision for the province while taking aim at the opposing leader's record.
Voters are set to decide whether they'll re-elect Danielle Smith's United Conservatives, or return to an NDP government headed by Rachel Notley, in a battle between premiers past and present.
---
Alberta election: Everything you need to know before you vote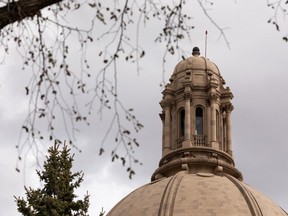 Albertans go to the polls on May 29 — today.
While there are plenty of promises and policies from the parties to wade through, it's also important to brush up on voting information.
Before you cast your ballot, here's what you need to know.
---
Promises made: Where the NDP and UCP stand on top issues in Alberta election campaign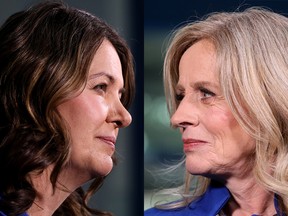 With Alberta's election hitting the home stretch, what have the leading political parties in the province done or promised to do if elected today?
Both the UCP and the NDP have been making promises for weeks on major issues leading up to the official campaign, which began in May.
Here are some highlights, which don't reflect the entirety of the platforms.
---
Profiles of main party leaders Danielle Smith and Rachel Notley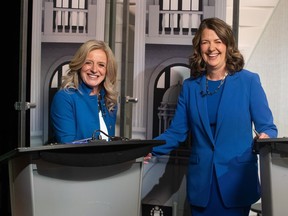 UCP Leader Danielle Smith
Succeeding Jason Kenney, Smith comes from roots in the socially conservative Wildrose Party. She has been premier since October 2022 after she won the UCP's leadership race.
Smith, 52, who holds a bachelor's degree from the University of Calgary with a major in English and a minor in economics, started her career in media. First as an extra in the Vancouver film and television industry and then as a journalist on radio, television and in print. While working as a radio broadcaster in March 2020, Smith tweeted and later deleted claims that the antimalarial drug hydroxychloroquine is a cure for COVID-19.
As premier, Smith fired Alberta Health Services' governing board for what she called "freedom-busting health restrictions" implemented during the COVID-19 pandemic. She later walked back her plans to pursue pardons for violations of COVID-19 health and safety restrictions.

Smith was a lobbyist for the Alberta Enterprise Group, encouraging capital investment and big business in Alberta. She introduced the Alberta Sovereignty Act to prevent the enforcement of "federal rules deemed harmful to Alberta's interests." The act passed but only with significant changes to remove the legislation-rewriting powers the original measure would have given Smith and her cabinet.

Since 2017, Smith and her husband, David Moretta, have owned and operated the Dining Car at High River station, a converted rail car in High River.
NDP Leader Rachel Notley
Notley, 59, became premier of Alberta in 2015, ending 44 years of Progressive Conservative Party rule in the Western Canadian province. She lost re-election in 2019 to Kenney.
The daughter of former Alberta New Democratic Party leader Grant Notley, Rachel Notley was a labour advocate and lawyer before entering politics. She specialised in workers' rights and health and safety. She advocated for the rights of special-needs children with the organisation Moms on the Move.
Notley credits her mother, an anti-war activist, for getting her involved in activism, taking Notley to an anti-

The campaign has taken place alongside a record-breaking spring for wildfires in Alberta. Ten communities were under evacuation orders Monday.

Elections Alberta has set up alternate voting locations for those displaced. Evacuation has been added as an eligible reason to vote by special ballot and mobile voting stations have been placed in evacuation centres.

Incident Command Centres are working to have special ballots delivered to fire fighters and emergency crews.

war demonstration before she was ten years old.

While premier, Notley gave Canada its first $15 minimum wage, stabilised funding for healthcare, restricted money in elections and increased taxes on corporations and the wealthy. Her government introduced harm-reduction measures targeting the opioid and fentanyl epidemic.

Her husband, Lou Arab, is a communications representative for the Canadian Union of Public Employees and a campaign strategist for the NDP. Notley and Arab live with their two children in the historic Old Strathcona district in Edmonton.