Two Interrelated Art Exhibits in Utica – WSKG.org
On the Avenue Art Gallery puts spotlight on northern artists during provincial art fair – Prince Albert Daily Herald
Prince Albert gallery is one of 17 from across the province hosting online and in-person exhibits
Prince Albert's On the Avenue Art Gallery is one of two new additions to the annual Art Now provincial fine art fair, and curator Jesse Campbell says it's a great opportunity to showcase northern artists.
On the Avenue is one of 17 galleries showing exhibits during the annual art fair, which runs online until Sept. 26. Residents can also visit the gallery in person from Sept. 24-25 to see 38 pieces from 10 different artists, and go online to view panel discussions and artist talks hosted from around the province.
"It's really exciting because it's a great opportunity to work with a huge variety of artists and curators and writers and arts professionals," Campbell said. "(It's) not only (artists) from Saskatchewan, but arts professionals who have roots in Saskatchewan, but live further afield. There is a lot of opportunity to, I think, create some interesting experiences with art and look at a variety of topics in art being made on the prairies."
Galleries across the province will showcase a wide variety of artists, but On the Avenue chose to focus on work from members of the Lac La Ronge Indian Band.
Campbell said art education takes a different form in the north, where families and communities pass techniques down to younger generations instead of universities or art schools. That's created a unique artistic tradition that's rarely showcased on the provincial stage.
"I think it really shows the way that a lot of people have lived traditionally in northern Saskatchewan," Campbell explained. "There's a lot of work that's quite descriptive and narrative. It's not terribly abstract, but you still do get distinct feelings and moods that come across in the work."
The variety is what stood out most for Campbell. The exhibit showcases everything from paintings and sculptures to traditional Indigenous art forms like birch bark biting. A lot of the materials are traditional too, which exhibitors taking advantage of wood and antlers to create their pieces.
"It's a really good look into what artists are doing north of us here in PA," Campbell said. "I hope (viewers) get a little bit of an understanding of what artists in the north are focusing on, the kinds of materials they're using, and how there's a lot of tradition being passed down through the artwork."
Art Now held their opening online reception on Sept. 16, where viewers got a glimpse of the more than 600 works of art on display across the province. In just three days, more than 3,000 visitors have logged on to view the exhibits.
Campbell also helped organize a series of artist talks and panels, which will continue throughout the week. That includes an artist talk with Molly R. Ratt on Sept. 21, which is presented by On the Avenue Art Gallery. Replays of previous talks are available on the SaskGalleries YouTube page.
In-person events are limited to only two days. Campbell said that's an unfortunate side-effect of COVID-19, but she's confident the online exhibits will impress art lovers from across the province.
To register for upcoming panels and artist talks, or to view those held previously, visit artnow.ca/online/events.
This is Art Now's sixth year of operation. It celebrates the variety and quality of original fine art made in Saskatchewan. All shows are free to attend or view.
Upcoming online events for the Art Now Saskatchewan Art Fair
Sunday, Sept. 19
1 p.m. – Panel Session No. 4: Culture C(l)ash: can Indigenous artists make a living without selling out
Tuesday, Sept. 21
1:30 p.m. – Artist Talk: Sandra Knoss
4:30 p.m. – Artist Talk: Molly R. Ratt*
7 p.m. – Panel Session No. 5: Art as Life – the Creative Process
Wednesday, Sept. 22
Noon – Artist Talk: Edie Marshall
3 p.m. – Artist Talk: Shelley Hosaluk
Thursday, Sept. 23
1:30 p.m. – Artist Talk: Maia Stark
3 p.m. – Artist Talk: Michaela Hoppe
Sunday, Sept. 26
Noon – Artist Talk: Dave Gejdos
1:30 p.m. – Artist Talk: Arlette Seib
*Presented by On the Avenue Art Gallery
Art Fx #37: "Put Your Feet Up" by Chantelle Poisson – Huntsville Doppler
Art Fx is a year-long series on Huntsville Doppler featuring Huntsville-area visual artists.
"Put Your Feet Up" by Chantelle Poisson is a 48″ x 24″ oil painting.
"I was inspired to paint this piece after seeing my daughter so content wrapped up in the blanket," says Chantelle. "It brought me such a sense of contentment, warmth and simple happiness. I knew I wanted to convey that feeling of contentment on a canvas."
About the artist
"As a graduate of Sheridan College Art program, I bring the skills I learned as well as my love for the outdoors to my art. I enjoy being in nature whether it be kayaking, hiking, gardening or spending time with my chickens and ducks. Nature and my family are my inspiration for most of my work," says Chantelle.
Her studio is in Baysville and her preferred medium is oil. "The vibrancy and depth oil paints bring to pieces truly makes the paintings come alive," she notes.
Find Chantelle on Instagram @chantellepoissonart or see more of her work @therealmuskokaunlimited.
See more local art in Doppler's Art Fx series here.
Don't miss out on Doppler!
Sign up here to receive our email digest with links to our most recent stories.
Local news in your inbox three times per week!
Click here to support local news
Doors swing open at MacLaren Art Centre as gallery welcomes back visitors – BradfordToday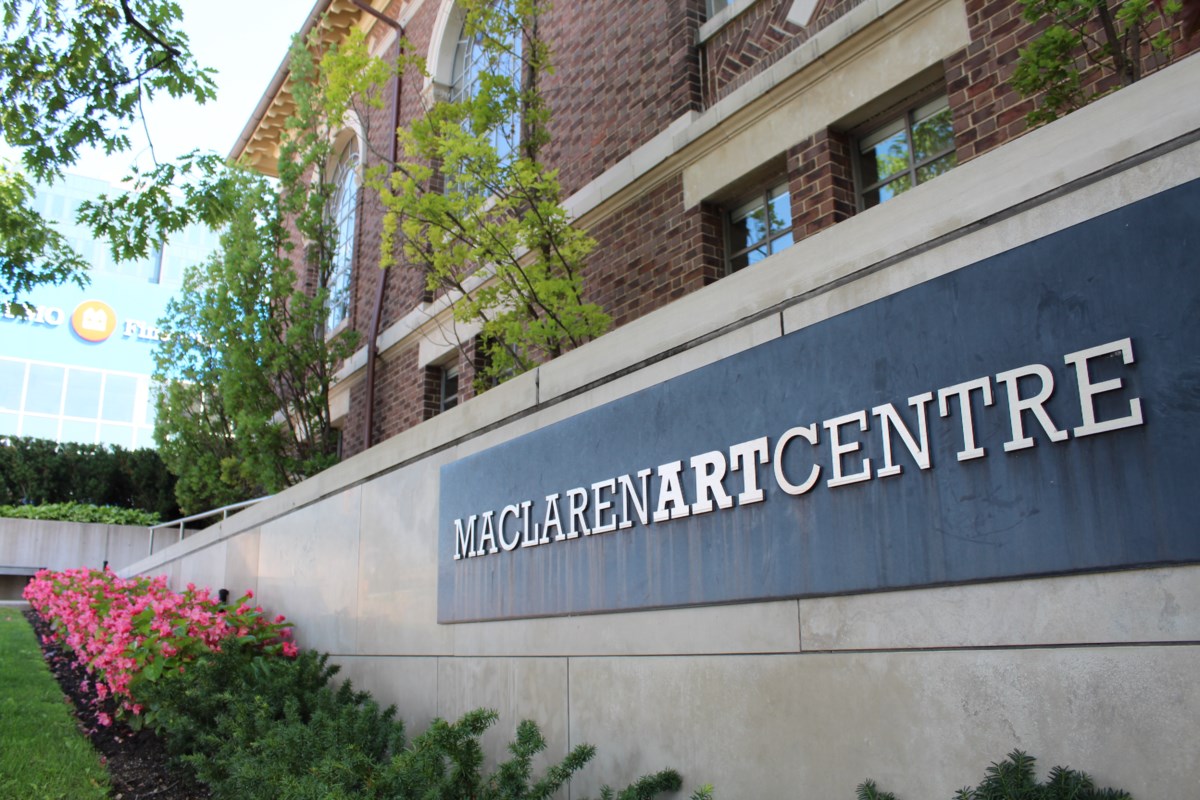 NEWS RELEASE
MACLAREN ART CENTRE
*************************
The MacLaren Art Centre reopened to the public on Thursday, Sept. 16, 2021, with new hours. We are excited to welcome the public back into the gallery with an engaging fall season of exhibitions and programs.
Michael Farnan's Canoe Fight: From Reverence to Redress is on view until Oct. 24. Featuring the canoe — an Indigenous technology that was deployed by white settlers to expand the colonial state into the Canadian interior — this exhibition demonstrates how beloved Canadian cultural symbols actively inscribe Canadian settler culture as the natural inheritor of both land and power in the area and beyond. Farnan is a Victoria Harbour-based artist whose work has been exhibited throughout Canada.
An exhibition by chum mcleod titled small world is on view until Oct. 24, and features intricate dioramas of hardscrabble bunny characters in a closed and strange universe. Battling floods, visiting a travelling circus, solving arcane domestic mysteries or ice fishing alongside their skidoos, the bunnies are completely engaged in the dramas in which they find themselves.
Polyempath Polyethylene by Kelly Jazvac, a Montreal-based artist, presents an installation of new work in which she continues to engage with the prevalence of synthetic materials in contemporary life. Featuring sculptures five years in the making, works are paired against the uncanny meeting of bodies and landscapes, using sewing techniques to alter waste from commercial advertising. This exhibition is on view until Oct. 31.
In addition to an exciting calendar of art programs for all ages and experience levels, including Family Sundays, children and adult programs, the Youth Community Quilt which was created through a series of workshops hosted by the Downtown Barrie Youth Collective and led by regional artist Sean George this summer is on display in the MacLaren lobby.
Gallery Public Hours: Thursday-Sunday, 11 a.m. to 4 p.m.
Café Public Hours: Tuesday-Friday, 8 a.m. to 12 p.m.
Framing Shop: By appointment Tuesday to Thursday. Please book online.
Admission is free with a suggested donation of $5.
The Gallery Café is open with limited hours from Tuesday-Friday, 8 a.m. to 12 p.m.
Come and enjoy a great cup in the courtyard while the weather is still warm.
Visit the gallery website for more details on all the exciting exhibitions, programs, events, and COVID protocols.
*************************