Ukraine, Taiwan, and the Politics of Big Neighbour Resentment: J. Michael Cole for Inside Policy – Macdonald-Laurier Institute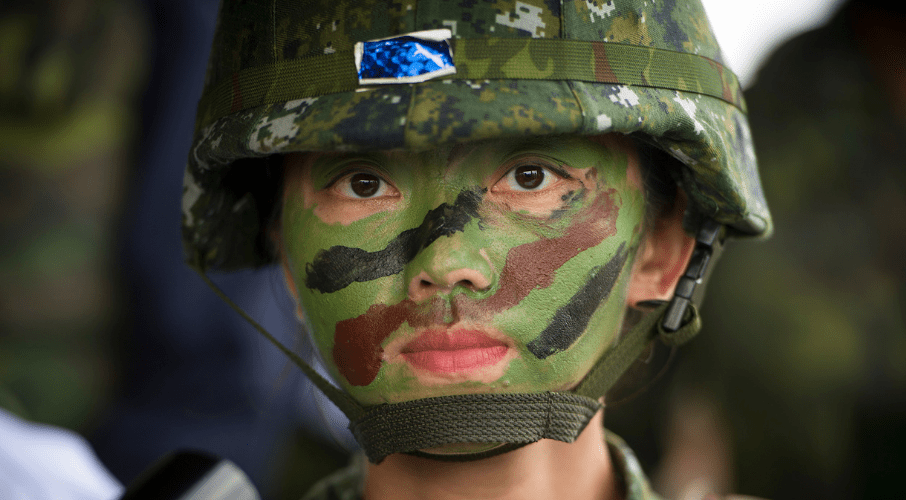 By J. Michael Cole, April 6, 2022
More than a month has elapsed since Russia launched its war of aggression against Ukraine. The constant targeting of civilian targets by Russian forces, and evidence in recent days of other mass atrocities, has now dispelled any doubt that what we are witnessing in Ukraine is nothing less than an annihilative effort by Moscow – an attempt to negate the very sovereign status of Ukraine.
As Ukrainians confront their Russian invaders, the inevitable comparisons with another long-simmering conflict – between China and Taiwan – have arisen. Analysts and government officials have pondered the many lessons that can be learned from war in Europe. Although the two disputes are certainly not identical, there are nevertheless many similarities that can help shed light on what a Chinese invasion of Taiwan would look like.
One little discussed aspect characteristic of the two conflicts is the fact that in both cases, the belligerents, Russia and China, have long denied the legitimacy of the targeted countries while laying historical claim of sovereignty over them. Over decades, both Moscow and Beijing have used imperial myths and ancient history (; often hands-off "control" by the Manchu Qing dynasty between 1683 to 1895 for Taiwan) to justify their coercion, irredentism, and wars of aggression.
Throughout the 20th century, Soviet treatment of Ukraine was characterized by invasions and several rounds of man-made starvation, culminating with the Holodomor of 1932-33, during which an estimated 4.5 million people died of starvation or related effects. The sheer inhumanity of the Moscow orchestrated mass murder, which specifically targeted Ukraine's nationalist centres, only found its analogue in the Nazis' attempt to exterminate the Jewish people and other minorities during the Second World War.
This historical context helps explain the mass graves and hundreds of slaughtered women and children in Bucha in the current war, Russia's incessant targeting of non-military targets across Ukraine, and the disturbing rhetoric emanating from Moscow. As in the 1930s, the aim is to expurgate the state, its institutions and symbols, which can only be completed with the dehumanization of an entire race (for example, through claims that "Deep Ukrainianism" is fake and that Russia seeks to "de-Nazify" Ukraine).
The recent atrocities committed by Russia's military in Ukraine are also the product of frustration and resentment over the Ukrainians' stubborn defiance, their attachment to their hard-earned democracy and Western leanings. Moscow's frustration is a product of its own ultranationalism and the affront posed by Ukraine's refusal to be incorporated into a new Greater Russia. That is why the massacres uncovered in recent weeks cannot solely be attributed to out-of-control rookie Russian soldiers; Russian leaders have made no effort to put an end to such excesses – in fact, the massacres are part and parcel with a strategy of annihilation.
This aspect of the conflict over Ukraine shares many similarities with that in the Taiwan Strait. Beijing is also deeply affronted by the refusal of "Taiwan compatriots," whom it regards as Chinese, to accede to its demands of unification. Like Ukraine, Taiwan – or the Republic of China, as it is officially named – is a Western leaning state that has embraced democracy, and in many ways defines itself in comparison to the authoritarian People's Republic of China.
Taiwan's resistance is incomprehensible to the Chinese Communist Party, a contradiction that it cannot countenance, hence the official rhetoric that only a small number of "separatists" from the Democratic Progressive Party and "foreign elements" oppose the "inevitable trend" of unification. For Chinese ultranationalists, the refusal of the people in Taiwan to embrace unification is seen as an insult, a negation that often triggers an irrational, if not Pavlovian, response among the Chinese. In fact, this is quite similar to how many Russian ultranationalists react when asked about Russia's war against Ukraine.
Compounding this resentment is the degree to which Taiwanese and Ukrainians have distinguished themselves favourably from their ethnic cousins, which is downright unpalatable for Russians and Chinese. This may help explain why Nationalist forces that arrived in Taiwan after the Second World War engaged in widespread acts of violence against the local population in an attempt to eradicate its independence movement and force into submission an otherwise distinctive population – one that was always present on the island, but had been made further dissimilar by half a century of Japanese colonial rule from 1895 until 1945.
Much as Russia attempted to control, and then eradicate, the Ukrainian language, the Nationalist government imposed strict controls on language and culture in an attempt to "re-Sinicize" Taiwan and, in doing so, to eradicate a localist and nationalist sentiment that contradicted the government's narrative (as in Ukraine, local languages, when permitted, were relegated to a supposed "lower class"). In the meantime, and not unlike Moscow in Ukraine during the Cold War, the Nationalists launched the White Terror to imprison and kill anyone who defied its authority.
In the late 1980s and early 1990s, one-party rule was ended in Taiwan, martial law lifted, and the country democratized; the once authoritarian Nationalist party, the KMT, also accepted, if at times imperfectly, democracy. Ukraine, meanwhile, gained independence from a collapsing Soviet Union and embraced democracy while seeking closer relations with (and security guarantees from) Europe. In both cases, these developments contradicted the narratives in Beijing and Moscow.
Vladimir Putin and Xi Jinping's inability to accomplish their imperial dreams, and the refusal of Ukrainians and Taiwanese to subsume themselves into the empire, lie at the heart of the politics of resentment that animate Beijing's and Moscow's policies toward both respective countries. It also informs the passions in the hearts of ultranationalists, propagandists, soldiers and a public that may not have access to all the information it needs to understand their country's actions abroad, which can drive people to murderous excesses or support for such behaviour.
Consequently, despite Beijing's repeated claims that Taiwan and China are one family, it is highly likely that Chinese soldiers invading Taiwan would also, in the face of stiff Taiwanese resistance, act upon their resentment and engage in mass atrocities. And like Moscow in Ukraine, the CCP and the generals in Beijing would not intervene to end the abuse. The same process of dehumanization that has marked Russia's behaviour toward Ukraine would accompany a Chinese military campaign against Taiwan, just as Chinese propagandists and ultranationalists dehumanized the pro-democracy movement in Hong Kong. Anyone who resists is a "traitor" to the Chinese race and therefore deserving of brutal retribution.
As the international community deals with Russia's illegal assault on Ukraine, it must realize that a Chinese attack against Taiwan would also very likely lead to mass atrocities and crimes against humanity. Given Taiwan's relatively small territory and lack of a land border with a friendly country for civilian evacuation, it is a distinct possibility that a Chinese takeover and subsequent pacification campaign would result in a bloodbath.
Resentment and irrationality are undeniable components of Moscow's and Beijing's annexationist policies toward Ukraine and Taiwan. This is a reality that the targeted countries, along with the international community, must prepare against.
Michael Cole is a Taipei-based senior fellow with the Macdonald-Laurier Institute and the Global Taiwan Institute. He is a former intelligence officer with the Canadian Security Intelligence Service in Ottawa.
How women have helped change the culture of politics in Quebec – CBC.ca
It's been 61 years since Claire Kirkland-Casgrain became the first woman elected to Quebec's National Assembly, and though women politicians say there is still much to change to make Quebec politics more inclusive, they point to the ways they've already created progress in what was a boy's club for centuries.
"It was really a purpose of mine to change the way we go about politics, the way we practise it," said Véronique Hivon, who recently announced she would not be running in the next provincial election, after being a mainstay in Quebec politics for more than a decade.
Hivon, the Parti Québécois MNA for Joliette, is one of 16 women so far who have announced they will not run again in this year's provincial elections, expected in October.
A CBC analysis earlier this week highlighted the fact that number represents about one in four female MNAs, compared to one in seven male MNAs who have announced they will not seek re-election. There are currently 55 women and 70 men who sit in the provincial legislature.
Experts who spoke with CBC said the proportion of women leaving is disappointing, given the 2018 Quebec election's historic results for women and non-white candidates.
Groupe Femmes, politique et démocratie, an organization based in Quebec City, has been pressuring the province to adopt a "parity law" that would force parties to have between 40 and 60 per cent of their candidates be women.
"Because it won't happen alone," said Esther Lapointe, the group's director. "There are always setbacks."
Lapointe worries the majority Coalition Avenir Québec government's surging popularity in the polls and the opposition parties' struggle to gain ground before the election could be the reason so many women are leaving.
But Hivon, in an interview with CBC this week, said she is optimistic more people — more women — will enter politics without feeling like they have to "fit into a mould."
Hivon has been hailed for her work on cross-partisan initiatives. With three other female MNAs from different parties, and in just under four years, Hivon helped create Quebec's new court specialized in sexual violence and domestic violence.
Women goal-oriented
She also helped draft Quebec's legislation on medical aid in dying and led a highly praised commission on end-of-life care.
Hivon was seen as a natural choice to succeed former PQ leader Jean-François Lisée when he lost his seat in the 2018 election, but she decided not to seek the job.
"I have no regrets. I feel I was able to fulfil my objectives and what I wanted to change in Quebec politics and in policies," Hivon said.
"I feel I was able to do it, even though I wasn't a leader — maybe even because I wasn't a leader," she added, laughing.
The PQ suffered a dismal result in the 2018 election, losing its official party status with only nine seats, compared to 30 in 2014, which was already one of the party's worst results since 1970.
It is still reeling from those losses, finding itself fifth among the province's six main parties in popularity, with only 10 per cent of the potential vote, according to polling aggregator 338canada.com.
Hivon posited that more women may be leaving this year because they are content to step aside once they've accomplished their goals.
"They don't hold onto power maybe as much as men, who see it as a milieu, a place where they can still do things, even if they don't know exactly what," Hivon said in the interview.
WATCH | Véronique Hivon on why she thinks more women are leaving Quebec politics:
Retiring Parti Québécois MNA Véronique Hivon says a different approach to power and the tone of discourse at the National Assembly are among her theories as to why women might not want to enter or stay in provincial politics.
The pandemic and the reflections it prompted about work-life balance may have also played a role, she said.
Thérèse Mailloux, the president of Groupe Femmes, politique et démocratie, also said she believes women tend to leave once they feel they have accomplished their objectives.
That may be because the culture still has a ways to go to be more welcoming to people who are not white men.
"The men who have been there for centuries, well, they are in their codes and their networks and the way they do politics," Mailloux said.
Need for better work-life balance
Québec Solidaire's Ruba Ghazal, the MNA for Mercier, said she sees firsthand the ways her female colleagues don't feel as comfortable in the National Assembly, and believes the institution should do more to "make it easier for women to come and to stay in politics."
Ghazal suggested the National Assembly create a daycare to make it easier for politicians to find balance between their work and their families.
"I'm going to run again, and in my personal life it's easier because I don't have children and I will not have children," Ghazal said, also speaking in an interview with CBC this week.
The way men in the Salon bleu approach debate is also different, Ghazal said, opting for harsher jabs in a style that can sometimes alienate women.
Still, she acknowledges, progress takes time.
"Even if it's 50 years," that women have been in politics in Quebec, "that's not a lot of time to change this," Ghazal said.
After Kirkland-Casgrain was first elected in 1961 for the Quebec Liberals, it would take another 15 years before more than one woman at a time would have a seat at the National Assembly.
Mailloux said she sees the culture changing. Debates — although at times brutal — have in general become more respectful. Schedules are more humane, and there is a recognition of the importance of working on cross-partisan initiatives, such as the ones Hivon participated in.
Hivon said it's getting easier to be oneself in Quebec politics but it remains a fight to do so.
"I made a promise to myself when I entered politics that I would stay true to myself, my values, my convictions. It's hard work every day because there are pressures, but you can do it," she said, encouraging others to join.
"I really feel hopeful that there are new generations of women who will come and really be themselves."
Roe draft is a reminder that religion's role in politics is older than the republic – knkx.org
At its core, the abortion debate is between those who regard the fetus as a person and those who regard abortion as a rightful option for pregnant women.
While there are religious and non-religious people on both sides of the argument, the loudest voices are often those of religious traditionalists on one side and contemporary secularists on the other.
The discussion also entails biology, medical technology, policy questions and constitutional issues such as state's rights and a personal right to privacy. As the decades have passed, the discussion has also become saturated with partisan politics as the mix of opinion in the major parties has shifted dramatically.
But through it all, there is no denying the centrality of religion. It is not so much a matter of identification with one faith or church, but of the degree of intensity of an individual's involvement.
In a report issued Friday, Gallup senior scientist Frank Newport wrote:
"The pattern among Protestants and Catholics reflects the general pattern in the U.S. — the more religious the individual, the more likely that individual is to say that abortion should be illegal in all circumstances."
Newport noted that such an outright ban was favored by "only 9-10% of all Americans who seldom or never attend religious services," but that jumps to 19-23% among those who attend once a month or almost every week, and to 40% of those who attend church once a week."
To be sure, surveys also find differences in attitude that reflect gender, age, education, party preference and geographic residence. But all of these reflect the relative religiosity of individuals within these groups. The belief that abortion is morally wrong is embraced by 75% of those who attend services weekly, but less than half of those who seldom or never attend.
"In short the relative religiosity of Americans (that is how religious they are) is more predictive of their abortion attitudes than their broad religious identity," according to Newport.
Going all the way back to the Supreme Court's landmark Roe v. Wade decision in 1973, which invalidated the anti-abortion statutes in effect in 46 states, the objections heard have come first and foremost from religious organizations and activists.
There have been secular institutions that criticized Roe as well, including some academic and legal organizations. The biggest, ultimately, has been the Republican Party, which had been neutral on abortion in the 1970s but has since aligned in opposition. But that has reflected the rising role of religion in that party, particularly the role of evangelical and Catholic traditionalists.
Many Americans, particularly those born since Roe, may find all this rather mystifying. The question arises: Since when did so much of our politics have to do with religion? And the answer is, since the beginning – and even before.
Religion was a driving and determinative force in politics on this continent even before the "United States" had been formed. And it has been brought to bear in widely disparate causes. Religion has been invoked to condemn slavery and segregation, to ban alcohol and the teaching of evolutionary science and to bolster anti-war movements.
Colonial origins
Persecution of religious minorities in the British isles and Europe drove many of the original white settlers of the American continent across the Atlantic in the 1600s. In New England colonies, one could find the origins of both tolerance and intolerance. Rhode Island had religious freedom for all, including Jews. But in Massachusetts there were witch trials and an emphasis on religious conformity.
The split tradition was in evidence at the founding of the Republic, with a mix of attitudes mainly devoted to minimizing religious rivalries and antagonism. The Constitution banned any religious test for office and the First Amendment barred the establishing of an official church.
In the early 1800s, there were waves of religious feeling and new formats emerged, from the transcendentalist movement in New England to the rise of the Latter-day Saints led by Joseph Smith, who eventually found a home in Utah.
But the main thrust of religion in the period was the challenge that the abolitionist movement, often led by preachers, made to the institution of slavery. The movement often adopted the language of liberation from the Bible and cast the "peculiar institution" of the South as not just wrong but sinful. Note the religious language in the "Battle Hymn of the Republic," which speaks of Christ's death as the model for the Union's mission in the Civil War. ("As He died to make men holy / Let us die to make men free / His truth is marching on / Glory, glory hallelujah!")
Appropriating biblical images was also a habit for the populist hero William Jennings Bryan, who came out of Nebraska to lead a national movement against the gold standard used to establish value at the time. His "Cross of Gold" speech at the 1896 Democratic National Convention led to his first nomination for president at the age of 36. ("You shall not press down upon the brow of labor this crown of thorns, you shall not crucify mankind on a cross of gold.")
He was nominated — and lost — three times. But he later served as secretary of state and became a champion of those religious traditionalists opposed to the teaching of Charles Darwin's theory of evolution in public schools. He appeared as both an attorney and a witness in the famous Scopes trial in Tennessee in 1925, arguing for a literal reading of the Bible's six-day story of creation.
Bryan was also influential in the temperance movement, largely a project of Protestant activists. Supported largely by church leaders, the movement found enough support in a still-largely rural America to ban the manufacture and sale of alcoholic beverages in the U.S. Backed generally by rural representatives from both parties, Prohibition was achieved in 1920 by constitutional amendment (the 18th) and ended by another (the 21st) in 1933.
Civil rights and anti-war movements
After the repeal of Prohibition, many religious white people in the U.S. turned away from politics. While distressed at many trends in the culture, they did not see a clear path to addressing them in the public sphere.
But something quite different was happening in the churches of African Americans, especially in the South. Much as the symbols of Exodus had been used a century earlier, they reappeared in the civil rights movement in the post-war American South. Songs with words such as "Tell old Pharaoh let my people go" were sung with new meaning, their words incorporated in sermons by preachers in the Southern Christian Leadership Conference led by the Rev. Martin Luther King.
Also borrowing from the Bible were some exponents of anti-war sentiment in both the Protestant and Catholic traditions who opposed the war in Vietnam in the 1960s and 1970s.
While there had been "conscientious objectors" in the two world wars who cited Christ's non-violent teachings to resist military service, their numbers were few and had little impact. That changed with Vietnam, and priests and preachers were often involved in encouraging such objections.
But after Vietnam, active engagement on major public issues more often came from the more conservative elements of the religious community. Some were mobilized by the Supreme Court's 1962 ruling that prayer in public schools violated the Constitution's establishment clause. Others were disturbed when courts began ruling against religious displays in official places, such as monuments to the Ten Commandments in courthouses.
As the 20th century came to a close, much of the traditional religious community shifted its focus to the rising gay rights movement and "the homosexual agenda." This activism had support in both parties, and President Bill Clinton, a Democrat, signed the Defense of Marriage Act in 1996, his reelection year. He later said that had been a mistake.
In the early years of the new century, resistance to gay rights and gender identity issues focused on same-sex marriage. In the 2004 presidential election year, Republican activists were able to include bans on such unions as ballot measures in a number of swing states – notably the bellwether state of Ohio.
Robust turnout among religious conservatives in those states that year contributed to narrow wins for Republican President George W. Bush, who would the following year nominate two conservative Catholics (Chief Justice John Roberts and Justice Samuel Alito) to the Supreme Court.
That was not enough to prevent the court from reaching a historic decision in the 2015 case of Obergefell v. Hodges in 2015. With both Roberts and Alito dissenting, along with two other Catholic members appointed by earlier Republican presidents, the high court on that occasion overturned all state laws blocking same sex marriage.
But the reasoning found in Alito's draft opinion in Dobbs v. Jackson is regarded by some as applicable to Obergefell as well, raising the possibility of another precedent being overturned. Some legal scholars think the same could be said of the 1967 ruling in Loving v. Virginia, which struck down laws against interracial marriage. Alito wrote in his draft opinion that overturning Roe would not imperil other precedents.
An apparent contradiction in trends
It may seem surprising, or contrary to expectations, that contentious religious issues are gaining importance in the Republican Party at this point in U.S. history. The rising influence of religious conservatives in the GOP coincides with a steady decline in the percentage of Americans identifying with either Catholic or Protestant churches. That decline in percentage terms had begun in the latter half of the 20th century but it has accelerated since, according to periodic surveys by the Pew Research Center.
Pew also found the percentage of Americans who claimed no particular religious connection (including self-described agnostics or atheists) has risen from 17% to 26% since 2009.
Despite all this, or perhaps in part because of it, political activism has risen among those who do prioritize a religious connection. And that activism, including a heightened propensity to vote, has had substantial and sustained political impact over the last 40 years — owing in part to the issue of abortion and the force of Roe v. Wade.
Roe vote remains the big test
When Roe was decided, four of the seven justices who voted for it had been appointed by Republican presidents (three by Richard Nixon). Only one Republican appointee dissented.
But since then, and particularly since the presidency of Ronald Reagan, the GOP has courted religious conservatives and promised them judges attuned to their causes — particularly opposition to Roe.
The five current Supreme Court justices prepared to overturn Roe (according to the leaked version of the draft opinion in Dobbs v. Jackson) were all appointed by Republican presidents, three by Donald Trump alone. Trump had been more explicit than any of his predecessors in promising to appoint justices committed to ending Roe.
Most of the voters for Republican presidents have not been Catholic but Protestant, especially white evangelical Protestants. The Catholic vote, which was overwhelmingly Democratic for nearly two centuries, is now split about evenly nationally in presidential elections. But Trump got about three-fifths of the white Catholic vote each time he was nominated.
Republicans who get to the Oval Office have found the most likely nominees to please social conservatives with their eventual votes on the bench are the Catholic nominees. Non-Catholics named by Republicans since Reagan took office have not been as likely to oppose Roe. Of the seven justices they named who were Catholic, five are still on the court and four of them were named as supporting the draft of the Alito ruling overturning Roe.
Copyright 2022 NPR. To see more, visit https://www.npr.org.
Politics Briefing: Prime Minister Trudeau welcomes news that Pope Francis will visit Canada – The Globe and Mail
The Prime Minister and his Minister for Crown-Indigenous Relations are welcoming news that Pope Francis will visit Canada in July in a cross-country tour to address the Catholic Church's harmful legacy of running the majority of the country's residential schools.
The visit will take place from July 24 to July 30, but the Vatican press office gave no other details of his trip, saying that information on the full program "will be published in the coming weeks."
European bureau chief Eric Reguly and reporter Tavia Grant report here.
Prime Minister Justin Trudeau said Friday that the Pope's upcoming visit is very good news.
"It will be extremely important that he deliver the apology from the Catholic church to residential school survivors and their families. It's going to be an important time on the path of reconciliation," Mr. Trudeau told journalists present for the beginning of a meeting Yukon Premier Sandy Silver
Marc Miller, federal Minister for Crown-Indigenous Relations, told journalists the visit will present an opportunity for survivors to have a "direct connection" to the Pope, hear his words and consider whether that offers a measure of closure "which is what a number of survivors are asking for."
He was commenting ahead of Friday's Question Period.
Asked whether there were conversations with the Vatican for a meeting between the Pope and Prime Minister, Mr. Miller said he can't share information on that at this time.
"But clearly we are in a very delicate position insofar as Canada has a role to play in welcoming a head of state, but also we don't want to be in the way between the survivors and the Pope, who really have to have that time and spend that time and be offered the opportunity to speak to someone who doesn't get to be on Canadian soil all that much, someone of very advanced age."
This is the daily Politics Briefing newsletter, written by Ian Bailey. It is available exclusively to our digital subscribers. If you're reading this on the web, subscribers can sign up for the Politics newsletter and more than 20 others on our newsletter signup page. Have any feedback? Let us know what you think.
TODAY'S HEADLINES
SUPREME COURT RULES ON EXTREME INTOXICATION – Extreme intoxication resembling a state of automatism can be used as a defence for violent crime, the Supreme Court of Canada has ruled in three cases involving the use of drugs that led to stabbings, beatings and, in one case, a death. Story here.
PM DENOUNCES TORTURE OF AFGHANS SEEKING ACCESS TO CANADA – Prime Minister Justin Trudeau said it is "heartbreaking and horrific" to hear of Afghans being tortured by the Talban as they wait for resettlement to Canada, and repeated the government's promise to bring them to safety. Story here.
PUSHBACK AT LIBERAL EFFORTS TO GET BUDGET BILL THROUGH COMMITTEE HEARINGS – The federal government's latest large budget bill would apply Canada's Criminal Code to the surface of the moon, an example Conservative MPs cited this week in their effort to resist a Liberal timeline to get the legislation through committee hearings. Story here.
FEDERAL GOVERNMENT SEEKS DISMISSAL OF CLASS-ACTION FACIAL-RECOGNITION LAWSUIT – The federal government is asking a judge to dismiss a Quebec photographer's bid for certification of a class-action lawsuit, possibly involving millions of people, over the RCMP's use of a controversial facial-recognition tool. Story here.
MAJOR ANTI-ABORTION RALLY ON PARLIAMENT HILL – Thousands of anti-abortion demonstrators descended on Parliament Hill Thursday, as a leaked U.S. Supreme Court draft decision brings renewed attention to the issue on both sides of the border. Story here.
DUTCH PRINCESS VISITS OTTAWA – Princess Margriet of the Netherlands is visiting Ottawa, the city where she was born during the Second World War. Story here.
POLICE INVESTIGATE HARASSEMENT OF SINGH -Police in Peterborough, Ont., say they are actively investigating after NDP Leader Jagmeet Singh received a barrage of insults and harassment as he made his exit from a provincial election rally. Story here from CTV.
LEGAULT RULES OUT ENGLISH-LANGUAGE DEBATE – Quebec Premier François Legault has declined an invitation by a consortium of media to participate in an election debate in English during the fall campaign. Story here from the Montreal Gazette.
ONTARIO ELECTION ON FRIDAY – The NDP is set to unveil plan aimed at seniors; Liberals to make announcement on cost of living. Check here.
Meanwhile, on the Ontario Election: Readers have told us which issues they care about most when it comes to their vote: health care, climate policy, housing and the economy. Every Tuesday and Friday from May 17 until election day, Globe journalists will break down everything you need to know about these key issues ahead of June 2 in a newsletter called Vote of Confidence. You will also learn how fellow Ontarians are feeling about the topics, and find out what's happening on the campaign trails.
For a chance to be featured in Vote of Confidence and to help shape our election campaign coverage, share your thoughts by filling out this survey. Subscribe to Vote of Confidence here to have all the information you need to make your choice on June 2, delivered right to your inbox.
CONSERVATIVE LEADERSHIP RACE
TRUDEAU RESPONDS TO POILIEVRE PLAN TO FIRE BANK GOVERNOR – Prime Minister Justin Trudeau said Conservative leadership candidate Pierre Poilievre either misunderstood or doesn't care about the Bank of Canada's independence, after the Ontario MP said that if he forms government, he would fire Governor Tiff Macklem. Story here.
CAMPAIGN TRAIL: Thursday's newsletter had Pierre Poilievre attending a meet and greet with supporters in Cape Breton. That event is actually on Friday evening. Meanwhile, Scott Aitchison is in Calgary on Friday. Roman Baber was in Alberta, and planning to return to Toronto on Saturday. Patrick Brown was in Edmonton. Jean Charest was in Montreal on calls and Zooms with party members. Leslyn Lewis was attending events in her Haldimand-Norfolk constituency.
THIS AND THAT
TODAY IN THE COMMONS – Projected Order of Business at the House of Commons, May13, accessible here.
GG IN TORONTO – Governor-General Mary Simon and her husband, Whit Fraser, are visiting Toronto on Saturday, with stops that include presenting the new guidon or pennant to the Queen's York Rangers, and honouring Inuit singer and humanitarian Susan Aglukark at the Canadian Academy of Recording Arts and Sciences' 2022 Juno Opening Night Awards.
THREE FEDERAL MINISTERS IN VANCOUVER – Natural Resources Minister Jonathan Wilkinson, Emergency Preparedness Minister Bill Blair, and Indigenous Services Minister Patty Hajdu are in Vancouver on Friday to provide an update on federal support measures for this year's wildfire season.
THE DECIBEL
On Friday's edition of The Globe and Mail podcast, Senator Yvonne Boyer, who is Métis and was formerly a nurse and a lawyer, discusses how her background inspired her to devote her life to ending forced sterilization procedures, how it's part of the systemic racism Indigenous women face in Canada's health care system and why addressing it is an important part of Canada's reconciliation efforts. Ms. Boyer wants Canadians to know that Indigenous women are still being forcibly sterilized in Canada. She has been fighting to raise awareness of this issue. She is also a part of the Standing Senate Committee on Human Rights, which is currently examining the issue. The Decibel is here.
PRIME MINISTER'S DAY
In Ottawa, the Prime Minister held private meetings, met at his office with Yukon Premier Sandy Silver, and was scheduled to participate in a plaque unveiling ceremony with Her Royal Highness Princess Margriet of the Netherlands.
LEADERS
Interim Conservative Leader Candice Bergen is in Washington for meetings, including with Kirsten Hillman, the Canadian ambassador to the United States, House Minority Whip Steve Scalise, as well as a number of members of the U.S. House of Representatives. Ms. Bergen returns to Canada on Monday.
No schedules provided for other leaders.
OPINION
Campbell Clark (The Globe and Mail) on how, for Pierre Poilievre, undermining the Bank of Canada brings an easy political reward: "Pierre Poilievre was obviously surprised that it was so easy to beat up on the Bank of Canada. Now, every time he takes it up a notch, it sparks a reaction from experts and leading economic figures. And that's what Mr. Poilievre wants. His latest step, promising during Wednesday night's Conservative leadership debate to fire the Governor of the Bank of Canada, Tiff Macklem, isn't going to do anything to bring down inflation. But that's not the point. The goal is to attack the experts, the "elites," the "gatekeepers" – to channel the anger that many in the country feel, and the frustration propelling Mr. Poilievre's candidacy. Inflation is a powerful political issue, but it's a lot more useful to Mr. Poilievre when it is a cudgel wielded against culprits painted as one big ivory-tower elite."
Andrew Coyne (The Globe and Mail) on how more election debates might improve them: "The public appears to want more debates, according to the Commission's polling data. So why are we stuck with only two? The Commission is sympathetic to the idea of more debates, but says it "heard concern that this would require the agreement of the political parties and television networks. Invited leaders may not be willing or available, and networks may not commit to broadcasting multiple debates." Here's a thought: Why should it be up to the networks? Why should they get to decide whether to broadcast the debates? Why shouldn't it be required of them, as a condition of licence?"
Erika Barootes (Contributed to The Globe and Mail) on lessons for Alberta's political leaders from the Stanley Cup playoffs: "Your first line can't play the entire game. Focusing on building up bench strength can keep legs fresh longer, and nurturing a depth of talent will benefit the team during the four-year season. That also means that from captain to fourth-liners, a team is a team. Everyone needs to show up to practice and look out for one another. And although rookies need to earn their spot, they shouldn't feel irrelevant. It comes down to focusing on the team goal over individual stats. This is easier said than done. For this type of culture to be authentic, it should be regularly addressed and communicated from leadership."
Kelly McParland (National Post) on how Pierre Poilievre is too big a risk to lead the Conservatives: "Pierre Poilievre's performance in the first two Conservative leadership debates is a strong argument against his suitability for the job of prime minister. Whether Conservatives nonetheless decide to put him in charge of the party will say a lot about their credibility as a potential alternative to the Liberal government. Poilievre falls short on several fronts, both personal and policy-wise. There is an imperiousness and inflexibility in his performances that bodes poorly for someone who would need to bring a divided party together, and then do the same for a divided country. He has a caustic approach that would all but certainly alienate a significant segment of the voting population, and a seemingly inexhaustible supply of anger, evinced by his regular, eviscerating assaults on an array of targets ranging from political opponents to fellow Conservatives standing a few feet away on a podium."
Don Braid (Calgary Herald) on how the UCP has earned the public mistrust of the leadership vote: "On Thursday, the UCP's livestream of ballot "verification" — the checking of voter names against a party list — drew thousands of viewers. It's a weirdly hypnotic scene of volunteers, party officials and scrutineers as they open envelopes, scan documents, then toss documents into green bins for "approved" and red ones for "escalated." The UCP is trying to allay suspicion by putting up this livestream. Even Kenney's opponents who are participating in the verification — including Vitor Marciano, aide to MLA Brian Jean — say this part of the complex process is basically straight-up. But the horse named Mistrust left the barn weeks ago. Many people have believed the fix was in ever since the voting procedure was changed from in-person to mailed ballots."
Got a news tip that you'd like us to look into? E-mail us at tips@globeandmail.com. Need to share documents securely? Reach out via SecureDrop.